The Toughest Woman on Two Wheels
Endurance cyclist Juliana Buhring left a notorious cult, wrote a bestseller, and then rode her bike around the world. She's just getting started.
Heading out the door? Read this article on the new Outside+ app available now on iOS devices for members! Download the app.
"You grow up in a cult," says Juliana Buhring, "and everybody thinks there's something wrong with you." Buhring is not damaged—not emotionally, she wants me to know—from her childhood in the Family International, the controversial religious group that she described in her bestselling 2007 memoir, Not Without My Sister. Physically, however, she is a mess. Her knees are scabs over scabs, and her forearms carry the scars of not-so-old asphalt burns. The bike wreck that caused them occurred two weeks ago, while she was descending wet pavement around a hairpin corner on Mount Vesuvius. The Pompeii-burying volcano stands just across the Gulf of Naples from Sorrento, Italy, where Buhring has been running a small bed-and-breakfast for the past three years to pay for her cycling habit. 
Buhring, 33, is tall, tan, and lean, with a big black fish eagle tattooed across her midriff; she says she has been hit by cars twice and merely "knocked over" half a dozen more times in the past four years, the first after she'd been cycling for only a month. "I could write a manual about how to fall off a bike," she told me over dinner at the gastropub that adjoins B&B Juliana. Her second memoir, This Road I Ride, which will be released in the UK by Little, Brown next summer, details more than a few of these collisions.
The first time Buhring was hit by a car, in October of 2011, she was rounding a switchback in a mountainous area north of Naples called Benevento. An eight-wheeled box truck took the corner too sharply and tagged her back tire with its bumper. She went flying into a ditch. 
"Fortunately, he pushed me to the right, onto the side of the road, and I did the big flip-and-tumble-tumble," she says. Her helmet was smashed, her bike dinged up, and her wrist sprained. The truck sped away, but the driver behind him helped her to the hospital. At that point, Buhring was still riding a hybrid touring bike, wearing workout clothes, and using flat pedals. In other words, she was a rank beginner. But already she had some very big aspirations for how far and how fast her bike would take her—specifically, around the world in record time.
By any measure, Buhring succeeded. On July 23, 2012, she loaded her bicycle—this time a carbon-fiber race model she called Pegasus, donated to her just a week earlier by a local bike shop—with a sleeping bag, a toothbrush, some cash, her German passport, and not much else, and she headed west. Buhring pedaled roughly 150 miles per day, up the shin of Italy, through Cannes, and down Spain's Rio Ebro, which drains the southern Pyrenees. 
When she reached Porto, Portugal, eight days after leaving home, Buhring and Pegasus caught a flight to Boston, where she continued across the U.S. It took her 28 days to traverse the northern plains and cross the Continental Divide near the Idaho-Utah-Wyoming border, reaching Seattle on August 31. 
She crossed New Zealand and Australia in little more than a month; when a provincial border guard in the outback tried to confiscate her bag of oranges, a rare delicacy in those parts, she ate them all rather than turn any over. She powered through Malaysia and Thailand. To pass the time, she filled her head with books on tape. "War and Peace took me two weeks," she says. "Then I discovered Game of Thrones."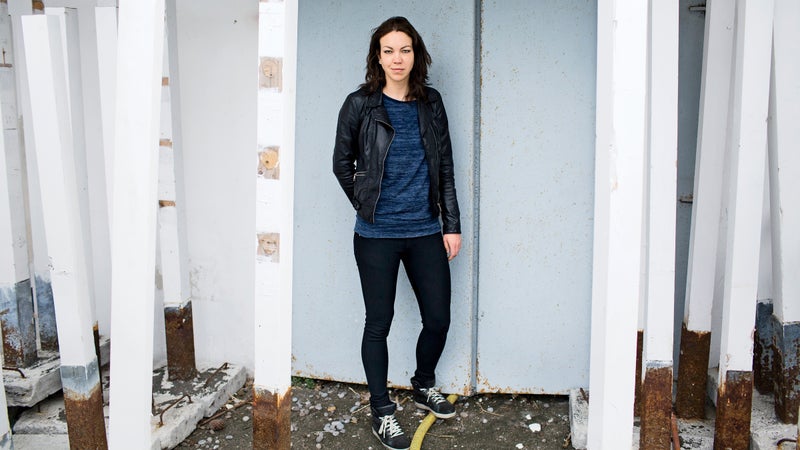 It wasn't until Buhring hit India in October that she had any problems. Leaving Calcutta, she slammed into a pedestrian who was darting through heavy traffic, leaving Buhring with nowhere to swerve. They were both shaken but alright. Then, near Balasore, a city on the Bay of Bengal, she finally got sick. Her intestines churning, she ran clacking in her bike shoes to a hotel, where the desk clerk pointed toward a bathroom. It was too late. "I was 31 and shat myself like a baby," says Buhring. There was a shower in the bathroom, which at least allowed her to rinse off. She exited with a quick thank you and found a place to sleep at a cheaper hotel down the road. It was the first day in three months that she was neither riding nor flying.
On December 22, 2012, Buhring arrived back in Naples. Guinness World Records certified her time of 152 days total, 144 of them on the bike. She had wanted to be the fastest woman to cycle around the world; instead she was the first, or as Guinness defines it, the first to do it alone, traveling continuously and in the same direction. 
Since then, Buhring has established herself as an ascendant ultradistance rider, having entered two self-supported cross-continent races—the Transcontinental, from London to Istanbul, and last year's inaugural TransAmerica, from Oregon to Virginia—and finished both among the top male competitors. She is one of the primary subjects of a new documentary about the TransAmerica, Inspired to Ride, which premiered in April in Denver. 
Last November, I joined Buhring in Sorrento to ride for a few days, but it was rainy when I arrived, so we ducked into the gastropub, surrounded by an oil-producing olive grove strung with nets to catch the fruit. The cycling along the Amalfi Coast might be world-class, but the food—Neapolitan pizza, cured ham, raw mozzarella, and a range of olive oils—exists in a heightened realm and apparently can't be reproduced in the U.S. at any cost. As we ate and drank, we recalled the unlikely set of circumstances that led to her becoming a cyclist.
"I didn't become a cyclist," she said, correcting me. "I decided to ride my bike around the world." 
---
The next morning the weather had cleared, and I clipped into my road-bike pedals for the first time in several months and followed Buhring on one of her training rides. She doesn't set detailed itineraries so much as general vectors. On her global journey, she says, "I'd make a list of towns that I needed to go through, but mostly I'd follow the sun." That was the idea for the next three days. "I've decided we're gonna do what I do best," she said. "Get lost."
Back in May 2011, when Buhring first told me her plan to ride around the world, I was skeptical. She had never ridden before. "Call it a matter of pride or stubbornness," she e-mailed me then. "A trait both helpful and harmful as the case may be. I am dead set on doing this."
We had spent many hours on the phone over the previous months, when I was reporting a story on the late South African whitewater kayaker Hendrik Coetzee. Buhring had been in an on-again, off-again long-distance relationship with Coetzee for eight years when he was killed and eaten by a crocodile while descending the Lukuga River in the Democratic Republic of the Congo in December 2010. (That story, "Consumed," appeared in the March 2011 issue of Outside.) Buhring and Coetzee had met at the Rock Garden night club in Kampala, Uganda, in 2002, where Buhring also worked as a dancer. At the time, she was still a member of the Family International, though she was plotting her escape. When she fled to the UK in 2006, she and Coetzee lost touch, but they reconnected in 2009 via Skype. She had a one-way ticket to visit him for New Year's 2011. They were finally going to give their relationship a go. Instead, she used the ticket to attend his memorial.
Coetzee was a towering figure in whitewater exploration, a restless soul who led complex expeditions down the Nile and soloed its most difficult stretches. He and Buhring bonded over their mutual inability to follow the rules and over literature, the kind of popular philosophy—Viktor Frankl, Paulo Coelho—that resonates with many who feel adrift in the world. (In a bed-and-breakfast in Agropoli a few days after I arrived, Buhring read aloud Simone de Beauvoir's entire Wikipedia page while interjecting all the ways that de Beauvoir's partner, Jean-Paul Sartre, got credit for her ideas.)
Buhring and Coetzee talked a lot about 19th-century explorer couples like Samuel and Florence Baker and David Livingstone and Mary Moffat—Livingtone's wife, who accompanied the explorer on two expeditions across the Kalahari Desert. "She mellowed him out," Buhring says of Moffat. Whether Buhring would have mellowed Coetzee out is anybody's guess. In a romance built on e-mail messages and webcam calls, she never had a chance to find out.
After spending her childhood trying to escape from the people closest to her, Buhring fit right in as an endurance cyclist. "It's like I quit one cult," she says, "and joined another."
"It's this bitter irony," Buhring says. "I would have never discovered this talent for biking if he hadn't died. But I'd give it all back to see him alive."
It was at Coetzee's service that Buhring met a British expat named Naomi Swain, who mentioned the idea of riding bikes across Canada together. Buhring thought it sounded interesting, but her immediate reaction was, Why ride across a boring country like Canada, and why stop there? The plan fell apart—Swain ended up teaching yoga to refugees in South Sudan—but Buhring began researching around-the-world routes, Googling the waypoints that other women had used. As it turned out, there weren't any. According to Guinness, no woman had ever circumnavigated the globe on a bike. That's mostly because attempting it can be dangerous for a woman traveling solo. Buhring didn't care. 
She wasn't really thinking straight, she says, and she needed a way to channel her grief. "If I'm going to die, it's not going to be on a bike," she says now. "I'd like to die on a bike, and I never get what I want."
She joined a Facebook group of men who were planning a self-supported, around-the-world competition, the inaugural World Cycle Race, in 2012. She wasn't so much interested in competing in the event—a tiny, unsanctioned affair on the fringes of endurance sports—as she was in learning how to ride that far on her own. The organizer was Mike Hall, a 33-year-old British aerospace engineer at Rolls Royce who would go on to win the race in 91 days of actual riding, obliterating the official men's around-the-world record of 106 days. Hall gave Buhring tips on bike maintenance, which bike bags to use—light, waterproof Revelates—and how to pack them. Hall's most important advice, he told me, was about "not needing to ride fast, just needing to not stop."
Hall, like many competitors in these types of events, is independent, capable of enduring great suffering, and fiercely committed to his cause. "I grew up with a harelip and quite a few operations and plastic surgery on my face," he says. "As a child, I was introverted—maybe a bit of a loner. So I was good at riding my bike alone for long distances."
That's a familiar theme among ultradistance cyclists. Many have something inside that allows them to ride for months alone with their thoughts, or that makes solitude preferable. Buhring, who spent her childhood trying to escape from the people closest to her, fit right in. 
"It's like I quit one cult," she says, "and joined another." 
---
Buhring spent the first 23 years of her life in the Family. She was born in Greece in 1981 to a German woman who went by the name Serene Buhring and a Brit called Christopher Jones, who served as the radio voice of the Family's taped and disseminated messages. She has 17 brothers and sisters by her father. To figure out how many siblings she has by marriage—the brothers and sisters of her brothers and sisters—would require a small census bureau. 
At its peak, in the late nineties, the Family counted almost 14,000 members. Originally known as the Children of God, it was founded in Huntington Beach, California, in the 1960s by the controversial evangelist David Berg, a self-styled prophet who preached a mix of Biblical scripture and free love. 
Not Without My Sister was the first memoir by second-generation members of the Family, and it painted an ugly picture. Written by Buhring and two of her half-siblings, Celeste and Kristina Jones, the book—told in three parts, each by one sister—topped the British bestseller list for five weeks in 2007, sold 200,000 copies in the UK, and was translated into 11 languages. 
"Adultery, incest, extramarital and adult-child sex were no longer sins, as long as they were done 'in love,' " wrote Celeste, who is six years older than Juliana. One of the Family's more infamous practices was known as "flirty fishing," in which women were encouraged to use their bodies to recruit new members. Children, the sisters recall, were groomed by having sex with each other (in what were called "date naps") as young as four or five, then farmed out to the group's adults. 
In 2010, three years after the book was released, the Family effectively disbanded, its leaders issuing public declarations that nullified its former beliefs. The organization had already acknowledged in a statement about Not Without My Sister that the women's story was plausible. "The Family has a zero tolerance policy in regards to the abuse of minors," it read in part. "We regret that prior to the adoption of this policy, cases occurred where minors were exposed to sexually inappropriate behavior between 1978 and 1986."
Buhring was born in 1981. When she was three, her mother was sent home to Germany after developing a rare type of arthritis. Buhring was fostered out to a series of caretakers, in keeping with Family tradition. Mostly she remained close to Celeste as their branch of the Family moved around the world, proselytizing in more than 30 countries. The girls rarely saw their father. They were kept in line, they wrote, both physically—with corporal punishment—and psychologically. They were told that the world would end in 1993 and that only the Family would be saved. "A lot of us would say that it wasn't actually the sexual-abuse part that was the most damaging," says Celeste, now a child therapist in the UK. "It was the emotional abuse and the mind bending that was the longest lasting."
Buhring found it especially difficult. When she was 12, the sisters say, they were confined to a locked room for more than a month to keep out of view of child-welfare authorities seeking Celeste on behalf of her mother, who had left the cult. But when Buhring hit 13—shortly after the apocalypse failed to materialize—she matured quickly, shooting up to five foot eleven. She was branded a rebel by her "aunties and uncles," as she was required to call her foster parents, who could tell that she was no sheep. By age 18, in 1999, she was severely anorexic. ("My weight was the one thing I was in control of," she says.) The clan was then living in Dakar, Senegal, and Buhring was working as a runway model, returning to the Family house by night. She knew she had to go.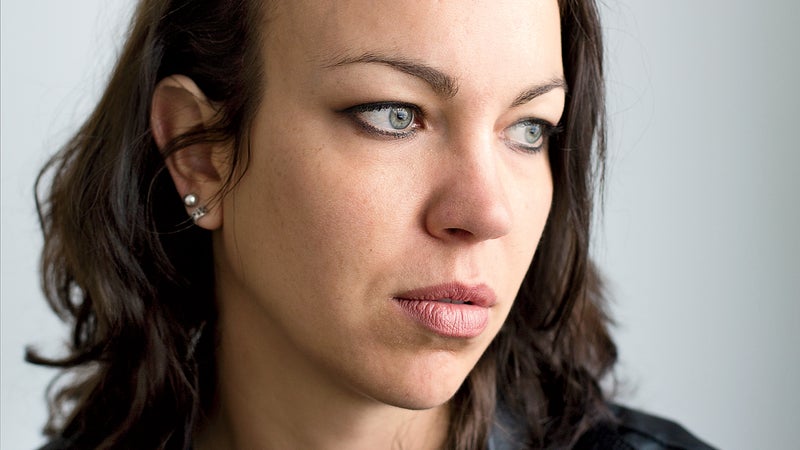 There was nothing preventing Buhring from leaving. Kristina's mother had gotten her away from the Family when Kristina was 12, and Celeste ended up leaving the group when she was 25, by then a mother herself. Buhring felt conflicted about abandoning her younger brothers and sisters, but in 2005, when her sister Davida, then 23, committed suicide, Buhring decided it was time. 
She moved to England in 2006 to reunite with Celeste and Kristina and write the book. She enrolled at the University of Bristol and started a charity called Rise International—since merged with the Safe Passage Foundation—that lobbies on behalf of children trapped in abusive religious sects. In 2009, the year she graduated from college, she moved to Italy—"to escape from the book," she says, "and go somewhere I was unknown."
For Buhring, the whole ordeal has come with the unexpected drawbacks of personal notoriety. Though she's written a bestseller, founded a charity, and become a champion athlete, all by the age of 33, many people still see her—in what amounts to victim blaming—as the woman with the sordid past. She thinks this has scared away sponsors and led to workplace gossip when she tried to hold down a normal job in geriatric care in the UK.
Buhring is still in touch with her mother, who lives in Vietnam. And amazingly, she and her sisters occasionally see their father, who still lives in Uganda and works as a TV and radio producer. (He chose not to comment for this story.) Last December, Buhring says, he turned up at the Christmas gathering she held in Sorrento with many of her siblings. It's a lot to process.
---
Not long after Buhring returned from her around-the-world ride, Hall told her about another race he was planning, in the spring of 2013, called the Transcontinental—this one an inaugural sprint from London to Istanbul. Thirty-one riders made the unsupported, 2,050-mile trip across Europe, each choosing their own route but crossing the Alps at 9,042-foot Stelvio Pass, in northern Italy. Buhring was the only woman. She finished ninth, averaging just under 177 miles per day for 12 days. 
Then, last June, both Hall and Buhring raced the first TransAmerica, an unsanctioned, 4,233-mile gruntfest from Astoria, Oregon, down the Rockies, then east to Yorktown, Virginia. The course follows America's most popular cross-country-touring route. There is no entry fee and no prize money.
Unlike the better-known, 33-year-old Race Across America (RAAM), in which competitors have vans of support crews, the TransAmerica and other upstart bikepacking races like the Tour Divide and the Arizona Trail Race are completely unsupported. Riders can use any publicly available services—restaurants, gas stations, bike shops—but no dedicated assistance. It's a throwback to the old days of the grand tours, the prewar era of the Tour de France when riders would slam out as many miles as they could before falling asleep. 
The race began on June 6. On day two, Buhring wrecked over the handlebars. "She sends us this text," says Mike Dion, the Denver-based director who shot the documentary Inspired to Ride. "All it says is, 'Bad crash.' " Buhring, it turned out, had cracked a rib, and her leg was banged up. "She says, 'I've had ribs cracked before; it's only going to get worse,' " recalls Dion. "And then she just took off." 
A few days later, in Montana, Buhring's seatpost began to slip. She'd stripped out the screw that held up the saddle, and because it was a customized European part, she couldn't replace it on the road. "She'd crank it up, and an hour later it would have settled down again," says Dion. "She looked like an adult on a kid's bike, with her knees up. What it was doing to her knees was insane. There's something about her, mentally and physically—she can just get on and go nonstop."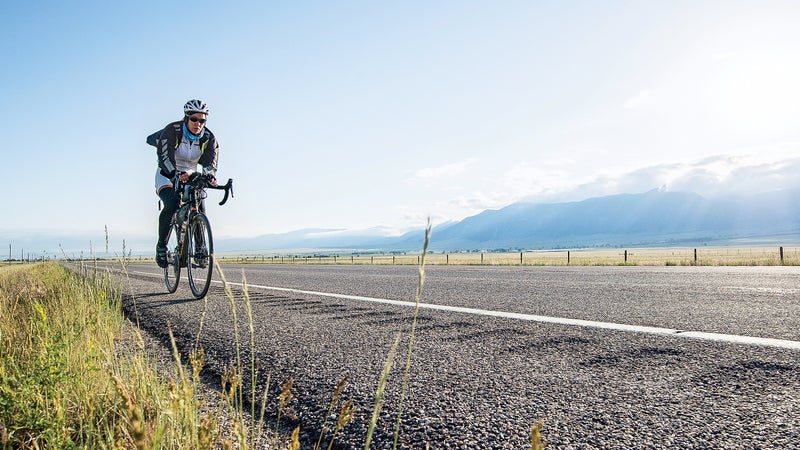 Riders who undertake these prolonged trials often talk about experiencing a separate reality, a kind of religious state that takes place late at night within the glowing bubble of their headlamps. With the miles ticking by on empty roads, their legs become disembodied motors spinning 18 miles per hour while the brain enters a meditative state. For Buhring, this constant motion suspends the listlessness that she might otherwise feel in ordinary life. 
"I get bored if I'm anywhere too long," she says. "I need to feel like I'm accomplishing something. I always have this feeling of urgency, like time is not on my side or is running out. And I always feel like I need to catch up."
Having trained on the fresh mozzarella balls and Illy espressos of southern Italy, Buhring wasn't prepared to cross the great food desert that is the American Midwest. "You're on the road, alone, eating the worst stuff," she says. "I'd go into a gas station and just start grabbing stuff." Anything with peanuts or peanut butter was preferable; she was grateful for the current coconut-water fad.
"I get bored if I'm anywhere too long," Buhring says. "I always have this feeling of urgency, like time is not on my side. I always feel like I need to catch up."
"At a certain point, the road seemed immaterial," she says. "Shadows were chasing me, trees were turning into wild animals, people were jumping out at me, and when I looked again there was nothing there. Nothing looked like what it was." Near the finish of the race, in Virginia, Buhring awoke to the bright lights and honking horn of an oncoming truck. (Cyclists falling asleep on their bikes is one of the biggest dangers of this type of riding.) 
Given Buhring's sudden success, ultradistance cyclists in online forums have noted that her times and average pace mean she probably isn't as fast as the top female RAAM riders, who average 50 more miles per day. Buhring counters this by pointing out that her bike is loaded with everything she needs to survive on the road and sleep in a ditch. "At RAAM, you have a team there to hand you the perfect drink or food at the right time," she says. "Where's the adventure in that? It's less of a physical challenge." 
In the end, 25 of 43 riders finished. Hall won in 17 days, 16 hours, and 17 minutes. Buhring was only three days behind, tied for fourth with a time of 20 days, 23 hours, and 46 minutes. She came in 16 days ahead of the next female competitor, German rider Franziska Hollender. "I mean, I'm not surprised that she won the women's race," says Hall, "but it was a surprise how close she was to the front of the overall race as well."
To do it, Buhring rode the last 36 hours without sleep, covering 500 miles in one push. 
---
Out on the flats south of Salerno, Buhring pedaled open a slipstream that I did my best to stay in. She isn't blazingly fast, but she's powerful. Like that other German, Jan Ullrich, she prefers to climb mountains using the big chainring rather than increase her cadence. She won't train with other women, and rarely with men. "They can't keep up," she says. When she's on group rides, the pace often quickens because she's there. "There's this expectation now that I'm unbeatable," she says. "It's a lot of pressure." 
This part of Italy is an American cyclist's dream. The roads are paved and spider in all directions, over mountains, along flat coastlines, and through provincial nature parks full of Roman ruins. We warmed up with 75 miles on the first day and then rode 125 on each of the next two. It was a pleasant reminder of just how much asphalt you can cover on a bike if you don't have anywhere to be.
Buhring twisted a knee in a crash in December, but she was training again by February. She wants to break her own 12-day record in the Transcontinental, which should have 250 riders this July. Then she hopes to set a record for bisecting the widest part of Italy, between France and Slovenia, in less than 24 hours. And in September, she'll likely be the only woman riding solo and unsupported in the Race Across the Dolomites, nearly 400 nonstop miles over 16 mountain passes, with 52,000 feet of climbing. Maybe then she'll try to set the record for riding from Fairbanks, Alaska, to Tierra del Fuego, Chile. She hasn't really decided yet. 
One thing seems certain: Buhring isn't capable of sitting still for very long. The thought seems to terrify her, as if she's trying to evade some dogged unhappiness that can only gain ground when she's completely at rest. Or maybe she's simply making up for lost time. 
"I wonder how many people have hidden potential they were possibly born with and never discover," she says. "I'm just getting started."
You get the sense she could go forever.
Read senior editor Grayson Schaffer's profile of Hendrik Coetzee.