The Outside Tour de France Awards 2019
With big names out injured and the super-team depleted, we were treated to some top-tier bike racing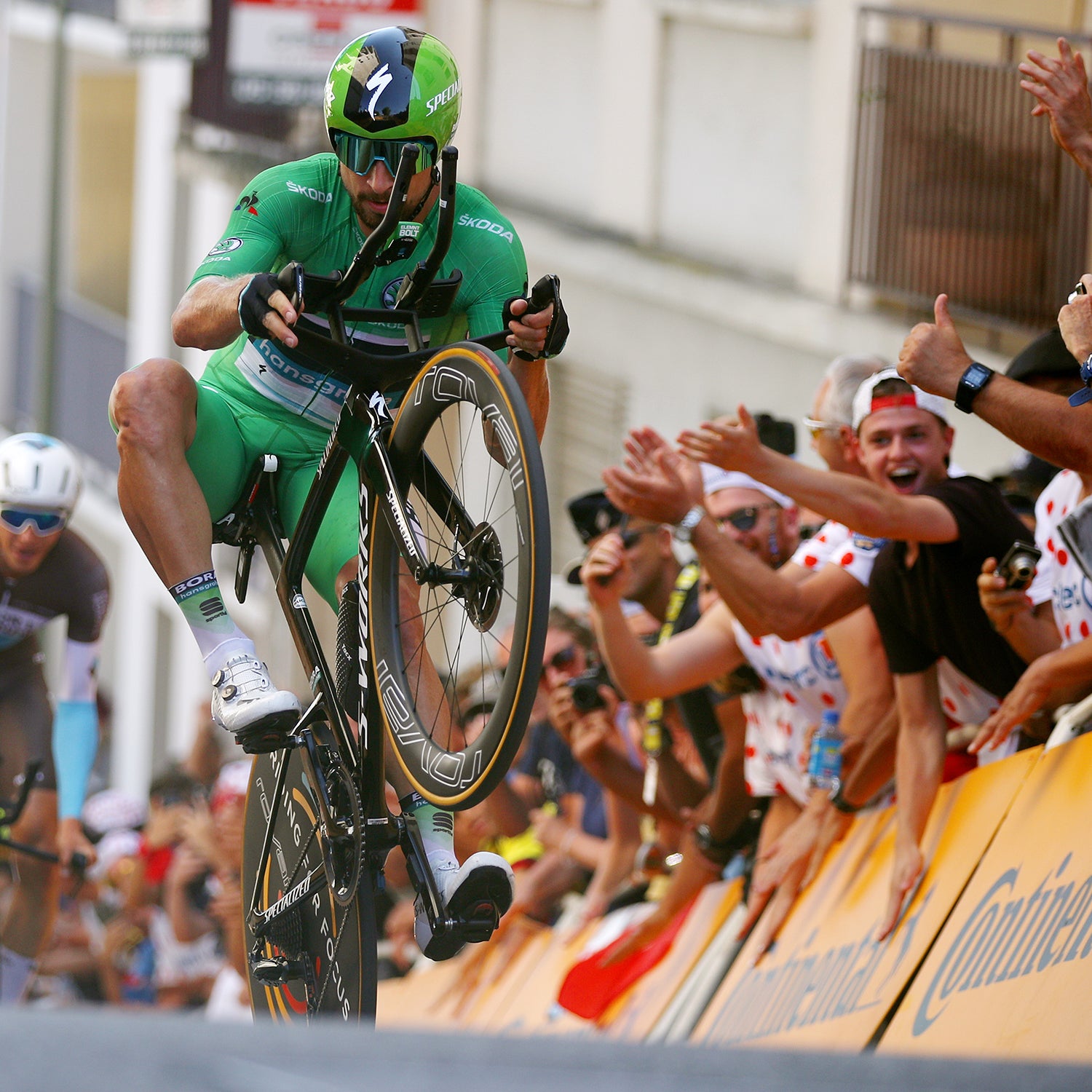 Chris Graythen/Getty(Photo)
Heading out the door? Read this article on the new Outside+ app available now on iOS devices for members! Download the app.
With four-time champ Chris Froome missing from the starting line, his teammate and last year's winner Geraint Thomas banged up from a recent crash, and stalwarts like Vincenzo Nibali and Alejandro Valverde promising to work for their teams and not the overall general classification, prognosticators were having a hard time picking favorites for the 100th anniversary of the yellow jersey at the Tour de France. Turns out that was a good thing. By the time that what some people are calling the most dramatic Tour in a generation wound up in Paris on Sunday, the top three riders were separated by less than one minute and 31 seconds, a Frenchman captivated a weary nation, and a Colombian reigned supreme.
Here are my picks for the best and worst of July's chase for yellow.     
Best Evidence That Cycling Needs a Salary Cap 
With Ineos' (formerly Team Sky) highly paid climbing domestiques showing rare signs of weakness in the mountains, the team with the biggest budget in cycling was suddenly not as dominant as it has been. Which meant that, until the final two days in the Alps, it was anybody's race. And that made for some fun racing. Instead of sitting on the front and controlling every stage like superteams have done since the Armstrong era—a boring as hell if incredibly effective tactic—every day actually went down like a bike race, with no one team winning two stages until the 13th stage and dark horse racers moving into yellow after bold attacks and singular athletic performances. In the end, Ineos won this edition as well, but that's to be expected. Ineos' budget is about $50 million. The average team's budget is less than half that. With no well-funded Red Sox or Astros to Ineos' Yankees, the disparity is just too much. But more to the point, super teams make for dull bike racing. 
Best Prodigy Fulfilled
Only last year, cycling news outlets were calling the Colombian youngster Egan Bernal a "diamond in the rough." As the current Tour champion, the 22-year-old is not rough anymore. In 2015, a famed cycling scout found Bernal in Zipaquirá, Colombia, and had him do a V02 max test to get a feel for his potential. His score? 88.8. (Bernal later said he scores over 91 when properly trained.) If accurate, either score would place him above five-time TDF champ Miguel Indurain and just below four-time champ Greg Lemond for the highest among Tour champions. He's also cool under pressure, a solid bike handler, and by all reports, a level headed family guy. Colombians are still dancing in the streets. And while nothing is certain in pro cycling, they should buy more dance shoes.  
Best Pure Bike Racer
In the end, the sustained climbs at altitude proved Julian Alaphilippe was human, but to wear yellow for 14 days of the Tour, the Frenchman had to tap reserves I doubt even he knew that he had. He won in the hill country, he won the time trial, and he routinely pulled back the best riders in the world on terrifying descents. And he did all this with humility and panache, like a mix between cycling legends Laurent Fignon and Marco Pantani. In the process he captivated the world, but especially the French, who, for the first time since 1985 believed they had a chance to win it all. In that regard Alaphilippe and the French came up short. But that's the petty view. Alaphilippe (he was honored as the Tour's most combative rider) made the French—and the world—fall in love with the grit, drama, courage, and beauty of bike racing again. Whether he decides to hone his climbing and pursue grand tour victories or return to his specialty as a one day rider, Alaphilippe will be remembered alongside Eddy Merckx as a pure bike racer.      
Best Pocket Rocket
Caleb Ewan, lead sprinter of the Lotto Soudal squad, is only five foot four and lacks the unworldly wattage of the Tour's musclebound sprinters. So how did the Australian win three stages like he was shot from a canon? By forcing his already aero body into an extreme position—his head is bobbing so far over his front wheel that his rear wheel skitters around with each pedal stroke—Ewan slips through the wind and doesn't need the extra watts to move his light body. He's the Pocket Rocket heir to all time great Mark Cavendish in this regard. But because he's even lighter he should be able to climb the big mountain stages before the time cutoffs—meaning he's primed to win many grand tour sprints in the future. 
Best of All Time
Peter Sagan. Not only does Sagan ride finish-line wheelies on his time trial bike (don't try that at home) and ease up mid race to sign autographs for his massive fan base, but having claimed his seventh overall green jersey for the 2019 race, he's now officially the winningest green jersey wearer of all time. That makes seven green jersey's out of eight tours and breaks famed sprinter Erik Zabel's long standing record of six wins. Sagan has now worn the green an incredible 121 times—his nickname in the peloton is the Hulk—but has done so while managing to win stages outright, too.
Best Call by Race Officials
Officials consistently refuse to bend and start stages earlier when heat waves torture the racers. But when a storm cell dropped rain, hail, graupel, and snow on the route (and sent mudslides across the tarmac) race officials did the right thing by putting the safety of the riders first and dramatically shortening the final two stages. The move likely benefited the French star Julian Alaphilippe, who held onto 5th overall despite cracking on the shorter stages, but it may also have saved his life. He was in hot pursuit of the favorites in a mad descent and rapidly approaching the hazards when the race was called. 
Best Show of Honesty
Tejay van Garderen, the only American hopeful for the overall, saw his Tour come to an abrupt end when a moment's inattention (there was a noise emanating from his bike) caused him to ride directly into a traffic island and street sign. The resulting violent crash left him with open wounds on his face and a broken thumb, but he finished the stage and only abandoned when the x-ray came back positive and he determined he'd be risking the safety of the riders around him if he tried to continue with a poor grip on the bars. When Lance Armstrong tried to deflect some of the blame unto the traffic islands that are growing evermore common, Tejay said "It's also not safe to be looking down."
Best Redemption Tours
Julian Alaphilippe won yellow early and then lost it to poor strategy. Colombian overall contender Nairo Quintana cracked on a climbing stage and gave up four minutes. And Italian former TDF winner Vincenzo Nibali came into the tour looking for stage wins to no avail. And then redemption happened: on Stage 8, Alaphilippe escaped from the yellow jersey group on a steep final climb to nab yellow. On stage 18 Quintana attacked from the breakaway and seamingly soft pedaled to victory. And on stage 20, Nibali repeated that tactic in still more dramatic fashion holding off a surging yellow jersey group by seconds after riding solo for many painful miles. 
Best Breakaway Artists
Simon Yates came to the Tour to work for his twin brother, Adam, but when Adam faltered, Simon went to work on the breakaway. He won two stages outright and could possibly have won a third if he'd worked with Bernal to finish the climb. His bold attacks and the dramatic win by Thomas de Gendt on Stage 8 elevated the breakaways to a status not seen in years. They're also testament to the dynamism of a wide open race, the likes of which we hope to see more of in years to come.
Lead Photo: Chris Graythen/Getty