Zwift Is Vying for the Olympics—and Just Might Make It
The online-cycling game has some big goals, and with the announcement of a UCI e-sports world championship, it just notched an important milestone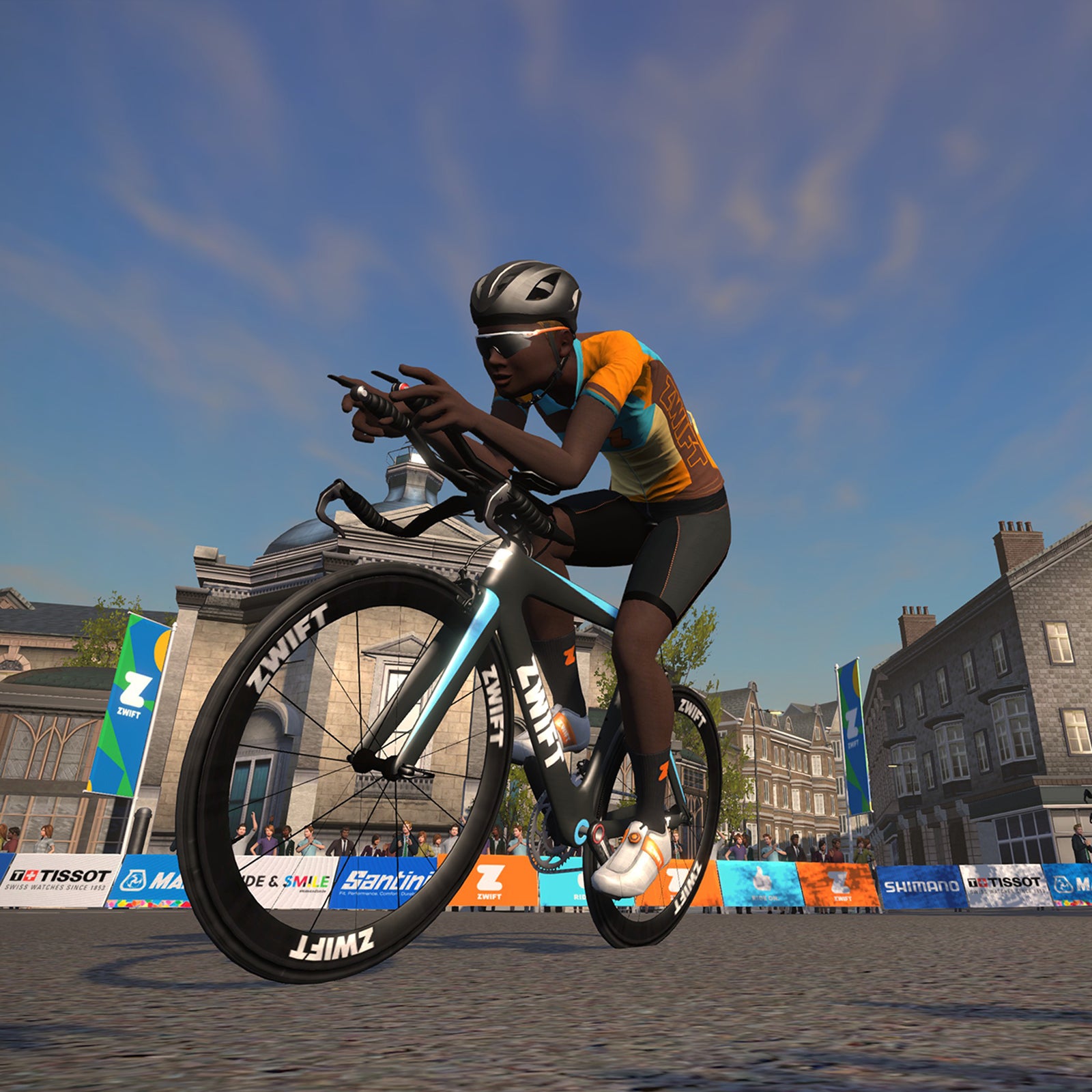 Heading out the door? Read this article on the new Outside+ app available now on iOS devices for members! Download the app.
Last year, Eric Min, CEO and cofounder of the online, multiplayer bike-racing platform Zwift, laid out a bold goal for his creation: "I want this to be a fully-fledged Olympic sport," he said, citing the 2024 Games as a possible target.
That sounds like typical C-suite bluster about a mythical achievement that's far enough away for people to forget if you fail. But it's not that distant in Olympic terms. The International Olympic Committee approved five new sports for next year's Games in Tokyo back in 2016, which means that Min has, at most, another 18 or so months to meet his most ambitious timeline. The crazy part? He might just get there.
Last week at the world championships for road cycling, Zwift announced it will hold the first-ever Cycling Esports World Championships in 2020, with sanctioning from the UCI, which is the IOC-recognized governing body for all things bicycle racing. Association with an international federation is an important prerequisite for any cycling discipline vying for Olympic status, and the 2020 Worlds will offer a kind of test run for Olympic officials to evaluate virtual cycling.
Indoor stationary cycling has been around nearly as long as bikes, and stationary racing is almost as old. But indoor cycling was drudgery for most of that time, a way to get in miles when inclement weather or darkness prevented training outside. Zwift, a mashup of the real and virtual, changed that by pairing stationary riding with a rich, interactive online environment, where you can race against other real competitors. It's a massive, multiplayer, online-role-playing game powered by VO2Max. And people dig it: Zwift launched in 2014 and by last year reportedly had over half a million accounts. There are roughly half a dozen platforms that offer some kind of real-time, online competition similar to Zwift, but thanks to its early debut and high-quality user experience, Zwift pretty much owns the space outright.
But what Zwift is doing here is the difference between running an informal "Wednesday Night World Championships" ride from your local bike shop and putting on a WorldTour race. Last fall the company announced a $120 million fundraising haul that was mostly devoted to growing organized e-racing (for perspective, that's more than twice as much cash in a single round as Strava has raised in its entire ten-year existence), and that includes elite-level competition. One major project is the Kiss Super League, which debuted in January as the first virtual-racing series to feature real (and pro) Continental racers, including recent time trial world champion Chloé Dygert Owen. Around the same time, several national cycling federations, like British Cycling and Cycling Australia, awarded e-racing championship titles in virtual national-championship races, all held on Zwift. 
Fast-forward nine months and we learn that, in addition to those national-champion jerseys, there'll be a rainbow jersey for the first men's and women's world-championship titleholders sometime in 2020. Can that Olympic bid be far behind? Zwift is uniquely positioned for just such a proposal.
One of the things the IOC looks for when evaluating potential new sports for the Games is popularity: how many people in how many countries participate in the discipline. Virtual racing has the potential for broad geographic appeal. Whether you're in sunny Santa Fe or smoggy Shanghai doesn't matter, since you can ride in the comfort of your own home.
Zwift also plays into the IOC's attempts to stay relevant to younger audiences who may not be fascinated by legacy sports like the modern pentathlon. Three of the new sports in the 2020 Games—surfing, sport climbing, and skateboarding—are pretty clearly targeted at millenials and Generation Z. And while adding conventional e-sports is difficult (hand-eye coordination and dexterity aside, it's hard to define Fortnite masters as athletes in the traditional sense), Zwift provides the Games with a bridge. While contested in a virtual environment, it undoubtedly relies on physical ability.
Still, it's worth wondering if things are moving a little too fast here. Zwift streamed the Super League on platforms ranging from Facebook to Twitch (a live-streaming platform for gamers) to YouTube, but viewership was modest, especially compared to conventional outdoor racing. It's not clear whether anyone really wants to watch virtual racing. That makes sense, since the Super League has no WorldTour men's teams—and certainly no marquee names, like a Peter Sagan or a Chris Froome. It's also too soon to say if the Sagans and Froomes of the sport are interested and, if they are, whether their entry would draw fans.
Maybe e-racing will explode, maybe it will implode. No one can really say.
Regardless, we're talking about a world championship, and the higher the stakes, the more incentive there is to cheat. Zwift "doping" has been around for a while already. Regular users can just lie about their weight to artificially boost their power-to-weight ratio. Zwift combats that by requiring verified rider weights and specially calibrated power meters for major events. It even has its own anti-doping agency of sorts. 
But it's still possible to cheat by various means. The winner of that first-ever British e-racing national championships, Cam Jeffers, notched another, more dubious first when he was stripped of the title. Stay with us here because it gets weird: Jeffers isn't accused of cheating in the actual race. He lost his title for using unethical means (a software tool called an ANT+ Simulator) to log massive training rides, which earned points to unlock access to a special, high-performance virtual bike that he then used in the race.
Meanwhile in August, a security researcher named Brad Dixon showed that he'd been able to trick the game by using software to intercept and modify signals between the on-bike sensors and the computer that transmits them to Zwift's servers. What the game recorded as pedaling was just Dixon squeezing a trigger on an Xbox controller. Zwift is aware of the exploit and hasn't publicly identified a fix yet. Crucially, neither of these two illicit performance enhancements involved hacking the game itself, which raises questions about how Zwift can stop exploits that don't target its own software. Of course, there may be other vulnerabilities we don't know about yet.
(it's technically not a hack of Zwift's system, since Dixon changed the data between the bike and computer). Of course there may be other vulnerabilities we don't know about yet.
Zwift and the UCI haven't said how they'll combat possible cheating outside of current rules. Heck, we don't even know the race date. The organizer also has not announced the location, which raises the question of whether competitors will be required to travel to a central location to take part in what is inherently a virtual, disembodied competition. But I gleefully digress. The bigger question is whether this is the next wave of sports or a novel fad that will be surpassed by something else shortly.
Maybe the UCI sees something incredibly promising here; maybe it predicts that e-racing is cycling's next big frontier, and in a decade or two we'll all look back and laugh about how we used to race outdoors on actual roads and how strange was that?
No one really knows how e-racing will work out or where it'll go. One possible obstacle to explosive growth is that e-racing is just a new format for an established kind of competition, which raises the question of how many truly new users it's creating (as opposed to drawing from the existing pool of cyclists). Online video games, like League of Legends and PlayerUnknown's Battlegrounds, offer a creative and competitive outlet that didn't previously exist. Cycling has had a competitive outlet for over a century: it's called bike racing.
I suspect the UCI sees e-racing as an emerging discipline that might seem cooler than stodgy ones like road racing, and it has decided to get it under its umbrella now rather than make the mistake of letting it grow independently, like gravel racing did (and still does). It's pretty low-risk. Zwift is doing most of the heavy lifting. If e-racing blows up, the UCI is on top of it. If it doesn't? Well, the UCI sanctions all manner of oddball cycling disciplines. There's a Pump Track World Championships later this month, for instance (come to think of it, that could be pretty fun). And chances are that you've not heard of artistic cycling (big in Germany!) or cycle ball, even though both have world cups. Just add e-racing to the ranks of quirky two-wheeled endeavors.
Maybe e-racing will explode, maybe it will implode. No one can really say. Meanwhile, Min's well on his way to his 2024 Olympics goal. Unlike last week's Road World Championships, in this race, the temperature will always be a comfy 70 degrees and all the rainbows will be virtual, so no one will crash in a puddle.
Lead Photo: Courtesy Zwift