Get Schooled
Handing Over the Sharp End
When Daniel Duane was a kid, his father taught him how to climb in Yosemite. Two decades later, when his teenage daughter wanted a valley education of her own, he realized that the old beta no longer applied.
Heading out the door? Read this article on the new Outside+ app available now on iOS devices for members! Download the app.
The first time I took my daughter climbing in Yosemite, I thought I knew what I wanted to teach her. 
My own dad taught me to climb in the valley 28 years earlier, and climbing was pretty much all I thought about between the ages of 19 and 24. I wasn't bad, either—not remotely elite, but respectable. And sure, I quit for a couple of decades, got married and had two kids and put on 20 pounds, but those pounds were half muscle, and a guy doesn't forget the skills he learned in his formative years. So when Hannah, my eldest, turned 12 in 2015, joined a local San Francisco climbing team, and pressured me to take her to Yosemite, I figured my 47-year-old body would slip back into my 24-year-old self like into a faded pair of Levi's and start my kid down the road to Yosemite happiness.
Hannah even knew about a superbly beautiful route called Astroman that I'd always dreamed about in the old days but never got good enough to do.
I still had all my gear, so I dug it out of the basement and snapped the gates on 30-year-old carabiners just to remember the feeling. I tried on a pair of climbing shoes last worn in the prior millennium, and I bought a new rope, to be on the safe side. Hannah already knew all my climbing stories, but I rehashed them anyway during the four-hour drive from our home to Yosemite—sleeping in Camp Four with Grandpa, meeting young climbers from around the world, living on spaghetti-and-ketchup burritos. Like the good kid that she is, Hannah let me tell her all over again that old-school crack climbing is very different from the sport climbing she does indoors, and that just because she climbed 5.12 in the gym doesn't mean squat in Yosemite. She indulged me in a rehash of the classic apprenticeship I'd followed, too, how we didn't have climbing gyms in the old days, so the only way to get better was to follow an experienced leader through a sequence of short, easy climbs, learning along the way all the rules and theories behind the safety systems. As you became more confident and proved yourself, you started trading leads with a partner on routes that took most of the day. Then you tackled a classic progression of overnight big-wall climbs: first the south face of Washington Column, then the Northwest Face of Half Dome, then the Nose on El Capitan, the ultimate Yosemite rite of passage. Hannah even knew about a superbly beautiful route called Astroman that I'd always dreamed about in the old days but never got good enough to do. On that first drive to Yosemite Valley with Hannah, I said I could see rebooting my old Astroman fantasy and going on a multiyear training quest.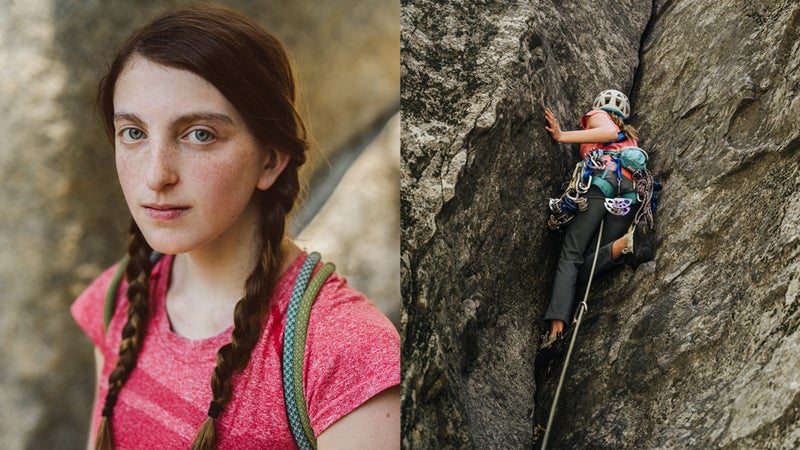 Our warm-up route, a short and easy number called Jamcrack, went great. Fifty feet off the ground on our second route, an ultra-classic 500-footer called Nutcracker, I got my first reality check. I must have done Nutcracker a dozen times in my former life, so I knew every move. Still, my fingers felt surprisingly weak and sweaty, and my body felt curiously (or not so curiously) stiff. I could have sworn the cliff itself had got steeper, too, but Hannah was so calm and so far from challenged that I figured I was imagining things. Higher still, during a particularly awkward move, I felt my lower back twitch the way it does when it's going to seize up. I managed to stop that from happening with a series of weird breathing and pelvic-wiggle tricks I'd learned over the years, but then, 400 feet off the ground, I got to Nutcracker's famous crux. The cliff really does get steeper there, the holds get smaller, and you have to make a delicate move to slap at a big jug above.
I looked down at my beautiful kid 50 feet below and realized that if I fell, I would smack hard against the wall above her. That thought stirred up memories of two friends who'd died climbing decades earlier—one on El Cap, in a long drop to the ground, and the other on a different Yosemite cliff, when he'd happened to hit his head during a relatively short fall. I looked back up Nutcracker and noticed a dark cloud slipping into view overhead, and remembered also the Japanese pair who froze to death in a storm near the top of El Capitan's Nose route in 1984. If it rained hard, I thought, Hannah and I would need to retreat fast. 
I looked down again and realized that if I did fall and smack the cliff above my daughter, I would almost certainly break an arm or a leg, and that if we did have to retreat in the rain, I'd need to build rappel anchors for us all the way down the cliff, and that if I really did shatter an arm or a leg or get a serious head injury, then Hannah would have no clue what to do and I might be so disabled that I'd never work again and my wife would have to support the entire family, and even if that did not happen but I still had to build all those rappel anchors in the freezing rain, I would be absolutely screwed because I forgot to bring a spare rope, which meant that it would take hours and hours to get down and we would both become hypothermic and maybe just outright die, a thought that filled my panicked brain with the irresistible and obvious question: What the hell am I doing?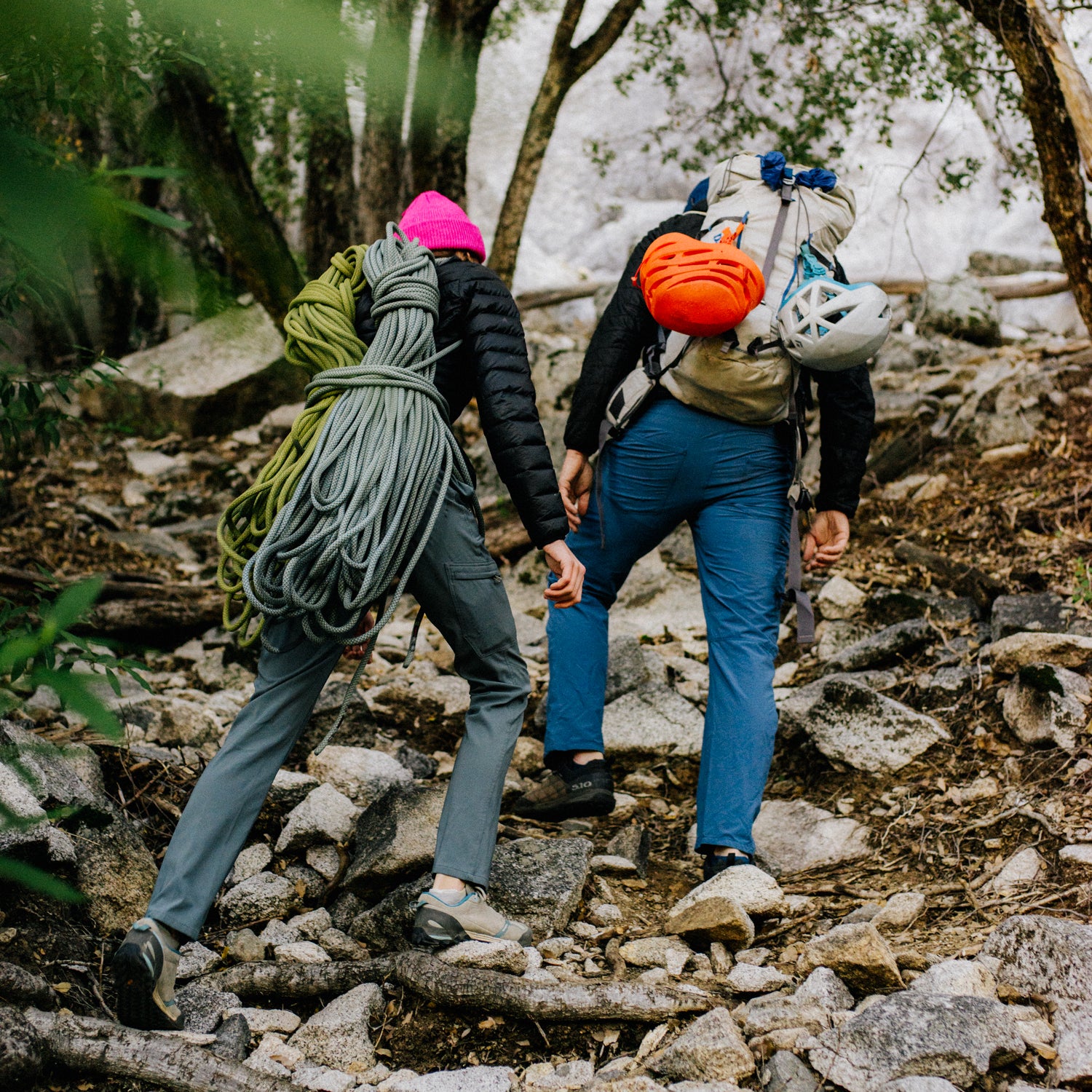 ---
By the time we got home to San Francisco, I concluded that Astroman was a ­delusional pipe dream and my real job was to make Hannah into the safest kid climber of all time. I started by purchasing a book called Climbing Anchors, by Bob Gaines and John Long, a Yosemite legend who made the first ascent of Astroman and, inciden­tally, fell 30 feet at a climbing gym in 2012, shattering his leg. I made Hannah read two chapters with me every night for a week, and she was a good sport—even when I administered verbal exams at bedtime. Next, I did the same with Climbing Self-Rescue: Improvising Solutions for Serious Situations, by Molly Loomis and Andy Tyson, for which I also rigged ropes and gear between a staircase and the rafters in our living room, with a 70-pound punching bag standing in for a badly injured and unconscious climber (read: me) dangling from one end of the rope, so that Hannah could practice getting herself (and me) out of trouble. 
Hannah pulled on her shoes and harness, tied into the rope, and, while I stood ready to offer pointers, floated up it like it was a ladder. Never once did she ask for my advice.
Then I went out for beers with a surfing buddy who happens to be a shrink and confessed that I was still terrified about the potential consequences of getting my kid into this sport, but that Hannah was so hooked there was no changing course and it was only a matter of time before she drove off to Yosemite with dumbass teenager friends who'd get her into all kinds of trouble. 
"I get it," he said. "You want Hannah to know enough about the safety systems that she can be up on some climb when you're not around, with some cute dirtbag ­climber dude who doesn't know what he's doing, and make that judgment for herself. So she can be like, 'Look, you're really cute, and we can totally hang out in your van, but we're never climbing together again.' " 
I could have done without the van image, but the basic picture was on point.
"What if you outsourced some of the teaching?" my surf-shrink buddy said. "Get some other people to do it for you, to relieve some of the pressure?"
That sounded so fabulous that I called yet another family friend, Peter Mayfield, who used to be the chief guide at the Yosemite Mountaineering School. Mayfield now directs the Gateway Mountain Center, which puts on climbing camps near Lake Tahoe, with the help of yet another family friend, a world-class big-wall climber, professional guide, and platinum-blond dirtbag with a heart of gold named Steve Schneider. I asked Mayfield if he might be able to squeeze Hannah in for his next camp session and get Schneider to teach her everything there is to know about safety systems, while maybe going easy on his usual cavalcade of harmless but dirty jokes. Mayfield agreed.
For my final consult, I turned to my wife, Liz. (On most matters, I consult Liz first; climbing is different.) With Liz, I couldn't help spewing a more vulnerable truth—as in, "I'm not half the man I used to be. My 24-year-old self could have led Hannah up fabulous routes that she would have loved, but my middle-aged ass gets scared shitless and will need years of reentry—whole weeks of climbing easy stuff outdoors with adult men as partners—just to get back a shred of my old mojo." 
"Why don't you hire a guide?" she said. 
I wasn't sure that I'd heard her correctly. "Did you say hire a guide?"
"Yes, a professional." 
"For what?"
"What do you mean, for what?"
"For what would I hire a guide?"
"To climb with, dummy! You're telling me you want to climb, you're telling me it's too scary, you're telling me Hannah needs to do harder stuff than you can lead, and you're telling me you can't catch up without doing more climbing. So hire a guide."
"Honey, I could have been a guide myself at one point. Almost, anyway. I don't need a guide." 
She sighed, and then her eyes got that loving, compassionate look. She said, "I know you could have been a guide, sweetie. I do. You would have been a great guide. All I'm saying is that maybe in October, when we go up to Yosemite for your parents' 50th anniversary, we could call up the Yosemite Mountaineering School and get somebody to lead you and Hannah up something big and fun." 
Liz is almost always right, so I called a friend and former guide named Ken Yager, who worked for the Yosemite Mountaineering School for 12 years. I told Yager I had a weird question and that my wife was pressuring me to give a great birthday present to Hannah, and Hannah was so psyched on climbing that Liz thought maybe Hannah would have fun climbing with a guide—not that I needed guiding myself, understand—but hey, I'd probably tag along just because I liked the idea of picking up some guiding techniques for my own use. So, anyway, could Yager maybe recommend a guide? 
Yager, I should point out, in addition to being an old-school Yosemite hardass, is a father himself and what you might call a Soul Man. He has heart, in other words. So he told me that all my bullshit made perfect sense and gently suggested a guy named Nate Kerr who had a daughter Hannah's age. 
Hannah and I met Kerr early one morning in October 2015, below Yosemite Falls. I told him that I'd done a lot of climbing in the old days and used to be super good and was just getting back into it, and that I'd led Hannah up some solid 5.7's and 5.8's a few months ago and thought she was probably ready for 5.9, so maybe he could take the lead and let me tag along just for laughs. Kerr, who was a great guy, accepted my rap and did just that. I had fun, but somewhere deep inside… I don't know. Everything felt terrible.
Afterward, with a couple of hours left before dark, Kerr invited us to join his wife and daughter at a little cliff called the ­Cookie—to climb as friends, not as clients and guide. That sounded terrific, so we drove to the Cookie and scrambled up a dirt slope through trees to the base of a 5.10d crack called Catchy that I'd led back in the day. I told Kerr that I was at least a year away from being able to repeat Catchy but Hannah ought to have a go just to see how hard a serious valley crack can be. Hannah pulled on her shoes and harness, tied into the rope, and, while I stood ready to offer pointers, floated up it like it was a ladder. Never once did she ask for my advice.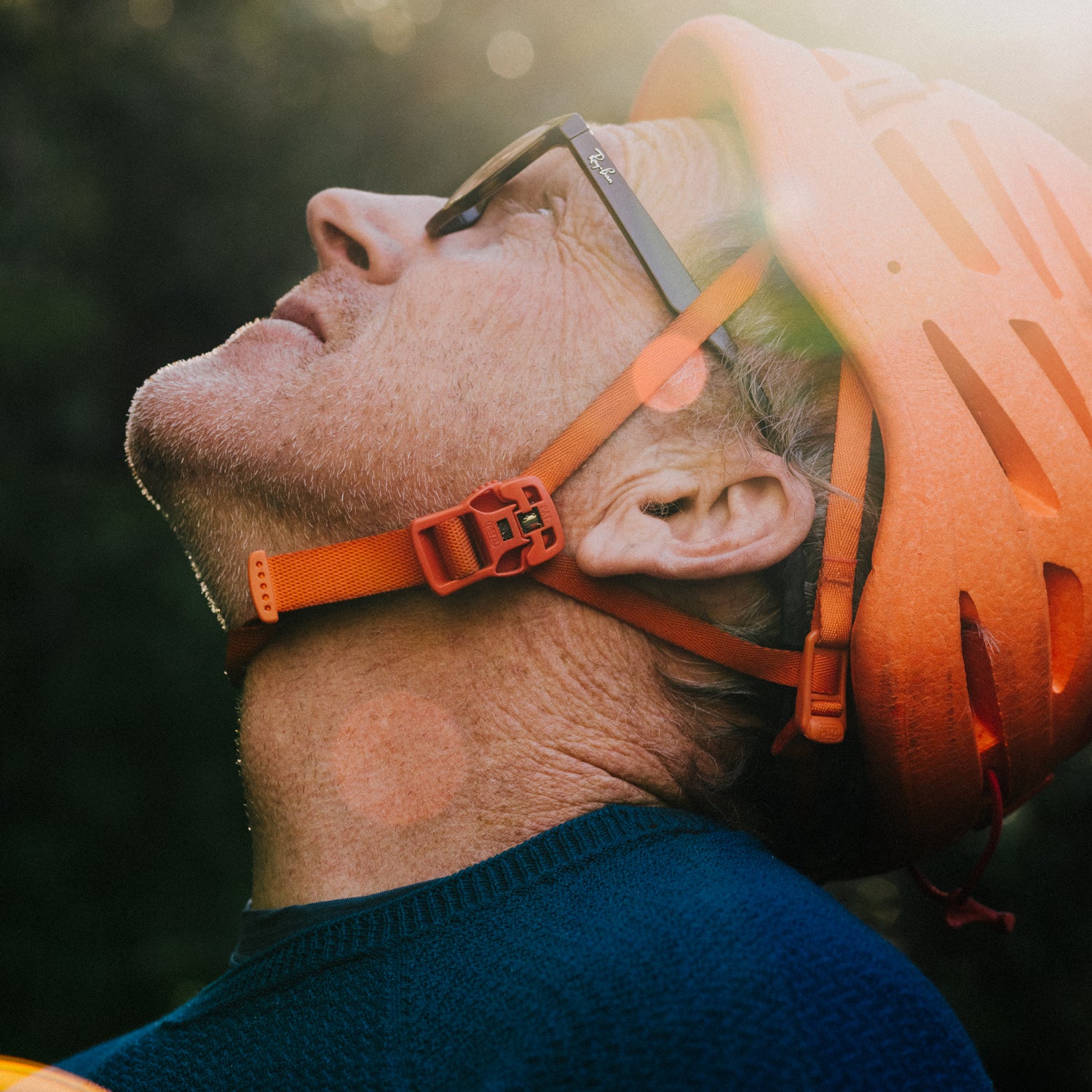 ---
Later that fall, Hannah hurt her finger. Of course she did. She was so psyched on climbing that she trained three times a week with her indoor team, for three hours at a stretch, plus extra sessions with me and her friends. By mid-October, she'd blown a key tendon and her entire indoor climbing season was effectively shot. The fun and bragging rights of Hannah's Yosemite triumphs carried her for a little while, but her climbing world soon shrank to the simple, miserable fact that she was not getting better on plastic and other kids were beating her. Then, in May 2016, at the USA Climbing Regional Championships in Sacramento, Hannah climbed her first route well but fell low on her next two. She fought back tears the whole drive home. 
Suddenly, I decided that my real job as my daughter's primary climbing teacher—now that we'd made progress on the safety thing—was teaching the crucial life skill of extracting happiness from long, easy climbs. I pictured an entire summer in which my daughter and I would hike deep into the backcountry and cruise up alpine routes so beautiful they made hard Yosemite cracks look like a sideshow and indoor climbing like a weird Habitrail for people who hate nature. 
Hannah took the bait, and we drove to the higher-altitude part of Yosemite to start with a route called Tenaya Peak—1,400 feet of easy but classic granite, serious business for a girl who'd never climbed a route even half that tall. If I led each pitch and belayed her up from below, it might take as long as eight hours. So we got up at 3:30 A.M. and packed for the worst: rain jackets and pants, thermal tops and bottoms, fleece tops, hats, and gloves—all in case we got caught on that big face in one of those fierce thunderstorms that can turn sunny Yosemite cliffs into frigid waterfalls. I also packed an extra rope, enough food to survive an entire night out, and three liters of water for each of us.
To reach the route, we had to scramble up 500 feet of loose slope and scrub forest to the lower slabs of Tenaya's immense north buttress. Then, as we dropped our packs to rope up and start, Hannah looked up at that giant granite face and said, "Shouldn't we simul-climb this?"
She was referring to an advanced technique in which both climbers move upward simultaneously, with a rope connecting them. The leader places gear, the follower removes it, and the whole operation goes way faster. The stakes are much higher, because any slip by the follower can yank the leader right off the wall, and you never have a proper full-strength anchor. 
I said, "Kiddo, I did simul-climb a lot with my friends back in the day, but it's way more dangerous, and it really only makes sense where there is no chance of anybody falling."
"Dad," she said. "Isn't this like 5.5? And mostly 5.3? I mean, super easy?"
Three hours later we stood on the summit in a cloudless sky having not consumed a single bite of food or a single drop of our six liters of water. We had just simul-climbed 1,400 feet, in other words, while I carried a 40-pound pack of stuff we didn't need. 
---
Last winter, shortly before Christmas, Steve Schneider called. He told me that he'd been impressed at his climbing camp by Hannah's competence with ropes and gear. She'd asked for instruction in big-wall techniques, Schneider said, like direct-aid climbing, in which gear is used not just for safety but also to make upward progress. Schneider wondered if we might enjoy following him up Washington Column, Hannah's first big wall. 
I told Liz, who then told Hannah, without consulting me, that it could be a Christmas present. (I forgive her, I swear.) Hannah flipped with excitement and I tried to seem happy. I even told myself I was happy and that I would have fun. Schneider is a terrific guy, after all, and it would be an honor to climb with him. But I soon realized that I was miserable. I kept that misery to myself, until, a few months later, while Liz was at the gym, I started firing text messages to her about how my father taught me to climb in a methodical progression from easier routes through steadily harder ones over many years. It was slow and I was no wunderkind, but every rung of that ladder felt precious precisely because I'd earned it and owned it. Every big climb I ever did—Washington Column included—I did as an equal partner of a team, either with Dad or a friend, for which that climb was an awesome but appropriate step forward. Hannah and I were not yet ready for Washington Column, but if we kept plugging away at our current rate of progression—if we kept following the Path of the Yosemite Climber, as I understood it—we could be ready within a season. If we skipped all those intermediate steps and went up on Washington Column with Schneider, we would be grabbing a brass ring that wasn't rightfully ours yet. None of this was Schneider's fault—his offer had been kind and generous—but if Hannah came home afterward and said, "Yeah, I did a big wall," she would be, in my view, the privileged kid who doesn't realize that Daddy just gifted her an accomplishment. And anyway, she was only 14! Why skip steps? Why not savor the whole journey and acquire that deep knowledge and experience? 
Liz didn't respond to any of this. I accosted her when she got home.
I said, "You have no idea what I'm talking about, do you?"
"Not really," she said. 
"You think maybe it would be totally fine to give Hannah the Christmas present we promised and make her ecstatically happy by letting her climb Washington Column with Steve Schneider."
"I do." 
Unsatisfied, I called my father. "Dad," I said, "I need to talk."
I laid it all out for him.
He said, "Son, I'm so with you I have tears in my eyes."
The next day, I broke it to Hannah: "Sweetie, I don't want to do Washington Column this year."
Her eyes widened and she said, "Can I just do it with Steve, without you?"
"No."
"Why not?"
"Look, my dad totally agreed. He agreed so much that he cried. Please understand that it's not because climbing doesn't matter to us; it's because climbing is like religion for us and we have our own way of going about it. We have values, and those values are about earning and owning every step of the journey, and we gotta stick to our values." 
Hannah exhaled slowly and nodded the way she nods when she knows that her dad has gone insane and there's no point arguing. 
For the next week, Hannah could barely look at me. I began to wonder if I was just having an ego problem, maybe recoiling against a vision of myself as a follower instead of a leader.
One day, as I dropped Hannah off at climbing practice, she said, "How soon do you think we could do the Column together, just you and me?"
"Next season," I said. 
"Can that be our plan?"
I felt a surge of joy and said, "That would totally make me happier than anything else in the whole entire world, and maybe we could have a training plan and tick off all the preparation routes together and start getting all the gear in place, huh?"
Hannah nodded in a way that said, That's what I thought. Then she gave me a small smile and got out of the car, and I was left to wonder what my response had confirmed in Hannah's mind. I watched her disappear into the gym, where she and her teammates run laps on routes harder than anything I have ever climbed. Then it hit me. All that stuff about progression and earning each step was absolutely genuine, but so was the final lesson that Hannah read in my eyes before I could even admit it to myself: that I would love it if she could refrain from leaving me behind, at least for another few years. 
Daniel Duane is the author of three memoirs, two novels, and a book about climbing in Yosemite.
Photographs by Justin Kaneps