The Last Days of Marc-André Leclerc
He was the best alpinist of his generation, a quiet, unassuming Canadian known for bold ascents of some of the world's most iconic peaks. At the age of 25, he traveled to Alaska to join climber Ryan Johnson for a first ascent outside Juneau. They never came back, and a frantic nine-day search left more questions than answers.
Heading out the door? Read this article on the new Outside+ app available now on iOS devices for members! Download the app.
In the summer of 2016, I was researching the northwest face of the Devil's Thumb, an infamous peak in southeast Alaska chronicled in Eiger Dreams, by Jon Krakauer. As a young writer, Krakauer had himself climbed the east ridge, but as I soon learned, no one had ever ascended via the 6,500-foot northwest face. It was one of alpinism's last great prizes. In 2003, Guy Edwards and John Millar, two top-tier Canadian climbers, had disappeared on that face during a week of bad weather and frequent avalanches. After a six-day search, Alaska state troopers gave up looking. No one had attempted the line since.
I called Colin Haley, a Seattle-based alpinist who has climbed extensively in Alaska, to ask if he knew of anyone thinking about a push on the massive and dangerous face. He didn't, but he told me that if I was searching for a story, I should look into a young man from British Columbia named Marc-André Leclerc. "He's one of the best all-around climbers I know," Haley told me. I called Leclerc.
On the phone, the 23-year-old was soft-spoken and articulate, and he laughed at himself when he slipped into Canadianisms like "eh." He explained that he'd gotten into climbing after reading a book his mother gave him when he was eight years old, how he'd learned at a gym near Vancouver but had always been more interested in big mountains. "I told the grownups that I wanted to go to the Himalayas," he said, "and they told me that it was too dangerous. In North America, people like to push the difficulty of climbing without pushing the risk. The danger aspect of going into the mountains is discouraged."
Two days after our conversation, Leclerc left for Patagonia. Over the next few months, we spoke intermittently by e-mail and made plans to meet in December. Eventually, I learned that Guy Edwards, who'd cut his teeth climbing near Leclerc's home before disappearing in Alaska, was one of the young Canadian's heroes. What I couldn't have known was that before long, on a peak not far from the one that had taken Edwards's life, Leclerc would succumb to a similar fate.
---
Like many couples in their twenties, Leclerc and his girlfriend, Brette Harrington, had a tough time saying goodbye. But on the morning of Saturday, March 3, 2018, it proved easier than usual.
The week before, the pair had made a first ascent of a peak called Station D, 42 miles from their home in Agassiz, in southwestern B.C. Temperatures dipped to minus four degrees, and Leclerc let Harrington, a petite blonde with bright blue eyes and nerves of steel, lead every pitch so she could stay warm. At night he heated her feet on his stomach. Still, when they returned from the climb after four cold days in the mountains, Harrington was ready for warmer weather. She headed to Tasmania to climb on Tasman Island for two weeks with friends.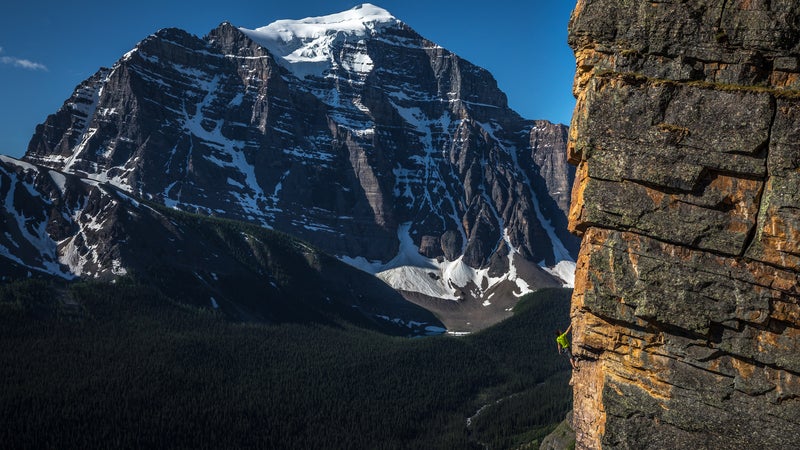 Leclerc had a few options to pass the time while she was gone. He'd been thinking of soloing Mount Waddington, at 13,186 feet the highest peak in Canada's Coast Mountains, but the conditions weren't lining up. The weather around Juneau was looking good, though. And he remembered an invitation he'd received a few months earlier from a 34-year-old climber named Ryan Johnson.
Johnson, a Juneau local, was an Alaskan climber through and through. He claimed that he could feel the difference between 80- and 100-mile-per-hour winds. He once described himself as having "biceps like a seventh-grade member of the debate team and calves like bull testicles," but as a gold and silver miner in southeast Alaska, he developed a reputation as a little guy who could outwork the big guys.
Johnson had obsessed over the north face of the Main Mendenhall Tower for years. The seven-peak granite massif lies ten miles north of Juneau. Over the years, Johnson had put up countless routes on all the towers. But the proudest and most obvious line was the unclimbed 2,500-foot north face. He'd attempted it once, in 2015, but turned back when the ice got thin halfway up. The route, Johnson explained when he contacted Leclerc about climbing it together, wasn't technically difficult, but it was extremely challenging to protect against a fall—even a small slip could be fatal. The granite would be heavily rimed, like climbing Styrofoam, and though they'd be roped up, they'd need to climb as if they were soloing the face. It sounded right up Leclerc's alley.
By the time Johnson reached out to him, Leclerc was no longer just a promising young climber; he was being lauded as the leader of a new generation of alpinists. In 2015, he made his second trip to Patagonia and soloed the Corkscrew linkup on Cerro Torre. The 4,000-foot route features exposed ice and rock climbing and was the hardest line anyone had ever soloed in the region. Leclerc was just 22 years old. In September 2016, he went back and soloed Cerro Torre's neighbor, Torre Egger. The line he chose, on the East Pillar, was even harder than the Corkscrew. "Want the definition of badass?" wrote Rolando Garibotti, Patagonia's most respected climber and its de facto record keeper for accomplishments in the southern Andes. "There you have it."
No one had soloed Egger in winter, but Leclerc, it seemed, had the ideal skill set for the job. As Katie Ives, editor of Alpinist, told me last year when I spoke to her for a profile of Leclerc I was working on, "He's bringing the kinds of technical abilities that we used to associate with sport climbing to places where they're also dealing with altitude, rime, ice, bad weather, and wet rock. He's putting all the pieces together."
"He's bringing the kinds of technical abilities that we used to associate with sport climbing to places where they're also dealing with altitude, rime, ice, bad weather, and wet rock."
Climbing ran a profile of Leclerc in September 2017, titled "The Calculated Madness of Marc-Andre Leclerc." Sender Films, the production company behind Valley Uprising, began filming with him. But even as the media came calling, Leclerc didn't seem to care. When a film company requested some B-roll of him ambling around Squamish, B.C., he bashfully avoided the town's main drag, not wanting to attract attention. I spent a week with him in December 2016, while he was living in his mother's attic an hour east of Vancouver, and he seemed more excited to have me around as a belayer than by the prospect of media coverage. He simply loved to climb. Which explains why, when a climber he'd never heard of contacted him about tackling an obscure Alaskan peak, he jumped at the chance.
The night before Harrington and Leclerc parted ways for their separate climbs, Harrington wrote Leclerc a long letter about how sad it was to say goodbye. "But I know you're gonna have an amazing time in Alaska," she wrote in loopy green letters. "I can't wait to see you again and we can climb together all spring! Good luck and be safe."
She never gave it to him. It was 4 a.m. when Harrington dropped Leclerc at the airport in Vancouver for his flight to Juneau. She hugged him and he was gone.
---
At 7 a.m. on Sunday, March 4, a chopper chartered from a Juneau outfit called Coastal Helicopters touched down on the Mendenhall Glacier, north of the towers. The sun had just come up, and the weather was clear. The forecast called for a high-pressure system to move through the area for at least three days, and the snowpack seemed stable.
The 2,500-foot north face of the Main Tower is taller than Yosemite's Half Dome. Even for Alaska—where everything is big—the face is enormous. In late winter it never sees the sun. The wall terminates at a series of crevasses that litter a 55-degree snowfield for a few hundred feet before aproning out into a flat expanse on the glacier. If a rock fell from the ridge, it would plummet a couple thousand feet before bouncing down the snowy run-out and coming to rest a quarter-mile from where it first landed. That's the approximate spot Leclerc and Johnson cached all the gear they wouldn't need until the following day, when they'd ski ten miles out the West Mendenhall Glacier Trail back to Juneau. They planned to return by Wednesday evening at the latest.
They didn't have much gear to cache. Both climbers were fanatical about moving fast and light over unknown terrain. On one of Leclerc's monthlong solo trips to Patagonia, he brought just five carabiners and two ice screws—less gear than most climbers take for a day at the crag.
Leclerc and Johnson stuck their skis and an avalanche probe in the snow and attached a reflective vest to the probe so they could see it from high up the face. Then they racked up and trudged toward the black granite face.
The climbing wasn't nearly as hard as some of the routes the men had completed in the past. They probably didn't talk much. When you've got a good partner for an alpine climb, there isn't a lot to say. There are fleeting moments when both would've been at a belay stance, but even then it's a quick changeover of gear, maybe a couple of words about the line, then back to the business of putting one ice tool in front of the other.
The sun set at 5:35, and Leclerc and Johnson bivied on the face, probably snacking on trail mix and using a small stove to melt snow to drink. They'd have started climbing again by first light.
Just before 10:30 a.m. on Monday March 5, Leclerc texted Harrington, who was still in Tasmania: "Love, I'm at the summit! It was an incredible climb." He sent her a few photos and posted to Instagram. "Rare live update here," he wrote, accompanying a photo looking west. "That is Mt Fairweather in the distance." Then he texted his mom an image of the surrounding peaks. "Beautiful," she responded. "Where are you?"
Meanwhile, Johnson took a video for his girlfriend, spinning in a circle to show her a cloudless view that stretched a hundred miles.
---
Marc-André Leclerc was born on Vancouver Island but largely raised in Agassiz, a small agriculture town in the Fraser Valley. It's conservative and religious, though Leclerc was neither. It's the kind of place, he said, where people "get a farm, get their blessings from the Lord, and have a bunch of kids to help out."
The family didn't have much money. His father, Serge, worked construction. His mother, Michelle, stayed home with Leclerc, his younger brother, and their elder sister, before taking a job at a restaurant to help make ends meet.
The region is not known for alpinism or climbing of any sort. If anything, it's notable for producing exceptional corn. But as a four-year-old, Marc-André knew the height of Mount Everest to the foot and could recite the exploits of Edmund Hillary and Tenzing Norgay the way some kids reel off dinosaur names. His mind moved at hyperspeed. He would draw diagrams for his mom of ionic bonding; as an eight-year-old he tossed and turned in bed, thinking about the scientific principle of entropy. Climbing was the only time his brain could relax. He learned, like many kids his age, at a local gym. But it was the mountains he wanted. Despite winning competitions against boys three years his senior, he asked his mom to pull him from the climbing team.
At 14, he started working construction with his father. It was hard, but he liked it. He saved his money and bought some second-hand ice-climbing tools, a rope, and a set of steel pitons that he learned to use from an old army survival manual. The gear would have been state-of-the-art had he gotten it 60 years earlier. "It wasn't like I said. 'Oh, I want to get into climbing,' and then my parents bought me a ten-day course with guides and a bunch of new gear," Leclerc told me with just a touch of pride in his voice. "I had to save up my pennies and buy shitty ice axes."
A middle-aged land surveyor taught him to ice-climb when he was in high school, and he topped out his first multi-pitch route with a German man who was in his seventies. To get to trailheads, Leclerc would hitchhike, take the bus, or have his parents or his sister drop him off. He did most of his climbing alone, slowly developing his technique on rock and ice. He practiced building anchors in his room and scaled telephone poles with his ice tools. He became one of the best climbers of his generation largely by reading books and doggedly figuring things out on his own.
"He doesn't want any of the accolades or anything, he just wants to have an experience in the mountains."
Leclerc finished high school a year early, spent a summer hanging drywall, and then moved two hours northwest to Squamish, where he met Harrington. If there was one thing he loved more than climbing, it was Harrington—"the cute one," as he referred to her. You could barely talk to him without a digression to what incredible thing Harrington was doing at the moment. "Isn't she amazing?" he'd say to anyone who'd listen.
The two met when she was 20 and he was 19. She was in college in nearby Vancouver, and he was living in a friend's stairwell for $180 month. All either of them wanted to do was climb. They started tying in together and soon were dating. Leclerc loved being in the mountains. Even more, he loved being in the mountains with Harrington. They traveled to Baffin Island, Yosemite, and Patagonia, getting better and better. When he soloed the Corkscrew, she was soloing Chiaro di Luna, a 2,500-foot climb on the opposite side of the valley. That night at base camp, as a storm raged around them, they sang in their tent, celebrating together.
---
Leclerc always called Harrington when he was out of the mountains to let her know he was OK. When Wednesday rolled around and he hadn't contacted her, she texted him: "I hope your making it back okay. It's been awhile since your summit message." She didn't get a response, so she called Juneau Mountain Rescue to check in.
Juneau, a town of 32,000, isn't considered a climbing destination. The community of climbers there is small. Many on JMR knew Johnson personally; some had teamed up with him to climb. Three years earlier, Johnson, though not a member of the crew, had saved the lives of four JMR members who'd been pinned down on a ridge by a storm.
It was Wednesday morning, March 7, when they got Harrington's call. One of JMR's members had talked to Johnson before he left for the towers and reported that the men weren't due back to town until later that evening.
Maybe I jumped the gun on this one, Harrington thought. She played out the possible scenarios in her mind. If search and rescue deployed the next day and didn't find Leclerc's skis, it meant that the men were somewhere on the glacier and headed back. If they found their skis at the base of the climb, it meant that for some reason they were still in the mountains, unable to call for help or get themselves out. And that meant she was flying to Alaska.
The next day, Harrington's phone rang. It was Gabe Hayden from JMR.
"Brette," Hayden said, "we found their skis." Hayden was a frequent partner of Johnson's. They'd climbed the south buttress of the Main Tower in 2011 and the south face of the West Tower in 2013. Hayden told Harrington that a Sitka-based Coast Guard helicopter had flown out to the towers and scanned the north face and surrounding glacier with an infrared camera, trying to pick up any signs of body heat. The search turned up empty; there were no bodies. The assumption was that Leclerc and Johnson had descended the line they climbed up and been swept from the face by an avalanche.
It sounded to Harrington like that was it; that they were calling off the search. No, no, no, she thought. We can't call the search off after one day. This is not OK. She booked a flight and started planning her own operation. She made lists of the gear they'd need and locations to search.
In fact, the search hadn't been called off, but by the time Harrington landed in Juneau on Saturday, March 10, it was on hold. The day before, a Coast Guard helicopter had made it only as far as the south branch of the glacier before the weather moved in. Visibility was too low and the winds too high to get a helicopter safely out to the towers. Instead, from their base at the Alaska National Guard hangar at Juneau International Airport, JMR began assembling a timeline through the text messages the men had sent from the summit.
By this point, a small cadre of Leclerc's and Johnson's friends, family, and climbing partners had assembled in Juneau: Leclerc's parents and sister, Bridgid-Anne; his Squamish climbing buddies Will Stanhope, Paul McSorley, and Kieran Brownie; Nick Rosen and Pete Mortimer of Sender Films; Justin Sweeny, the athlete manager at Arc'teryx, Leclerc's sponsor; and Clint Helander and Samuel Johnson, climbing partners of Ryan Johnson's.
Leclerc's summit text to Harrington was sent at 10:26 a.m. His final text to his mom was sent more than an hour later. It was unlikely that the men spent that much time on the summit, and had they descended the same way they climbed up, they would have lost service immediately. They must have gone another way.
---
More than the breathtaking difficulty and audacity of Leclerc's climbs, it was his approach to climbing that set him apart. He was, technically and athletically, on the same level as someone like Alex Honnold. Yet he largely flew under the radar. He preferred it that way.
"On the one hand, you have someone who is really on the cutting edge of modern alpinism," said Alpinist's Katie Ives. "On the other hand, he's working within a philosophical mindset that's very old-fashioned."
The trip reports that Leclerc wrote on his blog are peppered with icy summit bivouacs and other sketchy moments, but he always seems, in his own words, "deeply happy and in an incredible state of mind." At one point, he writes, "I was being drawn toward the mountain in a search for adventure, by a desire to explore my own limitations and to also be immersed in a world so deeply beautiful that it would forever etch itself into my memory."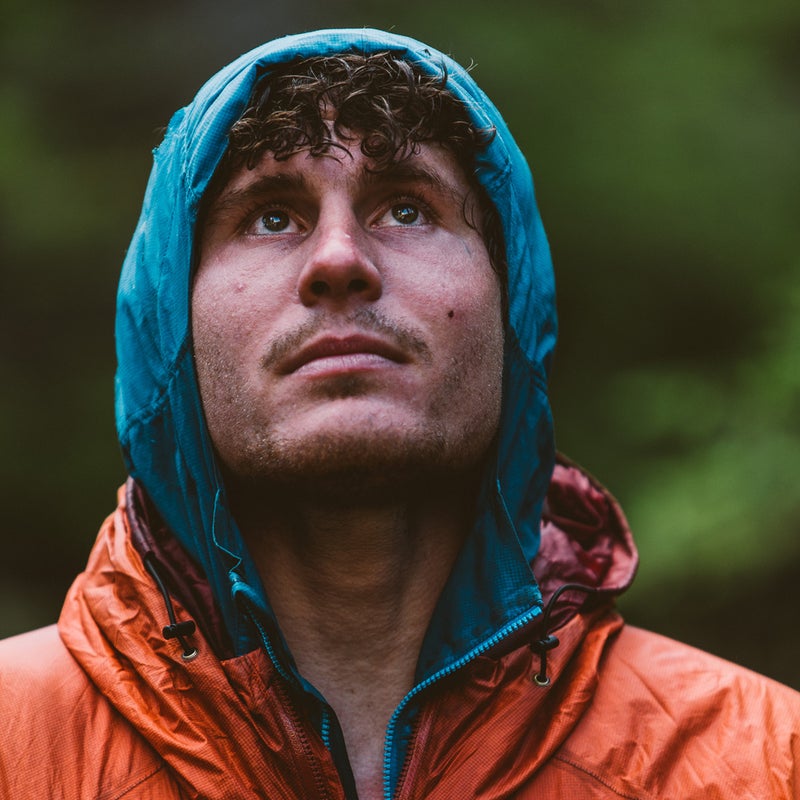 He idolized men like Guy Edwards and Walter Bonatti, archetypes of a bygone era of exploration. "Old-school climbers are renowned for their toughness," he told me wistfully as we elbowed up to the bar in a log-cabin pub near Agassiz. "You read about Bonatti soloing the Bonatti Pillar. He got soaked in the rain, froze, spilled gas in his food, smashed his finger with a hammer and cut the end off, and he still finished the route. You don't really hear about people doing stuff like that these days."
But that's the life Leclerc wanted to live. "He's on a personal quest," said climber Steve House. "His art is alpinism."
While making the first solo ascent of the Emperor Face of Canada's Mount Robson in April 2016, Leclerc bivied at the summit, hoping to wait out the night for better descent conditions. While heating water, it boiled over and soaked his clothes. Then the batteries in his headlamp died. Then he dropped his lighter, leaving him without any more water and rendering his stove—and his freeze-dried food supply—useless. Alone and freezing in the dark on the Canadian Rockies' highest peak, Leclerc took it all in stride. "Despite the discomfort," he later wrote, "it was undeniable that the situation was quite stupendous." He eventually stumbled his way back down the peak to the trailhead.
"Some people seem to want it a little too much," said Honnold, who crossed paths with Leclerc a few times in Patagonia. "You're just not sure if the motivation is pure for why they want to be good at something. Marc doesn't seem to want it at all. He just does it. He doesn't want any of the accolades or anything, he just wants to have an experience in the mountains."
After Leclerc made his ascent of the Emperor Face, he wrote:
It was now my fourth day alone in the mountains and my thoughts had reached a depth and clarity that I had never before experienced. The magic was real. … Through time spent in the mountains, away from the crowds, away from the stopwatch and the grades and all the lists of records I've been slowly able to pick apart what is important to me and discard things that are not.
The last time I saw him, I asked Leclerc what those things were. "It's important to appreciate the place you're in," he said, "and to have a memorable experience, something that sticks with you for a long time. When I'm old, I want to have all these adventures in my memory."
---
By the evening of Saturday, March 10, the possibility that Johnson and Leclerc were still alive, stuck in a crevasse somewhere that hadn't been searched yet, brought a small glimmer of hope and a whirlwind of activity to the rescue operation. But the helicopters were still grounded.
The hurry-up-and-wait nature of the search left the climbers' friends and family in an odd, liminal space. There was a lot of urgency but not much to do about it.
"Marc-André would love it here," his sister, Bridgid, kept saying. Everywhere that Harrington, Michelle, and Bridgid went, people knew who they were. They weren't allowed to pick up tabs for meals or drinks. A waitress baked them scones at her house. Harrington played videos on her phone of Marc-André singing and dancing. They learned about Johnson, too: that he had an enthusiasm for climbing that he could never quite contain, which sounded a lot like Leclerc to the three women. It was clear that the two climbers must have hit it off immediately.
As a twentysomething young man, Johnson had a wild streak, chain-smoking cigarettes in his tent. But in 2015, he had a son, Milo. Johnson settled down. He opened a CrossFit-style gym in Juneau. Becoming a father, he told his parents, "lived up to the hype."
On Tuesday March 13, the sky went blue. It had snowed more than four feet in the six days since Leclerc and Johnson were reported missing. With help from the Alaska National Guard, JMR took a Blackhawk helicopter out to the towers. While buzzing the summit, they spotted the nearly filled-in divots of two sets of footprints traversing the ridge heading east. The footprints ended at the top of a gully where a line of cool blue ice dropped roughly 1,000 feet from the ridge all the way to the bergschrund, a large crevasse near the base of the wall formed by the glacier retreating from the face. A small piece of black and white cordelette dangled at the top.
The SAR team headed back to base and switched to an AStar helicopter. Smaller and more nimble than a Blackhawk, the AStar would allow them to get in closer to the gully. It was also equipped with a Recco detector, which uses radar to pick up metal or electronics.
In a separate helicopter, Harrington and Samuel Johnson monitored the AStar's progress with Emily Nauman, a member of JMR. They flew in close to the north face. Ribbons of ice coated a series of steep headwalls. Above that, snow ramps led to ridges and then the summit. A cornice hung along the ridge leading to the gulley. At the bergschrund, part of an orange rope was visible. The AStar hovered over it for a long time.
They're there, Harrington thought. They're right there.
She felt close, like she could reach them. Hiking in to check if Leclerc and Johnson were there and still alive wasn't an option. The hazard was just too great. Somehow she knew Leclerc was gone.
They were less than half a mile from their skis.
"Will you fly to the summit with me?" she asked, turning around in her seat to face Samuel. "We can rappel their descent line and find them." It was a risky proposition. But Samuel agreed.
The helicopter turned and flew back to town to get the gear they'd need. When they arrived, JMR members showed them close-up photos of the men's gear taken from the AStar. An orange climbing rope was partially visible in the snow. According to the Recco search, the men were buried 15 feet below. A dangerous rappel wouldn't be necessary.
"Due to the circumstances," read a dispatch by the Alaska State Troopers later that day, "Johnson and Leclerc are presumed deceased."
---
Dying on rappel is common. Two climbers perishing at once on rappel is extremely rare. There is a chance that one of the men made a mistake while building the anchor, or that they neglected to put stopper knots at the tail ends of their rope. Everyone makes mistakes. But those who knew Leclerc and Johnson best consider the likelihood of any of those explanations vanishingly small. The two climbers were too methodical and careful.
Of course, care doesn't always protect you in the mountains. Something could have fallen on them and severed the anchor holding them to the wall. It could have been a large chunk of ice or rock. A cornice could have ripped off. An avalanche could have swept down the gully. All three events can be triggered by a single person, by changes in temperature, or by nothing at all.
Leclerc and Johnson probably made about five rappels before they reached the bergschrund. They wouldn't have had much time to react. They would have braced themselves against the bergschrund, hoping that by some miracle whatever it was that fell from the sky missed them. Instead, it tore them from the wall. They were less than half a mile from their skis.
---
In the days after the search was called off, Harrington returned to the Mendenhall Towers. She walked at the base of the cliffs, a safe distance from the runout zone. The snow was warm and wet, and it crunched under her feet. She had so many things she wanted to tell Leclerc.
She stood still and listened to the towers. Listened for cornices falling. Listened for avalanches. Listened for rockfall. She heard only the perfect stillness of winter. Nothing moved. Nothing made a sound.
Lead Photo: Jon Griffith