Luanne Freer: Behind the Scenes in Everest's Emergency Room
This is shaping up to be one of the deadliest seasons on record, with 10 deaths so far and too many helicopter evacuations to count. Here's a sneak peak at the doctors on the front lines of the world's highest clinic.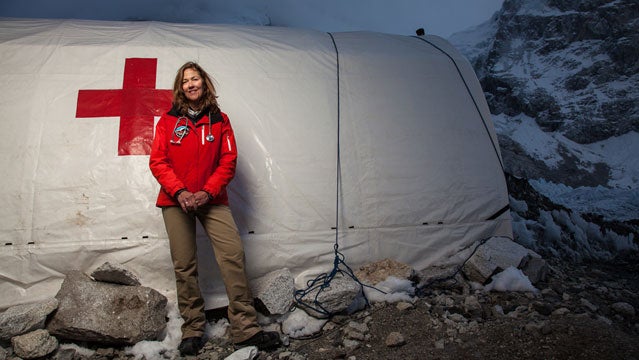 Heading out the door? Read this article on the new Outside+ app available now on iOS devices for members! Download the app.
Editor's Note: The Everest 2012 season is shaping up to be one of the deadliest on record. So far, 10 people have died either on Everest or by injuries sustained on Everest. (For comparison, 15 people perished in 1996, the deadliest year to date. The tragedies of that season having been famously chronicled by Jon Krakaeur in Into Thin Air.) More recently, 11 climbers died in 2006.
Not surprisingly, this has been one of the busiest seasons on record at the Everest Emergency Room, the clinic at Base Camp that Dr. Luanne Freer founded 10 years ago. In late April, when Schaffer first spoke with Freer and her staff, they had already seen over 200 people. Since then, the number of patients has risen to roughly 500, many of whom were seriously injured or sick—there have been so many helicopter evacuations this year that they've lost track. There are multiple flights each day, both medical and non-medical, that Freer's staff doesn't necessarily hear about. In the aftermath of this latest disaster, there were seven evacuations from Camp II (and up to 6,700-meters) alone.
Below, Schaffer speaks with Freer about the difficulties of operating the world's highest clinic and the top five reasons people come in for a visit.
It's been 10 climbing seasons since an idealistic emergency room doc from Bozeman, Montana, first set up a clinic at Everest Base Camp. Since then, Luanne Freer, now 54, has grown her non-profit to include three doctors and a two-cot platform tent that is, if not quite space-age, a lot more comfy than everything else in camp.
When she began, Freer spent the off-season raising money to support her operation—the main focus of which is to offer health care for the Sherpas and other local staff who might not otherwise receive quality care in camp. While she still spends the off-season fundraising, Freer now (with the help of some local contacts) cajoles and coerces roughly 75 percent of the commercial Everest operators to pay $100 per climber for her services. If an entire expedition signs up for coverage, all of the local staff are covered for free.
"We're happy to see climbers," says Freer, "but in the end, the thing that makes our hearts warm is seeing the little cooks and the Sherpas."
This year has been especially busy for the ER staff, which also includes Dr. Rachel Anderson, 33, of Manchester, England, and the organization's first Nepalese doc, Ashish Lohani, 27. Within the first three weeks of the season—when we spoke—the ER had already seen 220 patients and overseen roughly a dozen helicopter rescues, more evacuations than in all of 2011. They've also seen some rare maladies, including two cases of deep vein thrombosis, an ischemic foot (no oxygen supply, though not frostbite related), a 33-year-old who had a stroke in the ER, and a trekker who'd suppressed her altitude headaches with narcotics and ended up with cerebral edema by the time she reached Base Camp.
In the 10 years that the clinic has been in operation, the biggest change is probably the new ubiquity of helicopters. Freer explained that climbers have always had rescue insurance, but it used to be that helicopters were incredibly scarce in Nepal. In some years, the only option for rescue was a military-owned, Russian-built Mi-8.
"Now we have these big machines," says Freer, "and heli companies that are competing for the business." Freer admits that she does sometimes feel under pressure to authorize helicopter evacuations in questionable cases and that she's sometimes overridden by a climber's personal physician back home.
"We have an ethical issue," she says "You have to be reasonable. There was a guy down in Pheriche who wanted to call a helicopter because he had a sinus infection—you have to put your foot down somewhere."
What Ails You
Here, Freer and Anderson explain the top five reasons people darken their tent flap
1. Khumbu Cough, aka high altitude cough: It's a little bit controversial in the medical climbing community. There are some people who feel like it's sub-clinical high-altitude pulmonary edema. "They're not hypoxic yet, they're not leaking yet, but it's pulmonary pressure that causes it," says Freer. "I'm not in that camp. I believe it's the extremely dry air—relative humidity is four-five percent here—combined with the cold and it just cracks the bronchial tree."
2. Viral Respiratory Infection, aka the common cold: Somebody who has a bacterial infection usually has a fever, though you can still get a fever with viral infections. Coughing up a lot of green stuff is usually a sign of bacterial infections. When you listen to the chest, you can hear it. Our bodies have a harder time fighting off illness at high altitude, and we've got a really impatient community here. "They want to be fixed in 24 hours with a tablet," says Anderson. "They'll say 'I'm going up tomorrow, gimme the best thing you've got.' And unfortunately, we have to tell them: You've got a cold. What would you do at home if you had a cold? We're sensitive to it, but it gets frustrating."
3. Gastritis: "It's more prevalent among the native population," says Freer. We're not talking about infection, this is inflammation of the stomach lining that causes pain—acid reflux. With hypoxia from the altitude, the stomach lining doesn't get as much oxygen, either. It can be more serious up here. When you're doing really hard work, your body has to decide where the oxygen goes. "The muscles and brain always win out," says Anderson, "and the gut loses."
4. Infectious Gastritis: The stomach bug. A simple matter of not washing your hands, and not properly treating water and food. Antibiotics are effective against these.
5. Altitude Issues: Periodic breathing, insomnia, acute mountain sickness (AMS), high-altitude pulmonary and cerebral edema (HAPE and HACE). "We know from big studies that at the altitude of Lobuche (16,210 feet), 50 percent of people will develop AMS—headache, dizziness, loss of appetite," says Freer. What's different up here is that people are self-selected. Most people who are going to get sick get sick at lower elevations and never make it to Base Camp. And climbers tend to be pretty well tested at altitude. It's a group that's self-selected for success.
To commemorate the 50th anniversary of the first American ascent of Everest and its then-unclimbed West Ridge, Eddie Bauer has sent a team of seven mountaineers to repeat the historic climbs. Outside Magazine senior editor Grayson Schaffer is currently embedded with the team at Base Camp, sending back daily dispatches, including stories, photos, and videos. A team sponsored by The North Face and National Geographic is also planning on ascending the notoriously treacherous West Ridge, a route nearly as many climbers have died on as have summitted. Schaffer will be covering both attempts, as well as everything else that happens at Base Camp, until early June.