A Single Narrow Gasping Lung
No one knew if it could be done. But when Reinhold Messner and Peter Habeler climbed Mount Everest without oxygen in 1978, they smashed one of the last barriers of human performance. Almost 40 years later, both legends talk about their first ascent by "fair means"—and the long-running feud that followed.
Heading out the door? Read this article on the new Outside+ app available now on iOS devices for members! Download the app.
Tenzing Norgay wasn't buying it. Neither were the five other Sherpas who'd summited Mount Everest since 1953, when Tenzing and Edmund Hillary first knocked the bastard off. The Euros had been too fast—too fast to have climbed the mountain with bottled oxygen, let alone without it. But such was the claim that Italian Reinhold Messner, then 33, and Austrian Peter Habeler, 35, were making about their Everest summit on May 8, 1978. They said they'd reached the top of the 29,035-foot peak from Camp IV—which sits at 25,938 feet on the South Col, the saddle between Everest and neighboring Lhotse—in just under eight hours. They'd spent 15 minutes on top, then returned individually, Hab­eler in an hour and Messner in an hour and 45 minutes.
If true, they'd not only defied the doubters, but they'd also turned in the equivalent of a four-minute mile. Climbers using oxygen tanks typically required—and still require—12 to 14 hours round-trip from Camp IV.  (At that altitude, in the so-called Death Zone above 26,000 feet, supplemental oxygen clears the mind, warms the body, and fuels the legs.) But Messner and Habeler had done it in less than ten.
Download the Audm app for your iPhone to listen to more longform titles.
When the pair arrived back at Camp IV, British cameraman Eric Jones, who was there waiting for them, radioed Base Camp to reach Leo Dickinson, the director of Everest Unmasked, a documentary about the expedition that would be released the next year. "There's something wrong here," Jones said. "They're back too soon." In a June 17 Reuters story, Tenzing and others told a reporter that they had serious doubts about the accomplishment.
You can't blame them for being skeptical. When I presented several modern climbers with the numbers—withholding the names of the legendary men who'd claimed them—they were dubious, too. "I'd call those times incredibly unlikely," e-mailed guide Adrian Ballinger, who summited Everest without oxygen via the North Col in 2017. In fact, if a climber has ever made the trip without oxy­gen as fast as Messner and Habeler, I could find no record of it.
The men expected people to question their ascent. At the summit, Messner tied one of his depleted camera batteries and Habeler a snippet of rope to an old survey tripod so that nobody could dispute that they'd been there. But proving a negative—that they hadn't used oxygen—was trickier. "Some experts," Habeler wrote in his 1978 book, The Lonely Victory, claimed that they "had allowed a sniff of it, at least at intervals." Messner lashed out at Tenzing and other doubters when he got back home to Funès, Italy. "It's sheer envy on their part," he told Reuters. "They can't understand that someone has done what they haven't."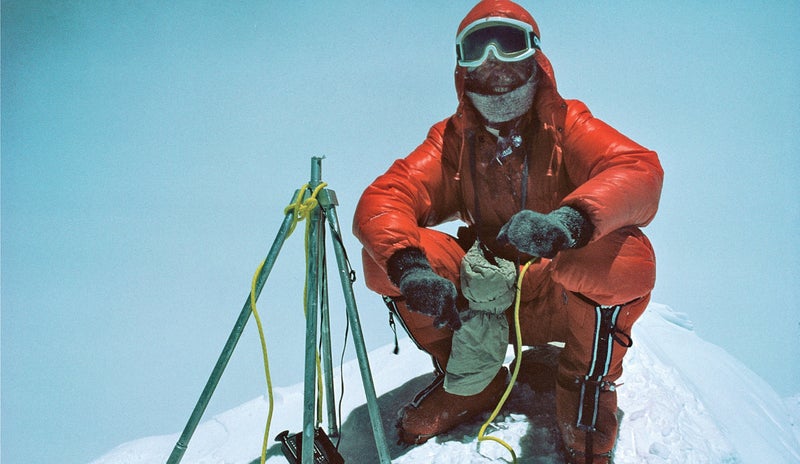 One person who immediately grasped the climb's significance was John Roskelley, who'd been planning to make the third ascent of K2 that summer with an American team. Roskelley, now 68 and living in Spokane, Washington, says that the no-O Everest summit "was the reason I was determined to climb K2 without bottled oxygen. Their ascent proved altitude could be overcome physically by athletes who could adapt to the lack of O2 through a program of acclimatization."
What many people didn't know at the time was that, despite their historic accomplishment, Messner and Habeler's relationship was on its way to unraveling, and the first ascent of Everest by "fair means" would be the wedge that severed their partnership. Maurice Isserman, a historian at Hamilton College and author of Fallen Giants: A History of Himalayan Mountaineering, points out that this team was always a little tenuous. "You think of Hillary and Tenzing, Tom Hornbein and Willi Unsoeld," he says. "You think of this quintessential act of being tied to another human being. Messner and Habeler had a rope, but they were roped for only a short amount of time. They really made two solo ascents without oxygen."
Nonetheless, for a brief moment in the spring of 1978, the pair stood together, alone on the pinnacle of human performance.
---
By the late seventies, climbers had started judging their accomplishments less by the peaks they climbed than by the routes and the style they used to climb them. In 1963, Hornbein and Unsoeld completed a first ascent of Everest's West Ridge. Though they used oxygen, their fast and light approach represented a serious upgrade in difficulty and exposure. In the decade that followed, the sport rapidly evolved as modern climbers chipped away at the size and plodding strategy of the massive expeditions that defined mountaineering during the first half of the century. But oxygen was still considered vital, especially on Everest.
"In '75 or '76, if you would ask anyone who had been involved in Himalayan climbing what would be the next big thing," Habeler told me in June, "every second person would tell you: It's Everest not using oxygen."
Habeler and Messner were the perfect people to try it. Each of the "terrible twins," as they were known in Europe, started his ­career in the Alps. Messner, with his headband, beard, and untamed brown hair, looked like a feral Björn Borg. Habeler, usu­ally clean-cut, had high cheekbones, gleaming white teeth, and leading-man looks. Messner was recently divorced; Habeler climbed with a photo of his wife and young son.
Habeler grew up in Mayrhofen, Austria, while Messner lived just 50 miles south in Funès, Italy. Both did their apprentice-ships with weaker partners (sometimes family members—Messner had eight siblings) and made their names as soloists. It seems inevitable that they would partner up, if only because there was nobody else in their league.
Habeler, who turned 75 in July, is an introvert compared with Messner, who is famous for his brash and outsize personality. "His birth sign is Virgo, he likes to shine. I'm a Cancerian who crawls back into his shell," Habeler wrote in Lonely Victory. " We are not friends in the usual sense of the word," he continued. "We are not 'buddies' who stick together through thick and thin. We rarely speak to each other about our private life."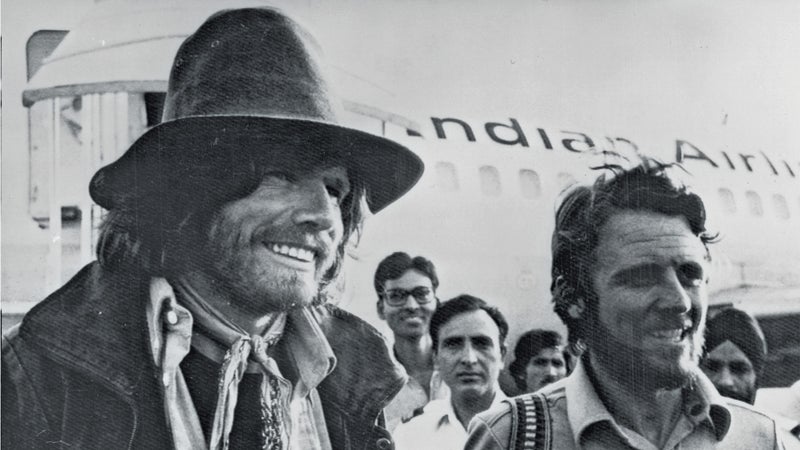 Starting in 1965 with the Tofana di Rozes, in the Dolomites near Cortina, Italy, the men, then 22 and 20, forged a climbing bond that would last 13 years. They were primarily rock climbers, fitness nuts with steel nerves. But in early 1969, both Messner and Habeler joined an expedition to the Andes and made the first ascent of the east face of Yerupaja, a 21,768-foot Peruvian peak with a hatchet blade for a summit. It was their introduction to high altitude.
Messner immediately wanted more, and in 1970 he signed on with a German expedition to the Rupal face of Pakistan's 26,660-foot Nanga Parbat. Habeler couldn't join him, so Messner's younger brother Günther went instead. Günther's death on the mountain that year, as the brothers were descending from the summit, became the defining moment of Messner's life and career. Exhausted and with few options, the two descended the wrong side of the mountain, where Günther vanished, likely swept away by an avalanche. (His body was not discovered until 2005.) Even today, Messner calls that climb his most significant, because of its extreme difficulty. But the tragedy, and accusations that he had endangered his brother, dogged him for decades.
Messner survived after limping to a village on the far side, but he'd lost seven toes on his first 8,000-meter peak. In 1974, Messner and Habeler made it up the north face of Switzerland's Eiger in just ten hours, roughly half the time as the previous record. The following year, they became the first to summit an 8,000-meter peak—Pakistan's 26,509-foot Gasherbrum—without using supplemental oxygen, porters, or the traditional siege-style tactic of establishing and stocking a series of camps.
This new technique was brought from the Alps and thus called alpine style—a name that has since become the aspirational ethic in the climbing world. To climb mountains is one thing, but to call yourself an alpinist is to claim a higher standard. Messner didn't invent the phrase, but he codified it in the 1971 Mountain magazine manifesto "The Murder of the Impossible."
"Put on your boots and get going," he urged. "If you've got a companion, take a rope with you and a couple of pitons for your belays, but nothing else."
After the 1975 Gasherbrum climb, on a flight home, Messner and Habeler toasted their success with gin and tonics. In his book, Habeler recounted a particular exchange, which to him sounded as if they were speaking in unison. "To Mount Everest," Habeler said. "Without oxygen."
"Without oxygen," Messner replied.
---
Over the years, much has been made of the idea that climbing Everest this way was considered physiologically unthinkable. As Messner told National Geographic in 2006, "It was like going to the moon without oxygen—how is it possible? … And in Germany, at least five doctors on television appeared before, going and telling everyone they can prove it is not possible."
That's probably a stretch: the most vocal sources for the idea that nobody could survive a clean ascent of Everest were the climbers themselves. Few doctors or scientists had given a professional opinion about a feat that wasn't on anybody's schedule anyway. And the altitude research available in 1978 seems to contradict the notion of impossibility.
Over the winter of 1960–61, Edmund Hillary led a team of scientists to Nepal on a multipronged expedition to study human physiology at altitude. Ten scientists spent more than six weeks measuring their bodily functions inside a tube-like plywood lab at 19,000 feet. The team discovered that the barometric pressure in the Himalayas is higher than you'd expect, meaning that Everest, at 29,035 feet, has an effective altitude closer to 27,500.
"We have to make clear that the disturbances between Messner and myself—it was a little tiny bullshit thing," says Habeler. "Now we have a perfect relationship," Messner agrees.
In 1920, four years before George Mallory and Sandy Irvine famously disappeared on Everest, Scottish chemist and climber Alexander Kellas had made a prediction about the mountain's effect on human physiology. Using rudimentary data for the body's res­piratory exchange, he was able to calculate, as he wrote in a paper that would go unpublished until 2001, that "at 29,000 feet, on moderately easy ground, a man in good training might expect to be able to climb from 300 to 350 feet per hour" without supplemental oxygen. That figure turned out to be reasonable, as did his assertion that "the ascent using oxygen should be comparatively easy. Perchance in the distant future, young men … may test their courage on the world's loftiest summit."
Arguably, the most convincing data point was the fact that British lieutenant colonel E. F. Norton had made it to within 1,000 feet of Everest's summit without oxygen in 1924, on the difficult Grand Couloir up the North Face, before turning back because of looming darkness. Messner and Habeler had also climbed high on numerous mountains and knew how their bodies reacted. By 1978, Messner had already summited two other 8,000-meter peaks without oxygen—Nanga Parbat and Manaslu—before he and Habeler made it up Gasherbrum.
The previous spring, Leo Dickinson and Messner had been in Kathmandu, where they hired a single-engine propeller plane to fly around the top of Mount Everest at 30,000 feet. Dickinson and the pilot used oxygen, but Messner sat in the back with no mask. "His lips went cyan," Dickinson recalls, "and his eyes got narrow. The funny thing was, you couldn't stop him from talking."
In the footage, Messner sits there chatting away. "Flying about 30,000 feet without ox­y­gen, that is not a proof that we can go with our forces above the top of Everest without oxygen," he says in Dickinson's documen­tary. "It was only proof that we can stay there not dying."
---
When Habeler and Messner arrived on the mountain in 1978, it had been summited 59 times, which seemed like a lot in that era. (In 2017 alone, more than 600 people reached the top.) In some ways, Everest was wildly different from the mountain we think of today, a no-man's land without cell coverage. But the Big E was already being shaped by brands, egos, and the mass media. Everest's stunt era was under way after a Japanese man, Yuichiro Miura, semi-succeeded in skiing the mountain's icy Lhotse Face in 1970 by using a small parachute to slow himself before he crashed. (He survived and now holds the rec­ord for the oldest man to summit Everest, which he set in 2013 at age 80.)
Then as now, Everest was viewed as a crowded peak. But crowded in those days meant that the government of Nepal, which allowed only one expedition in Base Camp at a time, had the place booked for years in advance. So Messner and Habeler joined a 1978 expedition, led by Innsbruck-based guide and entrepreneur Wolfgang Nairz, that was attempting to put the first Austrians on the summit. An accomplished hang glider, Nairz also hoped to soar off the South Col. He brought two gliders to Base Camp, planning to have Sherpas haul them up, though they quickly realized it wouldn't be possible.
The expedition's main event was always going to be Messner and Habeler, though. The two had arranged for additional funding from the German magazine Geo and brought in Dickinson and cameraman Eric Jones. The climb was a big deal in the mountaineering community and in Austria, but it was hardly a worldwide media event. Because of Messner and Habeler's relative anonymity in Britain, Dickinson struggled to get his UK producers to sign on. In the U.S., they were virtually unknown.
The duo arrived in Nepal in March, and when they reached Base Camp the first order of business was finding a route through the Khumbu Icefall. They had agreed to forgo alpine methods in this extremely dangerous part of the mountain, opting instead to piggyback on the Austrians' traditional approach. Messner and Habeler personally led the way into the icefall, with Sherpas carrying aluminum ladders to create bridges over the chasms.
The weather, which had been snowy and stormy, finally broke on April 20. Messner and Habeler knew they would have the first summit bid if they wanted it. While the rest of the Austrian expedition waited, they left Base Camp for a push they'd planned to make the next day. They reached Camp III on the 23rd, famished. Habeler consumed a tin of sardines and immediately began to feel sick.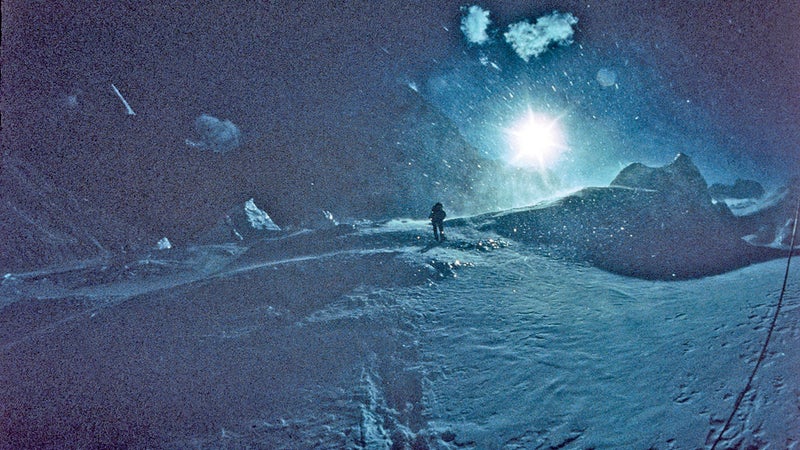 "Cold sweat broke out, and spittle collected under my tongue," Habeler recalls. "I retched my guts out, and my throat burned like fire." He was racked by diarrhea and vomiting for most of the night. "It's no good, Reinhold," Habeler told his partner. "I just can't go on. You should turn back, too. The weather is getting bad; there's going to be a storm. It's too dangerous."
By morning, Habeler had recovered enough to retreat, but it took him days to regain his strength. (Habeler still has a hard time eating canned sardines. Dickinson hates them, too: "I mean, why the fuck people eat sardines on Everest, I do not know," he says. "What's wrong with vegetable soup?") With his partner ailing, Messner took two Sherpas, Mingma and Ang Dorje, and continued into the storm for a solo attempt to the top. But at the South Col, where the three planned to erect Camp IV, they were caught in a powerful blizzard, with 80-mile-per-hour winds that ripped through the tent as they huddled inside. Messner published the radio communications that followed in his 1979 book on the climb, Everest: Expedition to the Ultimate.
"This tent nearly takes off when the wind blows," he said. "It must have a speed between 150 and 250 kilometers. And it's minus 50 degrees. The tent flaps so noisily that we have difficulty understanding each other." Mingma was struggling, too. "What must I do if one of the Sherpas turns funny?" Messner asked Nairz. "Can you ask Bulle at Base Camp what I should do if one of them goes berserk?"
"Bulle says on no account give any drugs," came the reply. "Better to shout at him, or if necessary dot him one, so that the shock quiets him down."
Eventually, on the afternoon of the second day, the weather broke. Mingma sprang from his cocoon to race back down to Camp II. Messner and Ang Dorji followed. At Base Camp, Habeler was still recovering, and he had serious doubts about their chances. His partner, after all, had failed in his solo bid and barely survived the storm.
Messner, meanwhile, had all but given up on Habeler. In an interview for Everest Unmasked, Dickinson asked: Did he still think he had a chance of success?
"Yes, but I have to find a new partner," Messner said, looking into the camera and sounding exasperated. He hinted that Hab­eler had been waffling even before eating the bad sardines. "Maybe Peter is coming up again. He is the strongest climber I know," Messner continued. "But he's always changing. He's going 100 meters and saying clouds are coming, let's go back."
"It made the film very good," Dickinson recalls of the conflict. "Reinhold had the ability of getting the best out of people but also shaming them. I think he could have been a cult leader if he wanted to be. I don't know what his religion is. I expect he's an atheist.
Well, apart from believing in himself."
"I was, simply spoken, scared," Habeler says now. "I was psyched out. So only when Messner kicked me in the ass and said, 'Come on, Peter, we have done this and done that. Let's do it.' Then I became my old strength."
---
As Messner and Habeler regrouped, Nairz, along with two Austrians and his head Sherpa, Ang Phu, used the bulk of the team's remaining resources—12 Sherpas and 16 oxygen cylinders—to make their own bid on May 3, eventually putting four men on the summit. Messner and Habeler were in Camp II when they got word of the team's success. After Nairz and climber Robert Schauer descended, Schauer told Hab­eler that he'd tried taking off his mask a few times and that climbing without it was unthinkable. This was enough to reignite Hab­eler's self-doubt. He told the camera team that he was almost ready to use oxygen "to just go up and have a nice time. Just go up and take some pictures."
The Austrians thought Habeler was being weak and told him so, adding that if he wanted to use their oxygen, he'd need to get in line behind the other climbers who still wanted to summit. Habeler's resentment over this helped him recommit. "I was governed only by a blind anger which drove me on," he later recalled.
"The best way of describing Peter Habeler is that he's normal," Dickinson says. "Messner is the most driven human being I've ever seen on the planet."
Dickinson remembers that Messner came up with the perfect motivation. "He told Habeler, 'If I can do it, you can do it' "—a cliché, but in this case a useful one. Habeler believed he was the fitter man. "I'm in better physical shape than Reinhold," he'd written in a letter from Base Camp to his father-in-law. But he lacked Messner's all-consuming willpower.
"The best way of describing Peter Habeler is that he's normal," Dickinson says. "Messner is the most driven human being I've ever seen on the planet."
"I was determined to forswear the summit if I couldn't reach it unaided by breathing equipment," Messner wrote in Expedition to the Ultimate, laying out the ambition in sweeping prose. "Only then will I know what a man feels like being there, what new dimensions it opens up for him, and whether he can thereby learn anything new in terms of his relationship with the Cosmos."
Dickinson had given Messner film for his eight-millimeter movie camera. The two climbers were also accompanied by cameraman Eric Jones. They had convinced three Sherpas to help them carry gear and two emergency oxygen cylinders to Camp IV, at the South Col, before dropping their loads and turning back.
The climbers made their way to Camp III on May 6. Habeler remembers that they used sedatives to get some rest there, Hab­eler taking Valium and Messner Mogadon. On May 7, they climbed to Camp IV, with Jones lagging under the weight of his own movie camera. They dozed in their tent, and Messner used a small audio recorder to capture idle speculation about the coming attempt.
"The whole thing would be simple if we were using oxygen," Habeler said.
"But we do agree to go on unless things get too bad," Messner replied.
"Well, I'll tell you this much: I'm turning back before I start going out of my mind!"
What's notable elsewhere in the transcript is the giddy anticipation of two climbers about to make mountaineering history. The ego, the posturing, and the second-­guessing had all been stripped away by the sheer magnitude of what they were planning to attempt. "We haven't done a lot together, but the things we have done have all been 'big deals,' " Messner said.
"We've done some very fine things together," Habeler replied. "Very fine."
---
At 3 a.m., they unzipped their bags and began to melt water. Messner shoved the stumps of his feet into boots. At 5:30 they set off, leaving Jones still asleep in the tent. They carried little besides their ice axes, extra layers, a rope, and recording equipment—no more than eight pounds each. They left the emergency oxygen with Jones. Habeler was doubtful that they would make it. "I was lethargic, my feet were like lead, and I had no drive at all," he later said.
The first hint of daylight revealed overcast skies and sleet. Messner was horrified. It looks as if we are beaten, he remembered thinking. But they carried on, barely speaking in order to conserve energy.
"We were then as close to each other as two people can be," Habeler wrote of this stretch. Each man described a kind of spiritual bond in which they could read each other's mind as plainly as if they were having a conversation. They reached the Austrians' last camp, at 27,900 feet, at 9:30 A.M. They were still climbing through a whiteout, halting every 10 or 20 steps to double over and gasp for breath.
At this point, Messner stopped and spent half an hour making tea, which seems outrageous in the context of their blazing-fast overall time. As Messner remembers it, he and Habeler used the break to discuss the foul weather and their slim chances. Habeler believes that the conversation happened almost telepathically, with no actual words.
Whatever transpired, they climbed on, with Habeler taking the lead. Around noon, they burst through the clouds at the South Summit, 330 feet shy of the top. Everest "looked like an elevated island surrounded by a sea of clouds," Habeler told expedition leader Nairz in an interview soon after the climb. "It was an incredibly moving moment. Tibet fully covered in dense fog. Makalu's, Lhotse's, and Kanchenjunga's tips just barely visible."
At the South Summit, they roped up with a 15-meter cord, knotting it around their stomachs. Messner led the Hillary Step so that he could film Habeler coming up. Hab­eler says he had an out-of-body experience at this point, believing he was alone with a doppelgänger of himself. Finally, only 100 feet beyond the Step, with Messner roped ahead of him, he crawled on his elbows to the summit and stood. It was 1:15 P.M. Messner and Habeler had averaged nearly 400 feet per hour.
"I went up towards him and all I remember is I started crying. Like a little child," Habeler said in Everest Unmasked. But the most quoted summit reflection comes from his partner's book. "In my state of spiritual abstraction," Messner wrote, "I no longer belong to myself and to my eyesight. I am nothing more than a single narrow gasping lung, floating over the mists and summits."
That line was written back in Italy. What Messner actually recorded was only, "Now we are on the summit of Everest." The exhausted climbers lay side by side at the top of the world, straining for breath. After 15 minutes, Habeler started worrying about numbness in his hand and general sluggishness. He told Messner he was going to start down. That was the last time they saw each other before reuniting at Camp IV.
When Habeler reached the South Summit, the point where he could start descending rapidly toward the col, he sat and slid, which allowed him to move quickly and with little effort. It was an incredibly dangerous place to glissade. If he'd picked up speed, he could not have controlled his plunge. As he was nearing the col, a slab of snow broke loose beneath him and began to run. "I was covering my mouth and waiting for the snow to stop," Habeler said in Everest Unmasked. He didn't move for five minutes. From the camp, Eric Jones saw Habeler get swept away and thought he was finished. But a few minutes later, Habeler limped into camp, bleeding from his forehead, and declared that he and Messner had succeeded. It was 2:30 P.M.
Habeler had an out-of-body experience at this point, believing he was alone with a doppelgänger of himself. Finally, only 100 feet beyond the Step, with Messner roped ahead of him, he crawled on his elbows to the summit.
Messner followed Habeler's glissade track down on foot, marveling at the risks his friend had taken during the descent. When the two reconvened at Camp IV, they used the radio to share their success. The team in Base Camp promptly ­began to drink in a long series of toasts.
But Messner had made one key mistake in the ascent. He'd taken off his goggles too many times, to film Habeler. In doing so, he'd allowed the sun and wind to fry his corneas. As the night progressed, they became inflamed. When his vision faded and the pain became unbearable, Messner was convinced that something had gone wrong in his brain from lack of oxygen. "Some parts of it must have malfunctioned, causing me being blind forever," Messner later told Nairz. "In that case, I would have never left the mountain and most certainly killed myself right there." He credits Habeler with caring for him and his "two gaping sockets as if I were a small child."
"I felt more bound to him than ever before," Habeler wrote. After staying up all night brewing tea, Habeler led Jones and Messner out of camp, across the col, and to the fixed ropes that descend the Lhotse Face. Jones was hobbled by frostbite, and Messner more or less sleepwalked—he was exhausted and nearly blind—while guided by the ropes.
They reached Camp III quickly and then slept until the sun hit their tents around 9 A.M. At the same time, Austrians Oswald Oelz, who the men called Bulle, and Reinhard Karl reached Camp III on their way up, during an oxygen-aided summit bid. When the pair arrived at Camp IV, they found the two emergency oxygen cylinders, still full.
---
In base camp, journalists and TV news crews from Germany and England had arrived following the news of the first summit team's May 3 success. In Europe, the press trumpeted Messner and Habeler's achievement. But in the U.S., the event received only a smattering of coverage. That's because the two climbers were still obscure in America, and also because the U.S. media didn't understand the extreme difference between climbing with and without oxygen. For most newspaper writers, the mountain had been climbed in 1953 by Edmund Hillary, full stop. But when Everest Unmasked aired on Britain's ITV Network in 1979, Dickinson recalls, the documentary was seen by roughly a third of the country's households—about 16 million people.
By then, talk of whether Messner and Ha­b­eler used oxygen had already quieted down. The fact that the pair's emergency containers were found full helped bolster their claim. So did the vocal defense of their teammates. Lying about bringing extra oxy­gen would have required the complicity of all the other expedition members, a tall order given the sport's competitive nature. Most important, Messner was just getting started in 1978.
His subsequent oxygen-free climbs would leave little doubt that he was a mountaineer unlike any who'd gone before him.
Those expeditions did not include Hab­eler. Almost immediately, the pair fell into a bitter feud, the source of their strife being the publication of Lonely Victory. Messner was supposedly furious that Habeler, long the handsome, good-natured sidekick, had not only written a book but had beaten him to press in 1978. "The pie could only be sliced so many ways," says Dickinson. "And even though Habeler wanted maybe less than half, Messner wanted more."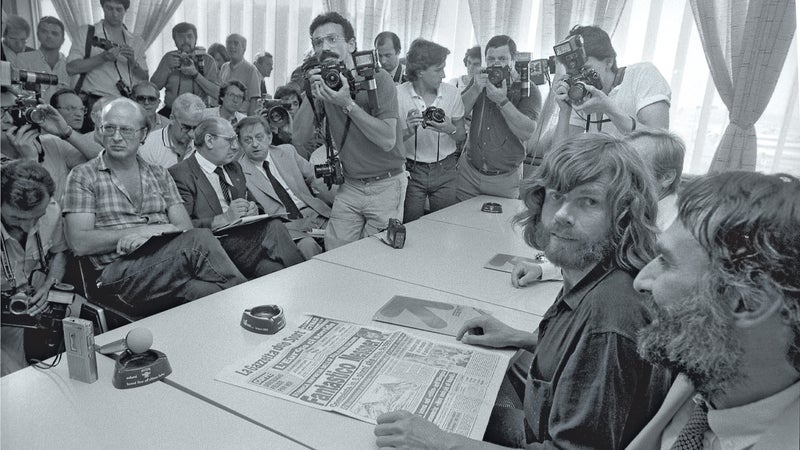 Messner told me that he was never angry that Habeler had published, only that he'd used a ghostwriter, Eberhard Fuchs, who, in his words, "did not understand anything about climbing and wrote a lot of bullshit which came often back to me." Presumably addressing Habeler's book during the 1979 release of Expedition to the Ultimate, Messner in­cluded an unconventional epigraph: "An account of an expedition is not a novel. Therefore an authentic account can never be given, let alone written down by someone who was not present."
In a 1982 Outside story about the feud, David Roberts pointed to a key passage in Lonely Victory. Habeler noted that a photo of him reaching the summit of Gasherbrum first, which Messner had snapped from below, was published widely with the caption "Reinhold Messner conquered the Hidden Peak." Habeler (or Fuchs) wrote of the caption, "Friends and acquaintances often ask me: 'Why do you put up with this? All your common ventures simply become a one-man show for Messner!' "
The result of the discord was the sudden and complete end of one of the great climbing partnerships. For two decades, they barely spoke to each other. Messner went on to climb Everest again without oxygen in 1980, this time solo and unaided via a difficult new route on the mountain's north side. Then he steadily ticked off all ten remaining 8,000-meter peaks without oxygen—another first. Habeler returned home to Mayrhofen to start the Peter Habeler Ski and Mountaineering School, where he still teaches. Among the young climbers he's mentored is fellow Austrian David Lama, one of today's most talented alpinists—the pair summited the Eiger's north face last April. And while Habeler never tried to exceed his summits with Messner, he did climb other 8,000-meter peaks, including Cho Oyu, Nanga Parbat, and Kanchen­junga, without oxygen.
---
The two have since settled their differences. And while they may no longer climb together, they have at least mended their friendship. When I raised the feud with each of them in June, they both scoffed. "We have to make clear that the disturbances between Messner and myself—it was a little tiny bullshit thing," says Habeler.
"In the beginning I was unhappy," Messner emphasized. "Now we have a perfect relationship."
Currently, Messner views Everest as a tourist mountain and has committed himself, through the construction of mountaineering museums and the production of films, to preserving some shred of the alpine tradition he helped to define. "What's happening on Everest today on the two normal routes is tourism," says Messner. "An alpinist is doing exactly the opposite thing. He's going where there is no infrastructure."
Habeler is similarly down on Everest's present state. "Right now it's more important to send out your daily message—to Facebook or whatever—so people know where you are, what you eat, how many times you go shit."
Messner is hopeful that "the next generation at least has a chance to know what is traditional alpinism." Feats like Spanish ultrarunner Kilian Jornet's recent speed ascents of Everest's north side—he climbed the mountain from Base Camp in 26 hours without oxygen, and did it again a week later from advanced base camp in 17—don't excite him much. "I would have ten times more respect if he could do a new line on Everest in two months," says Messner of Jornet. "And Hans Kammerlander was quicker [on the north side] in the nineties and not having oxygen—so what's new?"
And even though he views his tragic 1970 ascent of Nanga Parbat's Rupal Face as his greatest climb, the first unaided ascent of the world's tallest mountain still holds a special place in his mind. "In my memories, Everest plus Peter forever," Messner said in 1978. "And nothing is going to change that."
Now when the two men see each other, Habeler told me in June, "We have a bottle of wine and we talk about the old days. And I think this is good."
Grayson Schaffer (@GraysonSchaffer) is an Outside Editor At Large. He has written several articles about Everest, including "Black Year" (August 2014) and "Take A Number" (October 2012). Keith Negley is an Outside contributing artist.