Are Kilian Jornet's Speed Records Too Good to Be True?
The Spanish ultra-athlete has spent the past decade crushing a generation of elite rivals and redefining the limits of human endurance. But when he notched back-to-back speed ascents of Everest in 2017, critics pounced on the claims.
Heading out the door? Read this article on the new Outside+ app available now on iOS devices for members! Download the app.
Around 2 a.m. on May 28, 2017, Kilian Jornet crabbed across Mount Everest's North Face, alone, delirious, at nearly 27,000 feet, and far off route. He was descending from the 29,029-foot summit, his second trip to the top without supplemental oxygen in seven days. But now he was lost and couldn't recall how he'd gotten there; his memory from the past hour was blank. It was snowing, the slope growing icier and more precarious with every move. "I thought maybe I was having a nightmare," Jornet told me recently, "and that I would wake up in Base Camp. I dropped a rock to see how steep it was, and I realized it was not a dream and that I needed to wait until daylight so I could see before making any more decisions."
At first light, he discovered that he had strayed more than half a mile from the North Ridge, the route that would take him to the North Col and down to the relative safety of advanced base camp (ABC), at around 21,000 feet. That left him perched dangerously near the top of Everest's soaring 7,000-foot north wall. Eventually he was able to navigate using GPS waypoints on his watch, traversing slowly back to the route. He had no radio or satellite phone, and no way to alert his lone teammate, the filmmaker Sébastien Montaz-Rosset, or the handful of friends he'd made since being on the mountain. Far below, at ABC, they peered anxiously through a spotting scope in search of Jornet, now hours overdue.
Everest was the culmination of the Summits of My Life project, which Jornet began in 2012 in an attempt to establish speed records on a collection of iconic peaks, including Mont Blanc, the Matterhorn, Elbrus, Denali, and Aconcagua. By then, at age 24, racing had lost its luster. He continued to compete—he liked meeting people, enjoyed the milieu—but he'd already won everything there was to win, often multiple times, including marquee pain parties like Colorado's Hardrock 100, the 106-mile Ultra Trail du Mont Blanc (UTMB), and Alaska's brief but brutal Mount Marathon. Summits was a chance to pursue more imaginative, independent projects, moving how he liked, fast and free, on his own schedule. It had a tragic start. While attempting the first objective, the Mont Blanc traverse, his partner, world-champion ski-mountaineering racer Stéphane Brosse, was skinning beside Jornet above the Argentière Glacier when a large cornice broke off between them, pitching Brosse 2,000 feet to his death. They had been separated by only a few feet. For months, Jornet could not understand why it had not been him.
Despite the tragedy, Jornet went on to flash up and down the other peaks, setting records, traveling light, deploying his bohemian brand of mountain endurance, and often doing in hours what took other experienced climbers days. With support from his main sponsor, Salomon, and help from his friend Montaz-Rosset, Jornet produced impressive documentation of each mission: photos, blog posts, data, and several films. By the time he arrived at Everest in 2017, his third trip there in as many years, he was one of the most recognized athletes in adventure sports, with a robust social-media following, including nearly 250,000 on Twitter  and more than half a million on Instagram. Some fans even referred to their Salomon running shoes as Air Jornets.
Many people, myself included, had tuned in to his feeds during the Everest expedition, only to find them frustratingly quiet. When the news emerged, on May 28, that Jornet had climbed Everest not once but twice in a single week, and that he was claiming a new speed record, it seemed extraordinary to the point of confusion. Two ascents, back-to-back? Without oxygen? By himself?
"Sometimes after climbing, my friends take a beer," Jornet says in fluent but heavily accented English, "but I am like, why?"
I was intimately familiar with Everest's north side. In 2007, I'd climbed to the North Col, at 23,000 feet, while working on a book about the mountain. I knew the perils of Jornet's route via the Northeast Ridge and had written about the disturbingly high number of people who'd died there. I'd never heard of anything remotely like Jornet's achievement—four trips above 8,000 meters in less than a month—which quickly made headlines around the world. There was some predictable grumbling. "The public only understands velocity, they don't understand climbing," said Himalayan gadfly Reinhold Messner, dismissing the feat as merely racing, not mountaineering. But the occasion was largely celebrated as a historic milestone.
"I can't imagine trying to recover and climb again five days later, physically and emotionally," says alpinist and guide Adrian Ballinger, whose own oxygenless ascent of Everest coincided with Jornet's. "I climb at altitude and recover pretty well, but this is a whole different level."
That summer, Jornet went on to notch a string of performances that were, even for him, astonishing. Two weeks after Everest, he set a blazing pace in a road half marathon in Norway that ascended more than 5,500 feet, cranking out miles in under six and a half minutes on an 8 percent grade and winning in 1:30. By August, he had won Hardrock, the Marathon du Mont Blanc, Switzerland's ultracompetitive Sierre-Zinal, and the Glen Coe Skyline trail race. In early September, he placed second at UTMB, 15 minutes behind his Salomon teammate Francois D'Haene, a veritable photo finish after 106 miles. Jornet won, or nearly won, everything he entered.
The Everest feats, meanwhile, started coming under scrutiny. Where was the proof, critics demanded—the summit photos, the GPS track, the witnesses? Why did arguably his greatest accomplishment, in a career strewn with meticulously documented accomplishments, remain fuzzy? Forums like LetsRun hosted heated threads dissecting the issue in granular detail. In early 2018, the Spanish climbing magazine Desnivel ran a cover story calling Jornet out, stating, "He did not show definitive evidence of what he had done." When I reached out to Himalayan Database, the Kathmandu-based organization that has been verifying Himalayan mountaineering since 1991, it had not confirmed either of the climbs. It was impossible not to wonder, in a post–Lance Armstrong fake-news world, if something was amiss.
---
Most people know Jornet as a runner, but that is only half the story, maybe less.
"I don't like to put tags on things," says the 30-year-old. "I like to move on mountains in different ways. In summer it's logical to go on foot. In winter, in snow, I go on skis."
It's January, and I've come to Romsdal, on the western coast of Norway, to go on skis with Jornet. He and his fiancée, the Swedish ultrarunner Emelie Forsberg, moved here in 2015 to escape the maddening sports crowd of France's Chamonix Valley, where they previously resided and are huge celebrities. To friends he is Kiki, to fans he is the Extraterrestrial, but in Norway, he gets to simply be Kilian. Their home, a renovated farmhouse, located on three scenic acres surrounded by mountains, that they call Moon Valley Farm, is quiet and private, the way they want it. They don't go out much. You can count the restaurants in nearby Andalsnes, the town of 2,300 where I'm staying, on one hand. The closest bar is 30 miles away. "Sometimes after climbing, my friends take a beer," Jornet says in fluent but heavily accented English, "but I am like, why?"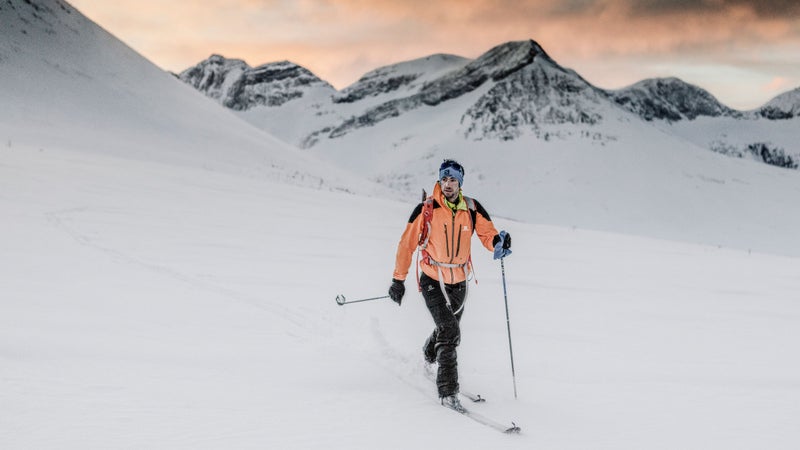 In person it's easy to see how Jornet is so fast. At five foot six and 128 pounds, he's like a jockey with keg-size quads built from years pistoning up steep slopes. His upper body is slight, streamlined. He does "a little stretching," he tells me, but largely eschews lifting weights or other types of cross-training. I ask him, half jokingly, what he can bench-press.
"Zero! Nothing!" he says. "I have no absolute strength."
He's joking, sort of, but point taken: Jornet has spent most of his life developing the physiology he needs for mountain terrain. Anything else was a waste of time.
I'd first learned of Jornet through my own inexplicable midlife addiction to ski-mountaineering racing—a.k.a. skimo—an Alps-born sport that entails hauling ass up and down wintry mountains on featherweight touring gear while dressed in a skintight onesie. Jornet is a world champion; I'm a flailing amateur who cuts a lumpy profile in Lycra. Jornet rarely slows down long enough to accommodate journalists, but last October he underwent surgery on both shoulders to address chronic dislocations, and was straight-jacketed in matching arm slings for weeks. He'd just started training again when I showed up, and the prospect of chasing the very best around the Norwegian mountains made me as giddy as a teenager.
One morning I join Jornet and two of his local friends on a mission he tells me will last "a couple of hours." Deep into hour three, there is no end in sight. There is no Jornet in sight, either. He has vanished, far ahead, leaving only a skin track that, in the squally weather, is disappearing fast. Eventually, worried that I could get lost forever in the whiteout, I bail. I don't hear from Jornet for another four hours. "Still up," he texts, "but will be back in town in an hour."
Forsberg laughs when she hears the story. She calls this Kilian Time.
"Friends will visit and ask about a route, and Kilian will say it takes three hours, but for them it's like 15," she says. "You learn with him that you have to make your own calculations. If we're going to the mountains and he estimates seven hours, I pack food for ten."
Sometimes, Kilian Time turns sketchy, like in 2013, when he and Forsberg ended up on the Frendo Spur outside Chamonix, a technical route of rock, ice, and snow, in running shoes, and required a rescue from the gendarmerie. I ask Forsberg if she worries about her partner.
"Of course," she says. "I'm not afraid because of his capacities; things that look like risks to others are within his experience and knowledge. But I'm afraid of nature. He's out there a lot, and I know things can happen in the mountains."
---
For all of Jornet's impressive performances, my record-scratch moment was his appearance in a 2013 documentary about steep skiing called T'es Pas Bien Là? (Downside Up). The film, by Montaz-Rosset, centers on Vivian Bruchez, one of France's most skilled extreme skiers. But there is Jornet, right next to him, scritching out turns on 55-degree blue ice, downclimbing Class 5 rock and snow, slipping across knife ridges so narrow and airy that his skis stick out in both directions. I've watched the film dozens of times, and it never fails to leave pools of sweat under my palms.
"His versatility as an athlete is unparalleled," says Mike Foote, who has twice finished second to Jornet at the Hardrock 100. "I don't think there's anyone who brings his level of imagination and creativity to the sport. I think that's how he keeps things fresh, how he doesn't burn out."
Jornet's origin story is mythological. He grew up in Refugi Cap del Rec, a backcountry hut in the Spanish Pyrenees, where his parents, Eduoard and Nuria, worked as caretakers and mountain guides. No TV, no Xbox, no internet, just his year-younger sister, Naila, for company and the wild peaks outside the door. At three, he competed in his first cross-country ski race, the 12-kilometer Marxa Pirineu. At ten, he completed a 42-day through-hike of the Pyrenees with Nuria and Naila. His parents had split by then, and Eduoard had moved into a neighboring hut, but soon, Jornet says, it seemed normal, he and his sister rotating each week between the two parents.
Once, to see how his body would respond, he stopped eating altogether, continuing with his workouts while subsisting only on water. He lasted five days before he passed out, midrun.
At 13, Jornet applied to the Center for Mountain Skiing of Catalonia (CTEMC)—a kind of Spanish version of Vermont's Burke Mountain Academy, but for skimo racing. In other countries, skimo is a fringe sport, but in Spain, it is more popular than either cross-country or alpine skiing. Jornet was two years too young for the program, but he didn't quite fit into a typical high school. Nuria worried about him. "There was a moment when he was a teenager that I saw his attitude had a destructive point," she told me. "That's the reason why I look for help at the school."
She believed CTEMC would provide an outlet for his irrepressible energy. The school agreed. "I remember perfectly when he was explaining to us his projects of great mountain crossings," recalls Jordi Canals, Jornet's coach at CTEMC. "When he talked, he had a special shine and determination. We decided to admit him because we thought it was better that he was in our group than just alone in the mountains."
Athletic training at CTEMC was carefully prescribed and supervised, but Jornet was hard to restrain. He would routinely ride his bike to school, work out all afternoon, and then ride home—25 miles each way. When the snow melted, he began running mostly as a way to stay in shape for skimo. Once, to see how his body would respond, he stopped eating altogether, continuing with his workouts while subsisting only on water. He lasted five days before he passed out, midrun.
Early on, Jornet's unique qualities amazed and perplexed his coaches, most notably his "extraordinary recovery from strenuous trainings," as Canals described it. "He has this resistance to osteoarticular and muscular lesions"—the bone contusions and muscle strains commonly triggered by demanding exercise. "A lot of athletes with smaller training loads have lots of trouble."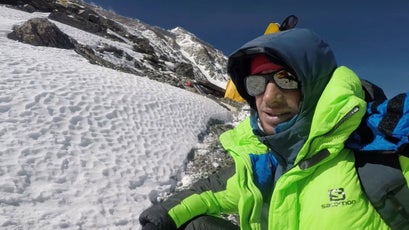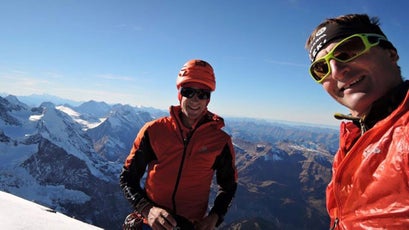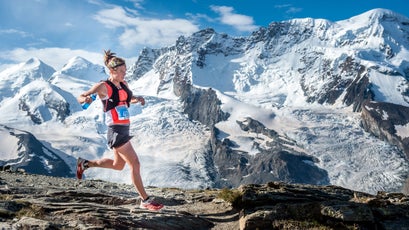 When I spoke to Canals on the phone, I asked him what was the most amazing thing he'd seen Jornet do. He thought for a moment, then told me about the vertical kilometer event at the 2014 Skyrunning World Championships in Chamonix. Kilian had just returned from setting a fastest known time on Denali (11 hours and 48 minutes), where he had spent a month "eating poor meals, sleeping in a tent in snowy and cold conditions, doing long alpine routes." In other words, not training for an event that is essentially a 30-minute all-out uphill sprint. "When he won, I said to him, 'You didn't deserve to win this race.' And he said, 'Yes, I'm very surprised, too. But I felt very well.' " Canals recalled. "That is Kilian."
---
The downside of excellence is that it invites skepticism, something Jornet encountered early on. In 2008, at age 21, he showed up at his first UTMB having never raced in anything longer than a marathon. He pulled away at mile 40, en route to vanquishing a field of older and more experienced vets. The French organizers were not happy. Ten miles from the finish, at the last checkpoint, they detained him for more than an hour. They accused him of cheating—of using a pacer (he wasn't) and not carrying the mandatory gear (he was). Despite the delay, he crossed the finish line first, by more than an hour, but was not declared the winner until the next day.
"I was just going to get in my car and go home," Jornet recalls. "I was like, Fuck you, fuck the race and everything."
He was still a student then, studying exercise physiology in Font-Romeu, France, living in shared housing, stretching what little money he had to keep him in pasta and olive oil. He'd learned enough at CTEMC, he believed, to be able to coach himself. He lived to race but didn't race to live. There was little money in his sports: purses were skimpy, and there was no Olympic skimo or trail running. Even after his UTMB win, when Salomon signed him to a full-time contract, it only meant bigger bags of pasta and, at events, an occasional hotel room instead of the back of his car.
He couldn't know at the time that ultrarunning was poised to take off, particularly in the U.S., where Christopher McDougall's 2009 book Born to Run, about the Mexican Tarahumara and the Copper Canyon Ultramarathon, sparked a trail–running boom. Between 2007 and 2016, the number of races in the U.S. exceeding 26.2 miles more than tripled, according to Ultrarunning magazine, from 480 to 1,473, and a new cast of stars emerged: Scott Jurek, Krissy Moehl, Anton Krupicka, Jenn Shelton, and others. Jornet would soon eclipse them all.
His rise to fame not only inspired many runners and skiers but invited study and emulation. Some have speculated that the early commitment to skimo built the machine that powered his mountain-running dominance. Splitting his year between the two disciplines helped stave off the overtraining and burnout that has plagued so many talented runners—a strategy that's now employed by top competitors like Krupicka, Foote, and Rob Krar.
Even among elites, Jornet appears special. In 2012, his VO2 max was recorded at 92, one of the highest values ever seen. He has a near miraculous ability to recover quickly from workouts and races. Until his recent shoulder trouble, he seemed impervious to injury. Echocardiograms revealed that his heart has adapted to the stress of training with very little malformation, such as thickened ventricular walls, that often affects other elite athletes' performances. And he has cultivated a monklike devotion to training, technique, and equipment that he deploys through 1,200 hours of yearly practice.
"If genes dictating performance are like a row of light switches, all of his are flipped on," says Eric Carter, 31, a member of the U.S. ski-mountaineering team. "I've trained with him, working as hard as I can, soaked in sweat, and the guy is still in his down parka, chatting away."
Jornet is a private person, but he is a very public athlete, and his workouts are readily accessible on Strava and Movescount (Suunto's proprietary site). The volume is startling. Three days before the Marathon du Mont Blanc, he ran up and down the Mont Blanc massif—14,000 vertical feet—in seven hours. His "taper week" prior to the Hardrock 100 in July included a 35-mile ascent of Mount Eolus and a 26-mile run up Mount Elbert, both Colorado fourteeners.
I started to question if these feats were even possible without some kind of pharmaceutical or other assistance. It saddened me to feel suspicious, but who could forget the now infamous 2001 Nike ad in which Lance Armstrong says, "What am I on? I'm on my bike, busting my ass, six hours a day. What are you on?" Yet credible doping allegations followed Armstrong throughout his career. There was his relationship with Michele Ferrari, the disgraced Italian doctor, and accusations from former teammates and friends. With Jornet, there have been occasional whispers of foul play but nothing concrete, just garden-variety trolling and speculation that could reasonably be chalked up to professional jealousy.
Doping would be risky to try to hide. As a member of both the World Anti-Doping Agency's regulatory program and Athletes for Transparency, Jornet must provide records of his whereabouts and doctor prescriptions, and he could be tested as often as once per month by an administrator who shows up at his door unannounced. And while Jornet now makes a six-figure salary through sponsorships, skimo and ultrarunning don't offer anything close to the financial rewards that tempt athletes in cycling and marathon running, sports plagued by doping scandals.
"There's no incentive," says John Gaston, the top U.S. skimo racer, who spent the year training and racing on the European World Cup circuit. "There's hardly any money in our sport. And now you see people catching up to him. The competition is tight. If you get to know him, I think he loves the mountains too much to compromise the world in that way."
---
In recent years, Jornet has transcended traditional endurance sports, establishing himself in an elite club of adventurers that is reinventing high-mountain objectives. In Norway, Jornet showed me a spreadsheet he'd made, prosaically titled "Cronology [sic] of Significant Events Related to Going Fast in the Mountains." It contained hundreds of entries, covering everything from trail running to steep skiing, tracking all the way back to the year 1040 with a running contest that Scottish king Malcolm Canmore hosted to find a speedy courier. The document was exquisite in its geekiness. Jornet wasn't merely a participant, he was a scholar.
Three years ago, he began teaming up for occasional climbs with the late Ueli Steck, a.k.a. the Swiss Machine. It was a natural partnership. Steck was the preternaturally talented sport climber who could flash up technical routes faster than almost anyone. Jornet was the aerobic monster who could grind fast and forever on little food or water. In 2015, they joined forces to billy-goat up the north face of the Eiger via the classic 1938 route. A typical round-trip of the route requires three days.
It was Jornet's first time, but the pair summited in four hours and were back in town in less than ten.
In April 2017, Jornet was on Cho Oyu, in Tibet, when Steck died on Nuptse, Everest's 25,791-foot neighbor. Steck had been acclimatizing, alone and high on the mountain, when he fell to his death. Beyond losing a friend, Jornet had lost a special peer he could consult with. "We talked a lot about what it means to move in the mountains," Jornet told me. "Ueli was coming from a supertechnical background—like pure difficulty—and I was coming from endurance. We were both trying to learn from each other."
Like Jornet, Steck had encountered controversy around certain climbs, including what may have been his biggest achievement: a 28-hour solo ascent of Annapurna's lethal south face. Steck produced no summit photos (he claimed that his camera had been knocked out of his hand by an avalanche) or GPS data (he didn't record any). Nevertheless, based largely on the credibility of Steck's previous accomplishments, he was awarded the Piolet d'Or, climbing's highest honor, for the Annapurna ascent.
The case leveled against Jornet's back-to-back Everest climbs is similar: a lack of documentation verifying a historic accomplishment. The dispute is being pushed primarily by a single individual, a climber named Dan Howitt based in Portland, Oregon. After the climb, Howitt produced and circulated a 19-page document that reviewed, in painstaking detail, Jornet's ascent of Cho Oyu, in early May, and both of his Everest climbs later that same month.
Howitt's case against Jornet focuses on two main points: no persuasive summit images and questionable GPS data. Given the significance of the claims, he convinced a British website called Mount Everest the British Story, to publish the document in full in the summer of 2017. The report sparked widespread debate. It also prompted threats directed at the website's staff via online comments and Facebook. "Some people enjoyed the read, but most disagreed with what Dan had written," Collin Wallace, the website's founder, wrote me in an e-mail. A few critics warned that they would "give the website a bad name" and that Wallace should "get legal advice about publishing the article." Concerned about losing the audience it had taken him a decade to build, Wallace promptly removed the piece.
Howitt persisted, however, lobbying media outlets, including Outside, and claiming that he could prove Jornet had come up short, at least on the first Everest ascent. When he compared Jornet's summit track on a topographic map with Adrian Ballinger's, Jornet's route appears to terminate in a different location, presumably below the summit. (Jornet's watch had inexplicably recorded part of the descent for the second climb, but nothing more.)
Howitt's report raises legitimate questions, but it mainly delivers uncertainty—by no means proof that Jornet is a fraud. That's a common phenomenon in our digital age. Wade into the online record-keeping of nearly any endurance sport and you'll encounter a few obsessives who've made a hobby out of endlessly questioning and parsing the latest FKT. Howitt has assumed this role in the mountaineering realm for nearly two decades. A climber who has claimed speed records on Mounts Rainier, Hood, Adams, Shasta, and others, he had waged a years-long crusade against the late Chad Kellogg, a well-respected mountaineer from Washington who claimed FKTs on Rainier and elsewhere.
Jornet remained largely quiet as his accuser continued his media campaign. He eventually responded to the allegations in December, but the defense was thin: his GPS had malfunctioned, and photos and video were embargoed until a documentary film, The Path To Everest, was released in the spring. That same month, he appeared on the Talk Ultra podcast, hosted by Ian Corless, and offered up additional details, but it hardly put an end to the controversy. The cover story in Spanish climbing magazine Desnivel, which relied on Howitt's report, was published the following month.
---
One evening in Romsdal, I join Jornet, Forsberg, and their friend Ida Nilsson, the elite Swedish runner and skimo racer, for dinner. Forsberg grows much of their food on the property. For dinner she's prepared a rich lentil stew and fresh bread made from locally produced spelt flour.
After the meal, I ask Jornet to walk me through the Everest climb. I expect the question to mark the immediate end of the dinner party's convivial vibe. Instead, Jornet seems happy to go over it in detail. We settle on the couch next to a wood-burning stove, in front of his laptop, where he shares his collection of photos and videos.
Jornet tells me that they spent less than a month total in Tibet, the first ten days on 26,864-foot Cho Oyu, before moving on to Everest Base Camp, at the foot of the Rongbuk Glacier. It was a small team—just Jornet, Montaz-Rosset, Forsberg, and their Nepali cook, Sitaram.
Back in Norway, prior to the trip, Jornet and Forsberg had pre-acclimatized for one month, cranking out high-intensity intervals on a stationary bike while sucking reduced oxygen through a face mask. It seemed to work: Jornet arrived in the Himalayas feeling better than he had on his previous two trips. Forsberg eventually turned back before the top on Cho Oyu, but Jornet reached the broad plateau on May 14. Howitt and others have said it couldn't be claimed as a summit, and Jornet agreed: he acknowledges that he merely reached the plateau. But that was enough. Cho Oyu was only a preamble for the two weeks ahead.
Forsberg returned to Norway for a race, while Jornet, Montaz-Rosset, and Sitaram set up on Everest's north-side moraine. It was a comically tiny headquarters: a mess tent and three small personal shelters, nothing like the sprawling expeditions that bloom around Base Camp each spring. On May 18, after a one-night layover at advanced base camp, at 21,300 feet, Jornet made a trial run—literally—on some sections. He was ascending nearly 1,000 feet an hour, an impossible pace, all the way to 27,500 feet. "I did some stupid sprint on the North Ridge," he laughs, "because I could." The summit glistened temptingly less than 2,000 vertical feet above and Jornet felt great, but he stuck to his plan: descend to Base Camp, recover, and make an actual attempt in a couple of days.
As he narrates, Jornet cues up a series of images and video clips he took with a GoPro along the route. On May 20, he departed Base Camp at 10 p.m. to make his first try for the summit. By the time he reached the North Col, at 23,000 feet, he felt terrible and began wrestling with stomach problems. He was moving, as he says into the camera at one point, "So. Fucking. Slow."
It was almost sunset by the time he turned onto the Northeast Ridge, the nearly horizontal mile-long approach to the summit that includes three prominent steps. He was alone now, plodding forward. There is a dimly lit final photo on the ridge and then video of his face in the darkness, illuminated by the GoPro's small bulb. In the clip he's sitting, breathing hard. Over his shoulder, briefly catching the light from his camera,
I glimpse prayer flags, the only evidence that it's the summit. "It was hard to film," Jornet says. "It's the last thing I was thinking about."
Next he took me through his second climb, including getting lost on the North Face. The weather was worse—windy and cold—but he felt better and moved more quickly, again summiting in the dark. He shows me another clip, but just of his face, no flags this time. He's wearing a face mask and seems profoundly tired. I'd watched a lot of footage of Jornet in the preceding months, from various races and climbs, and I realized that this was the only time I'd ever seen him looking exhausted.
He never claimed a speed record, he tells me. Early reports of an FKT were based on hasty press releases sent by his media team. (The FKT honor remains with Christian Stangl, who made the ascent in 2006 in 16 hours and 42 minutes, about 18 minutes faster than Jornet.) What he's certain of is that he summited both times. When I ask what he made of all the questioning, he only offers casual indifference—it's the media making hay.
Jornet sits back in his chair. Outside the window, the January supermoon is rising above the fjord, bathing the landscape in a monochrome of blue and white. "You don't think about much up there," he says. "You only really think about moving. I remember I could see lights from the south, people just starting their climb from the South Col. But that's about it."
---
My last morning in Norway, I load into Jornet's Mercedes Marco Polo camper van for a short trip to a jeep road along a nearby fjord. Jornet wears ski boots while he drives. We park and he's ready to skin in minutes, while I fumble with my gear.
"So, I think I go ahead and do some trainings now," he says. It's almost a question. Would I mind?
"Great!" I say. "I'll see you up there."
I know my way. It's the same zone we skied on the first day of my visit, a soft snow cone of a summit 3,000 vertical feet above. The sky is overcast but unthreatening, and I'm relieved to ski at my snail pace. Jornet has done his best to be accommodating, and I've tried my best to keep up. After four days, I'm beat.
Jornet seemed resigned to the fact that clarity might be impossible. "I think there will always be fans, and there will be those who doubt," he said. "I don't want to spend time on the haters, but I understand about proof."
I watch Jornet glide away on the snow-covered road, graceful, weightless. After an hour of steady effort, my base layer soggy with sweat, I reach the top. There are 360-degree views of the valley, the undulating fjords, the craggy peaks of the Troll Wall to the north, stabbing the sky. I look behind to find Jornet blasting up the slope toward me. As we remove our skins, I ignore the fact that this is his second lap. For the moment, I'm his equal, another friend in the mountains, gliding off the summit and down onto an apron of spongy snow. It's blissful being back on the right side of gravity, swooping and whooping through clusters of scrub oak and fir. I encounter him again, briefly, back at the road, skins on, poles pumping, chugging back uphill for his third run.
If Jornet was anything other than what he would have us believe, I found no evidence of it. Perhaps there was another, simpler explanation for his back-to-back Everest summits. Steve House, the alpinist and author, believes Jornet is an example of what happens when you log an average of almost 1,000 hours a year for 17 years—the compound interest of nearly two decades of progressive training. "All this volume allows him to do such a wide range of things," House told me, "and to do them well." They are collaborating on a book for uphill athletes.
I spoke with Jornet again a few weeks after my trip to Norway. He'd been busy. He sent me a thorough rebuttal he composed to address the Everest claims, including numerous details about the GPS data, photo and video analysis, and a timeline of events. He was circulating his response to the media and the Himalayan Database, which still hadn't confirmed his climbs.
I read through the report. As with Howitt's, there was no single piece of information that closed the case. But as a whole, it was the most convincing argument he'd made yet, laying out the intricacies of GPS tracking that help explain why his and Ballinger's summit routes don't align. Still, Jornet seemed resigned to the fact that clarity might be impossible. "I think there will always be fans, and there will be those who doubt," he said. "I don't want to spend time on the haters, but I understand about proof."
Jornet had also stormed back to racing, climbing, and skiing. In February, he placed first in the vertical and fourth in the individual race at the Puy Saint Vincent Ski Mountaineering World Cup in France, his first competition since surgery. A week later, not far from his home, he logged a first descent on a 55-degree pencil couloir on the Troll Wall that set the extreme-skiing world convulsing with adulation. And he'd started planning Summits of My Life 2, a preliminary list, at least, that included "projects bigger than Everest."
In March, Jornet competed in the Pierra Menta, a four-day race often touted as the Tour de France of skimo. On the fourth and final stage, he and his teammate, Jakob Herrmann, were leading and poised for the overall win when Jornet crashed on a downhill section and fractured his fibula. The injury would keep him in a cast for six weeks, but the prognosis was favorable. When I last heard from him, a few weeks after the accident, he sounded upbeat and optimistic, and he intended to be racing again by July. He was, it seemed, superhuman, but also human, after all.
Contributing editor Nick Heil (@nickheil) wrote about Bulletproof Labs in April.