A Very Old Man for a Wolf
He was the alpha male of the first pack to live in Oregon since 1947. For years, a state biologist tracked him, collared him, counted his pups, weighed him, photographed him, and protected him. But then the animal known as OR4 broke one too many rules.
Heading out the door? Read this article on the new Outside+ app available now on iOS devices for members! Download the app.
It's the nature of the wolf to travel. By age two, wolves of both sexes usually leave their birth packs and strike out on their own, sometimes covering hundreds of miles as they search for mates and new territory. Whatever the reason, when wolves move, they do it with intent—and quickly. Humans don't know how they decide which way to go, but the choice is as important as any they'll ever make.
One day in 2005 or 2006, a young, black-furred wolf in Idaho decided to head west. He swam across the Snake River to Oregon, which at the time was beyond the gray wolf's established range. By entering the state, he walked out of anonymity and into a form of local celebrity, becoming notorious over the next few years for his bold raids on livestock and his enduring competence as a hunter, father, and survivor.

Download the Audm app for your iPhone to listen to more longform titles.
In Oregon, that male met another long-distance traveler from Idaho, a silver-gray female. This wolf had been collared by Idaho state biologists, who knew her as B300. She was born to the Timberline Pack, north of Idaho City, and it's possible to trace her ancestry back to the state's formal wolf reintroduction in 1996. Her great-grandmother was B23, a black wolf who was born in northern British Columbia and who dined as a pup on moose and caribou in the boreal forest. B23 was captured and moved in January of 1996 to Dagger Falls, in Idaho's Frank Church River of No Return Wilderness. She would give birth to almost 30 pups before she was killed by federal wildlife officials in 2001 for killing a calf.
In the summer of 2006, when B300 was collared, she was probably already feeling restless. In September, two members of her pack were shot by wildlife officials after they killed a sheep and a dog. By late fall, she'd made the choice to strike out on her own. She too went west and crossed the Snake into territory as yet unclaimed by wolves.
The black wolf and B300 mated for the first time in December of 2006 or 2007—nobody knows when exactly. They settled in the high timber of the Wallowa Mountains, a kingdom of pines and wildflowers and cow pies that curves like a palisade around the agricultural communities of Joseph and Enterprise. They made a den inside a huge felled ponderosa and cared for their first round of pups, born blind and helpless in early spring. They were now officially a pack, the first to exist in Oregon for nearly 60 years.
---
The black wolf and B300 had been preceded by a few other wolves in Oregon, but they were the first to establish roots and start breeding. A male showed up in 1999, and its existence so perplexed state officials that they captured it, put it in a crate, and sent it back to Idaho. Still, everybody knew deportation wouldn't work in the long run. Wolves were inevitably going to return.
Eventually, the Oregon Department of Fish and Wildlife (ODFW) hired a biologist to deal with this trickle of immigrants: Russ Morgan, a lifetime wildlife manager and backwoodsman based in La Grande. While the black wolf was busy slaying elk in the Wallowas to feed his new pups, Morgan was driving the back roads of eastern Oregon at night, literally howling into the dark, looking for wolves.
Morgan, now 54, is a tracker and a hunter, by trade and spiritual avocation. He grew up outside of Bend, going after lizards with a BB gun. His native ecosystem is the juniper and sage high desert of central Oregon, a beautiful place to learn the ways of nature. He would ramble all day in the bush and come home for dinner covered in juniper pitch.
For Morgan, hunting is not about killing and winning, but rather being part of what he calls "the goods and hardships of nature." Hunting isn't a sport for him. There's a lot of care and focus and silence involved when he goes into the woods with a game tag. He typically hunts elk with a longbow and makes his own arrows.
Oregon is a vast territory for a solo wolf tracker, and the new pack produced two rounds of offspring before Morgan caught up with them. Each time, the pups remained in the den for a month or so, tiny and clumsy at first, then increasingly playful and bold. Their mother would stay close, nursing and minding them, even consuming their urine and feces to keep the den clean until they were big enough to go outside. Meanwhile, her mate kept her fed. Eventually, both parents would return to the hunt, bringing food back in their bellies, which they'd throw up as a steamy stew for the pups to eat—a technique biologists call "regurgitative provisioning."
By three months, the pups were ready to learn the basics of hunting from their parents and older siblings. By nine months, the most adventurous were ready to leave. Others might stay with the family for up to four or five years, helping hunt and care for younger siblings before deciding to strike out on their own. In essence, a wolf pack is a family, often with aunts, uncles, grandparents, and multiple generations of pups worked into the mix.
They made a den inside a huge felled ponderosa and cared for their first round of pups, born blind and helpless in early spring. They were now officially a pack, the first to exist in Oregon for nearly 60 years.
In 2009, a field team of fish biologists doing a stream survey sent Morgan a cell phone recording of barking and howling. Morgan knew wolf sounds when he heard them, so he drove to the site and started tracking the pack's prints and scat. Before long, he was able to trap the gray female and collar her with a VHF radio transmitter. Idaho's B300 became Oregon's OR2. Now Morgan could monitor the pack from the comfort of his truck, driving around Wallowa County with a portable receiver.
The 2 in OR2 means she was the second wolf collared in Oregon. A male designated OR1, who had a companion—probably a sibling—had been collared in eastern Baker County a few months earlier. When the duo began killing livestock—slaughtering at least 20 sheep in one night—and didn't respond to deterrents like a collar-activated noise box, the ODFW decided they had to be destroyed.
At this point, decisions about hunting down a wolf were entirely the prerogative of the agency. So Morgan made the call, guided by an ODFW document called the Wolf Conservation and Management Plan, a bureaucratic blueprint that codified how this newly returned symbol of all things wild was to be handled in a landscape of cattle, timber, rock climbers, rivers thick with rafts, and hikers.
About a month after OR2 got her new name and collar, she and the black male, along with their pups, were eating an elk carcass that lay partially submerged in a minor stream called Grouse Creek, about ten miles from Hells Canyon—the especially deep river gorge that separates Oregon and Idaho. Wolves keep to the high ground, as a rule; Morgan calls them "ridge walkers." But their long, drawn-out pursuits tend to follow gravity downhill, and a lot of prey end up in the bottom of a valley or draw, exhausted, wet, and doomed.
Morgan and a friend hiked down to the creek and saw what Morgan describes as "a whole wad of wolves blowing out." The female and the pups fled, but the big male stopped 30 yards away from the carcass and turned to face them, howling, barking, and growling. He was black as a starless night and in the prime of his youth.
"He just lit up," Morgan recalls. "He was so loud you couldn't hear yourself think." Morgan pulled out his digital camera and took a few pictures. The wolf ran off.
Man and wolf would meet many times. Sometimes Morgan would count his pups. Sometimes he would chase him with a rifle loaded with tranquilizers, other times with a rifle loaded with bullets. Over the next seven years, they would start turning gray together.
---
Six months after their first meeting, on February 12, 2010, the black male got a collar and a name. Morgan used the signal from OR2 to track the family by helicopter. When he found the wolves, he had to try and pick the alpha male out of a half-dozen adult-sized wolves coursing through the rocky defiles of Road Canyon in lower Grouse Creek, just a few miles from the elk site. It was easy enough to spot OR2, and she had a companion running beside her, keeping close. Morgan figured he'd found his alpha.
Wolves are so fast—they can do bursts of 38 miles per hour, ten faster than Usain Bolt—that Morgan's helicopter pilot struggled to keep up, while Morgan, leaning out the door, tried desperately to get a clear shot at the alpha's rump. Suddenly, the big black wolf tripped over brush and rolled in a somersault. When he righted himself, he sat down and started barking and howling at the chopper, inadvertently concealing his backside.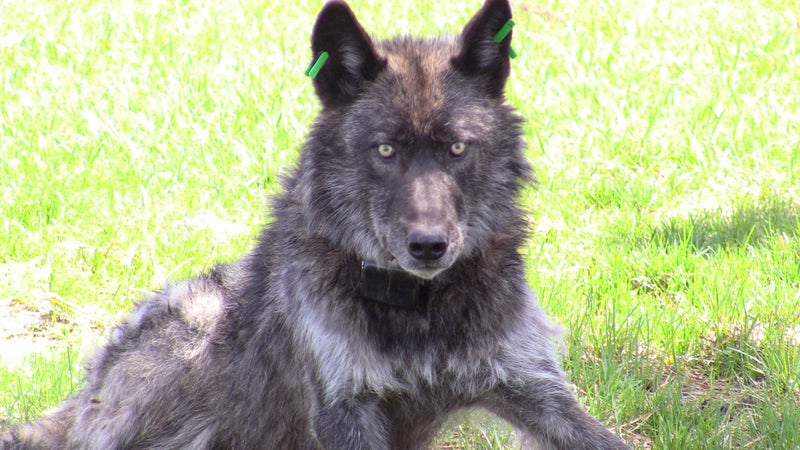 "When he flipped over, I could see the rotor wash flattening his hair," Morgan says. "He was frustrated. He gets pretty frustrated when he is being chased." Finally, the wolf stood and Morgan got a shot off. Darted, the animal slowed, sat, and then went to sleep in the snow. The terrain was too steep to land, so the pilot dipped into the ravine, where Morgan stepped out with his kit. The helicopter took off, and Morgan shared a moment with the unconscious alpha. As he weighed him—115 pounds, the largest wolf ever recorded in Oregon—took blood samples, and affixed tags and a collar, the black wolf officially became OR4, a wild animal with a name. A wild animal with his DNA on file.
OR2 wasn't happy about any of it. She stood a couple hundred yards away while Morgan worked, howling continuously.
---
The Wallowa Valley, cradled by mountains, was once the home of the Wallowa band of the Nez Percé, and one of its two principal communities is Joseph, named after Chief Joseph, or Hinmatówyalahtqit—Thunder Rises as it Goes. There's a statue of Chief Joseph in town, and there's a rodeo named after him, but his descendants are based out of the Colville Indian Reservation in eastern Washington, with the members of 11 other tribes. They were forced to move by the U.S. Army in 1877 so white men could raise livestock here.
"We were like deer. They were like grizzly bears," Chief Joseph wrote in his autobiography. "We had a small country. Their country was large. We were contented to let things remain as the Great Spirit Chief made them. They were not; and would change the rivers and mountains if they did not suit them."
The white men built roads, mines, and mills; they divvied up leased federal land for grazing. Today, a quarter of the jobs in Wallowa County are in agriculture or timber, and much of the work involves running cattle or growing hay. During the first few decades of the 20th century, ranchers eradicated the grizzly bear and wolf to make the land safe for livestock. The last known griz was spotted in the western Wallowa Mountains in 1938. The last wolf bounty paid out in Oregon was in 1947.
Sixty years isn't such a long time—it's the average age of a Wallowa County rancher—yet perhaps the return of wolves to Oregon would have gone over better if it had taken 200. As it was, only a couple of generations had passed. To the children and grandchildren of the old wolf slayers, reintroduction seemed like an insult. "It tells them that their heritage was wrong," Morgan says, "that it was a mistake to make those wolves go away."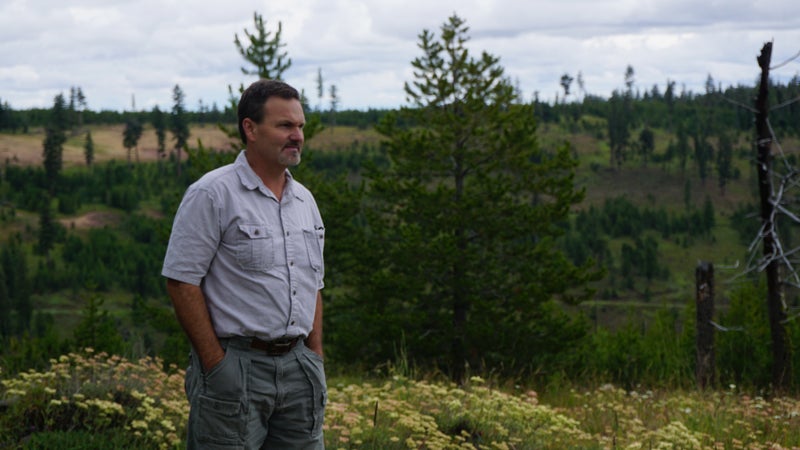 So OR4 was already on the wrong side of the local ranching community, just by existing. It didn't help when he and other members of the pack—called the Imnaha pack, after the Imnaha River at the core of their territory—were drawn closer to the world of man by bone piles.
Most ranches have bone piles, or dead piles, which are central locations for piling up the carcasses of dead livestock, since burial requires using heavy machinery. By 2010, the Imnaha wolves were lingering at these places, playing with hides, chewing on leg bones, and generally luxuriating in the cozy atmosphere of decaying mammals. And then they started to look around at the placid creatures on the hoof nearby, so much less dangerous to pursue than elk, which can break a wolf's jaw or rib with a muscular kick.
OR4 and OR2 had what was probably their third litter of pups in April of 2010. There were at least four. These arrivals joined roughly eight other offspring, now all full-sized and actively hunting. The family was getting big.
Data from Yellowstone suggests that every wolf will kill, on average, two elk per month in the winter. Each elk is generally taken down by two or three wolves. Wolves' teeth are surprisingly blunt instruments; they often kill by inducing massive internal bleeding. A cougar pounces on its prey and kills it instantly by breaking its neck or slicing open a carotid artery, but a wolf chases an animal until it collapses, then basically beats it to death with its jaws.
Once the elk is down, the wolves unzip it, and first eat the heart, lungs, liver, intestines, spleen, and kidneys. Then they get to work on the meaty legs. Each wolf requires at least seven pounds of food per day, so a good-sized pack needs to kill an elk every two or three days.
Keeping up with this pace of consumption demands endurance. One day in the spring of 2010, when OR4 was in his prime, he killed an elk 33 miles from his den and then ran home in six hours, his belly full of meat to throw up to feed his pups. That meant a 66-mile round trip in rough country—with a vigorous elk hunt in the middle.
In the spring and summer, when the snow has melted and elk have left the hills, wolves diversify their diets, eating deer, rodents, and whatever else they can get. Pickings are slim, except down in the valleys, near all those irresistible bone piles. In early spring, when the pups are hungry, much of the game is found in lowland pastures, sharing grass with cattle. The pack killed its first calf on May 6, 2010. By the end of May, five were dead.
But just as the ODFW began handing out permits to local ranchers allowing them to shoot stock-killing wolves on sight—and calling the U.S. Agriculture Department's Wildlife Services, the agency that specializes in killing vermin and problem predators—the pack changed its tactics and retreated to the mountains. Everything got quiet for a while. OR4's collar went dead. The snows came and went. More pups were born.
The next year, in May of 2011, the pack—now totaling about 15—started killing calves again, and the ODFW decided to kill two members to reduce the number of mouths OR4 had to feed. ODFW staffers set out traps and went on the hunt with guns. One of OR4's sons was trapped and killed; a daughter was shot.
By this time, Morgan knew OR4's own distinctive paw print: the wolf's left hind foot had a broken toe that stuck out 90 degrees. Morgan found this print and set a trap directly on top of it. As he thought might happen, OR4 himself was caught. Because he was the breeding male, his life was spared, but Morgan took the opportunity to knock him out with a "jab pole"—a tranquilizer on a stick—and outfit him with a working collar, this one equipped with GPS. The state of Oregon began to download OR4's whereabouts four times a day.
For the next five years, the ODFW often knew exactly where he was, to within 100 meters. But there were gaps, because OR4 was very hard on collars. He probably banged them against rocks and logs during chases, maybe took an occasional elk hoof right in the neck. Some of his collars didn't last a month.
---
In an attempt to pacify angry ranchers across the West, the conservation group Defenders of Wildlife established a fund in 1987 to compensate producers who lost animals to wolves—but only if a state agency ruled that the death was clearly caused by one. Later, the state of Oregon set up its own fund.
Morgan was integral to this system. He started posting official reports of his depredation investigations after local ranchers began to contest his findings. OR4's file grew thicker and thicker. Over time, as the workload got to be too much, Morgan took on an assistant: Roblyn Brown, a methodical, capable field biologist with a passion for advanced data analysis. She became his heir apparent as wolf coordinator.
Sometimes, the kills Morgan was called out on were old, especially when the victims were animals out grazing on public land. One report reads: "The carcass had been mostly consumed by scavengers, with sign of wolves, bear, and coyote present. The carcass consisted mostly of bones and a large piece of hide, with muscle remaining for examination only on the head, neck, and lower legs."
This kill was ruled "probable wolf" because of the cow's location in a dry rocky creek bottom. There were signs that it had been chased downhill, and purple bruising on the carcass indicated hemorrhaging under the skin before death—from those crushing, blunt teeth.
Sometimes the kills were fresh, the evidence overwhelming. One morning in December of 2012, a rancher heard the alarm sound on a telemetry receiver that Morgan had given him, to alert him when OR4 was in the area. But he didn't need the box. He could hear the wolves howling, and when he found a dead cow, it was still warm. It had run for a half-mile before being taken down, and Morgan noted "blood and rumen smears on the ground, blood stains on the vegetation, hair tufts, muscle fibers, and vegetation and soil disturbances." He ruled it a confirmed wolf kill.
Man and wolf would meet many times. Sometimes Morgan would count his pups. Sometimes he would chase him with a rifle loaded with tranquilizers, other times with a rifle loaded with bullets. Over the next seven years, they would start turning gray together.
Some deaths were mysteries, like this one from September of 2011: "Carcass was mostly intact; there was no sign of injury (broken bones) or marks on the outside of the cow. Maggots were present in large numbers. There was scavenging (coyote tracks were present) on the right side of the head and around anus. There was no evidence of a predator attack. The cause of death of the cow is unknown, but unrelated to predation."
No matter what Morgan found, and despite the fact that wolf losses represented a tiny fraction of livestock mortality, the ranchers stayed angry. This took a toll. Morgan would come home from work to his partner, Dana, a wildfire emergency coordinator who's now his wife, eat dinner, make some arrows, go to sleep, and head back to work the next morning without speaking a word.
Morgan didn't just investigate depredations; he orchestrated a multi-pronged deterrence campaign. He outfitted ranchers with alert systems linked to OR4's collar, so they could defend their livestock. He spent many a day and night up on a hill in the valley with the telemetry setup, so they could haze wolves heading into the valley. In 2010, he started working to do away with bone piles. Today, the Wallowa County landfill takes cattle carcasses for free.
Despite his efforts, in the fall of 2011, OR4 and his family killed once too often, a calf taken down near Griffith Creek on private land. It belonged to Todd Nash, the Oregon Cattlemen's Association wolf committee chairman and a longtime opponent of wolf reintroduction."Blood from the calf was scattered over a large area both inside and outside an old broken-down corral," the report read. "Within the corral were multiple areas of blood, hair tufts, and sign that the calf had gone down (and then back up) at least once before its death."
GPS data placed OR4 at the scene. According to the wolf plan, chronically depredating wolves were to be killed, even though wolves were still on the state endangered species list. Though the vast majority of the food OR4 was eating was wild game, he was killing stock often enough that "chronic" seemed like the appropriate adjective. He had to go.
---
When Morgan applied to be Oregon's wolf coordinator, he had already been a wildlife manager for 20 years. He'd captured cougars and counted fish and blocked development that threatened a rare ground squirrel. He knew wolves would be controversial. But he believed in the wolf plan—a document that doesn't do one thing that many environmentalists wished it would: take on the institution of grazing on public lands. This practice is as hot a potato as you can find in the West, up there with who gets water and how much timber to cut. The ODFW Commission, which wrote the plan, explains in the preamble that it has no authority over grazing issues. The overall goal was "to ensure the conservation of gray wolves as required by Oregon law while protecting the social and economic interests of all Oregonians." It aimed to be a compromise. "Non-lethal and lethal control activities actually may promote the long-term survival of the wolf by enhancing tolerance," the commission wrote. Put another way: the price of having wolves is killing wolves.
It was this plan that Morgan now carried out. Using the coordinates from OR4's collar, he determined that the wolf was hunkered down in a thick stand of small pines, not far from a forest road, probably waiting out a rain shower. Morgan put his rifle on a bipod uphill from the stand and sent Brown around the back to flush the wolves toward him. He heard movement—wolves approaching. He rotated his head to scan down the face of the pines, and when he looked back, OR4 was standing right in front on him, completely exposed. But the wolf didn't stay still long.
"Just as I was getting the crosshairs on him, he vanished," Morgan says.
Brown emerged from the pines and they set up for another try, getting ahead of the collar signal, which was now moving down a canyon. It was drizzling and cloudy. Morgan had kind of a "sick feeling" as they sat there, then Brown checked her phone. There was a text message: "Stand down. Judge has issued a stay."
Three environmental groups had sued to stop the ODFW from killing OR4. Their central claim was that the state could not legally kill an animal on the Oregon endangered species list. They also convinced the Oregon Court of Appeals to issue an emergency stay while their suit went forward. A stay like this has to be based on some "irreparable harm" that will occur if it's not put in place; since wolves don't have legal standing, it was granted in part to prevent irreparable harm to the members of the three environmental groups, who would be denied "the 'profound and exhilarating' experience of viewing wolves in the wild, including the particular wolves targeted for killing."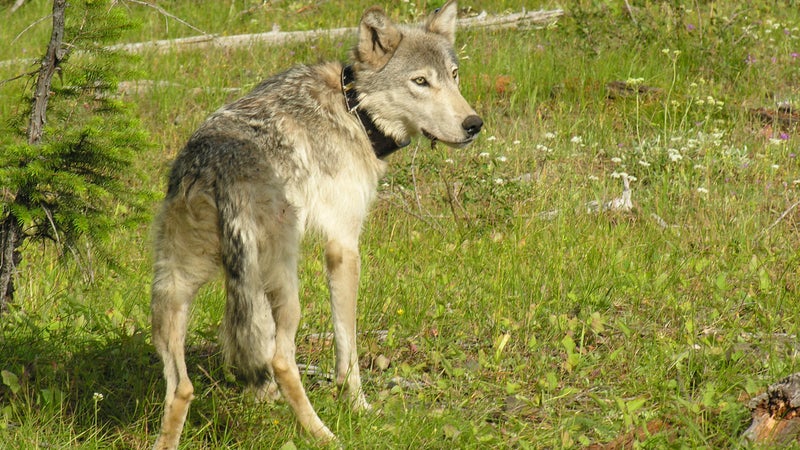 Morgan is a believer in the idea that wild animals must be managed as populations. "I try not to get emotionally involved with particular individuals," he says. "If that wolf had come out in a place where we could have pulled the trigger, we would have pulled the trigger. You have to focus on the task at hand and get it done, desensitize yourself. One of the things we're thinking is that wolves are going to be OK in Oregon, and this is part of management. It is what we signed up for when we did the wolf plan."
With OR4 and his pack safe for the time being, Morgan continued to investigate depredations and tried to keep a working collar on his alpha. Life went on. OR4's pups grew up and left home. One of his sons, OR7, traveled all the way to California in December of 2011, briefly becoming an international celebrity. Another, OR9, went to Idaho and was shot by a hunter with an expired wolf tag. A third, OR33, was found shot to death near Klamath Falls, Oregon, in April 2017. A fourth, OR12, took over the remote Wenaha pack in 2012 and is still the breeding male there.
A fifth, OR3, disappeared in 2011 and was presumed dead. But in the summer of 2015, he showed up on a trail camera in Klamath County, hundreds of miles to the southwest. He found a mate, and they had a single pup. When the pup was about six months old, a poacher killed OR3's mate. Now the father and son are believed to live together near Silver Lake, in Lake County.
As for OR4, in March of 2012, he was tranquilized from a helicopter again and re-collared. Every spring, new pups were born; every year, older offspring dispersed. The pack dined mostly on elk, but occasionally on calves.
In May of 2013, the lawsuit that prompted the stay on OR4's death sentence ended with a settlement agreement among the environmental groups, the state, and the Oregon Cattlemen's Association. New rules were incorporated into the wolf plan. The threshold for killing a wolf was explicitly spelled out, and it would get lower and lower as the wolf population expanded. While there were still fewer than four breeding pairs in the state, they would be managed under "Phase One" rules: a wolf could be killed if a pack was implicated in four depredations within six months and if non-lethal control attempts had already been tried.
After these changes were in place, the Imnaha pack somehow skirted the line, never quite taking enough livestock to earn a death sentence. Ranchers joked that the wolves kept a copy of the settlement posted inside the den.
---
A few months after the settlement, OR2's collar went dead. She was never seen again. In February of 2014, OR4 got his fourth collar. Every time he was darted from the air, he seemed smarter. It was getting harder and harder to bring him down.
"We—humans—collar lots of animals," Morgan says. "Mostly because we are trying to learn. We collar wolves for a different reason—because we are fearful. We want to keep track of them. That is fundamentally different than trying to understand them."
By 2014, OR4 was an old wolf, largely gray. His teeth were worn. He had sired more than 30 pups. OR2 was gone, and he was now seen with a female that had an obvious limp. Yet he carried on.
And then, in January of 2015, the rules changed again. Annual counts indicated that there were officially enough wolf breeding pairs in Oregon for the wolf plan to move to a new phase. Now, the ODFW could authorize lethal control at a the request of a property owner or rancher with a permit to graze on public land after just two depredations in a row.
This time, the Imnaha pack got on the wrong side of the rules in a hurry. In the spring of 2016, the pack—now down to four animals—killed a 500-pound steer calf in the Upper Swamp Creek area. The same day it happened, Brown saw OR4 and his mate, nicknamed Limpy, from a helicopter over the Zumwalt Prairie, a favorite hunting ground. Neither wolf had a working collar, so she loaded up her rifle with a tranquilizer dart.
OR4 didn't run. Two years earlier, Brown had collared him and he ran across the ground "like the wind." Now he just loped across the landscape, turned, and barked twice.
Brown pulled the trigger ruefully. She and Morgan had talked about their reluctance to collar OR4 again, but with the animal in sight, her duty was to act. No wolf in the pack was collared. He was right there. Later, when Morgan got a text from Brown that OR4 had been fitted with his fifth collar, his heart sank. The noose was tightening.
A few weeks after the new collar went on, the pack killed a ram. Then a calf. And then another. And then another ram. At this point, they had blown past the minimum depredations for lethal control. On March 25, 2016, the ODFW received an official request from a rancher to have them killed.
On March 31, Morgan, his bosses at the ODFW, and his staff held a meeting. The consensus was that the rash of depredations and collar signals from the valley floor suggested that an aging OR4 was going after easy targets and would probably continue to do so. It was even possible that a younger and stronger wolf had pushed him out of his core territory. It was clear to everyone that, under the wolf plan, OR4, his mate, and two offspring that made up his current pack had to go. Morgan made the official recommendation.
"It is not retribution or justice," Morgan says of the decision. "It is solving a problem."
OR4's ancestors didn't ask to be relocated to the lower 48. And while gray wolves have arguably restored a lost component to western ecosystems, they returned to a place much changed—a place full of people, of fat hornless cattle, of snack-sized sheep, of rubber bullets and range riders and firecrackers and helicopters and tranquilizers and traps and collars and GPS signals and government regulations. OR4 never failed as a wolf. He broke human rules. And in the 21st century, being a competent wolf isn't enough to stay alive. You must also—impossibly—know your place.
Since there were already ODFW staff in the area with a helicopter, Morgan left it to them to kill the wolves. OR4 was old; his mate was limping; they had fresh GPS collars transmitting their whereabouts. It wasn't hard to find them. ODFW staff herded them out of a steep drainage canyon, thick with timber, into the open. The young wolves split off, and neither of them had collars, so the crew pursued them first. Once they were both dead, the staff relocated OR4 and Limpy. The pair ran from the helicopter, their speed limited by the female's injury. The people hunting them down were firing buckshot loads. They flew directly above the wolves and shot each one in the head. Within two hours of the official decision, the entire pack was gone.
OR4 was probably a month shy of his 11th birthday—a very old man for a wolf.
---
The wolves' bodies were collected. OR4 was still heavy, his head robust, rounded, and gray. "You could tell he was an older, dominant-type wolf," says the man who carried him, who asked not to be identified. They were loaded into a cargo net and taken back by helicopter. Next, the carcasses were displayed to the local sheriff—a protocol put in place because of the lack of trust between the state agency and local authorities, and a ritual Morgan found repellent. Then staffers brought the dead wolves back to the ODFW offices in La Grande. All their collars and tags were removed.
A backhoe was used to dig a grave for the four wolves. But first, Morgan collected OR4's skull. Wolf skulls, bones, and pelts are often collected for research and education. In this case, Morgan also believed the skull of such a historically important wolf should be preserved at the ODFW headquarters in Salem. For him, saving it is a deep mark of respect.
"We—humans—collar lots of animals," Morgan says. "Mostly because we are trying to learn. We collar wolves for a different reason—because we are fearful. We want to keep track of them. That is fundamentally different than trying to understand them."
After OR4 was killed, Morgan got a condolence note from Todd Nash. It read: "I will have to admit, I was hoping OR4 would die of old age. After all, he was just a wolf trying to make a living, and I admired that."
Nash didn't hate the wolf. He hated the reintroduction effort. KPIC Channel 4 of Roseburg, Oregon, called him for a response to the killing. "We spend so much money trapping, collaring, and helicopter guarding, and one thing and another," he told the reporter. "Then they end up killing the darn things. Because we can't coexist with them. That's the plain and simple fact. This pack should have been removed a long time ago."
OR4 was a dominant leader, a skilled hunter, and an excellent father, according to Morgan. Seven of the state's 17 packs have alphas that are his sons, daughters, or granddaughters. OR4's descendants also founded California's first wolf pack since the 1920s—the Shasta pack. Above all else, the big black wolf was supremely competent. "He epitomizes all things wolf," Morgan says.
A few days after OR4 was killed, Morgan's partner, Dana, went to the hospital with a blood clot in her shoulder. As he sat with her, Morgan's heart began racing. A passing doctor took a listen and hustled him into the emergency room. It wasn't a heart attack, just some kind of transitory tachycardia. Doctors told him to avoid stress.
After a few months spent mostly at his desk, working on a revision of the wolf plan, Morgan retired on September 15, 2017. He described himself as being "tired of the negativity and heartache that is wolf management in a modern world."
Brown has taken over as acting wolf coordinator. On her computer screen is a map of the most recent whereabouts of the 15 or so collared wolves in the state of Oregon, like a flight-control display for Canis lupus.
On Morgan's last outing into the field before his retirement, he visited the den that belonged to OR4. The den itself is a huge ponderosa pine log, hollow from one end to the other. At one time, 15 wolves would have called this place home. On this summer day, the clearing was still.
Morgan pulled out a coarse gray wolf hair snagged on the log. There was some old scat still among the lupines and wild strawberries, and a sprinkling of bleached bones. "I don't have any remorse for killing them, but I am sad they aren't here," he said.
Before he left, he picked up an elk skull from the clearing. He placed it firmly in the center of the den's opening. And then he walked away.
Emma Marris (@emma_marris) is the author of Rambunctious Garden: Saving Nature in a Post-Wild World. This story was supported by a grant from the Institute for Journalism and Natural Resources. Marris lives in Klamath, Oregon. 
Illustration by Molly Mendoza (@msmollym)
Lead Photo: Molly Mendoza