Why Environmentalists Are Reclaiming Patriotism
Taking care of our planet shouldn't be a partisan issue. These activist-athletes think the flag might help bridge the divide.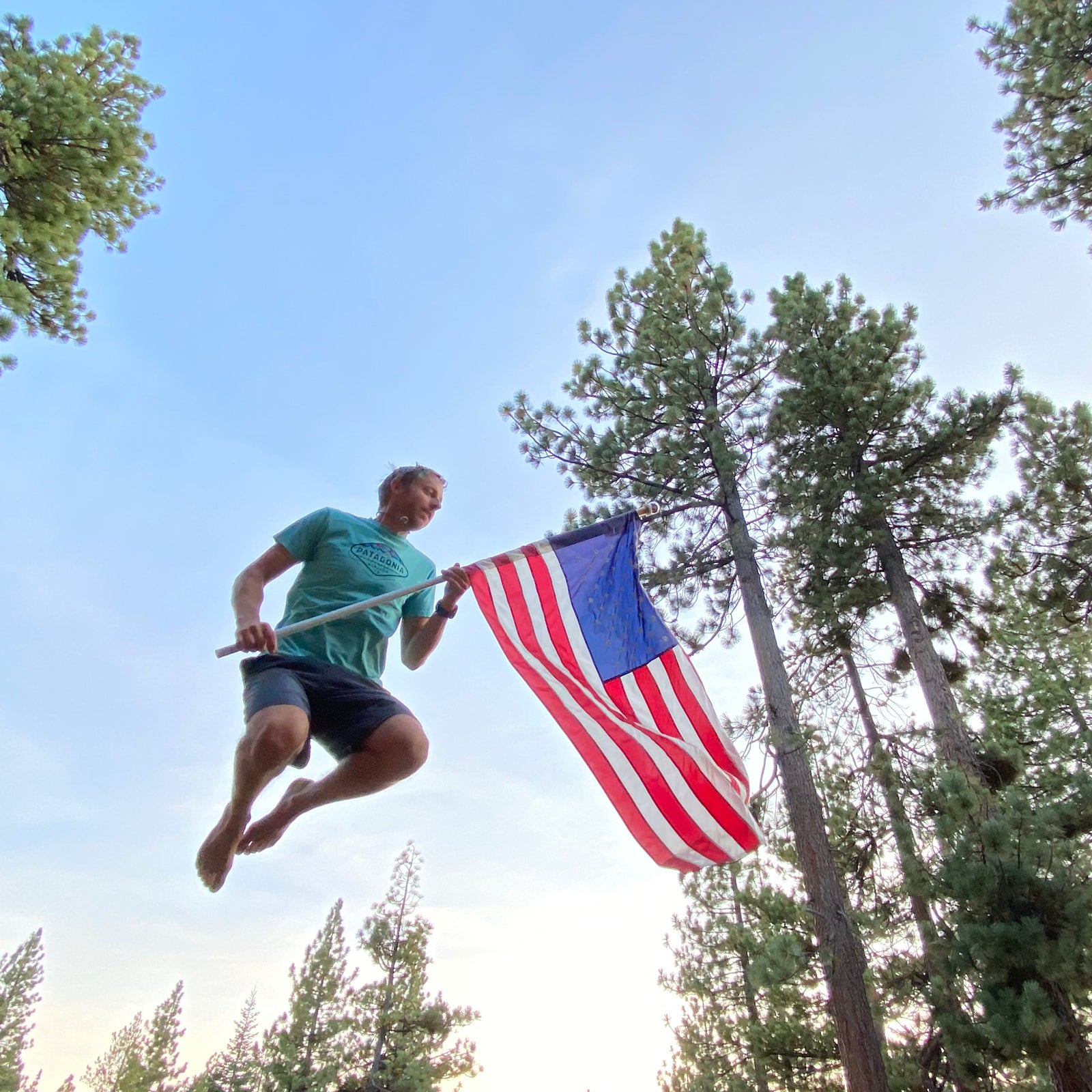 Courtesy Tommy Caldwell/Protect(Photo)
Heading out the door? Read this article on the new Outside+ app available now on iOS devices for members! Download the app.
On September 8, rock climber Tommy Caldwell posted an image on Instagram: he's barefoot and leaping in a conifer grove, holding an American flag.
"I grew up pledging allegiance to the flag and believing America was nearly perfect," he wrote in the caption. "As I became more aware of the ugliness in our past and present, the meaning of the American flag changed in my mind from national pride to symbolizing a lie that we try and tell ourselves and our children. When I recently moved into a house that sported a big flag out front, the first thing I did was take it down."
If you've been following Caldwell during this year of discontent, his feelings about the flag are less surprising than seeing him rock it proudly. Most of the time he's agitating for action to solve the climate crisis, a cause for which he's testified in Congress. Over the past several months he's spoken out against George Floyd's murder and in support of Black Lives Matter. He's used his social media as an outlet to educate his followers and urge them to vote. And he's not alone.
Throughout 2020, adventure athletes—along with professional athletes in the NBA, MLB, NFL, and beyond—have used their platforms to discuss racism, social justice, and environmental issues. Caldwell's post stood out, because few influencers-turned-activists, if any, had invoked patriotism in the name of what are typically considered progressive causes.
Ever since the Vietnam War, when anti-war protesters burned flags along with their draft cards in the late 1960s, America's left wing has largely ceded stars and stripes pageantry to conservatives. "The flag was abandoned by those who were really upset with our foreign adventures, and really unhappy with the way our legal system has often been unkind and unfair to marginalized people," says Tom Zoellner, journalist and author of The National Road, a poignant collection of essays about American identity. Some comments on Caldwell's post reflected as much: "That flag represents nothing but murder, rape and theft," wrote one follower. Others were more sympathetic: "I'm with ya Tommy. Time to reappropriate our flag."
In 2019, snowboarder Jeremy Jones, founder of the non-profit Protect Our Winters, began researching the intersection of adventure sports and environmental politics and found an opportunity. Through POW's market research, Jones learned that 50 million Americans spend the bulk of their recreation time outdoors—self-identified hikers, climbers, surfers, bikers, skiers, trail runners, and more. And regardless of political affiliation, the vast majority of those people believe that human-caused climate change is real, and that our government needs to address it. 50 million people is over 15 percent of the country, enough to swing an election. 
At the winter Outdoor Retailer show last January, Jones and POW unveiled a campaign to tap into that voting block. They dubbed it the Outdoor State, and used the campaign to position environmental protection as the ultimate expression of patriotism, and as the bi-partisan concern that it is. POW created an online community and series of resources to help mobilize outdoorspeople to vote, and to do so with climate in mind. And they asked their amabassadors—outdoor athletes and influencers including Caldwell—to get patriotic on social media, in a nod to unity and an attempt to reframe environmentalism as an American ideal. 
"The places that we love so much—that so many of us identify with—are at stake and are, quite frankly, on the ballot," says Jones. "It bothered me that the flag had become this divisive symbol. It would be awesome to take that back."
But was that possible in a year on fire?
During this summer's protests to demand change and accountability for law enforcement, you seldom saw an American flag among those who marched. But at Black Lives Matter counter-protests, Trump rallies, and other right-leaning demonstrations, stars and stripes abounded. Which explains why some liberals might be reluctant to wave the flag. 
Ultrarunner Clare Gallagher, a POW ambassador, is unafraid to get political on Instagram, but declined to participate in the Outdoor State campaign. While she agrees with the gist of the campaign, she wants to keep her platform laser-focused on climate justice. "I'm deferring to the civil rights movement that's happening," Gallagher says, "and I don't see the leaders that I'm trying to follow and learn from in that movement embracing our flag. I want to be talking about climate and racial justice right now. Not about patriotism."
But Zoellner believes that POW is on to something powerful. "The fact is that almost all of us, particularly those who love the outdoors, are deeply patriotic," he says. Although the Trump administration has rolled back environmental protections to exploit public lands and build the border wall, in American politics Republicans were the original environmentalists. Preserving land from development and creating more access to wild spaces are early 20th century Republican notions, Zoellner explains. Democrats may be considered the more environmentally concerned party today—unlike Republicans, they have a concrete climate change policy and explicitly acknowledge the necessity of protecting natural resources in their platform—but POW's research shows that the environment and climate change can also be bridge issues to unite a powerful, cross-party environmental coalition.
In order to be effective, that coalition will need to elect politicians willing to solve systemic and foundational issues, like reckless resource extraction, explains Lakota skier Connor Ryan, a contributor to POW's campaign. The 27-year-old, whose family has been through military drafts and abusive boarding schools for Native children, is well aware of the many ways in which the American experiment has failed the people who live here. Yet he still considers himself a "patriot to the land," in part because of skiing. When you're making a perfect powder turn, Ryan says, you experience a fleeting bit of connection with the natural world. Ideally, that connection translates into a desire to protect and preserve. 
"If you experience that unity with nature, that flow state through your sport, and then don't go out and protect the land? I mean, that's blasphemy," Ryan says. "It's the original sin of capitalism, the original sin of colonization, seeing yourself as separate from the land and separate from nature. It is not only a spiritual error. It's a scientific error. In Lakota, we say, Mitákuye Oyás'iŋ, everything is related. We have to remember we are nature also. In protecting nature, we're protecting ourselves."
Caldwell, who has been climbing since age three, knows that feeling of flow and connectivity well. But for most of his life, he admits he paid scant attention to politics. Then he had kids, and began researching the climate crisis for the first time. The more concerned he became for their future, the more he engaged in the political process. He learned that lawmakers are surprisingly accessible and want to hear from their constituents, and came to believe in the power of his vote. 
He also realized that addressing climate change was going to take more than half of the country. "We've got to work together to fix it," he says. So he ultimately re-embraced the flag, to share his love of the land—and of his country—with people on both sides of the political spectrum. He even put the flag back up at his house.
Lead Photo: Courtesy Tommy Caldwell/Protect