Fighting the Rising Tide
New Jersey's post-Sandy strategy: massive resistance to rising seas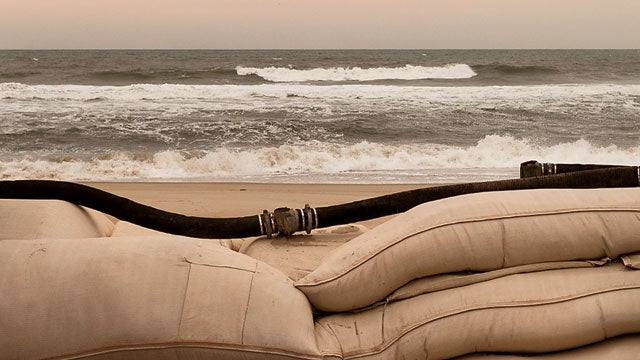 Heading out the door? Read this article on the new Outside+ app available now on iOS devices for members! Download the app.
AS CLIMATE adaptation measures go it's a doozy, worthy of the storm that spawned it. New Jersey governor Chris Christie wants huge protective sand barriers to exist along all 127 miles of his state's shoreline, where Sandy made landfall last October, ultimately destroying 360,000 homes and causing $37 billion in damage.
The initiative will play out differently around the state, largely because federal law restricts the U.S. Army Corps of Engineers, which will do much of the work, to whatever was authorized or constructed in the mid-1990s, when the project was first dreamed up. So, for example, along 21 miles of coast in northern New Jersey, from Sea Bright to Manasquan Inlet, the Corps will rebuild an existing berm—a ten-foot-tall flat stretch of beach, 100 to 200 feet wide—but there will be no dunes, which are taller and narrower. The $125 mil-lion project will use eight million cubic yards of sand dredged from the ocean.
The next stretch of coastline, from Manasquan to Barnegat Inlets, will get the full berm-and-dune treatment. If local authorities and homeowners agree, the dune would be 18 to 22 feet high, and the project would consume another ten million cubic yards of sand.
That doesn't mean everybody wants in. On the tourist-centric Jersey Shore, views matter, and dunes block them out. In Seaside Heights, a tiny barrier-island town that was walloped by Sandy, officials are worried that beachgoers won't be able to see the water even from its rebuilt boardwalk. And in a test case watched statewide, beachfront homeowners Harvey and Phyllis Karan sued five years ago and won
a $375,000 judgement for the loss of their view in the tiny borough of Harvey Cedars. But the state supreme court overturned that in July, telling a lower court to consider the value of the dune that saved
the Karans' nearly $2 million home—and others around it—from Sandy.
"Beach replenishment and storm abatement has been a passion of mine," says Jon Oldham, mayor of Harvey Cedars. "I'm not gloating," he says, "but I feel we did what was best for our town."
Dunes, often described as fragile by officials trying to keep beachgoers off them, are relatively inexpensive, and they work—against waves. New Jersey's Department of Environmental Protection estimates that 80 to 85 percent of the state's oceanfront property has some form of dune protection, some of it built over the years by individual towns, not the Army Corps.
The famously blunt Christie has called dune opponents "knuckleheads," and at one town meeting said a litany of objections raised by homeowners were "bullshit," designed to obscure their real goal of pre-serving views. "We are not going through that again," he said of Sandy's devastation, "so you can sit on the first floor rather than the second floor and see the ocean."
Lenny Bernstein is the national environmental reporter for The Washington Post.