New Efforts to Free a Captive Killer Whale
A popular performing orca may get listed under the Endangered Species Act. Her freedom rests on the decision.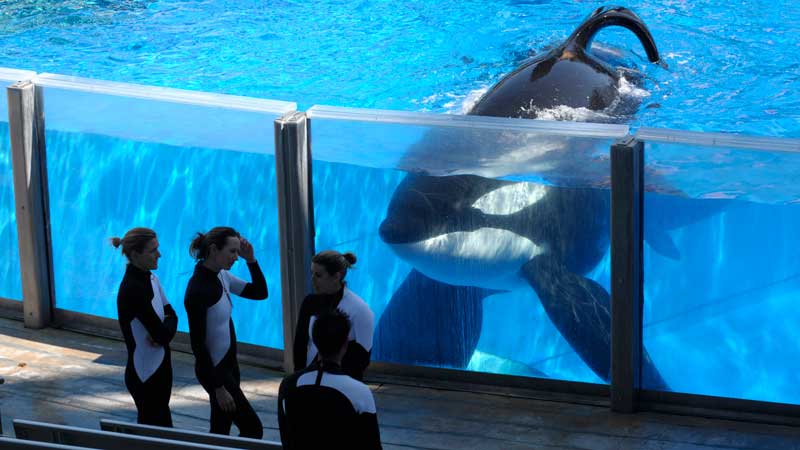 AP(Photo)
Heading out the door? Read this article on the new Outside+ app available now on iOS devices for members! Download the app.
Should a captive killer whale be listed under the Endangered Species Act? That is the question NOAA is considering with regard to a wild-caught killer whale named Lolita who has been performing shows at Miami's Seaquarium for more than 40 years. Lolita was captured as a calf in Puget Sound in 1970, from a group of killer whales known as the Southern Residents. In 2005 the Southern Residents were listed as endangered under the Endangered Species Act (ESA), with Lolita excluded from the listing. But last week the National Oceanic And Atmospheric Administration's Fisheries Division—in response to a petition filed by the Animal Legal Defense Fund and PETA—proposed a rule that would add Lolita to her extended family's ESA listing.
Best of Outside KILLERPOOL TOP

How a killer whale lost control with lethal results.
"The government is now poised to reverse the unlawful and unexplained 2005 decison to deny Lolita protection under the Endangered Species Act. It's a huge first step, but it's only a first step," says Jared Goodman, Director of Animal Law at PETA, which is also suing the U.S. Departmernt Of Agriculture for renewing Miami Seaquarium's licence to display Lolita despite keeping her in conditions (especially her small pool) which PETA argues are in violation of the Animal Welfare Act.
NOAA is now seeking scientific and expert comment on the proposed rule, and a final decision could be a year away. But if Lolita is, in the end, granted endangered status, she would be the first captive killer whale to get that protection and Miami Seaquarium would have to apply for a special permit to keep her.
Andrew Hertz, Miami Seaquarium's General Manager, has been fighting efforts to free Lolita (the marine park's lone orca since her male companion, Hugo, died in 1980), for years. In a statement to local news, Hertz said: "This decision is not final. Based on NMFS' announcement, Lolita will continue to be an ambassador for her species from her home at Miami Seaquarium."
Animal welfare advocates hope that NOAA's proposed rule is the first step toward Lolita's journey back to her family. Plans have long existed to create a retirement seapen for Lolita in the waters frequented by her immediate family group (the killer whale believed to be her mother is still alive). But even if Miami Seaquarium in the end has to give Lolita up, NOAA expressed concern about returning her to her native waters, noting in its review of Lolita's case that "release of a captive animal into the wild has the potential to injure or kill not only the particular animal, but also the wild populations of that same species."
Naomi Rose, a killer-whale expert with the Animal Welfare Institute, says that absent a solid seapen plan, including funding, it is possible that Lolita could even end up at another marine park, with better facilities, such as SeaWorld. And she acknowledges the risks involved in transporting a killer whale that is estimated to be almost 50, and the mixed memories about the fate of Keiko—of Free Willy fame—who died after being returned to his native waters off Iceland. Still, Rose says: "The big difference is the proposed sea pen would be where Lolita's family is. It could flip her out completely, or she would cope like she has coped all these years. I don't think anyone knows. It's difficult to be playing God with her, but keeping her at Miami Seaquarium is playing God, too. If the law says she can't stay there, then the potential of a sea pen is far greater than in that pool."
Lead Photo: AP
Trending on Outside Online