Indefinitely Wild
Want to Access Public Land? Get This App.
OnX Offroad opens up 985 million acres of public land with off-grid navigation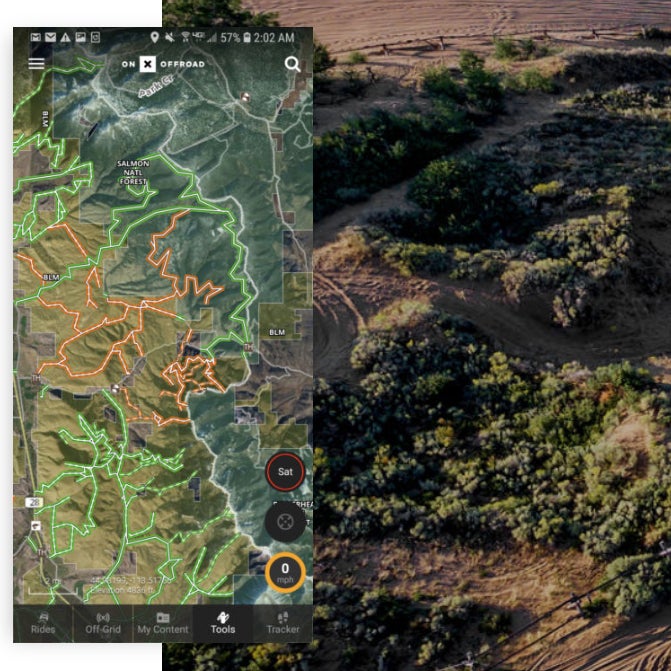 Heading out the door? Read this article on the new Outside+ app available now on iOS devices for members! Download the app.
The biggest barrier preventing you and I from enjoying all the public land we own is knowing where to go and how to get there. That's why I think the new Offroad app from OnX is so significant: it makes discovering remote destinations, then navigating to them, as easy as looking at your smartphone. 
Unless you hunt, you may not have heard of OnX. Six years ago, the Montana-based company compiled basic data on the boundaries between private and public land into a slick, easy, intuitive navigation app. That may not sound revolutionary, but by eliminating the potential for error, and allowing hunters to carry in-depth data into the field, it has utterly transformed the sport. OnX Hunt has enabled even first-time hunters to better access new areas they may not have known existed, then given them the tools they need to be successful. 
OnX Hunt is so easy to use and so powerful that it's become my go-to navigation app for all my outdoor pursuits. I use it to find new trails to hike with the dogs and scope out potential backpacking destinations, then plan and share routes to these sites. And I use it to navigate off-road. I forget why I went to the company's website last week, but when I did, I noticed a new tab labeled OnX Offroad. It nearly ruined my weekend.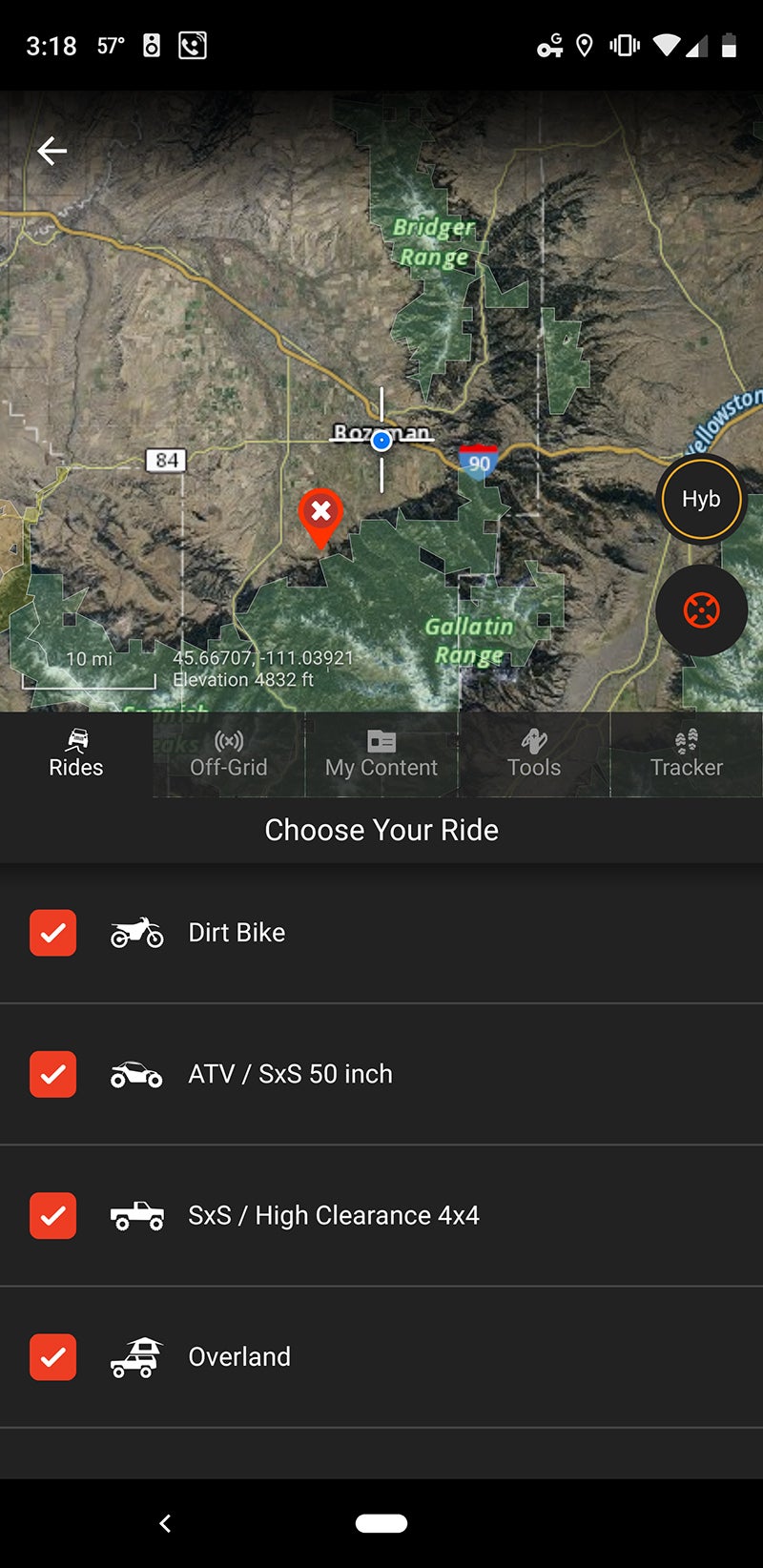 What OnX Offroad does is simple. The Forest Service and other land-management agencies open and close roads for different reasons throughout the year, and the app shows you which dirt roads and trails on state and federal land are currently open or when they're scheduled to open. The app also shows you which roads and trails are accessible to different types of vehicles: overland (read: simple dirt roads), high-clearance 4×4, side-by-sides and ATVs, and dirt bikes.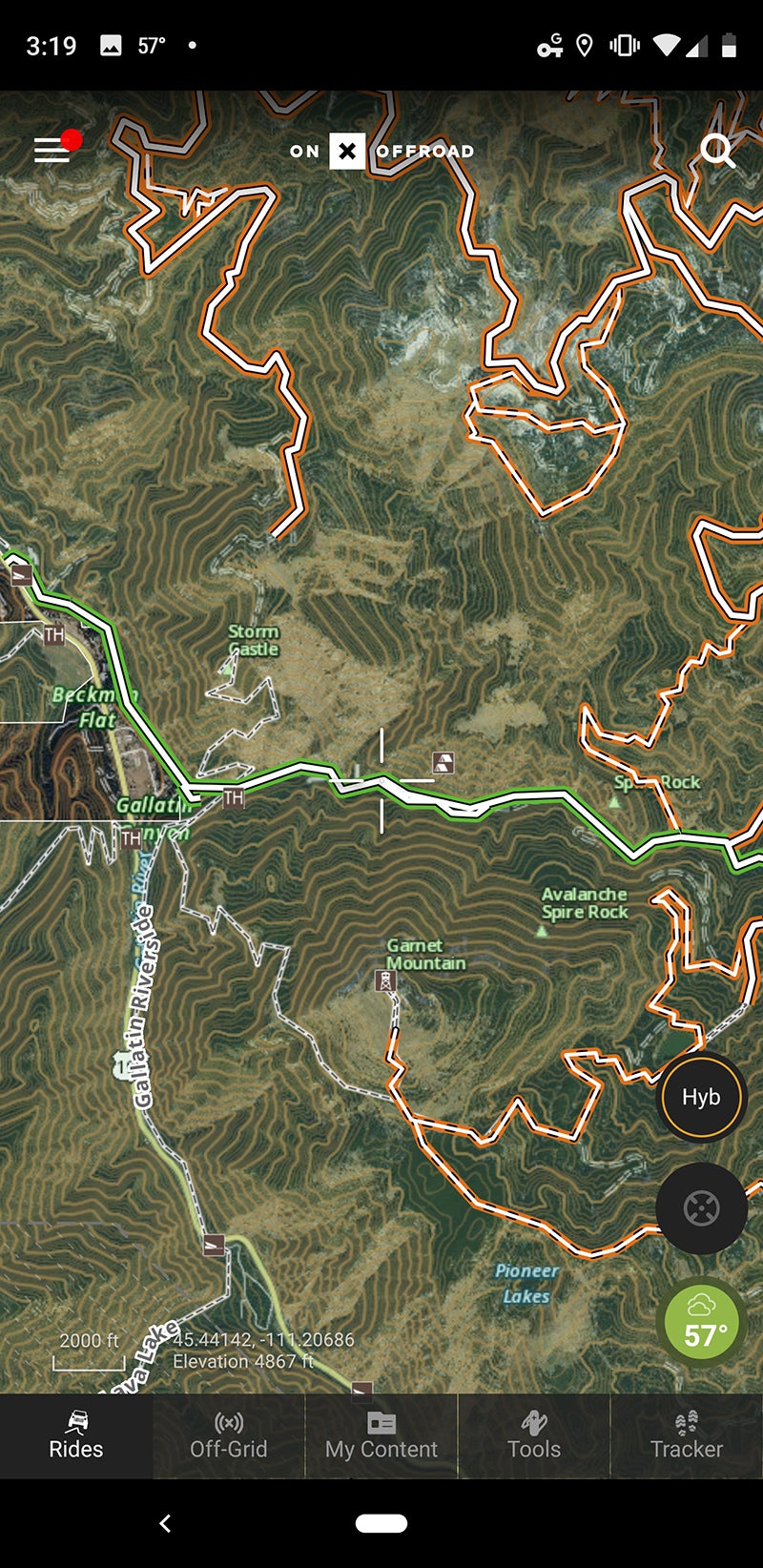 That might sound rudimentary, but by displaying all that information on top of normal map layers (road, topographic, satellite imagery, etc.), and doing that nationwide, all in one place, OnX Offroad is incredibly empowering. Here in Montana, for instance, many routes on public land close for the winter due to snowpack, then open on May 16, June 16, or July 16. In the past, I've had to figure out which roads were open or closed by setting out on them and hoping the gates weren't locked. That obviously made it near impossible to plan trips in remote areas—there was no way to know if I could even get to the trailhead for a backpacking trip in a new place.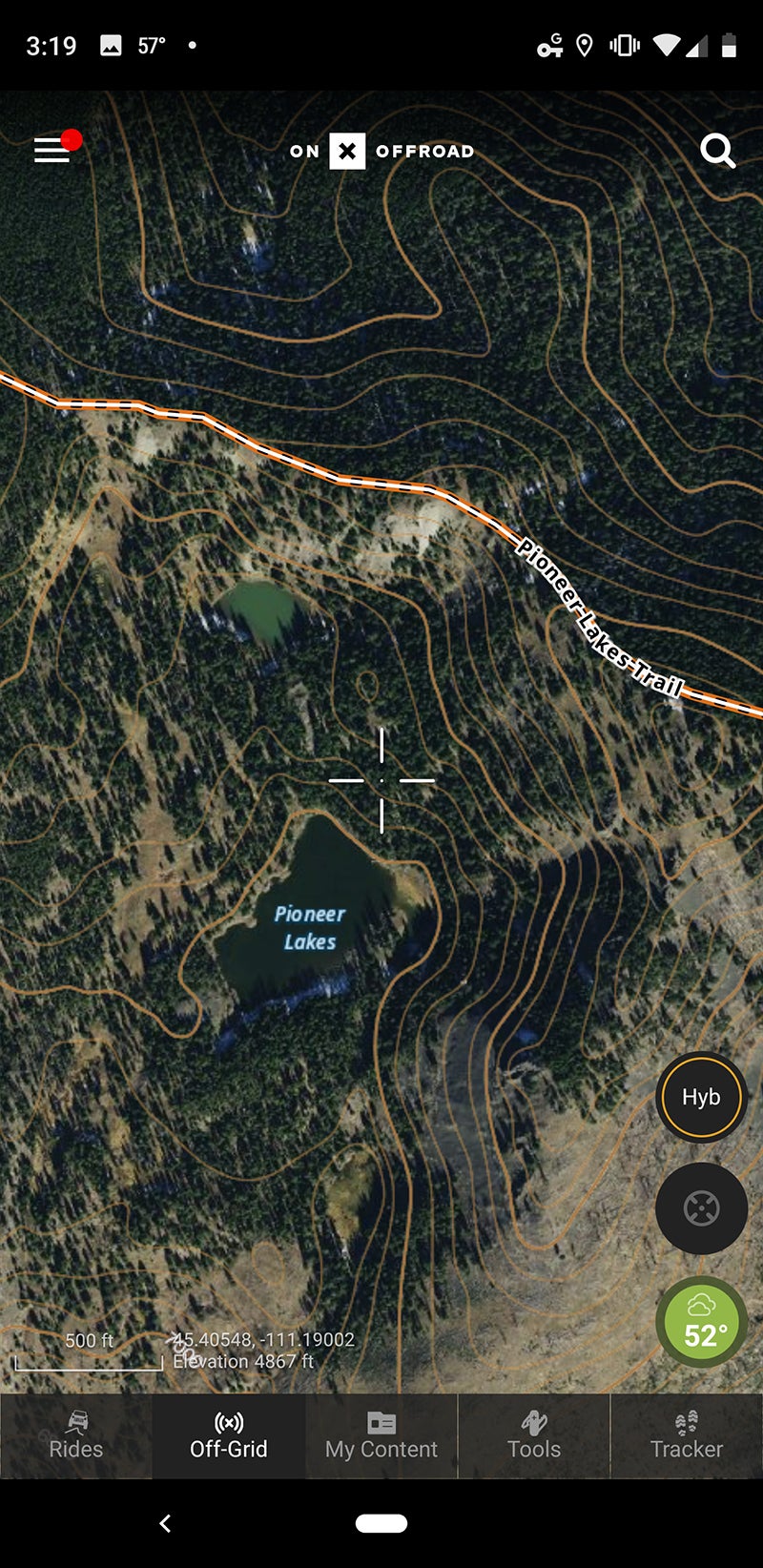 So, armed with OnX Offroad last weekend, I figured I'd go and see how far I could get into a mountain range that I hadn't visited yet. At home I filtered trails for overland and high clearance 4×4, then scrolled around to see which open routes might lead to neat spots. In satellite view, I found an open trail leading a remote, high-elevation lake. It looked like it might prove to be a neat spot to go camping this summer, so I threw the dogs in my new truck and hit the road. 
The trail started about ten miles up a dirt road that led away from a highway, out through farm country. Without OnX Offroad, I'd never have even known there was a trail system up there without extensive exploring. As the app promised, the gates were open and the trail was wide enough for my Ford Ranger. I was rewarded with epic views, but after half an hour or soI found snow blocking the trail at about 7,500 feet. I hopped out of the truck with the intention of walking ahead to see if I could make it through, but was immediately greeted by a loud whooshing sound as air escaped from one of my rear tires—guess I sliced it open on a sharp rock I should've taken the time to move from the path. The hill I'd driven up was way too steep to attempt jacking the truck, so I had to carefully reverse down the narrow trail for about a mile, in the pouring rain, with unexercised dogs going bonkers in the back seat. Later that week, I became $200 poorer when I had to buy a new tire. A good reminder that off-road driving necessitates good equipment and a careful approach, no matter how slick the app.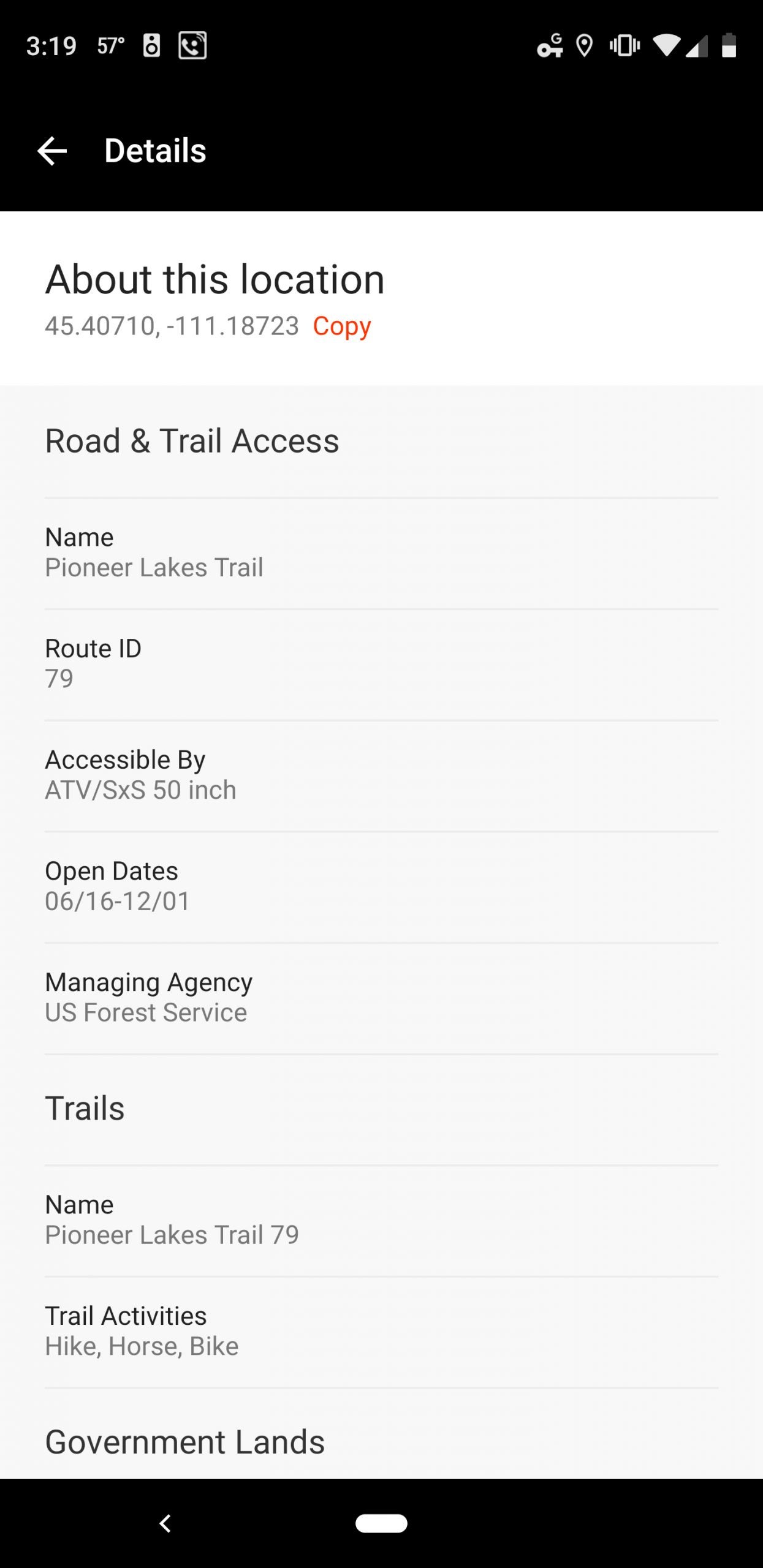 Back home, I called Rory Edwards, the app's developer. He explained that Offroad was quietly released last month for the purpose of gathering user feedback and iterating development. Currently his team is able to take advantage of data on trail locations and openings provided by the various land-management agencies. They're adding the ability for users to report current conditions later in May. So as the user base increases, live conditions like that deep snow I encountered, or a wash out, or a fallen tree, will become available, too. Once that's done, Edwards says he's going to work on the ability for users to add geotagged photos to the maps, then start developing turn-by-turn navigation.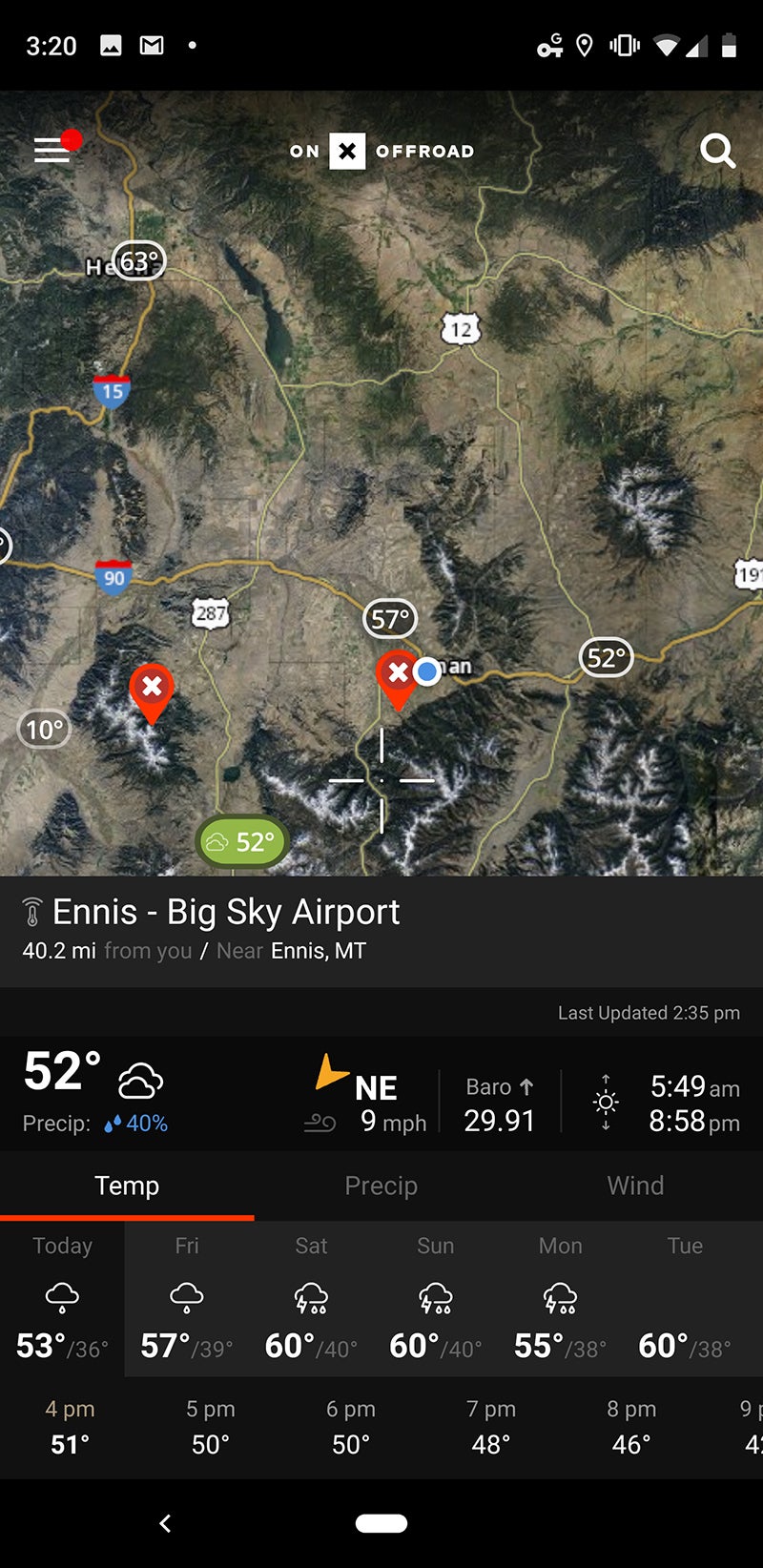 For this initial release, OnX Offroad is currently only available for Android. The company says an iOS app will release late this summer.
One of the best things about OnX Hunt is how much data is cached when you save a map for offline use. You may not think that you'll want to be able to see a seven-day weather forecast once you're deep in the mountains and out of cellular reception, but the fact that it's available (along with other data like the names of landowners, historic wildfire burn areas, animal population distribution, and more) all combines to make the app way more useful—and again, empowering—than I'd expect. The same holds true of OnX Offroad. It includes the locations of 54,000 public campgrounds and cabins, and soon you'll be able to click those in the app to pull up the relevant reservation website. That weather data is there, updated until the moment you leave data behind. And unlike the hunting app, OnX Offroad provides a nationwide subscription (rather than state) for $3.99 per month. 
"Our goal was to improve public-land access for everyone," Edwards says. Because every outdoor enthusiast drives off-road at some point to pursue their various hobbies, his app is going to benefit every single one of us. Whether you're looking for trails to challenge your lifted Jeep, seeking birdwatching spots to access via your Subaru, or planning your first or your hundredth camping trip, OnX Offroad is going to help you figure out where to go how you can get there. 
Trending on Outside Online