Rolling Into Summer, Specter of Wildfires, Drought, Loom Large
Heading out the door? Read this article on the new Outside+ app available now on iOS devices for members! Download the app.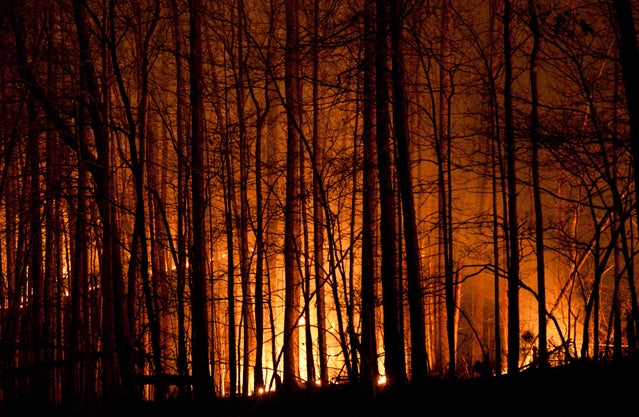 Wildfire via Shutterstock  Photo by Jon Beard
This summer's wildfire season is already well underway, with tragic repercussions. The Lower North Fork Fire in Colorado last month claimed three lives and many homes. It prompted Colorado Governor John Hickenlooper to put a moratorium on prescribed burns on state land and propose putting fire-fighting and controlled-burn responsibilities in the state's Department of Public Safety (it currently falls under multiple groups) to streamline emergency response procedures. 
Officials in Florida and Texas, which lost up to a half billion trees in last summer's drought, are preparing for a fiery summer. Trails and campgrounds in Davy Crockett National Forest in East Texas are closed while the Forest Service assesses the danger.
Across the country, wildlife is also feeling the effects of the dry climate.
Lack of rain has already decimated migratory waterfowl populations along the Oregon-California border, where avian cholera struck up to 20,000 geese, ducks and other birds on the Pacific Flyway this spring. The problem: demands for water and the water management practices that ensure ample resources for fish, farming and tribal use upstream, which left the wetlands in the Lower Klamath National Wildlife Refuge half dry, reports High Country News.
If the drought in parts of Nevada persists, the Bureau of Land Management may do some emergency wild mustang round-ups in the Jackson Mountains and two other parts of the state because of insufficient water to support the animals. This prospect is raising the ire of wild horse advocates, who say that if horses are removed for lack of water, so too should cattle be evacuated from BLM land. They point to cattle and grazing permits as one of the major reasons for the mustang round-ups in the first place. The BLM is struggling to find a path out of its wild horse quagmire, and is looking for everything from new bait-trapping methods to establishing ecosanctuaries for horses removed from public land.
In New Mexico, drought conditions are forcing droves of moths to come down from high elevations in search of water and food, in what some locals are calling mothageddon.
It's not dry everywhere, however. Washington is enjoying the fruits of a very wet winter, with snow-melt starting to churn up the state's ample whitewater.  
What are you seeing in your neck of the woods? 
 –Mary Catherine O'Connor
@mcoc