The Shark Attacks In North Carolina, Explained
Plus, 5 tips to avoid a close encounter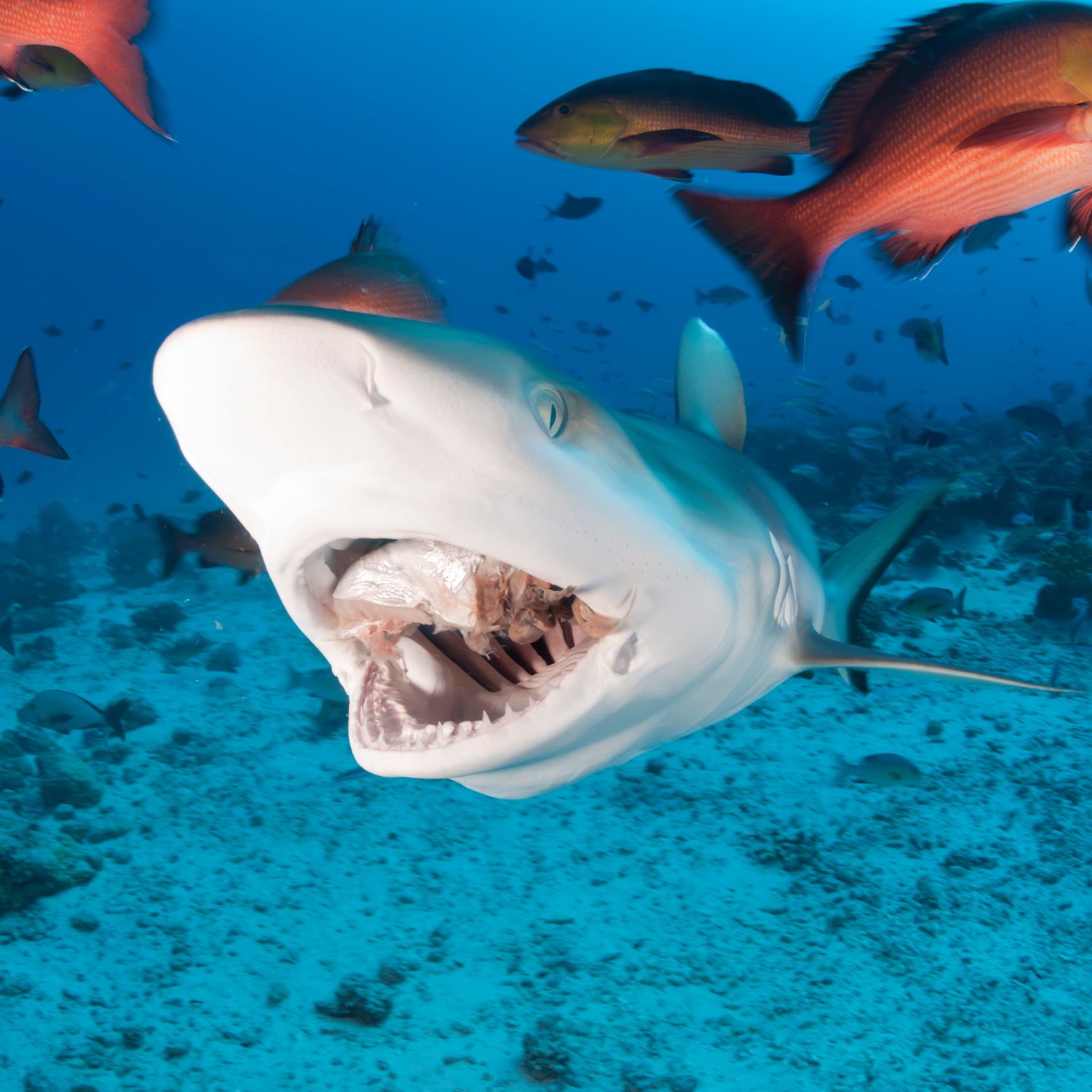 Rainer von Brandis/iStock(Photo)
Heading out the door? Read this article on the new Outside+ app available now on iOS devices for members! Download the app.
Paul Barrington isn't crazy about the term "shark attacks." Barrington, director of husbandry and operations at the North Carolina Aquarium at Fort Fisher, prefers "shark interactions." Sharks don't mean to bite humans, he says. They mean to bite fish. Humans just occasionally get in the way. "I prefer to think of it as more of a case of mistaken identity," he says.  
This summer, there have been eight shark "interactions" (read: bites) up and down the North Carolina coast—a state record—from the Outer Banks to the border with South Carolina. Two resulted in teenagers losing an arm.
The encounters have generated international publicity and speculation. Is climate change driving sharks closer to shore? Has their normal food supply died off, forcing them to search for different prey? Are they wreaking their sharkly revenge on humans, angry at us for destroying the environment and dumping trash in the oceans? 
Several early reports have pointed to potential factors like record sea turtle nesting and high ocean salinity due to low rainfall drawing salt-loving sharks to the area. The sharks' behavior could be due to "some shift in ecology," says Dr. Joel Fodrie, an oceanographer who directs the shark research program at the University of North Carolina's Institute of Marine Sciences, but it's too soon to pinpoint the affects of those shifts with certainty. A change in wind patterns, for example, could be bringing shark treats like mullet or menhaden closer to shore.
But experts like Barrington say the reasons are likely more prosaic. North Carolina has had an unusually hot summer, with temperatures rising above 100 degrees in June. More people are going to the beach to escape the asphalt-melting misery. And they're spending more time in the water. When it's 85 degrees out, you might be happy to lounge in the sand, taking the occasional two-minute dip to cool off. When it's 104, you're probably playing in the waves all afternoon.
"Two years ago we had one attack, three years ago we had two attacks," Fodrie says. "With as many people as we have spending time in the water, that's amazing."
No one is entirely sure what types of sharks are responsible for this summer's spike in encounters. There are about 50 types of sharks known to inhabit North Carolina waters, 20 of which are relatively common. Of those, 10 or so—blacktip, spinner, tiger, and bull sharks, to name a few—are capable of biting a person. The more serious bites involving limb loss were likely perpetrated by bull or tiger sharks, which grow to 8 or 9 feet long and can inflict that type of damage, Fodrie says. The other six bites probably came from smaller species.
What's difficult to say is whether the shark episodes have actually affected the numbers of swimmers in North Carolina waters. Some anecdotal reports say yes. (Full disclosure: This reporter and her family were one of them. They took a brief, wary dip during their vacation to Sunset Beach, then spent the rest of the trip crabbing on the shark-free canal side.) But other observers say no. Fodrie, for his part, has two small children, and says he doesn't keep them out of the water because of the shark events—they've been swimming all summer.
David Taylor, the district director of the Central North Carolina division of the Eastern Surfing Association, says news reports of tourists staying out of the water are highly overblown. He says he hasn't noticed fewer people in the water, and that chats with local lifeguards confirm this. "They're asking for safety tips, but they're not staying out of the water," says Taylor, who's been surfing Atlantic Beach in North Carolina for 15 years.
As for the surfers, a few shark love bites aren't going to keep them out of the water. "It's never going to affect the surfers," Taylor says. "Surfers are addicted."
Barrington wants people to remember that sharks have more reason to be afraid of us than we are of them. Some 250,000 sharks are harvested for fins and meat every day across the planet, plunging shark populations into a steep decline they may never recover from, he says. "The sharks are in far more peril than us as humans."
Simple precautions to avoid shark encounters: 
Don't swim at dawn or after dark, when sharks are known to be most active.
If you get cut, stay out of the water. 
If you see a lot of small bait fish swimming around, or spot dolphins (which, like sharks, eat the bait fish), leave the water—their presence could be a sign that sharks are in the area.
Stay a decent distance from piers, where fishing bait and fish guts (from cleaned fish) smell like ambrosia to the average bull shark. 
If you have the choice, swim in the sound–a body of water protected between two pieces of land–where the lack of waves means sharks are less likely to mistake you for a fish. Conversely, avoid inlets, where the frenetic activity of estuaries meeting the sea both attracts sharks and makes it difficult for them to see and hear clearly. 
North Carolina beach towns, uneager to become the next Amity Island, have been scrambling to find ways to make their waters safer (or at least seem safer to the public). Pine Knoll Shores, for example, has announced plans to create several swimming-only beaches, no fishermen allowed. Emerald Isle has moved to ban shark fishing until September.
Lead Photo: Rainer von Brandis/iStock
Trending on Outside Online