The War for Grass in Kenya's Safari Country
Nomadic herders have brought guns and hundreds of thousands of livestock into the green expanses of Laikipia County, starving out wildlife and shooting the area's megafauna. As police burn homesteads and shoot civilians in response, the future of one of the most iconic regions on the planet hangs in the balance.
Heading out the door? Read this article on the new Outside+ app available now on iOS devices for members! Download the app.
For nearly three days, 61-year-old Tristan Voorspuy watched from his conservancy as the tourist houses on the ridge burned. Born in Johannesburg, South Africa, and raised in Sussex, England, Voorspuy served six years in the British Army and spent a year post-service driving a motorbike down the entire African continent to Cape Town. Of all the places he'd traveled, Voorspuy knew precisely where he wanted to spend his life: the wild savannah of Laikipia, Kenya.
Laikipia is located in central Kenya in the heart of the Great Rift Valley. It is home to one of East Africa's largest concentrations of wildlife, from elephants to rhinos and buffalo to packs of wild dogs. An estimated 86,000 tourists visit each year to explore parts of the 32 vast conservancies and ranches that occupy a third of Laikipia County. Many adore Laikipia because it is so remote, situated far from the more popular safari parks that flood with tourists during the dry seasons.
In 1990, Voorspuy founded a tour company he called Offbeat Safaris and spent the next 27 years leading travelers on horseback through the exotic bushlands of Laikipia, fording rivers and "riding up close to elephant, lion, and buffalo, or galloping with wildebeest and zebra," according to the company's website. In 1999, Voorspuy and a group of shareholders—Kenyans of British descent—purchased the 24,000-acre Sosian Ranch, where Voorspuy lived and worked with some of the ranch's 150 employees. To subsidize the conservancy, they raised several hundred cattle.
Over the past seven months, however, the peace for which Laikipia is known has given way to a war over grass. A severe drought that began in the fall of 2016 caused nearly 3 million people in northern Kenya to need emergency food assistance. The lack of vegetation caused herdsmen to drive thousands of cows, goats, and sheep southward from nearby counties to where, quite literally, the grass is greener—on private conservancies and ranches, including Voorspuy's.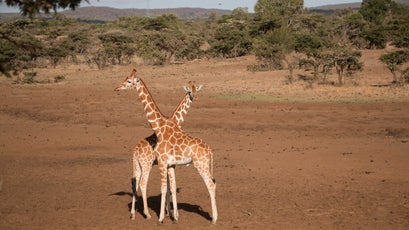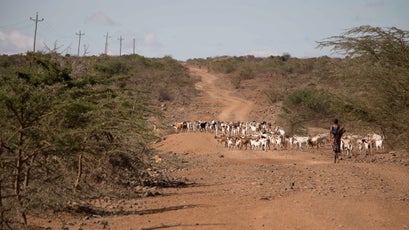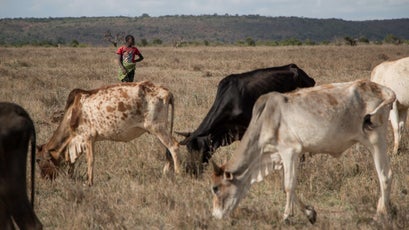 Many of these trespassing pastoralists see Laikipia's wildlife not as wonders to admire, but as pests. Buffalos trample their cattle; lions devour their sheep. So the herders, some of whom were armed, began to kill the wildlife. In a matter of months, they decimated many of the largest animals that roamed the conservancies.
"Pretty much every wild animal we have has been shot by these herders," says Sean Outram, manager of Sosian Ranch. Packs of wild dogs—the most endangered large carnivores in East Africa—have been all but wiped out. Dozens of Laikipia's estimated 5,000 elephants have died in the conflict, as have hundreds of buffalos. Fifteen elephants and at least 12 giraffes were killed on Sosian alone. "Anything that moves has been shot—some of it for the skins, some of it for trophy. Some just because they wanted to shoot it," says Outram.
What's more, the region's buffalo are dying by the hundreds from disease spread by the invading cows—135,000 of them, by one estimate. This army of grass-guzzlers began reducing entire nature preserves into dry, dead landscapes. Conservancy owners and police tried to get the herders and their cattle to leave, but their efforts were often met by gunfire. By February, the situation had become so fraught with violence that Outram began telling tourists to stay away.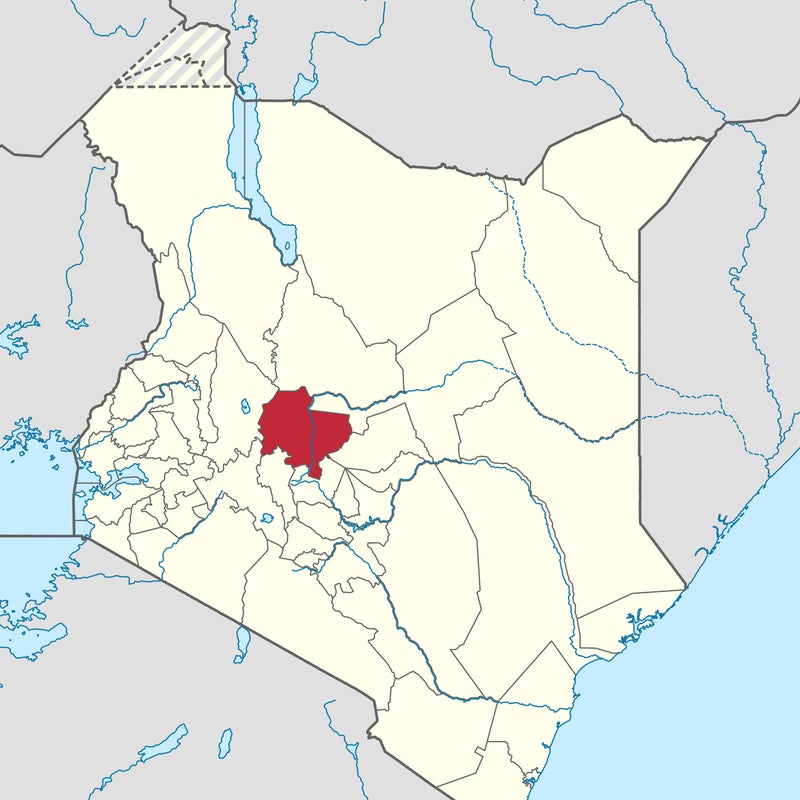 The day after herders began setting Sosian's tourist houses ablaze, Voorspuy asked Jason Mworia, the local police chief, to go out and confront them. Mworia declined, warning Voorspuy to wait it out. "But he made up his mind," says Mworia. The next day, March 5, Voorspuy mounted a white horse—a sign of peace, he hoped—and rode it down to Sosian's huts alone.
Around 11 a.m., Voorspuy rode off, unarmed, nearly four miles into the bush to confront the herders. Several agonizing hours passed before air surveillance spotted what appeared to be his horse lying on her side near one of the burnt houses. It wasn't until nearly dusk that a brave Kenyan employee at Sosian made it to the scene and returned with the news: Voorspuy was dead. His body lay in a pool of blood, with bullet wounds to his head and chest, between a badly burned lodge and an empty swimming pool. Voorspuy left behind his wife, Lucinda, and two adult kids.
"It was revenge," says Mworia, for the decision by conservancy owners to ask authorities to expel the herders, which they did in violent ways.
There may have been something deeper to the herders' resentment. Many of Laikipia's conservancies are owned and managed by white people—Kenyan descendants of British colonialists or immigrants from Europe and other African countries. People like Voorspuy. "The tribesmen who murdered Tristan Voorspuy saw not a farmer whose life had been spent in Africa and who provided employment for scores of local people, but instead just a rich, white interloper on a horse who challenged them on land they demand to claim as their own," wrote Max Hastings, a former safari tourist of Voorspuy's, in the Daily Mail. "Unless its government shows the will and means to restore peace to Laikipia, which means expelling this murderous throng of invaders by force of arms, the nation's future stands at risk, and its priceless wild heritage faces the prospect of near-extinction."
---
One month before he was murdered, Voorspuy wrote an email to Richard Trillo, tour operator and author of several Rough Guides books about Africa, in which he made the case that the conflict in Laikipia wasn't really the result of the drought at all. He argued it was something far greater: an attempt to dislodge the conservancies altogether, "a political invasion by bigwigs to drive families off the land so that it can be claimed" by the constituents of prominent, vote-seeking, and power-hungry politicians.
If so, it wouldn't be the first time people living in Laikipia were pushed off their land. In 1904, British colonizers went around central Kenya rounding up pastoralists and confining them and their livestock to two small reserves. In 1911, to make room to farm wheat and graze cattle of their own, the British decided to clear Laikipia of black Africans entirely, forcibly removing some 20,000 pastoralists from the area.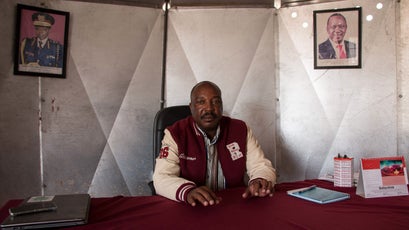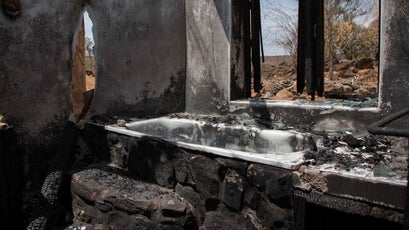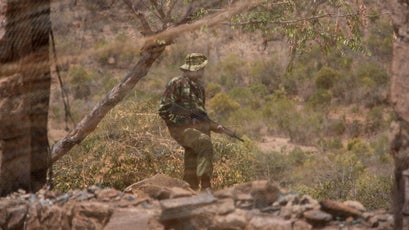 After Kenya won its independence from Britain in 1963, much of Laikipia's land remained in the hands of colonialists and their descendants, to the chagrin of many black Kenyans, who make up the overwhelming majority of the area's population. Just a decade ago, the United Nations estimated that "[i]n Laikipia District, 75 percent of the land still remains in hands of European owners."
Voorspuy and his business partners bought Sosian from black Kenyans of Kikuyu ethnicity. Much of the ranch was neglected and barren. "There was no grass or game on the farm," he wrote. It took years to rehabilitate the grass and other vegetation, and even longer for the herds of elephants and buffalo to flourish.
Having invested large amounts of money and time into their conservancies, many owners bristle at the notion that they are somehow occupiers, unworthy of overseeing so much land. "With the tourist lodge, we employ 150 people and pay $200,000 in tax every year," Voorspuy wrote to Trillo. "It is a culmination of 18 years of love and investment, but we are bracing ourselves for an armed [occupation] any day now."
For years, the conservancy owners and local herders, many of whom hail from the same Samburu and Pokot tribes as the invading herders, had managed to coexist, striking deals to graze their livestock on conservancy land for a fee. Typically, some 2,400 animals graze on Sosian; at the height of the invasion, Outram estimates there were 15,000 to 20,000. "The northern tribes are desperate," wrote Voorspuy.
The drought has killed thousands of their livestock. But "these guys live such a short-term existence," Outram tells me. "There's no sort of long-term planning at all. It's worry about today today, and then figure out tomorrow when it comes."
Voorspuy may have been right that the invasion is less about grazing than it is about politics. The past decade has been a turbulent one for Kenya. After the contested 2007 elections, widespread violence left between 800 and 1,500 people dead and hundreds of thousands displaced. The 2013 elections were more peaceful, but the victor, current president Uhuru Kenyatta, won by the slimmest of margins, thanks largely to his support among the Kikuyu—Kenya's largest ethnicity, few of whom are pastoralists. The country is barreling toward its next election on August 8.
Many herders who traveled south into Laikipia this year belong to the Samburu and Pokot tribes, who tend to favor the opposition party, which includes Matthew Lempurkel, Laikipia member of parliament, who is up for reelection. Some believe that Lempurkel encouraged herders to travel to Laikipia in order to win their votes. These pastoralists, many of them young, "do not listen to the elders anymore and are armed to the teeth," wrote Voorspuy. "Civil wars in neighboring countries have meant huge quantities of cheap and [i]llegal firearms are at hand to any callow youth."
One of those weapons would eventually do him in. Voorspuy's murder wasn't the climax of the conflict in Laikipia, but merely a sign of things to come. By April, more than 30 people had been killed in the violence. Untold dozens more have died since, and an estimated 10,000 have been displaced. As the summer stretches on, one of Africa's few truly wild places—sanctuaries where we could go to imagine what life is like without us—is becoming a battlefield.
---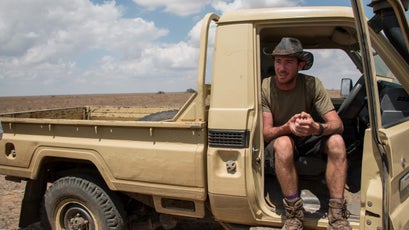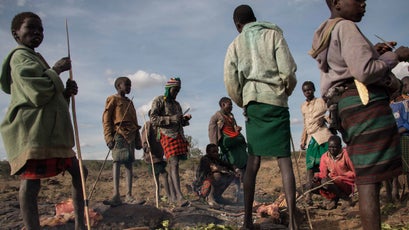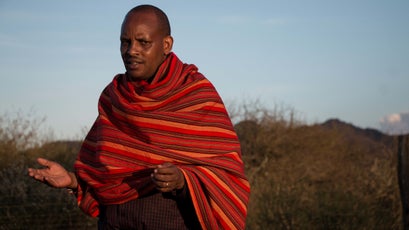 One of the people tasked with improving the situation is Jamie Manuel, a 31-year-old Kenyan whose family immigrated from Spain more than a century ago. He's a former conservationist with Northern Rangelands Trust, which helps local communities manage their land in 33 conservancies across Kenya. In January, Manuel was called to Mugie Ranch, a couple hours north of Sosian, to try to start a dialogue with the invading herdsman, curb the killing of wildlife on Mugie, and curb the disease spread by the invading cattle that has killed off nearly 2,000 buffalo and impala.
"This is setting back conservation 20 years," Manuel tells me one April afternoon as we bounce around the conservancy in an old Land Cruiser. Just months earlier, tourists staying at Mugie were waking up to find lions lounging below the patio outside their lodge. Now, tourist bookings at Mugie have slipped from more than 1,000 last year to fewer than 100. A week before my visit, a pilot flying over Mugie calculated that an estimated 25,000 head of livestock had overrun the place.
"Think if this were like the ocean. It would be like the Chinese coming with their trawler nets through your country's waters and ruining everything in their path," says Manuel.
"My family has been here 160 years. We have rain charts that show drought every 12, 14 years. This [drought] will pass," says Manuel, as we drive across the dry landscape, speckled with flocks of cows and sheep. "But once the wildlife is gone, that's it."
Located in the north of Laikipia, Mugie Ranch was one of the first to be hit when livestock and their owners began migrating south. Buffalo die daily. They've had such a hard time competing with the cows for grass that Manuel has begun feeding them hay, as if they too were domesticated. Even more dire than the fate of the buffalo is that of the Jackson's hartebeest, an endangered species of African antelope. "We had, like, 45 on the farm, and we lost 60 percent of them to disease from the cattle," says Manuel.
Soon we encounter an old Samburu man herding some cows. Speaking in Swahili, Manuel asks how his cows are faring. "Everyone now has got problems," the man tells us. "Now there's no milk. Cattle are dying." He says that since the drought began, he's lost 50 of his cows to starvation. He has only 20 left. "I brought them here, but they're still dying."
Many pastoralist families depend on milk and meat to live. "Without livestock, a family cannot survive, nor can the culture that revolved around it," wrote Elizabeth Meyerhoff in an article about the Pokot tribe for National Geographic. "For the pastoralists, of course, cattle are fundamental to their survival—the basis of all economic and social life." The death of a cow during hard times can be as debilitating as the loss of a loved one.
"When the animals of these people are killed, they go wild," says Mworia. "They worship these animals!"
Manuel tells the old man that disease might actually be to blame for some of his cow's deaths. "I'm telling him when they die, he needs to look in the heart to see if there is water. That's the ticks," Manuel says. He thinks a vector of the Ehrlichia ruminantium bacteria is the root of the problem; a recent outbreak on Mugie coincided with the arrival of the cattle from the north.
When Manuel asks the man what he thinks about the gun-toting herders who have been shooting at conservancy workers and police, the man seems apologetic. "They're getting into trouble, then running from it," he tells us. "I feel bad, what has happened with the huts being burned down and the lodges. But there's a lot of uneducated people."
The herder lifestyle, says Manuel, is clashing with modernity. "The young ones want to sell 15 cows so they can buy a motorbike. They want a cellphone," he says. Pokot and Samburu youth might long for a more urban life and the comforts that come with it. But with little or no education and few job prospects, the only way they know how to achieve it is by raising more and more cattle, straining the land.
Manuel was called here to identify a disease, but he's also a veteran at negotiating peace between different tribes and conservancies across the continent with Northern Rangelands Trust or on freelance contracts. From Somalia to Zimbabwe, and all across Kenya, Manuel has helped strike a balance between humans and nature. Once the invasion began, his job responsibilities expanded to negotiating a peace with the armed herders—a mission that most other ranchers long ago wrote off as impossible. "The Pokot love their cattle more than anything in life. You start talking to them about that, and they open up," he says.
Not all of them are against wildlife, either. Manuel tells me a story about the oldest, most iconic elephant on the Mugie Ranch. "This elephant was 68 years old. They used to call him Half-Tusk," says Manuel. "He was the coolest elephant in the world. He would rock past the swimming pool. Every single tourist that ever came through Mugie took a photo of him."
But one night in March, Manuel discovered Half-Tusk with a bullet wound, likely from one of the herders. Manuel had no choice but to euthanize him. He videotaped the encounter and posted it on Facebook, then set up a projector outside and brought all the herder elders to come and watch as people around the world reacted. "The next day, three and a half thousand people saw that," he says. "And the guys were sorry."
In the months since, many more pastoralists have passed through Mugie—all with different levels of patience and with varying access to guns. To negotiate with each one of them would be impossible. On one occasion, a couple Mugie staff members were shot at by herders standing atop a hill. Afterward, Manuel sent an emissary up to ask why. The next day, they were sipping tea with the people who had shot at them. Manuel gave them permission to graze their livestock on Mugie's grass until the rains come.
Peace, says Manuel, is not impossible. But it can be fleeting. On another occasion, armed herders shot two of Mugie's Kenyan staff dead.
---
Not all conservancy owners are willing to wait for things to run their course. Many decided to turn to Kenya's authorities to remove the invaders; in March, President Kenyatta deployed the country's military—the Kenya Defense Forces (KDF)—to central Kenya, including Laikipia. In the weeks following Voorspuy's murder, what started as isolated shootings escalated into an all-out war.
"We went there in full blast," Mworia, the police chief, tells me. "We mobilized a very big operation." Some of the herders' cows were caught in the crossfire. "When the animals of these people are killed, they go wild," says Mworia. "They worship these animals!"
In apparent revenge, armed herders killed two Kenyan staff members at a ranch called Ol Maisor. One was shot through the door of the hut where he lived on the conservancy; the ranch owners heard his final screams over a two-way radio as they raced to save him.
A few hours west, in the town of Nanyuki, I sit beside a hospital bed where 36-year-old John Mulijo Epar, a Sosian security officer, is recovering from a bullet to the face. In April, Epar and five colleagues were moving several hundred of Sosian's cows farther from the fighting when a group of armed herders opened fire. "We heard the cocking of a gun, then they walked out and started firing. I rolled down for protection. One of the shots hit me in the eye," Epar recalls. "The way I was bleeding, those guys thought I was dead," so they left him. The gunmen made off with 418 cows, Outram says—worth $300,000. Epar's bullet wound only barely missed his brain.
Many aren't so lucky. Of the more than 30 people who have been killed, Voorspuy's murder made the biggest headlines, along with the April attack on Italian-born author and conservationist Kuki Gallmann. She was shot in the stomach when gunmen ambushed her and three Kenyan rangers as they returned from inspecting burned-out houses.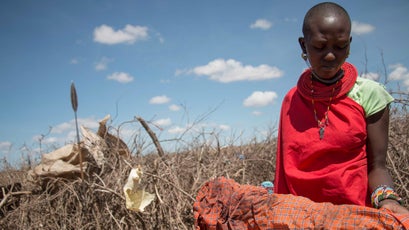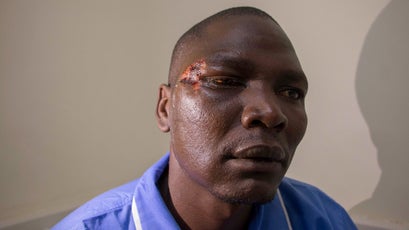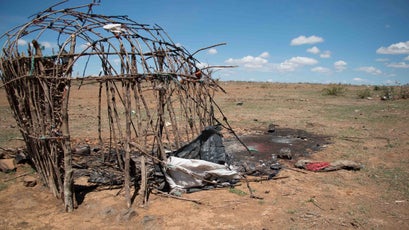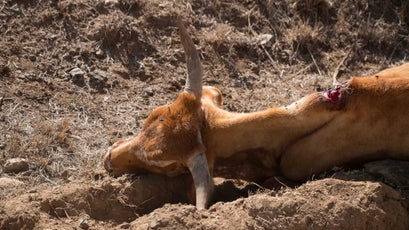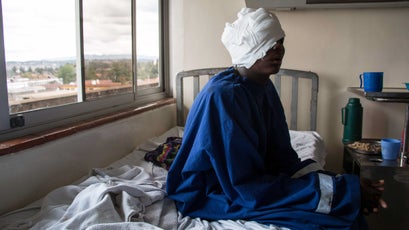 But the toll that this war over grass has taken on ordinary black Kenyans is far greater. As Kenyan police and military entered the fray, what had been sporadic violent incidents escalated into almost-daily attacks between security forces and armed herders—with civilians caught in the crossfire. "I bet everyone is wishing the KDF wasn't here," Manuel tells me. "They've done their best. But they aren't trained for this situation. They'll just fuck it up even more."
Sometimes, police and soldiers have initiated contact, setting out in armored personnel carriers and trucks. While I was in Laikipia, I saw evidence that KDF soldiers had picked out herders' largest, healthiest cows and shot them. One morning, not long after passing a KDF truck going in the other direction, I passed a cow with a bullet through its right hind leg. It was still breathing, wearily opening and closing its eyes. Farther down the road, another cow lay shot in the crest of its backbone, as if from above on a truck.
But nothing compares to what authorities allegedly did on Wednesday, April 19. An hour and a half north of the town of Rumuruti, I came across the remains of what had once been a small collection of mud-wall, thatch-roof huts. All that remained were circles of soot in the ground. Charred scraps of sheepskins, used for bedding, were scattered about. Outside the only hut still standing, Lenjodor Cecilia, 30, says there were three women and five children at the homestead when soldiers attacked.
"One vehicle came from the southeast, another from the southwest. It's flat—they could drive fast," says Lenjodor. "They started shooting from afar. I ran away with the kids." She says she watched from a distance as soldiers set the huts and a wooden livestock pen ablaze. The soldiers burned all their belongings—blankets, pots and cups, even maize flour.
One soldier shot a bullet straight through a hut, striking a woman who was inside through both her legs. "There was blood all over," she says. "One leg was completely broken."
The day I visited the scene, Lenjodor was loading up a motorbike with her few surviving possessions to head elsewhere, out of fear the soldiers would return. "I am worried," she says, as more smoke rose in the distance. "We are hungry. They burned our food. They poured the ugali flour into the fire. Why are they killing people for nothing?"
---
One of the most hotly contested parliamentary seats in Kenya's upcoming August 8 elections belongs to Matthew Lempurkel. Nearly everyone I met in Laikipia—ranchers, police, herders—seemed to agree that Lempurkel, a Samburu who also speaks Pokot, sowed the seeds of this conflict by encouraging Samburu and Pokot pastoralists to travel south onto the conservancies in his district. There, some speculated, they could register to vote, boosting his constituency come election day.
"In January, I'm walking around and I'm thinking, where did all these fucking people come from?" says Manuel of the masses of pastoralists that appeared so suddenly. "A month later, I see these mobile voting booths. Even the village idiot knows what's going on."
Late one afternoon, on a remote Laikipia road, I manage to track down Lempurkel as he's dealing with the aftermath of a car crash involving his wife. (Nobody was hurt.) Lempurkel, too, is a pastoralist. Born in 1978, as a boy when water was scarce, his mother would wash his face with fresh cow's milk instead. "This time, even the milk is running dry," he says of the current drought.
"The problem is scarcity of resources, and it's just two: It's water, and it's grass. The populations are both growing—the people and the cows," says Lempurkel. "And there is only so much land. Six ranches own two and a half million acres in my constituency!" (Actually, the 32 conservancies occupy one-third of the county—about 700,000 acres.)
"Anything that moves has been shot—some of it for the skins, some of it for trophy. Some just because they wanted to shoot it," says Outram.
Lempurkel is not the only one to feel that the current situation is unfair. Just 60 years after Kenya won its independence from Britain, nationalism runs strong here, and a sense of injustice still simmers. "Those white ranches—in land-hungry Kenya, half a century into 'independence'—are nothing more than ample proof of neocolonialism. The dispossessed indigenous people must take back their land. By any means necessary," wrote Henry Makori, an editor with the social justice blog Pambazuka News, after Voorspuy's death.
Despite Lempurkel's passionate language, he denied inciting herders to bring their livestock onto the conservancies. But a recent report titled "Cattle Barons" found otherwise. The report was commissioned by an unnamed private interest group—likely composed of Laikipia ranch and conservancy owners, which means it is could very well be biased toward their interests. But the author, who spoke with me on the condition of anonymity, is a veteran researcher with years of experience investigating conflict in rural Kenya. They spent four months looking into the roots of the war in Laikipia. "The invasions are choreographed through meetings and mobile phones, and supported with active armament of weapons and munitions, cash payments, and other material support from the elite cartel"—a cartel headed by Lempurkel, the report alleges.
When the researcher asked Lempurkel where the herders' guns come from, he replied, "Why do you want to know?"
"Do you want to give us some more money to buy?" he asked.
"To buy what?" the researcher replied.
"The guns."
"No."
"Then you should not know where they come from. But if you're actually interested to give us some money to buy, it's OK."
Lempurkel has a reputation as a volatile politician. Last year, he was arrested for physically assaulting a political rival. Earlier this July, he was arrested and charged for "incitement to violence and racial contempt," for allegedly saying that he would kick out all foreigners and seize their land. Lempurkel was previously reported to have gone on the most popular Samburu radio station in the area and said that "there is no private land in Laikipia North."
In saying so, "he aimed to bolster his existing voting bloc by bringing in more Samburu and Pokot from outside Laikipia North," according to the report. In small town called Mowarak, located between Mugie and Sosian, "the number of registered voters has increased from 142 in 2013 to 607 in 2017."
Lempurkel denies any involvement. In his telling, it's not politicians who are to blame, but the government. He accuses Kenya's ruling party of forcing his constituents off the conservancies but offering them no alternative means to survive. "You are told to 'get out and go and die.'"
"What is making this situation worse is the police," Lempurkel tells me. He has reason to dislike them: It was police who arrested Lempurkel for the murder of Tristan Voorspuy, for inciting the herders to invade Sosian ranch. The charge was later dropped. Instead, the police claim to have tracked two men using Voorspuy's SIM card, and they are being tried for the murder.
Meanwhile, the violence continues. On July 12, a convoy of police vehicles was rounding a sharp corner in southern Laikipia when they were ambushed by gunmen. The attackers stole six rifles, one pistol, and an unknown amount of ammunition, according to a police press release. Six officers were killed.
---
A week after I left Laikipia, I visit a large public hospital in Nairobi, where I meet a teenager from Laikipia named Lesingiran. He is recuperating after a bullet struck through the back of his head as he ran away from a truckload of soldiers who he claims shot at him and his cows. It happened on April 19, the same day soldiers are said to have shot the woman through her legs; the same day witnesses saw them burn several homes.
The bullet exited through Lesingiran's right eye, leaving his entire upper face so badly mangled that, when I first saw a photo of him, days earlier, I had assumed he was dead. He tells me he was out herding cows when military vehicles appeared. "And they started to shoot. We ran to the hill on the other side of the river." He says that one truck of soldiers, wearing what Lesingiran described as combat uniforms and helmets, took chase. "As we were running up the hill, I was shot."
"We heard they were attacking people on the other ranch, but not here," says Lesingiran. "People have been coming here for many years, even longer than I have been alive," he says of this land. "Probably the owners of the ranch asked them to come and shoot us. But we were not on anybody's ranch. I don't understand."
Lesingiran sits at the edge of the hospital cot, perfectly still. Two-thirds of his head is covered in fresh white bandages on an angle over his right ear and eye. As the sounds of the city echoed in through the open window, I ask him if he is afraid to go back.
He laughs at the question. "Yes, I fear. I fear it will happen again," says Lesingiran. "But there is no alternative. If there is no grass, we must go there."
Jacob Kushner (@jacobkushner) writes on refugees and migration, development economics and inequality, and conflict and governance. His recent work focuses on East and Central Africa, the Caribbean, and Germany. 
Lead Photo: Ashley Hamer