The Top 10 Environmental Blogs
The best environmental blogs, from one-sided political commentators to prolific aggregators and reporters breaking news.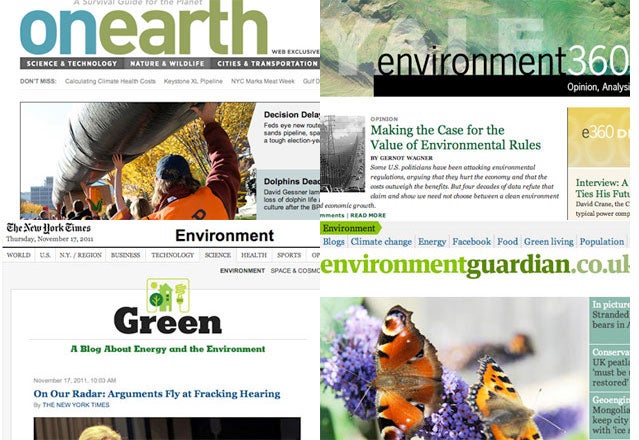 Heading out the door? Read this article on the new Outside+ app available now on iOS devices for members! Download the app.
If you think navigating a thick forest using a map and compass is hard, just try making a strategic internet strike to get the latest news on, say, deforestation. You'll find yourself 20 clicks and 30 minutes deep before you remember that you didn't come here to discover the hottest eco-inspired baby names. Which is to say, the world of environmental blogs could use some curation. Toward that end, here are ten (well, 11) bookmark-worthy blogs that offer consistently noteworthy, compelling reportage on the environment.
It wasn't an easy list to whittle down, and your own personal favorite may be missing. HuffPost Green, for example, has certainly bolstered its editorial staff and original content, but it's still a challenge to find and focus on the news amid an onslaught of celebrity posts and OMG headlines. Here are some more honorable mentions: Time's Ecocentric, which does a good job covering business and energy; RealClimate's commentary, a blog written by working climate scientists that is can't miss for climate nerds; Civil Eats, if food is your thing; and Streetsblog, which obsessively covers transportation and planning.
The sites we list each cover a range of topics. None are comprehensive, but together they'll keep you on target as you wend your way through the so-called green blogosphere.
10. Grist and Treehugger (Tie)
9. OnEarth Blog
8. The Guardian: Environment Blog
7. Discovery News: Earth
6. High Country News: The Goat
5. The Cleanest Line
4. The New York Times: Dot Earth
3. Mother Jones: Blue Marble
2. Yale Environment 360
1. The New York Times: Green
10. Tied—Grist
Snarky commentary with a dash of original reporting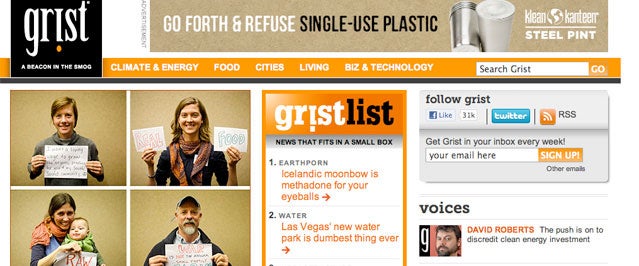 Good for: Rabble-rousing political coverage; snarky commentary with a dash of original reporting.
Written by: A mix of journalists and advocates.
Grist has a strong Viva la Revolution vibe—Tim DeChristopher writes for the site from his prison cell—but food, agriculture, and cities reporting balances out the sometimes-over-the-top political coverage. It's a good stop for quick videos and thought-provoking infographics—like this U.S. map showing the ubiquity of McDonalds. And it offers cross-posts from GOOD and Climate Progress, which illuminate the links between climate science, energy exploration, and policy decisions.
Downer: Since losing journalist Tom Philpott to Mother Jones, its food and agriculture reporting has suffered.
Sample post: This letter from Tim DeChristopher basically says the climate awareness movement is as spineless as Obama Administration.
It goes without saying that politics is a dirty system. It's so dirty that I believe there are only three reasonable approaches to politics: apathy/despair, overthrowing the system, or playing dirty to win. I'll assume that the apathetics either aren't reading this or will soon stop reading to go watch cat videos on YouTube. The second option, revolution, is growing more plausible, and the climate movement should fully support those efforts. The occupations of Wall Street and D.C. have found a weak spot in the wall of corporate power that keeps people out of the halls of influence. Everyone needs to push that spot until we break through the wall and have a new constitutional convention to establish a democracy in this country.
But this is actually about the third option, playing dirty, and it's intended for those of you who intend to vote next year…
10. Tied—Treehugger
Quick news bites covering everything from transportation to DIY projects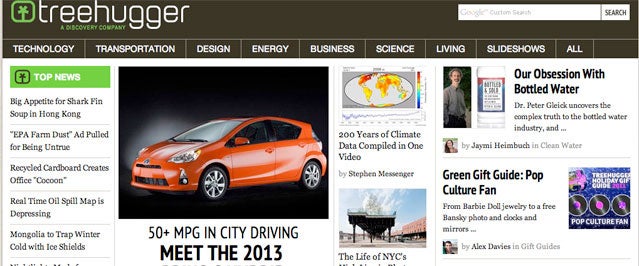 Good for: A one-stop-shop for all things green; quick news bites covering everything from transportation to DIY projects.
Written by: Lloyd Alter in Toronto, Jaymie Heimbuch in San Francisco, and Matthew McDermott in NYC are the site's most prolific contributors.
Treehugger is a behemoth. It cranks out posts at a relentless rate and you can easily find yourself lost in its pages. That can be good or bad, but a new site design helps parse out topics. Many posts run a bit short on depth but provide ample links to learn more. The green living content goes much deeper than the vapid "Hey, you should recycle that water bottle" content found elsewhere.
Sample post: Alter calls out the American Chemistry Council and major consumer brands for promoting the "America Recycles Day" when the bigger issue is not recycling but consumption and waste.
It is my favorite holiday of the year, more comedic than April Fools Day and scarier than Hallowe'en. It is the day when Nestlé Water, Anheuser Busch, Alcoa and Pepsi get together with their friends at the American Chemistry Council to pat you on the head for picking up their shit. They have spent fifty years teaching you how to throw stuff away; now they want to teach you to sort it all into neat little piles for them. …
9. OnEarth Blog
High-caliber writing from the NRDC's magazine spills onto its blog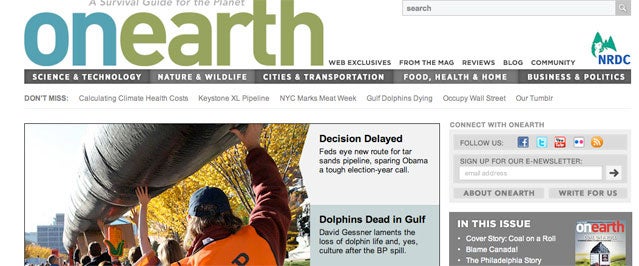 Good for: A comprehensive environmental site that covers everything from tarballs to formaldehyde.
Written by: A list of venerable authors including Elizabeth Royte (Garbage Land), and David Gessner (My Green Manifesto).
This online partner to the Natural Resources Defense Council's quarterly print magazine repurposes much of the dead-tree content but adds regular and almost-breaking coverage of issues such as the Keystone XL pipeline and the BP oil spill. Royte concentrates on consumer goods and toxics, while Gessner's Wild File chronicles his ongoing coverage of oil in the Gulf of Mexico.
Sample post: This dispatch from Alabama's Dauphin Island illustrates some questionable uses of money meant for BP oil spill reparation, and includes the seminal post from Gessner's book The Tarballs Chronicles.

Things were going fairly normally, though Bethany and Bill and I were still wearing our marsh-wet sneakers and pants, until, heading down toward the west end of the island, we hit a roadblock. I felt like we'd driven right into a joke: a cop, a rent-a-trailer, and a woman who looked like my grandmother in a security uniform blocked the road. We asked what was going on. "They're padding the beach," the cop said. None of us knew what this meant despite the fact that our car was loaded with coastal experts. "Padding the beach" was a new one on us.
We tried to talk our way in; Bill after all was a well-known local environmental reporter and Bethany the head of an environmental NGO, but no go. So Bill, a little too fast, pulled his car into a side road, parked, slammed the door, and started marching down the road on foot. He walked impossibly fast, and I, after changing from wet sneakers into kayak booties that looked like black ballet slippers, was too far behind to catch up. Bill, it turned out, was pissed about being kept out of a place that he considered part of his home range. In my former life, as a cartoonist, I might have drawn smoke coming out of his ears. …
8. The Guardian Environment Blogs
Reporting with international reach and a British perspective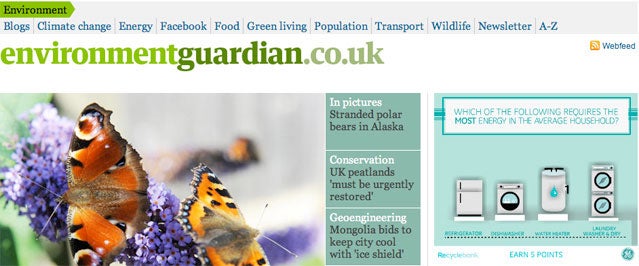 Good for: Checking in on environmental stories across the pond.
Written by: Asia environment correspondent Jonathan Watts is a must-read.
It can't hurt to start on the paper's environmental news page, where you'll find international environmental stories that many U.S. sites will have missed. Did you know that Paul Simonon, former bassist with The Clash, was recently arrested for entering an offshore oil platform during a Greenpeace protest? From there, drill down to one of the site's many green blogs. Damian Carrington, who heads the environment desk, is a good source for British takes on energy issues such as fracking.
Sample post: Is climate skepticism an Anglo-Saxon phenomenon? This post examines a report that says it is.
During a trip to Italy earlier this year, I asked a local journalist whether climate sceptical views get much of an airing in the Italian media. My query was greeted with an air of slight bemusement, which was followed by a request for me to explain what I meant by the term "climate scepticism." Their facial reaction alone told me that this was something of an alien concept to them.
It supported a hunch I have long believed to carry some substance: climate scepticism is a predominantly Anglo-Saxon phenomenon. Or, rather, it is a phenomenon that tends to gets amplified to a much greater extent in the various English-language media outlets around the world – particularly, in the US, UK and Australia – than it does in other languages or countries. …
    
Read more at The Guardian Environment
7. Discovery News Earth Blog
If scientific journals published Cliff Notes, they'd read like this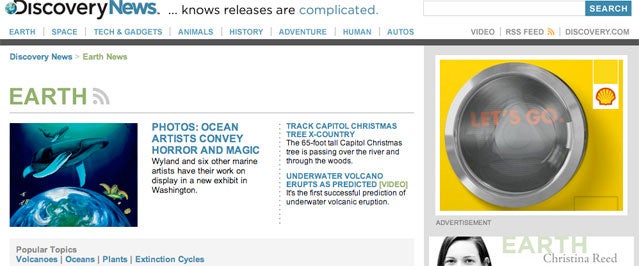 Good for: Science news through an environmental lens.
Written by: A bevy of brainy reporters with science-heavy CVs.  
Discovery's greenie site, Treehugger, gets lots of clicks, but the DiscoveryNews platform, which includes Earth, Space, Tech, and a few other broad categories, offers more original, deeper reporting. The Earth blog culls findings from a wide range of sources, including academic papers, and puts it into a wider, environmentally linked context. A recent scan revealed a piece on how conservationists are trying to use a tiny diatom to halt destructive gold mining practices.
Sample post: Ever consider the role that whale poop plays in the health of our oceans? This post explains it.
Chances are, you've heard a multitude of arguments against the killing of whales.
It's cruel. It has decimated whale populations. Whale meat is full of pollutants. Continued whaling will prompt preventive measures by 23rd century time travelers.
To which, we may now add another.
It wasn't long ago that researchers first confirmed that whales contributed to ocean ecology even after death, their carcasses landing on the seabed and forming the basis for unique communities known as "whale falls". Now, two whale scientists have found that, as well as seeding the seabed, whales also stimulate biological production at the ocean's surface, thanks to their nutrient-rich feces. …

6. High Country News The Goat
Serving up the most important news amid the alpine peaks and rustling sage
Good for: Following Western land, wildlife, and energy management policy and debate           
Written by: A mix of interns and staffers contribute. Most are pedigreed journalists who also know how to read maps and handle an axe.
High-speed rail, carrion-eating beetles, and the machinations of obscure federal agencies all have a home on The Goat. The website and its bimonthly magazine are focused on land use, wildlife, energy and environmental justice issues pertinent to the American West. Despite that somewhat narrow focus, if you're an outdoor recreation enthusiast based anywhere you'll find the relevance—especially if you're also a land-use policy wonk.
Sample post: A piece on illegal mountain bike trails sparked a sprawling and passionate debate among HCN readers, revealing the the diversitty of opinions about land use in the mountain west.
If you build it, the federal land agencies will include it.
That's what Montana mountain biking enthusiast Ron Cron counted on when he embarked on a three-day, illegal trail-making frenzy in the Flathead National Forest in May 2009, complete with jumps and other technical features.
Cron was caught and slapped with a misdemeanor and a $300 fine. He now has a volunteer trail maintenance agreement to improve Beardance, Crane Creek and Phillips trails. But the Swan View Coalition, a nonprofit public lands and wildlife conservation group in Western Montana, alleges U.S. Forest Service officials are looking the other way on some of Cron's "overzealous" volunteer maintenance, which has included natural obstacles like elevated logs or log ramps, technical mountain biker favorites. …

5. The Cleanest Line
The state of the wilderness, and a compendium of its back-stories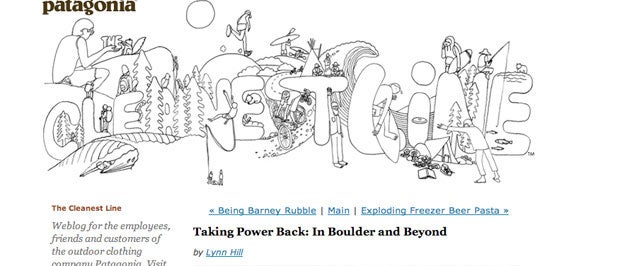 Good for: Adventure-inspired news about the places and pursuits you love.
Written by: A host of Patagonia's well-spoken ambassadors, plus largely non-bylined contributions from the company's environment team.         
If any clothing company could produce an environmental news blog worth adding to your daily news regimen, it's Patagonia. Okay—it's not all environmental news, all the time, but those posts that are not concerned with looming dam projects and oil prospecting on wildlands tend to be about running those rivers and trekking those wildlands. The result? You want them to stay wild all the more.           
Sample post: There's little news reporting, but instead compelling calls to action with lots of pretty pictures, like this post on how to protect the Arctic National Wildlife Area.
One of the great American "inventions" of the 20th century is the idea that some land should be permanently protected for its natural value. The Wilderness Act of 1964 made it the national policy of the United States to preserve areas of wilderness on federal lands. If there is any place deserving of being declared Wilderness it is the coastal plain of the Arctic National Wildlife Refuge. Biologists call the coastal plain the "biological heart" of the Arctic Refuge. For 30 years, development interests have spent millions in an attempt to open this special place to oil and gas development, and year after year a majority of the American people has stopped them. We must continue to work toward permanent protection of this national treasure, the coastal plain of the Arctic National Wildlife Refuge. …

Read more at The Cleanest Line
4. Dot Earth
A survey of humanity's impact on our dwindling natural resources and how to stop the bleeding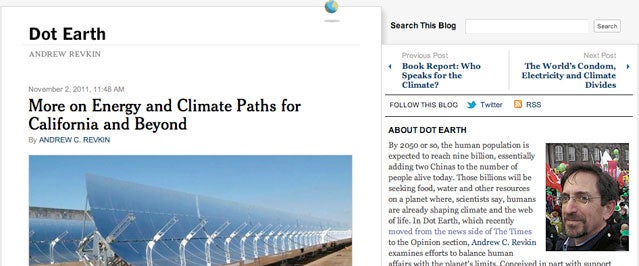 Good for: Informed opinions, authoritative voices, imagery.
Written by: Andrew Revkin, former New York Times reporter.
Summary: Revkin has been covering environmental news, and what he has called "slow drip issues" such as climate change and deforestation, for more than 20 years. He's not Bill McKibben, but he admits to being an advocate. So when the Times cut back its staff in 2010 and moved Revkin's Dot Earth blog to the opinion pages, it seemed a natural progression. But balancing his strong point of view is his interest in conversing with readers and welcoming their feedback, even when it opposes his views.           
Sample link: This post, about a report in which a Berkeley physicist confirms global warming, is pure Revkin steez: a barb lead, lots of links to similar and associated news, multimedia, chunky excerpts and more than 200 reader comments.
Anthony Watts and others who have energized climate skeptics by claiming to poke holes in research showing substantial recent warming have their work cut out for them.
Richard Muller, a noted Berkeley physicist who's been a strident critic of climate campaigners, has released a much-anticipated new package of studies, along with all of his team's data and methods, that powerfully challenges one of the prime talking points of pundits and politicians trying to avoid a shift away from fossil fuels.
The assertion has been that the world hasn't really warmed — just the thermometers — due to expanding asphalt and concrete around cities and other locations housing weather stations. …

3. Mother Jones Blue Marble
Muckraking journalism from the trenches and inside the beltway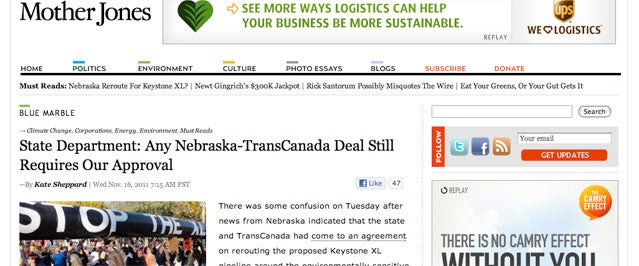 Good for: An environmental pit-stop for lovers of policy, pretty pictures, and investigative reporting.
Written by: The prolific reporter Kate Sheppard covers policy while former documentarian Julia Whitty brings in science and striking multimedia.
The Blue Marble blog went from interesting to essential environmental news when Kate Sheppard, formerly of Grist, joined Mother Jones's Washington, D.C. bureau two years ago.* She files meaty posts and stays on top of breaking environmental policy developments. Her Blue Marble cohorts complement this policy coverage by tracking wildlife issues, food news, environmental justice, and whatever else the magazine's investigative reporting staff can dig up.
Sample post: So Obama delayed his decision on the Keystone XL pipeline proposal. Now what? This post delves into the fact of the tar sands oil.
Enviros were, understandably, quite pleased by last week's announcement that they Keystone XL pipeline has been indefinitely delayed. The Obama administration hasn't outright rejected it, but it is punting the decision to at least the end of 2012, pending further assessment of its environmental impact. But many see this as a significant victory for US environmentalists.
The likely demise of the Keystone XL doesn't necessarily mean that the oil from the tar sands stays in the ground. It probably just means it won't come into the United States. Instead, it's likely that more oil will be shipped to Canada's west coast, via other proposed pipelines. Speaking at the Asian-Pacific Economic Cooperation summit in Honolulu over the weekend, Canadian Prime Minister Stephen Harper stated that the country will instead increase its focus on exports to Asia. From the Wall Street Journal:
"This does underscore the necessity of Canada making sure that we are able to access Asia markets for our energy products," Mr. Harper told reporters in Honolulu, according to a transcript provided by his office. "And that will be an important priority of our government going forward." Mr. Harper said he made that point in a meeting the day before with Chinese president Hu Jintao. …

*A previous version of this article indicated that Kate Sheppard joined Mother Jones last year. She has been with the magazine for two years.
2. Yale Environment 360
An astute, erudite conversation about the environment, with room for debate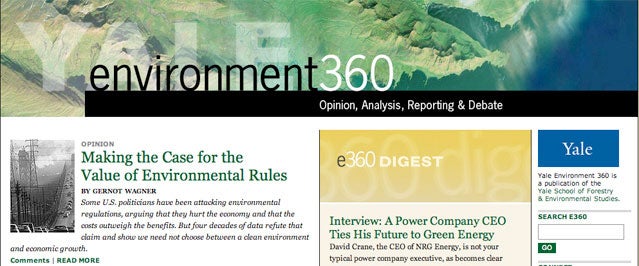 Good for: Deep dives into environmental issues.
Written by: An impressive stable of seasoned environmental writers, scientists, and policy makers.         
Few sites give as equal space to reporting, analysis, and opinion as Yale Environment 360, published by Yale's School of Forestry and Environmental Studies. It can feel a little brainy—you'll want to hit it up after your morning coffee—but it's great fodder for impressive cocktail party banter. And it's not all endless texts and complex debates. Dip into the well of video reports, which cover everything from oyster aquaculture on the Gulf Coast to emerging pollution protests in China.           
Sample post: Photojournalist Peter McBride follows the Colorado River from source to (almost) sea in this compelling video story about water demands.
Photographer Peter McBride traveled along the Colorado River from its source high in the Rocky Mountains to its historic mouth at the Sea of Cortez. In this Yale Environment 360 video, he follows the natural course of the Colorado by raft, on foot, and overhead in a small plane, telling the story of a river whose water is siphoned off at every turn, leaving it high and dry 80 miles from the sea. …

Read more at Yale Environment 360
1. New York Times Green Blog
A steady stream of reporting from all corners of the environmental world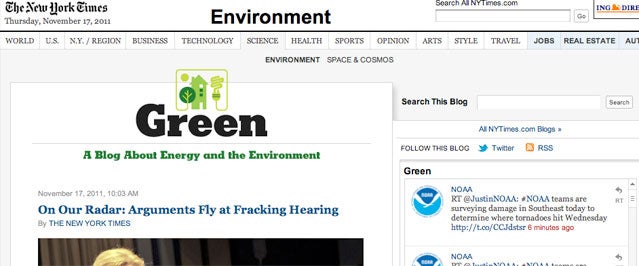 Good for: This blog tops the list for two reasons: reporting and reach.
Written by: The long roster of bloggers includes Matthew Wald on energy and Felicity Barringer on the overall environmental beat.
The New York Times Green Blog has lost some reporters, including Tom Zeller Jr., who absconded for HuffPo earlier this year, but its breadth and quantity of environmental news coverage is still impressive. The reporters are based all around the world and they've got more reach than most other bloggers by virtue of The New York Times's sway. The news is divvied into four main topics—science, business, politics, and living (otherwise known as a catch all)—so you can zero in on the news most important to you. Sure, you'll find a dud post every once in a while, but most news hits here before it trickles down to other sites.
Sample post: The blog often runs interesting back stories based on reporting done for the newspaper, such as this look at why National Parks concessions provider Xanterra supports a single-use water bottle ban in the parks, even though it profits from the bottles.
Xanterra Parks and Resorts, an operator of lodgings, gift shops and general merchandise stores at national parks from Death Valley to the Grand Canyon, makes tens of millions of dollars selling its wares and lodgings to tourists. A small portion of those sales — maybe half of a percentage point — comes from selling water in plastic bottles.
Why would it want to give that up?
Don't get Chris Lane started. He is the company's vice president for environmental affairs, and the word "evangelist" does not fully capture his intensity on the subject of petroleum-based plastic and the harm that he believes it does to the environment.
"This is a big issue for us, and we are trying to proactively address it," he said in an interview for an article in Thursday's paper on a decision by the National Park Service director to scuttle a planned water-bottle ban that park personnel, Xanterra and its fellow concessionaire, Delaware North, had spent months preparing for. …