The Outside Voting Guide
The Tribes vs. Donald Trump
Last December, when the Trump administration announced its decision to shrink Bears Ears National Monument, a crack team of Native American attorneys armed themselves with a lawsuit that ensured tribal voices will lead the legal battle to overturn it. Abe Streep reports on a historic case that will reverberate for generations.
Heading out the door? Read this article on the new Outside+ app available now on iOS devices for members! Download the app.
Ethel Branch, attorney general for the Navajo Nation, sits on a leather couch in a Salt Lake City production studio, sipping bottled water and keeping a close eye on the television screen. Every few minutes, she picks up one of two iPhones laid in front of her to tap out an e-mail. It's December 4, 2017. She's been waiting for this day for eight months.
A few miles away, at the Utah State Capitol, the President of the United States stands at a podium beneath a mural that reads PEACE WITH THE INDIANS. Looking at the cameras, Donald J. Trump makes a rough attempt at humor, allowing that, before arriving, he called "all of the friends I have in Utah." President Trump asked them a crucial question about today's announcement: "Will it be at all controversial? They all told me no." He turns and flicks his eyebrows up, lips funneled in mock bewilderment. In the studio, Branch's colleague Jonathan Nez, vice president of the Navajo Nation, paces, emanating anger.

Download the Audm app for your iPhone to listen to more longform titles.
Branch's face registers patient, precise focus. She's here to tape an interview with MSNBC after the president's speech. She wears a black blazer, a matching skirt, and, on her left wrist, a turquoise bracelet. At 38, she oversees a Navajo Nation criminal-justice system that extends throughout Arizona, New Mexico, and Utah. Back in the nineties, when Trump was negotiating various bankruptcies, she was castrating horses and winning rodeo-queen contests on the reservation. She went on to graduate from Harvard Law School and the university's Kennedy School of Government, and took over the tribe's Department of Justice at 36.
On screen, the president tries to convey the significance of today's proceedings. "I'm a real estate developer," he says. "When they start talking about millions of acres, I say, 'Say it again?' "
Say it again: Bears Ears, a landscape marked by two mesas climbing out of the Utah desert, geologic high marks overseeing a sacred region of canyons and cliff dwellings. In 2015, five tribes, some of which have long been at odds—notably the Hopi and the Navajo—formed the Bears Ears Intertribal Coalition, an effort to protect the area.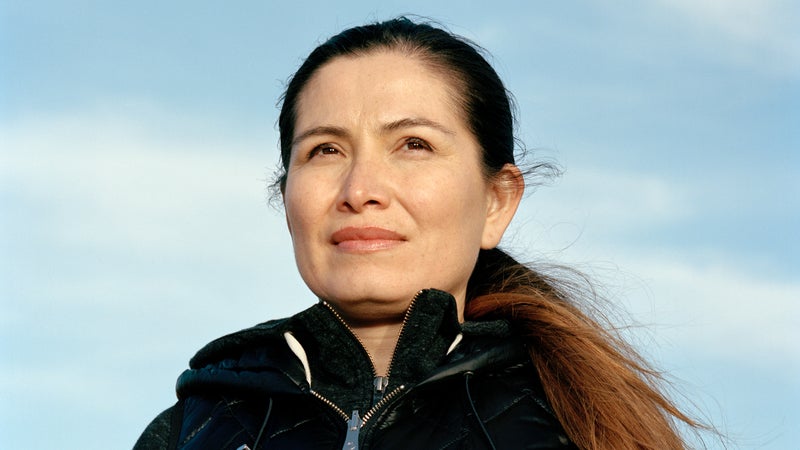 That work was rewarded in December 2016, when outgoing president Barack Obama created Bears Ears National Monument using the 1906 Antiquities Act. The protected area encompassed more than 1.35 million acres of the Colorado Plateau, sloping upward from the desert floor at Valley of the Gods to the piñon and juniper forests of Cedar Mesa and then north to the Bears Ears buttes themselves. The Clovis people hunted here as early as 13,000 years ago, and the Ancestral Puebloans built cliff dwellings in the canyons. The great Navajo leaders K'aayélii and Manuelito were born near the Bears Ears buttes. The region's canyons are home to an estimated 100,000 archaeological sites dense with rock art, hogans, granaries, pots, and baskets.
President Obama's proclamation gave the tribes an advisory role in managing the monument. It also spelled out the name of Bears Ears in the Hopi, Navajo, Ute, and Zuni languages. For the tribes, that acknowledgement was a historic event; it marked the ­beginning of a cooperative plan to share indigenous knowledge with all comers.
But as soon as Trump took office, Utah's Republican congressional delegation began to apply pressure, seeking to overturn the designation. In April 2017, Trump signed an executive order instructing secretary of the interior Ryan Zinke to review 27 national monuments, including Bears Ears and 1.7-million-acre Grand Staircase–Escalante, also in Utah, which Bill Clinton designated in 1996. Trump has flown here today to follow Zinke's recommendations to shrink both monuments. Grand Staircase–Escalante will be cut in half, while Bears Ears will be reduced by 85 percent.
Two days ago some 5,000 protesters, the vast majority of them Native, poured into Salt Lake City. Branch was the first speaker to address them. Standing on the capitol steps, she introduced herself in Navajo and talked about "the potency of our prayers and the potency of our ceremonies." Her sunglasses glinting, she said, "The earth needs us, it needs to heal," and the crowd responded with a deep roar. Someone raised a sacred eagle staff behind her. Then she issued a challenge to President Trump. "I want him to visit Bears Ears. Take off his shoes, take off his socks, and squeeze the dirt with his toes and feel the heartbeat of Mother Earth."
Trump did none of that. And it will soon fall to Branch and her legal colleagues to try and block his proclamation, to continue the centuries-old war for Native American rights while arguing the most consequential public-lands case in a generation, one that could determine the limits of presidential authority on much of America's wild estate.
For 20 minutes in the television studio, Branch is silent as a lake. Her inscrutable expression cracks just once. It happens at the beginning of Trump's speech, when he turns to Orrin Hatch, the senior senator from Utah, who has fiercely advocated for downsizing the Bears Ears monument. "You meet fighters and you meet people that you thought were fighters, but they're not so good at fighting," Trump says. "He's a fighter."
Branch's eyes lead the rest of her face into a wide smile, the kind that's not entirely warm; the kind that telegraphs, Bless your heart.
A fighter.
At that, Ethel Branch laughs out loud.
---
Natalie Landreth doesn't listen to the speech. She knows what's coming. She spent the weekend skiing near her home in Anchorage, Alaska, and consulting a document counting the Chickasaw who in 1837 were sent on the Trail of Tears, where many of Landreth's ancestors perished. It's motivation for the coming fight.
But now it's Monday, Bears Ears day. Landreth steps into her kitchen, makes a pot of coffee and a piece of toast. It occurs to her that the Hopi Tribe just swore in its new chairman on Friday. That means on his first day in office, the new tribal executive, a former radio DJ, will be suing the president. When Landreth reaches for her toast, she sticks her hand in her coffee. Too much adrenaline.
Landreth is 44, a star attorney for the Native American Rights Fund, a nonprofit group that represents the thorniest cases in Indian country. NARF was born of the civil rights movement, an organization created to defend those who had binding treaties but few lawyers to enforce them. It was founded in 1970 by a group of tribal leaders and fiery young attorneys in California, who were soon joined by author and native-rights activist Vine Deloria Jr. In his 1969 classic Custer Died for Your Sins, Deloria called the law "a trap for the unwary and a dangerous weapon in the hands of those who understood how to use it."
In short order, NARF turned the law into a weapon for Native Americans, using it to prevail over the states of Maine (in a prece­dent-setting case that upheld previously unrecognized tribes' claims to land taken by the state) and Washington (in a seminal fishing-rights case). In 1973, its attorneys successfully pushed Congress to reverse the policy of tribal termination, begun in the 1950s to rid sovereign tribes of federal services. NARF also won a series of cases that led to the 1990 Native American Graves and Repatriation Act, to stop museums from incentivizing grave robbers. NARF calls its litigators modern-day warriors.
The group is now headquartered in Boulder, Colorado, with satellite offices in Anchorage and Washington, D.C., and has 17 full-time attorneys. "The best Native lawyers in the whole country work for us," says John Echohawk, the organization's executive director. "And everybody knows that."
Landreth was hired on at 29 and has since chalked up a record that includes just one loss. "I look at Natalie as a transcendently great lawyer," says Charles Wilkinson, one of NARF's first attorneys, who teaches at the University of Colorado Law School and has written numerous books on Native sovereignty and the law.
Branch sometimes kept a sleeping bag in her office in order to head up to Bears Ears. She felt that something powerful was protecting the region—something, she says, "that transcends the law."
NARF's lawyers have been busy since Trump's inauguration. "It's like being in a fort under siege," says Landreth, "and wondering, When are we going to get some water?" On January 24, four days after his inauguration, the president signed an executive order green-lighting the Keystone XL and Dakota Access pipelines, among other infrastructure projects, disregarding the historic Standing Rock protests with a pen stroke. Shortly afterward he revoked an Obama executive order giving Alaskan tribes a say in managing 112,300 square miles of the Bering Sea. In February 2017, as politicians from Utah began pushing for the revision of the Bears Ears monument, three of the tribes on the Bears Ears coalition—the Hopi Tribe, the Pueblo of Zuni, and the Ute Mountain Ute Tribe—asked NARF to represent them. The Navajo planned to represent themselves, and the Ute Indian Tribe used Fredericks Peebles and Morgan, which serves as its general counsel.
Back in Anchorage, the phone starts to ring: reporters looking for quotes. Landreth takes this job; she's as outspoken as Branch is circumspect. A couple of days ago, during a press conference anticipating President Trump's proclamation, she upstaged senator Tom Udall of New Mexico and Patagonia CEO Rose Marcario, firing away about the historical looting in Bears Ears ("Certain people seem to treat this area as though it is a bank") and fact-checking the Utah congressional delegation's rhetoric about how Trump and Zinke were merely returning lands to locals. "The Bears Ears National Monument was created by local people," Lan­dreth said, "regardless of what you may hear from Senator Hatch."
The tribes' complaint hinges on the Antiquities Act. The statute gives the president authority to create a national monument in order to protect objects and sites of significant interest, provided that he designates "the smallest area compatible with proper care and management of the objects to be protected." Since it was signed into law by Theodore Roosevelt, presidents have shrunk more than a dozen monuments, notably Washington's Mount Olympus National Monument, which Woodrow Wilson downsized by half during World War I in order to source timber for military supplies. (Congress later protected most of those lands as Olympic National Park.) But those early modifications were never challenged in court. In 1976, Gerald Ford signed the Federal Land Policy and Management Act. While the law itself didn't directly address whether or not a president could modify monuments, the final House report on the legislation noted that it "specifically reserves to the Congress the authority to modify and revoke withdrawals for national monuments created under the Antiquities Act." Trump is the first president to attempt to shrink a monument since the act was passed.
"Whether the president has the authority to do that is a very significant question," says Mark Squillace, a public-lands expert and law professor at the University of Colorado. "If the court decides that the president does have that authority, it really creates a lot of chaos in public-land management." On the other hand, Squillace says, if the court determines that the president has the authority only to create a monument, and not to modify an existing one, "then lands are protected. And that's a big deal."
---
The attorneys have had a draft of their complaint ready to file for nearly a year. Echohawk convened NARF's legal team in February 2017. Landreth's location in Alaska was an inconvenience, but he wanted her to work the case. He also tapped Matthew Campbell, a 36-year-old member of ­Alaska's Na­tive Village of Gambell who grew up in suburban Denver and came to NARF in 2013 after following a winding path in his younger life. "I became interested in the law," he says, "because I had run-ins with the law." He's now half of a legal power couple; his wife, Nikki Borchardt Campbell, is executive director of the National American Indian Court Judges Association.
The lawyers wanted to file suit within hours of President Trump signing his proclamation. Now, watching the screen in Salt Lake City, Branch says, "He still hasn't signed it." The team can't make final edits until the proclamation's language is official. No one is sure yet whether Trump will repeal Bears Ears entirely and replace it with two smaller areas, or make a dramatic reduction.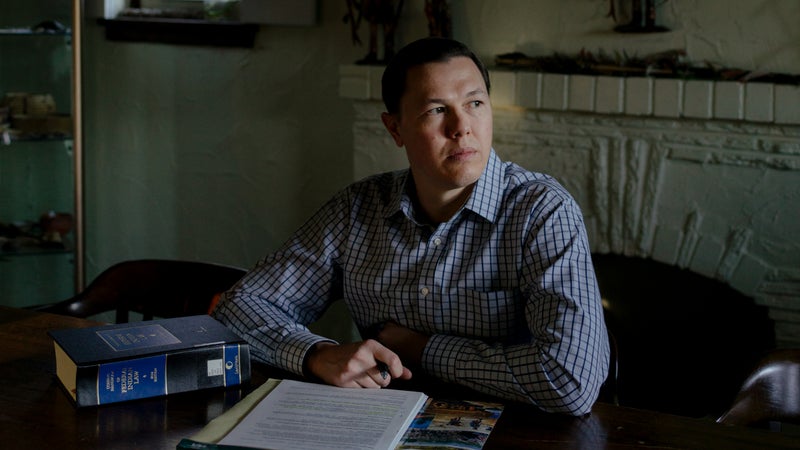 Finally, after an extended preamble, Trump sits down at a large desk surrounded by the Utah delegation. To his right are Hatch and representative Chris Stewart; to his left, representative Rob Bishop, governor Gary Herbert, and Mike Lee, the junior senator. Just outside the inner circle stands Rebecca Benally, a San Juan County commissioner and member of the Aneth chapter of the Navajo Nation, which has shown support for the reduction. Zinke stands behind Trump, and just in front of him, unsmiling, is a Navajo elder in traditional jewelry. Seeing her, Branch says, "Poor lady."
Branch keeps asking to view the language in the proclamation, but it's not yet publicly available. She's shuttled into a television studio to tape the MSNBC interview. "They think that talking to one Native American person, one Navajo person, constitutes consultation with the Navajo Nation," she intones, "and they're gravely mistaken."
Hours later, after the extent of the reduction becomes clear, Campbell edits the suit from NARF's Boulder office while Branch rushes off to another press conference and then to the airport, where she's the last to board the plane. By the time she lands in Albuquerque, New Mexico, The Hopi Tribe, et al., v. Don­ald J. Trump, et al. has been filed in D.C. District Court.
---
Both the Trump administration and the Utah congressional delegation often make the case that those who live closest to Bears Ears oppose the Obama designation. San Juan County's three commissioners—Benally; Phil Lyman, a descendant of a Mormon pioneer who arrived in the area on the 1880 Hole in the Rock Expedition; and Bruce Adams, a white rancher—have vociferously objected to the protection of Bears Ears. Benally has repeatedly suggested that a monument designation could inhibit the gathering of firewood, despite the fact that the Obama proclamation explicitly allowed the practice.
Benally's voice has proven problematic for the Native coalition. Aneth is the only one of nine Navajo chapters with land in Utah that has opposed the monument; Benally's stance gives the Utah delegation's NIMBYism a sheen of credibility. But monument supporters say the region's politics does not accurately reflect its population. San Juan County has been the subject of scrutiny over racial gerrymandering for decades. In 2012, the Navajo Nation filed a suit claiming that the county had failed to redraw its districts in accordance with the Voting Rights Act. A federal district judge has repeatedly sided with the tribe. Should the suit, which Branch is overseeing, hold up, San Juan County could soon have a majority Navajo commission.
But for now, all three commissioners have characterized federal land management in the area as overreaching. On December 2, as Branch was issuing her challenge to President Trump in front of a roaring crowd of thousands, Lyman spoke to a group at the San Juan County courthouse, in Monticello. He assumed a polite and restrained tone even as he invoked dire threats. Using a quote attributed to Thomas Jefferson, he warned of a day when "our children wake up homeless on the continent their fathers conquered." Lyman used the word conquered three times, then walked off to applause.
The Bears Ears dispute concerns more than just ruins. It addresses the question of whose voice rings out loudest, of whose history is prioritized. San Juan County is an area larger than Connecticut, with a population of around 17,000. The northern half is dominated by the heavily Mormon towns of Blanding and Monticello; to the west lies the red-rock country of Bears Ears. Its southern and eastern portions are primarily Navajo and Ute. The county has resources—oil near Aneth, uranium in White Canyon—but over the years, the negative impacts of extraction have seriously affected local Native Americans, in the form of contaminated groundwater near a uranium mill in White Mesa and dozens of oil spills that have flowed into the San Juan River's tributaries.
There is a third economic engine—tourism, in the form of off-roaders and desert rats looking to follow the footsteps of Edward Abbey and Everett Ruess. Still, traffic has always been thin compared with areas farther north, in Canyonlands and Moab, or west, toward Lake Powell. For adventure purists, the region has long been an empty sandstone heaven. Author Craig Childs has traversed the area for decades, often on his own. At first he was opposed to a monument. "The idea of having the place hardened by pullouts and trailheads didn't at all appeal to me," he says. "But when I step away from it and look at it from a larger perspective of time and decades and centuries, I think it's something that is more about ­preserving sacred and incredible landscapes for a longer time frame."
For decades, white residents of the region made a habit of pothunting—searching for artifacts—near Bears Ears. To Navajos, that sounded a lot like grave robbery. In 2009, the FBI and agents of the Bureau of Land Management conducted an elaborate pothunting sting in the Four Corners region that ended with 23 arrests and 12 indictments. Shortly after being arrested, two people committed suicide, including Blanding's main doctor, James Redd.
The events heightened the anti-federal sentiment within Blanding; for many Navajos, they also solidified the importance of protecting the region's antiquities. In 2010, Mark Maryboy, a Navajo leader who in 1986 became the first Native San Juan County commissioner (he served four terms), decided to do something about it. Along with Gavin Noyes, a white community activist, Maryboy interviewed some 75 Native citizens, asking what they wanted to see around Bears Ears. The answer was fairly uniform: most wanted some protection for the region's sacred sites.
Meanwhile, environmental groups including the Conservation Lands Foundation, based in Durango, Colorado, and the Southern Utah Wilderness Alliance (SUWA) had been seeking to protect the area as well. Maryboy recruited other Navajo, and in 2012, he and Noyes launched a nonprofit organization called Utah Diné Bikéyah ("people's sacred lands" in Navajo). At first, UDB tried to work with Utah politicians to protect the Bears Ears area. Congressman Bishop was then soliciting input on a bill called the Public Lands Initiative, which he pitched as a compromise. But UDB never felt that he took the group's proposals seriously, and the bill failed to gain any traction.
Campbell came to NARF in 2013 after following a winding path in his younger life. "I became interested in the law," he says, "because I had run-ins with the law."
Since 2010, UDB had been reaching out to tribes with ancestral ties to the Bears Ears region. Initially, the Hopi, Ute Mountain Ute, and Zuni were wary, since the effort was led by Navajos. The animosity between the tribes is centuries old, but in a meeting in April 2015 in Bluff, Utah, Maryboy acknowledged to Hopi and Zuni leaders that their ancestors had preceded the Navajo at Cedar Mesa. "Welcome home," Maryboy said. People wept.
Members of the fledgling Bears Ears Intertribal Coalition soon started traveling to Washington, D.C., where they found a willing audience in the office of interior secretary Sally Jewell. In July 2016, Jewell went to Bears Ears and came away impressed by the coalition's proposal.
That December, she sent President Obama a memo recommending the designation of Bears Ears National Monument. Just after Christmas, Obama did just that, creating a monument that preserved existing grazing leases and mining claims but banned future mineral activity. Hatch and Bishop almost immediately began referring to it as a land grab. During President Trump's first week in office, Hatch, the chairman of the powerful Senate Finance Committee, said the president was "eager to work with me" on Bears Ears. In March, one of his aides e-mailed ­Zinke's staff a map that would "resolve all known mineral conflicts," reflecting the desires of a program that funds public schools through oil and gas leasing and other development. Meanwhile a uranium company that operates a mill just outside the monument's boundaries started lobbying Zinke's office.
In May 2017, Zinke traveled to Bears Ears, where he scolded a Native protester who kept asking him questions, holding up a finger and telling her, "Be nice!" When the Interior Department released a video showing him riding a horse in the area, Ethel Branch noticed that someone held the reins for him as he mounted. What kind of cowboy does that? she wondered.
That September, The Washington Post published a leaked copy of Zinke's review of the 27 monuments. The memo acknowledged that protected areas can generate tourism revenue, but also stated that in some instances the "jobs and the resulting revenues from tourism do not necessarily offset the lost or forgone revenue resulting from the limitations placed on land development." No examples were cited. It acknowledged that Interior had received 2.8 million public comments, overwhelmingly in favor of keeping the monuments, but said that those comments were mostly generated by nonprofits. "Too often," the memo read, "it is the local stakeholders who lack the organization, funding, and institutional support to compete with well-funded NGOs."
The review was catnip for President Trump—written with a conspiratorial whiff but lacking any cited sources, privileging the perspective of aggrieved locals, and animated by the notion that wealth comes out of the ground.
---
"You have this identity issue," says Campbell. "This living-in-two-worlds issue." He is talking not just about himself but about his profession. For Native litigators, the job is not only to win. It's to faithfully and sensitively convey a client's worldview in a venue that's often unfriendly to that perspective, to demand respect for that position so that the court elevates it.
According to Landreth, "Microsoft's lawyers, for example, don't say, 'Well, our culture dictates that this software is sacred.' You have to figure out how you're going to litigate it while at the same time protecting your clients and their culture and religious views."
Together, Campbell, Landreth, and Branch represent a new generation of legal advocates for Indian country. They came to the work from different places—suburban Denver, the consumer panoply of Orange County, California, and an Arizona ranch with no running water or electricity.
"It's powerful to see young Native American attorneys defend the sovereign lifestyles of tribal people," says Heather Kendall-Miller, a NARF attorney from Alaska and one of the handful of Native women to have argued in front of the Supreme Court.
In high school, few would have pegged Campbell as a legal power broker in the making. He was a disinterested student in Littleton, Colorado, and attended Fort Lewis College, in Durango, which offers Native students a tuition waiver. (The college once tried to eliminate the waiver, but in 1973, John Echohawk helped win a case that kept it in place.) Campbell graduated with a GPA of 2.8, and after college he applied to law schools but didn't get in. He was working at a gym in Durango when he received a flyer in the mail advertising a prelaw summer institute for Native students at the University of New Mexico. In Campbell's recollection, it emphasized that a weak academic record was not disqualifying.
"I was like, Wow, this is really speaking to me," Campbell says. In Albuquerque, something flipped inside. He excelled in his studies, and at the end of the summer course several law schools expressed interest in him. He chose Arizona State University, which has one of the best Indian law programs in the nation, and there he met his wife, Borchardt.
Branch and Landreth, meanwhile, met at Harvard in the late 1990s. Branch was an undergrad, Landreth a law student. Tall and poised, Landreth was the daughter of a Navy sailor; she'd spent her early childhood on a remote Aleutian island but was raised in Orange County after her parents divorced. Her mother wanted her to have the best education possible. "We had the fanciest public schools," she says, "and the cheapest apartments." Upon arriving at Harvard, she met a white girl from Montana who suggested that Landreth shouldn't tell anyone she was Native. Instead she started attending meetings of Harvard's Native American Program. "Whether you were an urban Indian or reservation Indian, it didn't matter," she says. "You had this common history."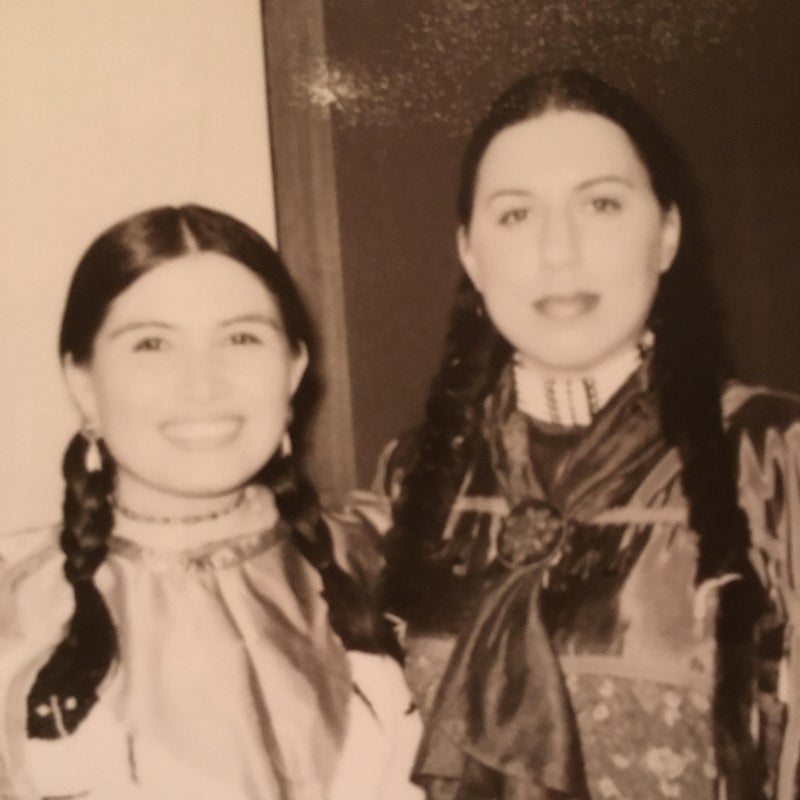 One day during her senior year, Landreth saw a poster advertising a speech by attorney general Janet Reno, who came to discuss the fledgling Office of Tribal Justice. Landreth, an art history major, attended the talk and was so moved that she approached Reno after. "I want to work with you," she recalls saying. Reno connected her to a colleague, who offered Landreth an internship in the new office. Her employer thought Landreth was already in law school. "I didn't know how to find anything in the Department of Justice library," Landreth says. The next year, she was accepted to Harvard Law.
Branch also had something of an awakening in Cambridge. Not regarding identity—she was pretty clear on that. But she never knew why her family and neighbors lacked electricity and running water. The town of Leupp, Arizona, close to her family's ranch, was too small to accommodate a high school, and Native history wasn't taught in nearby Winslow. During her sophomore year at Harvard, Branch took a class on the history of the American West. When the teaching assistant outlined the basics of the Indian Wars—the forced marches and the dispossession, the origins of historical trauma—the circumstances back home began to make more sense.
One day in another history tutorial, the lecturer had the class read a book examining the settling of the frontier from the indigenous point of view. It was bloody enough that one young woman started to tear up. Another student argued that there were bad characters on both sides and that Native Americans had blocked progress. The lecturer looked to Branch. Branch crisply laid out the definition of genocide and applied it to the work of the Texas Rangers. The lecturer suggested she take up law.
Landreth, meanwhile, clerked for an Alaska Supreme Court justice before heading to Los Angeles to work in entertainment law. It was lucrative, if exhausting. In 2003, she saw a job opening at NARF, applied, and, together with her fiancé, an army engineer, moved up to NARF's Anchorage office, where she took a steep pay cut. The couple married that December; three days later, her husband deployed to Iraq for 15 months.
Landreth went to work underneath Kendall-Miller. Her first oral argument came in a case concerning several coastal Alaskan tribes' claims to aboriginal fishing and hunting rights in the wake of the Exxon Valdez spill. She appealed a district court decision and found herself arguing in front of the Ninth Circuit Court of Appeals en banc—meaning that all 11 judges grilled her at once. She prepared diligently, argued, then heard nothing for more than a year. When the ruling finally came in, she lost six to five.
Landreth found out about the verdict the day her son was born. Later she reviewed the case over and over. "That was the worst," she says, "feeling like you came so close, like what could I have done better to get that sixth person?" Kendall-Miller saw it differently. "I recognized immediately that she had great, great talent."
In 2008, a new intern joined NARF's Alaska office: Ethel Branch, in her fourth year at Harvard Law. From there she went to private firms in Portland, Oregon, and Seattle, specializing in tribal issues. In 2015, the Navajo Nation reached out to Branch, asking her to apply for the position of deputy attorney general. Midway through the process, she received a different offer: attorney general, overseeing a staff of 88. Branch packed her bags and moved into a place in the Navajo capital, Window Rock, Arizona, with her mom and three nieces, plus two dogs and a cat, all female. Her mother does the laundry and keeps everyone fed. "Other­wise," Branch says, "it would be a wolf's den." Recently, she got into her Nissan Pathfinder to find dark stains on the ceiling. Her mom had used the passenger seat to transport an alpaca with a bloody nose.
At work, Branch oversaw an ongoing dispute with the Environmental Protection Agency over the 2015 Gold King Mine spill that turned the Animas and San Juan Rivers copper and polluted Navajo Nation agricultural waters. She also launched a white-collar-crime initiative that hasn't exactly ingratiated her with Navajo power brokers. Soon after coming on board, she began attending meetings of the Bears Ears coalition. She found herself traveling up to the high desert, once camping between the twin buttes under a full moon. On another trip, her elementary-school-age niece sang a traditional song about the region. Branch sometimes kept a sleeping bag in her office in order to head up to Bears Ears. She felt that something powerful was protecting the region—something, she says, "that transcends the law."
---
The tribes were hardly alone in preparing a complaint. In the Trump era, the gears of liberal outrage have spun freely, providing a boon to the bottom line of environmental and social-justice organizations across the country. By April 2017, when President Trump signed the executive order launching Zinke's monument review, everyone from Earthjustice to the Natural Resources Defense Council to Patagonia was exploring lawsuits over Bears Ears. Visits to the monument spiked, and UDB prepared to sue as well. For Branch and the NARF lawyers, the outcry was welcome. But the team wanted to keep the tribal voice separate from that of the environmental groups.
"In an ideal world," Branch says, "it would be cool to work together. But we're dealing with very different interests." Campbell echoed that sentiment. For her part, Landreth likened the environmentalists' pile-on in the months leading up to the proclamation to "a high school party—if I'm not invited, I'm going to die!"
Landreth's primary concern was that the tribes respond first. "It's the first truly Native American monument," she says. "Let the tribes talk about how fucked-up it is that the one he goes after is the one run by Indians."
The other plaintiffs respected that. After The Hopi Tribe, et al., v. Donald J. Trump, et al. was filed on December 4, two other coa­litions of nonprofits held off for a couple of days before filing their suits in federal district court in D.C. Landreth was pleased. One suit was brought by the Natural Resources Defense Council, SUWA, and nine other environmental groups represented by Earthjustice. The other was brought by UDB, the Conservation Lands Foundation, Patagonia, and a group of archaeological and conservation organizations. Meanwhile, two other nonprofit coalitions sued to block the halving of Grand Staircase–Escalante.
Each of the complaints addresses presidential authority under the Antiquities Act and the Federal Land Policy and Management Act. But they differ in regard to the antiquities at stake. The environmental groups' complaint emphasizes "outstanding opportunities for sightseeing, hiking, backpacking, wildlife viewing, spiritual reflection, and other outdoor activities." The suit brought by UDB and Patagonia references both Bears Ears' archaeological sites and its spectacular climbing.
Landreth likened the environmentalists' pile-on in the months leading up to Trump's proclamation to "a high school party—if I'm not invited, I'm going to die."
The tribes' suit reads differently. It is, of course, full of legalese. But it also notes that the Zuni consider water to be "similar to the blood of their mother" and states that "Hopi ancestors buried in the area continue to inhabit the land." Another passage reads: "The Bears Ears landscape also has seminal importance in Navajo songs, prayers, and healing ceremonies that have unique and close ties to the Bears Ears region, its flora and fauna, and its historical and spiritual qualities, including the Anaaji (Enemy Way), the Dinéee (Wild Game Way), the Dzilkíji (Mountaintop Way), and the Hozhooji (Blessingway), which seeks to restore and revitalize hózhó (harmony, beauty, and balance) for the individual for whom the ceremony is performed."
"If you read a thousand other complaints in federal court," says Landreth, "you will not see one that looks like that."
But once the suits were filed, the press filled up with stories about Patagonia—both its lawsuit and its home page, which the company altered to read, simply, "The President Stole Your Land." The narrative proved easier for reporters to digest.
"I love Patagonia," Landreth told me after­ward. "I'm sure they're great people. My sense is theirs is a voice people would listen to." She paused. She liked what the company did on its website, she said. "But at the same time, it made me kind of sad. Anything we said about looting or sacredness of the land in 50-plus interviews never received that level of penetration. What are we doing wrong?"
---
If the plaintiffs' cards are on the table, the federal government has not shown its hand. According to the University of Colorado's Squillace, the government will have to argue "implied authority"—that the president has a power that's not articulated in the Antiquities Act. The Department of Justice lawyers representing the administration could conceivably argue that Obama didn't adhere to the act's mandate to protect only "the smallest area compatible." But, says Squillace, "That's a very tough argument, because the plaintiffs are going to be able to show all kinds of objects that were intended for protection by the Obama administration that are now outside the protected area." In February, in fact, a team of scientists announced that they'd discovered a bed of Triassic phytosaur fossils—an early crocodile—in an area of Bears Ears that had been stripped of protections; the fossils are located in the Chinle formation, parts of which also contain uranium.
Still, Zinke's final report, made public in December, suggests that previous presidential overreach is an animating idea behind the revised monument. It also suggests that extraphysical and even environmental concerns should not affect the creation of monuments. "Throughout the review," he wrote, "I have seen examples of objects not clearly defined in the proclamations. Exam­ples of such objects are geographic areas including viewsheds and ecosystems. Proper use of the Act should specifically identify the 'historic landmarks, historic and prehistoric structures, and other objects of historic or scientific interest,' and the quantity of land necessary to protect each object, if any."
In January, the Department of Justice requested that the case be moved from D.C. to Utah, on the grounds that the monuments are located there. "Both parties are trying to get to the friendliest forum they can find," Squillace told me. At press time, judge Tanya Chutkan, an Obama nominee, had yet to decide on that motion. She did, however, rule on the federal government's motion to consolidate the suits into one. Chutkan grouped the suits together as The Hopi Tribe, et al., v. Donald J. Trump, et al. for the purpose of scheduling, but agreed with the plaintiffs that the tribes could file their own briefs and argue separately.
How long all this will take is unknown. The fight is, in the words of John Leshy, a former solicitor at Interior, "a pretty straightforward kind of case" from a litigation point of view. But it's hugely consequential, potentially dictating the stability of America's 117 national monuments—and pitting an indigenous worldview against that of a real estate developer from Queens.
---
One treasure is nearly impossible to find in Bears Ears: a map of the original 1.35-million-acre monument. Because Trump took office just a month after Obama's announcement, little infrastructure has been added. There are no Bears Ears National Monument signs in Bluff. According to Friends of Cedar Mesa, a local environmental group, use of toilet paper at the smattering of ranger stations and outhouses in the area has increased in the past year, indicating significant growth in tourism. But Bluff won't be rivaling Moab in the near future; it still has just a few lodges and restaurants that are open occasionally. And those who wish to access the monument still need a good set of jacked-up tires and some local knowledge.
On February 2, a 60-day temporary moratorium on mining claims in the Obama monument expired, meaning that anyone with a couple hundred bucks can show up, put some sticks in the ground, and claim mineral rights, just as they could for decades prior to December 2016. But the price of uranium is low; despite dire warnings from the environmental community, the race to stake new claims has not yet heated up.
The next day, on February 3, Ethel Branch's Pathfinder hurtles out of Bluff toward Bears Ears. The road is empty. Branch and a Hopi friend, a former Marine named Alfred, are driving to see some ruins. Alfred steers up the Moki Dugway, a steeply switchbacked road that climbs to Cedar Mesa. They keep driving until they can see the twin mesas of Bears Ears. Far to the southwest looms the shadow of a curved mountain.
"Navajo Mountain," Branch says.
"Hopi Mountain," Alfred corrects her. They laugh. Alfred started visiting Bears Ears in the eighties. Branch never came as a kid. "We couldn't go 40 miles without the ranch truck breaking down," she later explains.
That afternoon, Alfred turns onto a cratered dirt road leading toward Cave Towers, an Ancestral Puebloan site in Mule Canyon. There's a crunch, and it sounds like the right rear wheel has bottomed out. Branch and Alfred step from the car to find they have a flat tire. But there's only so much daylight. The tire can wait. They walk out and find a sign asking that hikers visit with respect. There are two misspellings. A disappointed Branch wonders aloud if she has a Magic Marker back in the car.
She and Alfred continue on, and after a few hundred yards they come to a yawning canyon. At its head are a number of ancient towers made of red rock and mud—perhaps defense outposts. Branch stays away from the ruins in accordance with Navajo custom. A few hundred yards beneath the towers, Alfred points out some small structures tucked into the cliffs—Puebloan homes. The walls have holes, he says: spaces for arrows. The people here were guarding something of great value.
Swallows dive in and out of the canyon walls. Alfred hikes back to change the tire. Branch sticks around a little while longer. She walks to the lip of the canyon and pauses. "You can hear it," she says, and sure enough there's a gurgle. At the bottom of the canyon, far beneath the towers and settlements, there's a clear spring bubbling with life. Something to protect.
Contributing editor Abe Streep (@abestreep) wrote about Patagonia and the fight over public lands in September 2017.