Ryan Zinke Is Sabotaging Our Best Public Lands Program
The secretary of the interior was once a loud supporter of the Land and Water Conservation Fund. Now he wants to almost completely defund it.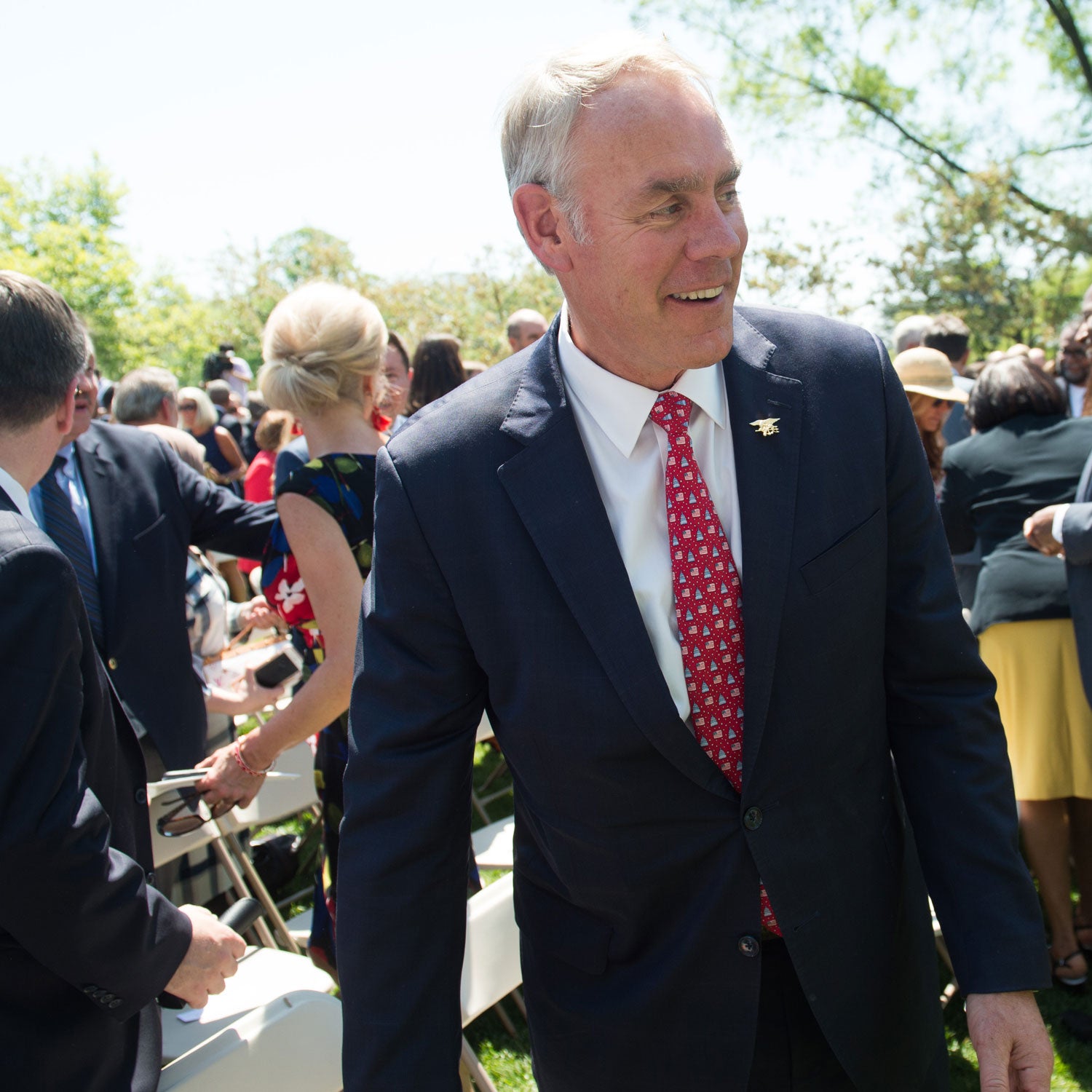 SAUL LOEB/AFP/Getty Images(Photo)
Heading out the door? Read this article on the new Outside+ app available now on iOS devices for members! Download the app.
Way back in 1962, with World War II–generation parents eager to pack their baby boomer children into the station wagon and hit the open road for family adventure, President John F. Kennedy called for the creation of a fund that would siphon federal offshore oil revenues into projects to improve access to public land and water. The basic idea was that if the country was going to permit environmentally destructive activities like oil and mineral extraction, we at least ought to use a portion of the public revenues to preserve land and get people outdoors.
In response to Kennedy's request, Congress created the Land and Water Conservation Fund (LWCF) in 1965. In the years since, it has become "the single most important program for protecting threatened access and opening up new access that the government has," according to Whit Fosburgh, president of the Teddy Roosevelt Conservation Partnership, a nonpartisan group devoted to safeguarding critical wildlife habitat and guaranteeing all Americans quality places to hunt and fish.
As a Montana congressman prior to taking his cabinet post as secretary of the interior, Ryan Zinke was the only Republican on the House Natural Resources Committee to vote for permanent reauthorization of the program when it was set to expire in 2015. As I mentioned in my profile of Zinke, he said at the time that he would make it a personal mission to win his Republican colleagues over to supporting LWCF.
"I know what is at stake if we lose this critical resource. This isn't about politics; it's about Montana. It's time Congress gets on board," Zinke said. But now that he's no longer an elected office holder, it appears Zinke's romance with the LWCF has ended. As secretary, he testified earlier this month in support of a budget that reduces LWCF funding to $8.1 million—roughly one-fiftieth of its 2018 allocation of $425 million, and less than 1 percent of its maximum allotment of $900 million.
Grilled by Senator Jon Tester (D-MT) about the discrepancy, Zinke said, "The budget is a proposal, and this is where the two branches come together and discuss priorities." In other words, Zinke seemed to be saying, Don't take this budget seriously. What he did not do, however, is vigorously defend the LWCF and restate his earlier belief that the program should be permanently reauthorized and fully funded—a position he stood by as a junior congressman, even when it meant pissing off his committee chairman, Utah Republican Rob Bishop.
If Zinke does not find the nerve to speak up publicly for the LWCF, or if Congress doesn't intervene, the fund will lapse into its most meager state since its creation.
Over more than half a century, nearly $20 billion in LWCF funds have built fishing access sites on western rivers, parks and playgrounds, mountain bike trail systems, whitewater parks, swimming pools, rock climbing centers, access to outdoor climbing areas, and a host of other public works geared toward getting Americans outside to enjoy the best of what we own. The LWCF has also been a tool for land acquisition, allowing state and federal agencies to purchase small parcels of private ground that provide access to larger pieces of public land, and to purchase conservation easements that allow public recreators to cross private ground. "Sometimes a little postage stamp opens up miles of river," Fosburgh says.
For example, in Zinke's home state, the LWCF is chipping in $2 million to help buy 13,398 acres in the Flathead Valley that, among many other things, will bring the area's local water supply into public control, will help the timber industry, protect local fish, protect the migration path of the sandhill crane, and ensure access to people who hike, bike, fish, and hunt. The project is in its final stages of completion and has received support from both of Montana's senators.
So why is Zinke flip-flopping on something he once defended so vigorously?
There are two likely possibilities. The first is that Zinke is a good soldier, and he's willing to abandon positions that once formed the bedrock of his political ethos in order to stay on team Trump.
The second possibility is that nothing changed: Zinke's commitment to the LWCF was always superficial, and he simply realized back in 2015 that he could withstand the flak that came from bucking Bishop in order to win credibility at home in Montana. Whatever the answer, Zinke has become a bagman for an administration that wants to cut the program's funding to a historic low.
The good news is that despite the Trump administration's efforts, the majority of Congress—including many of Zinke's fellow Republicans in both chambers—has essentially laughed the Trump-Zinke Interior budget out of the room. The LWCF has been funded to its full cap only twice and has not exceeded $450 million since 2005, because Congress usually redirects offshore revenues that should go to the LWCF into the general treasury for other programs. In the pending 2019 budget negotiations, Congress appears likely to allocate between $360 million and $425 million to the LWCF, though there could be significant changes from previous years in how federal and state recipients of funds will be able to spend the money. Specifically, Republicans want to see restrictions placed on the use of LWCF funds for land acquisitions.
If Zinke's change in stance surprised his colleagues in Congress, it has certainly ruffled conservationists. But the political pragmatism Zinke was known for back in Montana may yet prevail. In May, Fosburgh attended a meeting at Interior Department headquarters with more than 20 conservation groups, running the gamut from far-left Defenders of Wildlife to the more moderate Nature Conservancy. According to Fosburgh, Zinke told the group that the LWCF is one of the most successful programs ever passed and should be fully funded. "It didn't sound like lip service. It sounded sincere," Fosburgh says.
I reached out to Zinke's press secretary, Heather Swift, to ask if he does indeed still support permanent reauthorization and full funding of the LWCF. "Yes, and he has said that many times in public as well," Swift responded. I wrote back to ask about the disconnect between Zinke's support for the LWCF and the paltry funding level he asked for in his recent Interior Department budget proposal but received no response.
In September, the three-year reauthorization that Zinke fought to secure back in 2015 will expire. If Zinke does not find the nerve to speak up publicly for the LWCF, or if Congress doesn't intervene, the fund will lapse into its most meager state since its creation.
Lead Photo: SAUL LOEB/AFP/Getty Images