We Need More Campsites
A shortage of places to camp is hurting the environment and limiting diversity in the outdoors. But there are some innovative solutions on the table.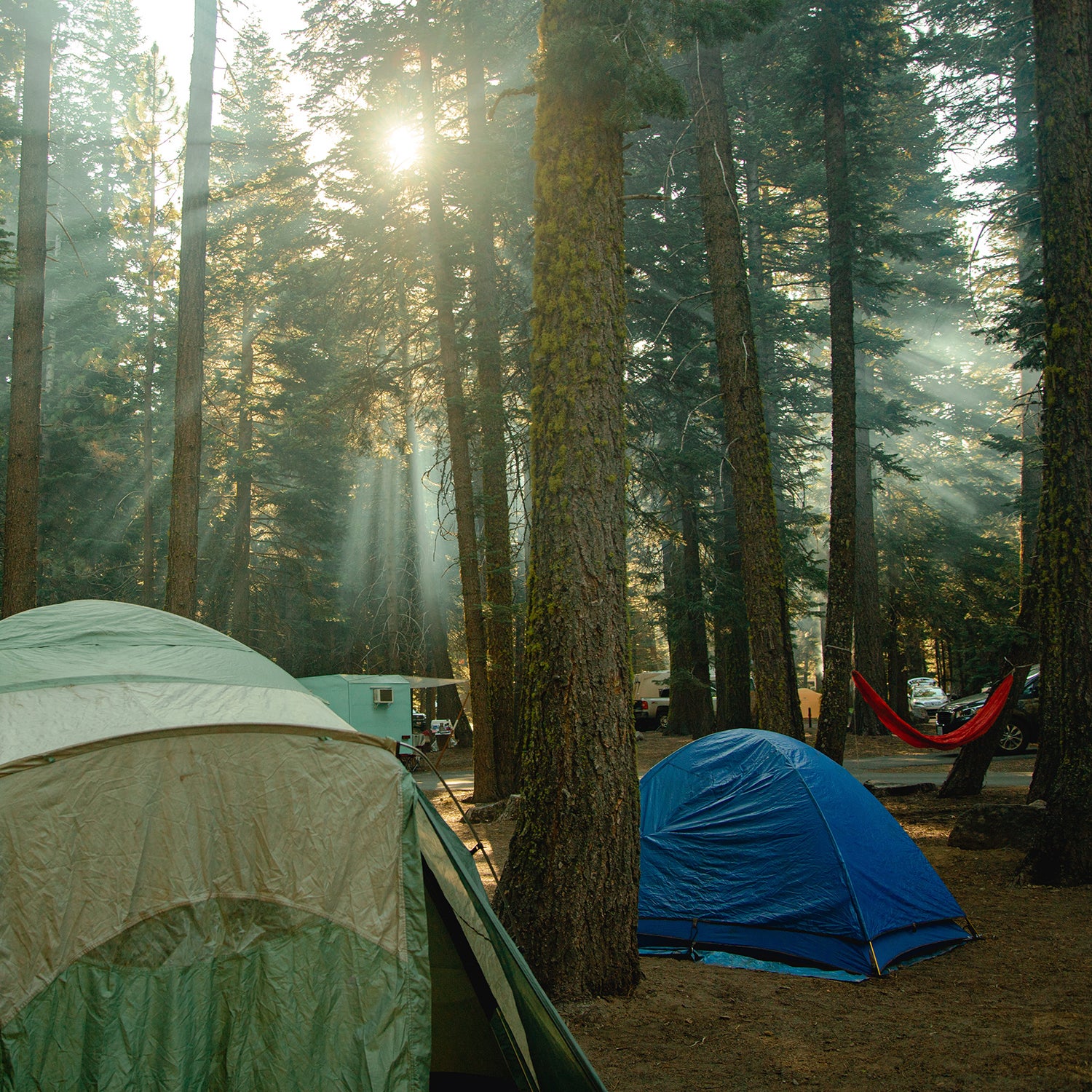 Awar Meman/Unsplash(Photo)
Heading out the door? Read this article on the new Outside+ app available now on iOS devices for members! Download the app.
One cold August morning last summer, my husband woke up before dawn, snuck out of our tent, and drove 40 minutes to Wyoming's Grand Teton National Park. We'd been sleeping in a nearby national forest for the past few days, driving into the park each morning to try and snag one of Grand Teton's permitted backcountry campsites, before we finally realized that our only hope was to get there before the park's offices opened and wait in line for one. But getting anywhere early is tough when you have a toddler, so I stayed behind with our sleeping two-year-old while Jesse drove to Grand Teton.
When he arrived, however, an hour before the backcountry permit office opened, the line was already snaking around the building. Some people had shown up at 6:30 A.M., waiting in the cold for two and a half hours just to secure a place to pitch their tent. Another 50 or so were queued up for one of the park's equally coveted front-country campsites. And in the national forest where I waited, the scene was pretty much the same, with carloads of people competing for a handful of campsites like Black Friday shoppers vying for the latest electronics.
America's public lands were busier than I've ever seen them, and not just near the popular national park. During three weeks of road-tripping in Colorado, Utah, and Wyoming, every camping area I saw was packed—front country and backcountry alike, established and dispersed. I heard stories from friends who simply couldn't find a place to camp and were forced to get a hotel room. Other people pulled over on the side of the road and slept in their cars. Still others ignored the rules and camped where they weren't supposed to, leaving behind fire scars, trampled vegetation, and unburied human waste. It was, quite literally, a shit show.
Part of the reason was that an unprecedented number of Americans got outside in the summer of 2020. With other types of travel grounded by COVID-19 and people desperate to get out of the house, camping surged in popularity. In Grand Teton alone, backcountry camping increased 79 percent from September 2019 to September 2020, and front-country camping increased 24 percent. Camping at Colorado state parks jumped 22 percent. And people don't seem to be heading indoors anytime soon: the RV rental company RVShare reported four times as many bookings in March 2021 than in any previous year, with a majority from first-time campers.
This spike, however, is set against the backdrop of a larger trend. Since 2014, more than seven million American households have taken up camping, and public-land managers haven't kept pace by creating new campgrounds. The chaos last summer wasn't an anomaly, in other words—it was a glimpse into what the future will look like if we don't start creating more places to camp now.
---
To grasp the myriad challenges facing camping in the United States, it helps to first understand that the situation is complicated. Public-land camping in this country can be broken down into two main categories: established and dispersed. At established campgrounds, you usually pay for a site and get a picnic table, fire ring, and public bathroom. Some sites can be reserved in advance; others are first come, first served. Dispersed campsites rarely have such amenities. They're unofficial spots in the backcountry or down a dirt road where you can legally—and often free of charge—pitch a tent or park a camper.
Yet within these two broad categories are a web of jurisdictional complexities. Depending on what type of land a campsite sits on, it may be administered by the U.S. Forest Service, the Bureau of Land Management, the National Park Service, or any one of dozens of state, tribal, and municipal land-management agencies. There are also scores of private camping areas, from KOA campgrounds to individual sites on someone's property that can be booked through services like Hipcamp, a sort of Airbnb for campsites.
This all makes it nearly impossible to track just how many campsites there are in America and how they're being used. But piecemeal reports and anecdotal evidence suggest that the number of camping areas on public lands has remained fairly stagnant over the past decade, even as the number of campers has surged. A 2019 survey and analysis commissioned by the Park Service reported that American campers' most common frustration isn't bugs or bad weather or poison ivy but simply the difficulty of finding a place to camp.
Compounding the problem is the government's outdated system for reserving campsites. Under the existing system, people who want to camp on popular federal public lands often must either reserve a site months in advance or show up early on a weekday to snag a first-come, first-served site. (And such sites are often full by Friday evenings.) As a result, anyone with a job that doesn't allow for such luxuries can get crowded out.
"It's absolutely a privilege to have the spare time to plan a camping trip that's not a last-minute thing," says Adam Edwards, a whitewater kayaker and writer for Melanin Basecamp, which advocates for diversity in outdoor sports. "And learning how to apply for campsites and get reservations is not intuitive. If someone just wants to go camping and gets turned away because the site is at capacity and they don't know how to navigate the permitting system, that's a barrier."
Since more than half of new campers are people of color, these barriers are likely hindering efforts to make the outdoors more inclusive and equitable. When finding a spot to pitch a tent becomes so competitive that it frustrates even experienced campers, newcomers—many of them from communities that have been historically excluded from the outdoors—may be disproportionately turned away.
And there's one last piece of bad news: public-land agencies have neither the money nor the manpower to do much about this problem. Since 2012, visitation at the national parks has grown by roughly 50 million visits a year, while thousands of park staff have lost their jobs. The Forest Service has roughly half as many staff members at it did in 1992 and twice the workload. Altogether, public lands face a $20 billion maintenance backlog just to shore up existing roads, bathrooms, visitor centers, and campgrounds. How can we possibly plan for new camping areas when we can barely maintain the ones we've got?
---
Fortunately, there's also good news, starting with the fact that America's 640 million acres of public lands can easily support more camping areas. In fact, creating more campsites could actually help the environment by concentrating our impact in places where it will do the least harm to plants and animals. And equipping unofficial, or dispersed, campsites with amenities like fire rings and pit toilets could combat out-of-control human waste and illegal fires.
The story of Sand Flats Road, just outside Moab, Utah, shows how this might look. In the early 1990s, Sand Flats was a free-for-all, with people setting up camp wherever they wanted among sandy washes and slickrock outcroppings. That was fine when the area was a local secret, but as outsiders began flocking to Sand Flats for its mountain biking and off-roading, they began tearing up sensitive desert plants and cryptobiotic soil, a living crust that naturally prevents erosion and allows plants and animals to survive. In 1995, Grand County and the BLM collaborated to build campgrounds, restrict people to designated sites, and begin charging for use. Today, although the area's popularity has skyrocketed, the $15 nightly fee completely funds 150 campsites and related infrastructure and has allowed previously damaged desert ecosystems to begin to recover.
Similar strides are possible on other public lands, but they can't happen without some up-front investment. According to a report by the Montana Outdoor Heritage Project, a new ten-unit campground costs anywhere from $400,000 to $1 million to construct, and a single vault toilet costs $20,000 to install—not including annual maintenance. Agencies like the Forest Service simply don't have the budget or staff for such improvements, but with a new Democrat-controlled Congress in Washington, D.C., they could. Several public-land advocates are hoping to capitalize on current trends in politics by asking Congress to prioritize money for public-land budgets. In testimony submitted to the the House Interior Appropriations Subcommittee in April, Adam Cramer, CEO of the Outdoor Alliance coalition, called on Congress to bolster the Forest Service budget by as much as 50 percent, an increase of $849 million. Explaining the request, Cramer wrote that "once the pandemic is under control, outdoor recreation on National Forest lands is not likely to noticeably decline … the agency must grow its recreation program to respond to the challenges and opportunities that come with increases in outdoor recreation."
The new Great American Outdoors Act, which permanently funds a pool of money for ourdoor recreation with revenue from oil and gas drilling, should also help. Some of the funds will go toward deferred maintenance on existing campgrounds, roads, and other recreation sites, but there are also plans to purchase new tracts of public land and build or expand camping areas. Some local offices and nonprofit organizations are asking for public comments this spring on how the money should be spent, so it's a good time to make your voice heard and suggest that we need more places to camp and not just bigger RV spaces at existing campgrounds (an example of a project the Idaho Panhandle National Forest is proposing tackle with its allocation).
The Forest Service is also piloting a program to better manage the scores of free campsites that aren't in established campgrounds, especially those in popular areas. The plan is to number some of these dispersed sites, add fire rings, and turn management over to a private company that will make some of the sites reservable online. Campers will then pay a $15 nightly fee to fund these services—similar to what happened two decades ago on Sand Flats Road. The Colorado mountain town of Crested Butte is deploying another version of this approach, limiting dispersed camping on its surrounding Forest Service lands beginning this summer. The town is developing what was previously a free-for-all into 200 free, designated campsites equipped with fire rings and limited to two vehicles per site.
A final solution is to create more opportunities for people to camp on private land, which can be done more quickly and with less red tape than on public lands. As of 2019, less than 40 percent of camping visits took place on private campgrounds; the rest were on public lands. But as public lands struggle to meet demand, private landowners are seizing on the opportunity, especially in places like Texas and the Northeast, where public land is harder to find.
Not all of these solutions sit well with seasoned campers who miss the era when they could drive up a dirt road and choose from an array of free, quiet places to stay the night. And some environmentalists worry that creating more campsites could just create more campers in a never-ending feedback loop, similar to the way that adding an extra lane on a highway leads to more traffic. But while the future of camping in America will likely look more restrictive than in decades past, a combination of these approaches is still more appealing than certain alternatives. In southern Iceland, for example, legislators passed a law forbidding any camping outside of established campgrounds, after skyrocketing tourism left the countryside littered with trash and human feces.
There's one more argument for building more campsites: to disperse visitors among a wider area, rather than having them all vie for space at the most popular spots. "The West is very large," says Aaron Weiss, director of the nonpartisan, nonprofit Center for Western Priorities. "We have so much room for people, and the collective impact of people recreating is minuscule compared to the impact of oil and gas development or strip mining. Yes, you can absolutely point to places that are being loved to death, but to me that's a sure sign that we need to make more public lands accessible to people, not less."
---
After waiting in line for three hours, my husband returned to our campsite with good news: he'd managed to get us four nights of canoe-in backcountry sites in Grand Teton. Elated, we packed up our dusty, loud site on the side of a Forest Service road and headed into the park. For five days, we paddled beneath vertical crags, swam in crystal clear water, and slept beneath spruce trees on the shore of a lake. By the end, it felt like we'd hit a mental-reset button.
These kinds of experiences shouldn't require privilege, but they do. Jesse and I have both been camping since we were kids, which means we have the skills and knowledge to escape the crowds by retreating into the backcountry. We also had three weeks off, which gave us time to navigate the federal government's labyrinthine permitting system and wait for sites to open up. If not for these privileges, we might have returned home more stressed out than when we left.
America's public lands have long been a playground for people like us. To make sure we aren't perpetuating our nation's history of excluding people of color and low-income people from the outdoors, we need to make sure everyone who wants to camp has room to do so safely and sustainably.
Lead Photo: Awar Meman/Unsplash
Trending on Outside Online