Bumps in the Road
A professional adventurer has to break a few eggs along the way—and, apparently, several bones and a skull. Mark Jenkins tallies up the most memorable injuries and mishaps from a life lived on the edge.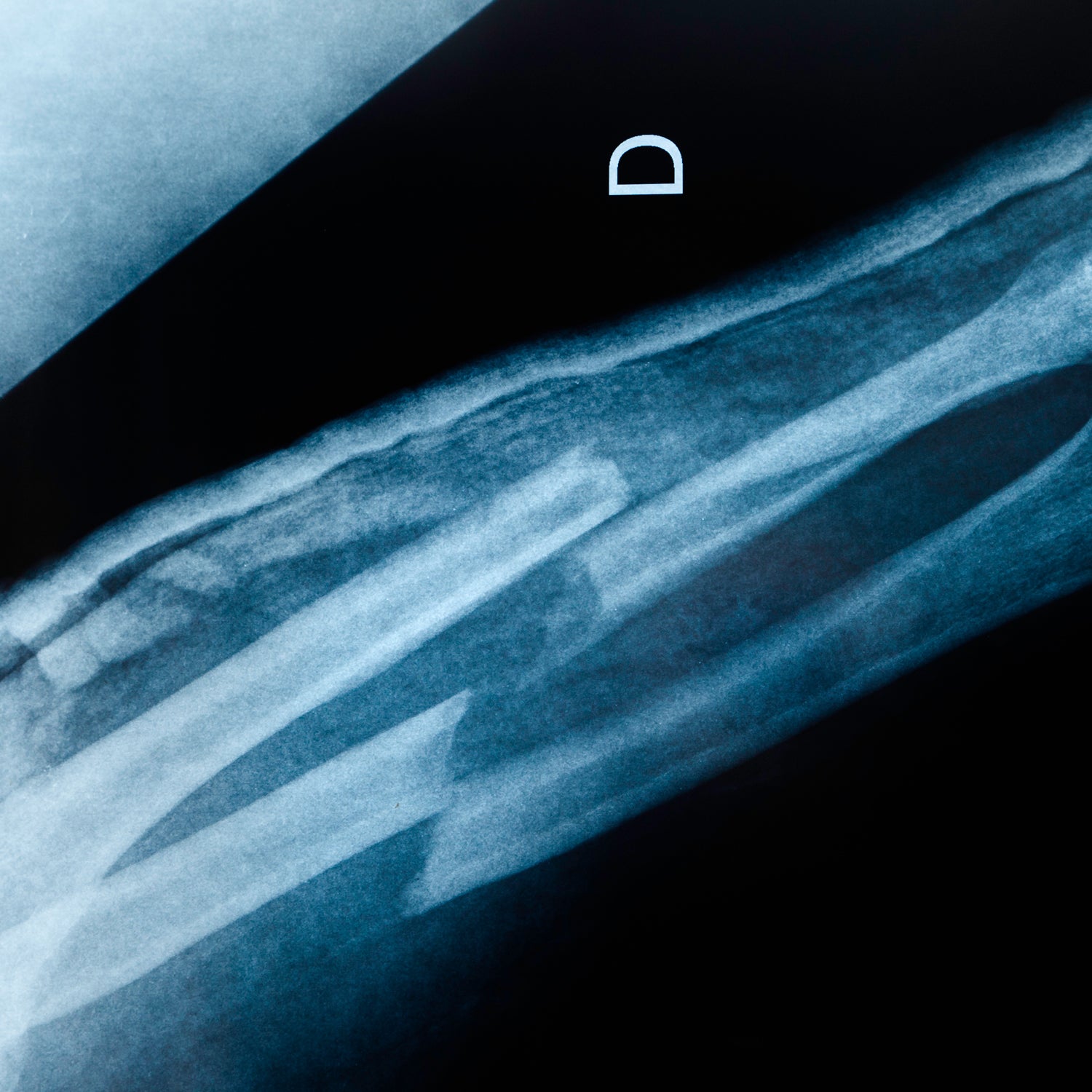 Getty/iStock
Heading out the door? Read this article on the new Outside+ app available now on iOS devices for members! Download the app.
Wildest Wreck
I was training for a mountain-bike race, going too fast downhill, when I hit a gopher hole, went over the handlebars, and crashed into a boulder at 40 miles per hour. My left shoulder was crushed; the collarbone was shoved straight through my back.
Most Painful Stomach Ache
I've blown out my belly three times carrying heavy packs. After several hernia operations, I now have a stomach lined with large swatches of bulletproof nylon mesh.
Big Break
I shattered my leg while telemarking the steep and deep in Utah—but who hasn't?
Even Bigger Break
I was climbing near Taos, New Mexico, and fell more than 20 feet into some boulders because of a belaying accident. My left hand hit first and was nearly snapped off at the wrist. It took several surgeries to reattach it, followed by two years of rehab.
Nastiest Itch
While tracking lowland gorillas in the Congo, I got 30 ticks on my butt. I had to remove them with a mirror and a pocketknife.
Meanest Microbe
We were in Siberia, two weeks from a hospital, when a staph infection raged through my entire body. After ten days I had severe sepsis, my legs so bloated that skin folded over my ankles. When I finally reached a hospital, a Russian doctor told me I had about 12 hours to live. I was wheeled in front of giant electromagnetic cones and saved by repeated high doses of radiation.
Second-Wildest Wreck
I fractured my skull hit­-ting the pavement while cycling across South Africa, no helmet.
Grossest Grooming
I got my worst shave ever in Cambodia, from an old blind man with foot-long whiskers who used a rusty straight razor, dipping it into a tin of bloody water.
Worst Massage
In northern Yunnan, China, a masseuse believed that slapping my back as hard as she possibly could for an hour was what I wanted.
Most Devastating Loss
I was ice climbing out-side Cody, Wyoming, with my friend Keith Spencer. I was huddled inside an ice cave high on the route's face, belaying Keith up the pillar, when the entire mountainside avalanched. He was killed instantly—it was like he was hit by a locomotive. There's no reason I lived and he died. I later learned that the avalanche may have been caused by a small earthquake centered in western Yellowstone.
Trending on Outside Online