Special Report: The Keyhole Seven
When a group of canyoneering beginners were swept away in a flash flood last September, it was the worst disaster in Zion's 97-year history. And it illustrates a growing question: How far should national parks go to keep their visitors safe?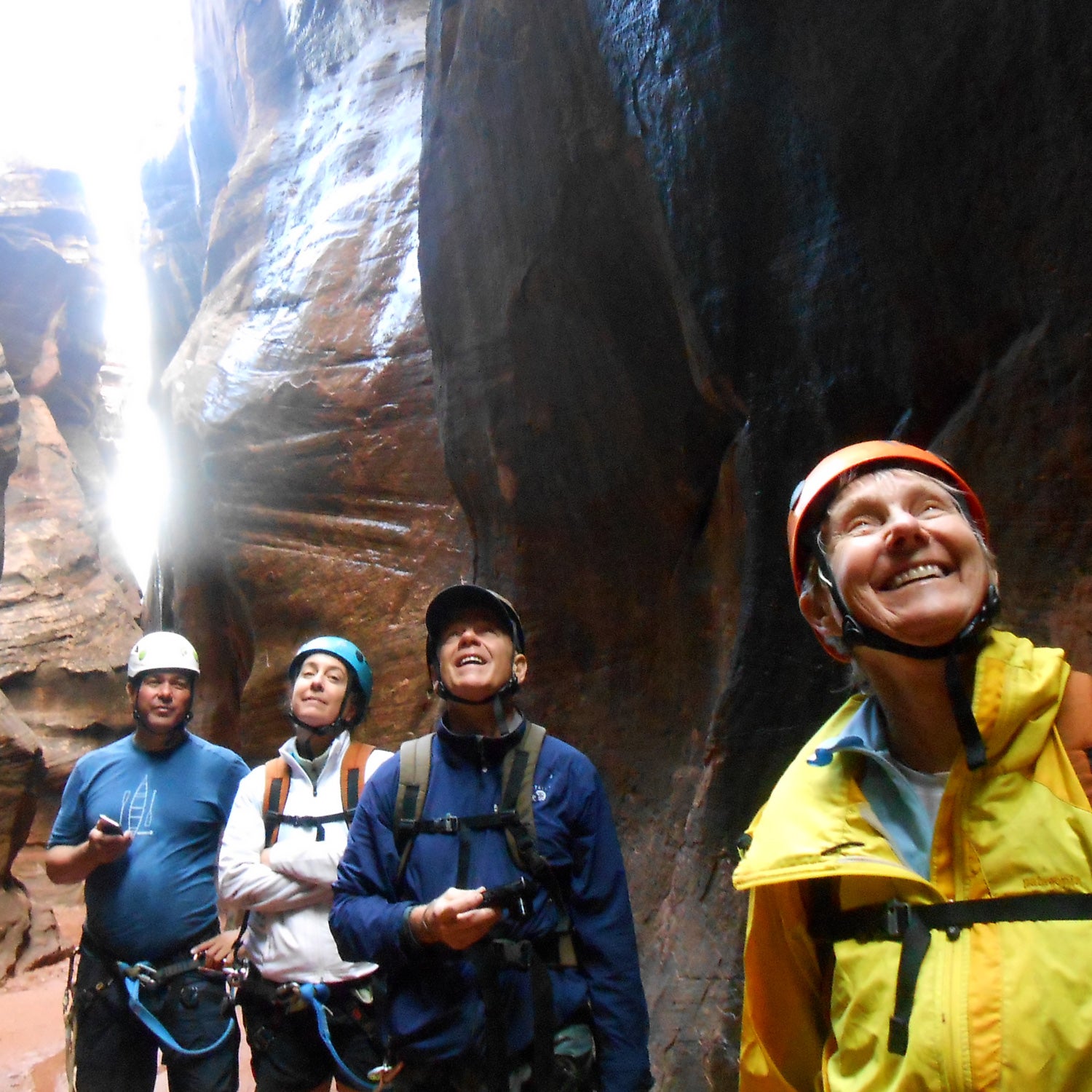 Courtesy of Bobby Arthur
Heading out the door? Read this article on the new Outside+ app available now on iOS devices for members! Download the app.
The ghost rope snaked over the lip of Keyhole Canyon's third and final rappel. At first, Kaden Anderson thought it meant that there was a group ahead of his party, but when he called down no one answered. It was about three on the afternoon of Tuesday, September 15, and Anderson, a 25-year-old off-duty canyoneering guide with nearby Zion Ponderosa Ranch Resort, was leading two friends, India and Jay Piacitelli, ages 20 and 26, respectively, on an outing. The couple had gotten married two days earlier, overlooking the Grand Canyon's Horseshoe Bend, and they decided to honeymoon their way home through Utah's national parks.
The Piacitellis didn't have any canyoneering experience, which is generally fine on this route. Zion National Park, with its towering Navajo-sandstone walls and plunging network of gorges carved by the Virgin River, is the American ground zero for the sport, and Keyhole is considered an ideal introduction. Five minutes off the park's Zion–Mount Carmel Highway, the slot canyon is only 1,200 feet long and requires just three 30-foot rappels and a bit of scrambling and swimming through the cold pools that collect year-round beneath its smooth, narrow walls. The waterway at the bottom, a tributary of Clear Creek, was trickling from the previous day's rain. Anderson chose Keyhole rather than one of Zion's longer canyons because the day's forecast called for more weather. Keyhole drains a very small area, only a couple of square miles, and can be completed quickly if there's trouble.
The trio waited, but the rope never moved. Peering over the edge, they could make out something submerged in the small pool below. "When we saw the leg sticking out," says India, "we didn't know what it was and joked about it."
"We probably sat there for ten or fifteen minutes," says Anderson. "Then I said, 'I'm going to run down and see what's going on.' "
The rope descended 30 feet, terminating in a mess in the muddy pool. A shoe was tangled up in the line. Anderson grabbed it, only to find that it was attached to a person floating in the murky water. Checking for life, he flipped the body over and saw a middle-aged male whose skin was cold and white.
"It was obvious that he was dead," says Anderson. "I yelled back up at my friends, 'There's a body down here!' "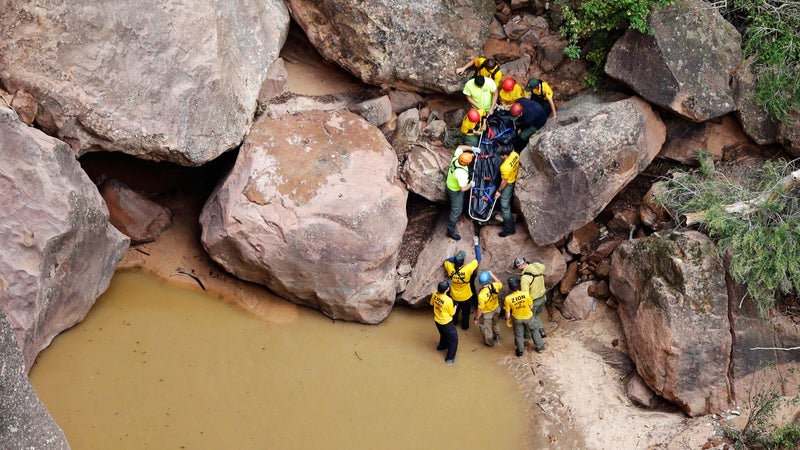 ---
Zion's rangers already knew there was trouble. Southern Utah was at the tail end of what had turned out to be an erratic monsoon season, and a powerful thunderstorm had swept through the park the previous day, dropping over half an inch of rain in under an hour. The Park Service had received a report that a group of seven canyoneers, members of Southern California's Valencia Hiking Crew, had been in Keyhole the previous afternoon when the storm hit and hadn't returned to their cars. The canyon was supposed to be closed today. But there were no signs to that effect, and Anderson says he was issued a permit for his group at the visitor center's backcountry desk just after noon.
Earlier that day, in fact, rangers on a hasty search below Keyhole had found another body—that of Steve Arthur, 58, a traffic supervisor with the Ventura County Sheriff's Department—roughly a mile downstream in Clear Creek. As the creekbed returned to its normal dry state, more victims turned up in the area and beyond, and by Thursday evening the bodies of all seven of the lost canyoneers would be found: the other Californians were Don Teichner, the group's leader, a 55-year-old who was semiretired from managing his family's garment-dyeing facility in Los Angeles; 59-year-old Muku Reynolds, a special-education aide from Chino; 53-year-old Robin Brum, a hair-stylist from Camarillo; Mark Mac-Kenzie, 56, a system operator for Burbank Water and Power; and Gary Favela—the man Anderson and the Piacitellis discovered—a 51-year-old sales rep from Rancho Cucamonga. The final victim, Steve Arthur's wife, Linda, had traveled the farthest: five miles downstream, through the Clear Creek drainage into Pine Creek Canyon.
"It's been a long, rough week for people," a visibly exhausted Therese Picard told me a few days later in her office at the park's ranger station. As Zion's top law-enforcement official on duty at the time of the accident, Picard was the incident commander for the recovery effort. A half-hour into our meeting, her radio chirped to life: "Ten minutes out—we need the ambulance at Riverside Walk." A hiker had broken a leg in the park's Virgin River Narrows.
"I've got to go get the ambulance," said Picard, excusing herself. The call seemed routine, but from Picard I took it that the events of September 14 were something altogether different. Keyhole left the park's rangers badly shaken. It left the families of the dead wondering whether their loved ones had somehow been reckless or misinformed. And it left veteran canyoneers speculating about just how this kind of thing could have happened.
---
What occurred that day was widely reported but poorly understood. The most innocuous slot in Zion had produced the worst canyoneering disaster in American history and the worst accident of any kind in Zion's 97 years. In the aftermath, many news outlets seemed to confuse hiking with canyoneering, or at least to use the two words interchangeably. The seven people who died in Keyhole Canyon were experienced hikers. Most of them were not, however, technical canyoneers, well versed in rappelling techniques. Only Mark MacKenzie, the Burbank utility engineer, had extensive canyoneering experience.
The Valencia Hiking Crew had organized on Meetup, which may give the false impression of a bunch of strangers getting together for the first time. "The VHC is super active," says Don Teichner's widow, Karen Adams. Teichner took over the club in 2010 with 300 members and grew it to more than 1,000. At its core were a close-knit group of a dozen or so who traveled the world together, trekking in places like Machu Picchu and Kilimanjaro. Of the seven who came to Zion, six were in this inner circle. The seventh, Robin Brum, was invited by her friend Linda Arthur.
At 7:30 a.m. that Monday, six of the seven VHC members enrolled in an introductory course called Keyhole/Subway Ground School at the Zion Adventure Company (ZAC), in the nearby community of Springdale, where a throng of outfitters have sprung up to offer training and rent gear. The half-day class, taught that morning in a canyon near Zion by instructors Laura Dahl and B. J. Cassell, covers rappelling skills and emphasizes hazards like flash floods.
Neither Dahl nor ZAC owner Rick Praetzel would comment, citing advice from a lawyer. But Tom Jones, a former ZAC guide and author of Zion: Canyoneering, vouches for both guides. "B.J. is as solid as you can get," Jones says, and Dahl has a good reputation. What we do know of that morning is that it was raining lightly, with forecasters predicting a 40 percent chance of heavy thunderstorms. Linda Arthur had made the class reservation a month earlier. "There is always the possibility that flash flooding will close the canyon," she wrote in an August e-mail to the group, "but we will keep our fingers crossed that will not happen."
Meanwhile, MacKenzie went to pick up a permit for Keyhole. This quick progression from ground school to self-guided canyoneering has played out thousands of times here with relatively few incidents. Previously, there had been only two canyoneering deaths in Zion in the past decade, one from a fall and the other from a rappelling mistake. Broken legs and exhaustion while hiking are more common, but canyoneering is gaining in popularity, in part due to the rise of photo sharing on social media.
The rope descended 30 feet, terminating in a mess in the muddy pool. A shoe was tangled up in the line. Anderson grabbed it only to find that it was attached to a person.
"The Internet makes the visuals very available to people," says Jones. The 59-year-old former rock climber lives in Mount Carmel, east of the park, where he operates Imlay Canyon Gear. Every surface of his home and garage is covered in equipment, much of it stitched using the industrial sewing machine he took with him from his previous job designing climbing gear for Salt Lake City–based Black Diamond Equipment.
"We like to say that canyoneering isn't an extreme sport unless you're not very smart about it," says Jones. "In a way, it's more dangerous than rock climbing, because once you start into a canyon you're committed to coming out the bottom, whereas in rock climbing you have to have some competency to get up high enough to get into trouble."
But canyoneering's complicated ropework, chilly swims, and infrequent glimpses of the sky actually make it more similar to spelunking. Canyoneers don wetsuits and harnesses and sometimes even headlamps as they hike, rappel, and swim their way through tight spaces. As the sport spawned its own distinct culture in the 1980s, practitioners began to machine rappelling devices, called racks, that allowed for smoother, more controlled descents. They developed special sandbag anchors that could be reused rather than left in the canyon. These innovations led to the pinnacle of the modern canyoneering ethic, called ghosting. 
"The idea is that you do the canyon and you don't leave anything behind," says Jones. It's based on the notion that unexplored canyons are a scarce resource, and removing all ropes and anchors allows subsequent parties to experience them as a mystery to be solved. It's even considered questionable to post route details on social media.
One thing that surprised me about the Keyhole disaster was that cautious beginners would be out there on their own. Like most people, I had no idea that Zion doesn't allow any technical guiding inside its boundaries. (Guides like Anderson lead groups in the red-rock country outside the park.) The reason, as with many park regulations, primarily comes down to tradition. No guides were working these canyons in 1919 when Zion was officially protected, so there was no lobby to argue for a concession. In 2007, when the park updated its wilderness management plan, the rangers determined that even though demand for guides existed—there were 3.6 million visitors in 2015, with roughly 60,000 of those obtaining backcountry permits—the park had more than enough traffic without them. In a public-opinion poll, 82 percent of respondents voted against commercial guiding.
"Most of those canyons are full all the time with people who can take themselves through on their own," says Kezia Nielson, the park's planning and environmental-compliance specialist. "If we added guides, they would get some of the permits ordinary people take."
In some ways, the lack of guides elevates Zion from the industrial tourism that so many other parks have come to rely on. Many are so heavily handrailed that people tend to view them, falsely, as defanged amusement parks. At Zion, there are very few places where rangers will tell you not to do something for your own safety. If you want to climb the giant sandstone walls or descend the steep canyons, it's up to you to learn the skills and look out for yourself. People make their own decisions about risk and accept the consequences, which can be swift and severe.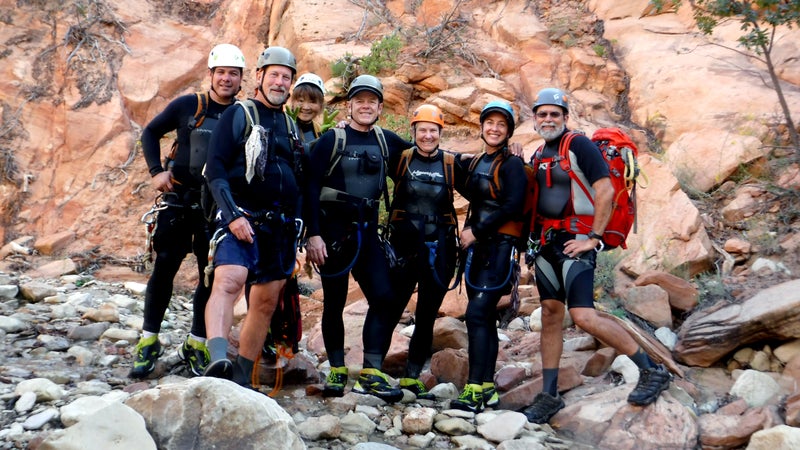 ---
Last June, the Park Service published its annual report detailing where people get into trouble within its jurisdiction. The parks that saw the highest numbers of incidents were neither the ones with the tallest peaks—Teton (60 rescues), Rainier (37), Denali (13)—nor the ones with the most visitors—Great Smoky Mountains (104), Yellowstone (37). Instead, if you drew a 140-mile circle around southern Utah and northern Arizona, you'd account for a quarter of the 2,508 search-and-rescue efforts performed by the Park Service across its 409 properties in 2014. The Grand Canyon leads the pack with 324 rescues, followed by Lake Mead National Recreation Area with 217. Zion, with 80, is number seven. Last summer the Salt Lake Tribune called the Grand Canyon, Lake Mead, and Zion the Park Service's "search and rescue triangle."
"The Grand Canyon is an easy one," says ranger Picard. "People start out walking downhill and can't make it back up." Lake Mead's dangers might be explained by alcohol, speedboats, and proximity to Las Vegas. But Zion is something of a mystery. "Visitorship went up 14 percent last year," says Picard. "But search-and-rescue missions are up 29 percent." Mostly those are hikers, but the fatalities, of which there were nine last year, including the Keyhole seven, all involved canyoneers. The numbers suggest that there's something deceptively benign about the desert's erratic mix of heat, cold, and dryness, interspersed with electrified downpours, that can catch people by surprise. And few natural phenomena are more dramatic than a flash flood. As little as a quarter-inch of rain funneling off the sandstone into a shoulder-width canyon can quickly produce deadly flows.
At Zion, there are very few places where rangers will tell you not to do something for your own safety. If you want to descend the steep canyons. It's up to you to learn the skills and look out for yourself.
Fatalities from flash floods are rare but unimaginably violent. In August 1997, a flood struck 12 tourists being led on a hike through the Navajo Nation's Antelope Canyon, a dramatic and much photographed slot near Page, Arizona. A thunderstorm, many miles upstream and not even visible to the hikers, produced an 11-foot wall of water that came out of nowhere, pushing a debris ball of flotsam at its head. The only survivor was the guide, 28-year-old Pancho Quintana, from Los Angeles–based TrekAmerica.
"He was all beat up," Ted Candelaria, the man who found Quintana hours later, told The New York Times. "All of his clothes were gone. The water was that strong. It had taken his shoes, his shorts, his shirt, everything. He was just stark naked—bruised and battered. It was horrific, just horrifying to see what it did to him."
What's remarkable about Zion is that there haven't been more flood drownings. Every day people head into the Virgin River Narrows and the Subway, two of the most popular all-day slot canyons, which routinely flash throughout the summer and fall. Warnings are posted everywhere, even on the backs of the shuttle buses. The best safety advice is: don't get caught in the first place. Once a canyon starts flashing, the only escape is to make it to high ground.
In the case of the Keyhole seven, the one thing that doesn't appear to have been a factor is indifference to risk. "My mom was very particular, very cautious," says the Arthurs' son Bobby, 37. Like his father, Bobby works for the Ventura County Sheriff's Department. To him the idea that this group would be caught by a flood makes no sense. "She would research every damn thing she could think of. That's what shocked us, you know, like, How the hell does this get past Mom, of all people?" But sometimes no amount of preparation accounts for how quickly the weather can change.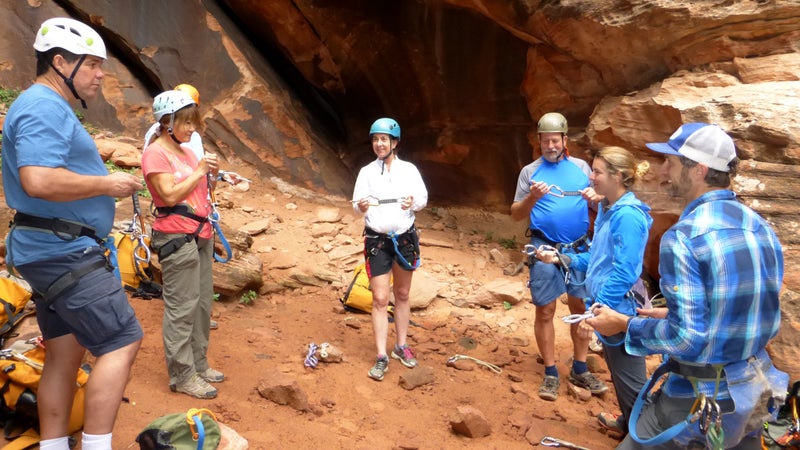 ---
After completing their rappelling course, the six friends rejoined Mark MacKenzie. They were well aware of the potential for flash floods. Just after noon, Teichner called his wife, Karen Adams, from the Watchman Campground, where the group were staying. The campground sits just at the edge of cell service within the park. 
"He was concerned about the weather," says Adams. "He was telling me about the class and how much fun it was. He was saying he'd love to show me how to do it. I said, 'As much as I love you, hon, I'm going to take my own class.' "
Teichner and Adams had recently moved to the retirement community of Mesquite, Nevada, an hour and a half down Interstate 15 from Zion, to be closer to red-rock country. On that day, Adams, still employed by a defense contractor, had stayed behind to work. The plan was for Steve, Linda, and Mark to stop over for dinner in Mesquite on the drive back to California the next night. The others would join them for brunch the following morning.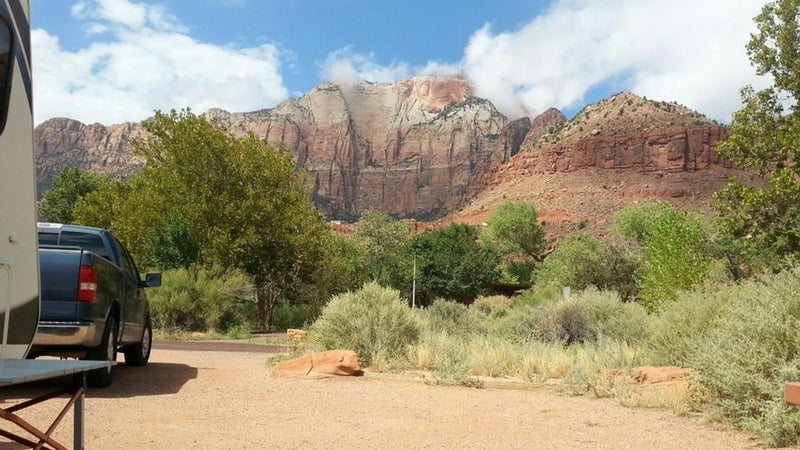 At 11:52 a.m., MacKenzie texted his son Ian from Watchman. "Eating lunch, this is my view. Maybe Keyhole this afternoon." He attached a photo that showed the park's iconic 3,000-foot walls with seemingly innocuous cumulus clouds wisping by. That March, MacKenzie had spent a week canyoneering in Zion with his other son, Ryan, completing Keyhole and a handful of additional slots, including Heaps, one of the park's longest and most difficult descents. MacKenzie then pulled up a Keyhole guidebook page on his phone, along with a NOAA weather report that listed Zion as dry. (His phone was later found in his truck with these pages still open.)
"They were watching it so closely," says the Arthurs' daughter, Allison Bottcher, 31, a nurse in Klamath Falls, Oregon. "When we went to my parents' trailer, my mom had the weather report written out."
At 1:30, the seven packed their gear into Teichner's and the Arthurs' pickup trucks and drove nine miles to the parking pullout for Keyhole. From the road, the sky is visible to the south and west, but the horizon is obscured by walls of white sandstone. What they were able to see probably represented the next half-hour's worth of weather. 
What they couldn't see was the towering anvil cloud that was just passing from southwest to northeast through Colorado City and Hildale, two fundamentalist Mormon towns 15 miles to the south. At 2:22, the National Weather Service issued a flash-flood warning for the entire region that would have triggered their phones had they been in cell range. That storm set the dry washes in Colorado City flowing but missed Zion entirely.
The next storm, however, was still moving in, also from the southwest, on a track that would take it over the two Mormon towns and into Zion. Unaware, the VHC group snacked in the parking lot, then headed up the slickrock sandstone, about a five-minute walk to the drop-in point for Keyhole.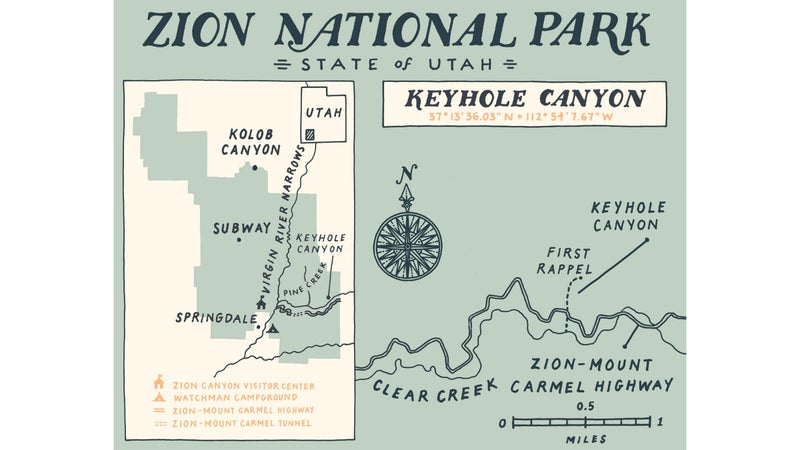 ---
Canyoneering guide Jim Clery had a difficult choice to make. He had taken his brother, Derek, and two brothers-in-law, Rob and Garrett, to Zion for the weekend from his home in Escalante, Utah. The four had descended Pine Creek on Saturday and Mystery Canyon on Sunday—two slightly more advanced routes—and hoped to complete Subway on Monday. But the forecast showed a 40 percent chance of storms.
"It was obvious to me that it was going to rain," says Clery, 42. "I think it was obvious to everybody. It was raining Monday morning—and the day before, when I picked up my Subway permit, they were advising me against it." The backcountry desk at Zion has a "shall issue" policy for permits, which means that unless there's an actual flash-flood warning in effect, it will give permits to those who want them, though the rangers may try to dissuade people from going. That policy—of warning visitors but not denying them access—is aimed at placing responsibility on the individual. Still, it didn't shield the Park Service from a suit stemming from a 1993 incident in Kolob Canyon, where two canyoneers on a church outing drowned in high water. Kolob begins outside the park but ends within it; after the incident, family members sued the government for $24.5 million, claiming that the party wasn't warned specifically about a dam release upstream from Kolob, and received a $2.3 million settlement.
One of Clery's brothers-in-law needed to head home, but the remaining three men decided that Keyhole would offer a reasonably safe alternative given the sketchy forecast. Usually, people set out at dawn for longer canyons, but Keyhole is canyoneering's equivalent of a lunchtime jog. "It's such a short canyon, with a small drainage, and we were a very small group with a couple days' experience under our belts," says Clery. "This certainly is not something I would have done on a guided trip with clients."
Steve Arthur's blue Toyota Tundra and Don Teichner's gray Ford F-150 were already parked at the pullout. Clery's group left their truck at 3:50 and hiked uphill to a series of hoodoos on a ridge, from which the entire slickrock drainage for Keyhole was visible. "It was blue skies," recalls Clery. Any flooding here would necessarily involve a storm directly overhead.
Clery figures that they started down the canyon at about 4:15 p.m. The upper portion is relatively flat, with only a couple hundred feet of light scrambling, and is where the Keyhole seven posed for a widely circulated photo. Soon afterward the slot opens up again—the last place where a party could decide to bail out—before the first rappel takes canyoneers down into the dark, narrow slot itself. When Clery reached the opening, the California group had just started down the first rappel.
"There was a lot of laughing and cheering, and they were having a great time," says Clery. Favela and MacKenzie were still at the top. "They saw us coming up, and they said hello—seemed pretty friendly," Clery continued. "Mark was the one that seemed like the leader. He seemed a little more worn. I've gotten pretty good at sizing people up, taking people out on tours and courses. He looked like he had his own stuff. I saw that Gary had rental shoes. I was trying to figure out their experience level. It seemed like they'd taken a course and had some rental gear. Honestly, I didn't want to be behind a group that big in that canyon on a day like that, and it's kind of common courtesy in Zion to let smaller, quicker groups pass. So I asked, 'Do you mind if we play through?' "
MacKenzie told him that would be fine. At that point, they all could have still exited the canyon. But there was no sign of danger; they could see a sliver of sky, and it was blue. Before Clery's group moved past, most of the VHC group had completed the first rappel. Favela was next, but he'd inadvertently set up his rope for a left-handed descent.
MacKenzie helped him fix it. Clery noticed that the VHC was using a technique called toss-and-go, the basic rappel in which the entire rope is looped through a carabiner, allowing people to descend on the doubled strand. It's simple and safe but slower than the single-strand biner-block method Clery's party was using, since it requires the entire bag of rope to be unfurled and repacked at each rappel. 
Clery slid down the rope in a smooth motion and unclipped. He ran ahead and set up his rope at the second rappel and then ran back to see Favela descending. While the VHC members repacked their rope, Clery's party went ahead. That was the last contact the two groups had.
---
Fifteen miles south, in Hildale, two Mormon families, the Jessops and Blacks, stopped their Chevy Suburban and Dodge Sprinter van on Canyon Street to wait for a flooded arroyo crossing to subside. Then, at 4:25, another storm passed over the area, dropping 1.5 inches of rain in a little under half an hour. The runoff quickly intensified. The floodwaters swept wide around the backs of the vehicles.
Across the street, Virginia Black was upstairs in her home filming the deluge as the cars were swept over a newly created waterfall. In the video, which was posted online, you can hear her crying out as they disappear. Thirteen passengers, most of them children, drowned. The area had seen two hundred-year flood events in one afternoon.
Twenty minutes later, at 4:46, the storm reached Zion. Deep in Keyhole, the canyoneers still had no idea that a flash-flood warning had been issued. At the third rappel everything changed. A clear, close thunderclap peeled down the canyon walls. "I got my brother-in-law Rob off the rope and I told him, 'Just go,' " says Clery.
Rob took off downstream, swimming through a six-foot-deep, shoulder-width hallway. "They knew once we got through the three rappels we had five minutes of canyon and we're out," says Clery. "Once I heard that thunder I stopped looking up, because I knew I was going to go as fast as we could."
Clery understood that the seven people above his group might save a few minutes if he left his rope up for them. But he'd used the single-strand biner-block technique, and he remembered that the VHC group was using a double-strand.
"I was afraid that it would confuse them and maybe slow them down, so I pulled my rope and started moving downcanyon," Clery says. Clery's brother and brother-in-law had stopped at a six-foot downclimb because it had gotten too dark to see. About halfway between the third rappel and the exit, it began to rain. There was no front edge to the storm. It switched on like a firehose.
"It came down hard—rain, hail," says Clery. "That's as fast as I've ever seen it change, with as little warning as I've ever seen."
The flood raced over the bare sandstone as though it was skimming across a parking lot. Waterfalls of runoff began pouring in. They had 50 yards to go. Gradually, the walls of the canyon backed off enough that they could climb up and out of the stagnant pools, which were stirring to life and beginning to flow. It had been raining for five minutes.
By the time they reached the road the water was at least waist deep, racing through the ten-foot-wide culvert that carried it under the road and into Clear Creek, a flow of several hundred cubic feet per second. "There's this adrenaline rush coming through that we just made it," says Clery. It was 4:45.
At that point, they realized there was no way the group above them could have escaped. "Pretty much right away we started thinking about them. My brother-in-law was asking, 'What about those other people?' And I just knew they were… I think I said, 'They're screwed.' "
The men climbed into their truck and drove to the nearest ranger kiosk, a mile to the west at the entrance to the Zion–Mount Carmel Tunnel. The ranger on duty tried the radio to relay their report, but the frequency was jammed with traffic. The roads were covered in mud, and small landslides were coming down from the mountains.
They continued on toward Springdale and encountered a second ranger at a series of steep switchbacks just after the tunnel.
"I rolled down my window and let him know that there were seven people in Keyhole," says Clery. "He kind of nodded, seemed to confirm what I was saying, but didn't seem real interested in having me stop." So they kept going down to the entrance station, where a ranger finally took Clery's information. "I told him there's seven people in Keyhole, I was pretty sure they were still in there, and that Keyhole is flooding."
---
From the Park Service's point of view, all hell had just broken loose. "We were out on the road trying to clear mudslides and get the public through when we first got flagged down," says Picard. "We were having flooding, mudslides, rock falls, trees coming down. We closed the scenic drive to upbound traffic and just tried to get everybody that was up there on a bus and out." On that day in September, the park would have had more than 10,000 visitors.
The rain let up just after 5 p.m. On Monday evening, three hours after the VHC group had set out, a ranger left a note on one of the truck windows asking them to check in. At 7 a.m. on Tuesday, the rangers began their search. "We had two hasty teams. One was going above Keyhole," says Picard. "We closed the canyon to permits."
The Park Service has no record of a permit issued to Kaden Anderson and his friends; it said that rescuers hadn't checked Keyhole for the missing canyoneers because water levels were still too high. But at about 1:30, Steve Arthur's body was found in Clear Creek, downstream of the highway.
Allison Bottcher was home with two sick kids that morning when her older brother, Bobby Arthur, called. A ranger from Zion had contacted him, saying that some hikers had gone missing and they were trying to account for everyone. "My brother, being the detective that he is, knew that there was a little bit more to it," says Bottcher. "Then we started hearing the news reports."
"That's when I started asking a lot of questions and learned that this actually happened the day before," says Bobby. He flew to St. George, Utah, that evening, where he met Karen Adams, who'd been shopping for food to cook dinner for the VHC group. They immediately went to the campground. Steve and Linda's wet clothes from their rappelling class were still hanging where they'd been left to dry.
"I slept in their trailer," says Bobby. "I kept thinking they were coming back. Every little thing I heard was them coming back."
On Wednesday morning, two days after the storm, the families got their first briefing when ranger Rayne Rohrback called at six. "He just goes, 'Look, we found some bodies,' " says Bobby.
By all accounts, the rangers went out of their way to keep the families informed. They couldn't provide official word as to who had been found until the bodies had been seen by a medical examiner in Salt Lake City, but they made it clear that the situation didn't look hopeful. By Thursday, only Linda Arthur's body was still missing. "I think the hardest part for my family was that they found my dad first and my mom last," says Bobby. "That was just brutal." The Arthurs had been married for 37 years; they'd met right out of high school at the Topanga Mall. "Mom worked at Orange Julius and Dad worked at Florsheim," says Allison. Both Bobby and Allison are convinced that, when the flood hit, their father would have told their mother to go as fast as she could and then stay behind to help. "My dad being the person that he is, I'm sure he told everybody to get out," says Allison. "He would stay with Gary, help him down the last rappel."
Two deputies from Ventura County drove out to Zion to escort the Arthurs' bodies all the way home to Camarillo. The pair were placed in the same casket, and deputies from sheriff's departments along I-15 took turns escorting the black SUV that carried them.
"There has to be something good that comes out of this," says Allison. She'd like for there to be a way for people to get weather info even when they're out of cell and radio range in the steep canyons.
Meanwhile, Favela's family has filed a claim for damages against the Park Service, alleging that it should have had a way to alert the victims that a flood was coming. "If they'd had warning sirens, they would have gotten out," their lawyer, Pasadena personal-injury attorney Ronda Baldwin-Kennedy, told me. Other victims' relatives found the suit distasteful. "I'd never sue the Park Service," says Adams, Teichner's widow. "They knew the risks when they went out there."
In January, ranger Rohrback, who attended the Arthurs' memorial service in Camarillo, completed a 27-page report on the incident. But because of the pending lawsuit, the Park Service denied a Freedom of Information Act request to make it public.
As of mid-March, the Park Service hadn't decided to make any policy changes as a result of the tragedy.
---
Up at Keyhole Canyon two days after Linda Arthur's body was found, a herd of bighorn sheep was grazing between the junipers and manzanitas that hold fast to the slickrock and block enough of the wind to allow some sandy topsoil to accumulate. Ponderosa pines, some as tall as 50 feet, have eked out a living, seeming to grow directly from the rock. The canyon itself appears as an unremarkable crease in the earth. It gives no inkling of the horror that unfolded within its walls. As the water rose, the canyoneers may have been able to hold onto rocks briefly before being swept over drops, dashed against boulders, and drowned in the recirculating hydraulics that had formed in place of the short downclimbs below the last rappel. They had no chance of survival.
Standing there at the drop-in point, it's amazing just how short the distance appears between the canyoneers and where they need to travel to reach safety. You could almost throw a rock and hit the road. One by one the sheep hopped over the canyon and continued up the hillside.
Senior editor Grayson Schaffer (@graysonschaffer) wrote about Instagram in November.