What Happened When a Wolf Attacked a Family in Banff
This is what nightmares are made of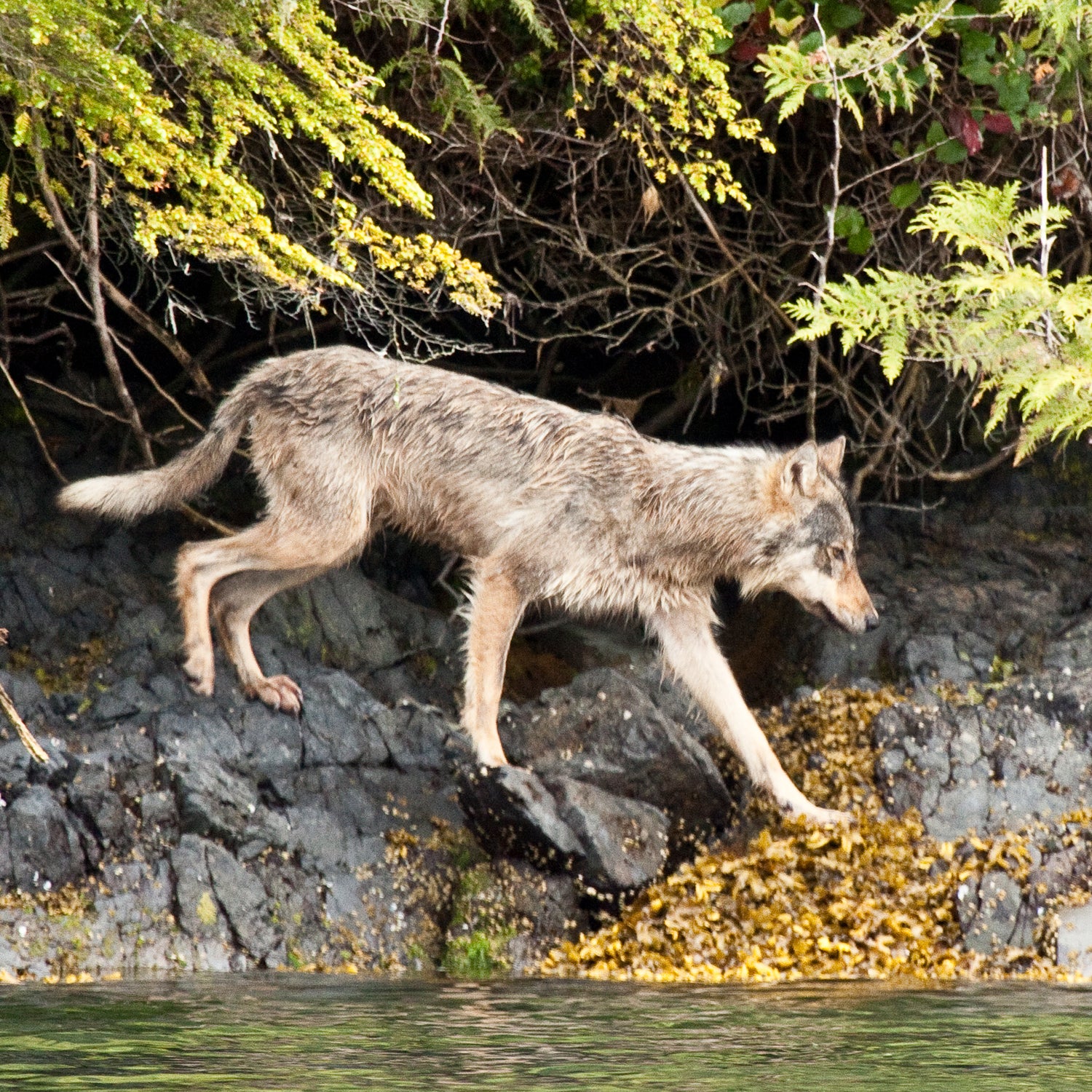 David Moskowitz/Tandem(Photo)
Heading out the door? Read this article on the new Outside+ app available now on iOS devices for members! Download the app.
On August 8, New Jersey residents Matthew and Elisa Rispoli were six days into their Canadian vacation with their sons when they pulled into the Rampart Creek Campground in Banff National Park. They saw a black bear on the main road, and the ranger checking them in told them grizzlies had recently been spotted near the river, so the Rispolis kept a can of bear spray nearby and were careful not to leave food out as they set up their tent that night. 
Ten minutes after the couple and their two boys, Holden, 7, and Reid, 5, went to bed, the tent shook. "It felt like somebody had thrown something onto the tent, like a very large acorn or pine cone," said Elisa. When the tent moved again, she screamed and woke up Matt.
Matt sat up out of a dead sleep and started yelling. "I thought it was a bear, so I was trying to let it know that I'm a human," he said. "A lot of them are afraid of human voices." He tried to punch the animal in the nose as it pressed against the tent wall. That's when the wolf snapped down on his hand.
"All I remember was focusing on the crushing sensation. It was like nothing I've ever felt before," he said. After that, the wolf pulled back and ripped the rain fly off the tent. Matt stared back at it. "I saw its face and the majority of its body. It was only about four feet away."
The wolf was quick to attack and allowed him no reaction time between strikes. "It snapped right away," said Matt. "I turned back to face it, and it bit my hand. That's when it settled that this was 100 percent real."
Matt works as a police officer in New Jersey, and his training kicked in immediately. "We've learned in law enforcement that if you control the head of a dog, then you're controlling the dangerous area. So I had its jaw. I didn't want it to let go of me and keep biting me," he said.
Meanwhile, Elisa was lying on top of the boys, trying to protect them. Suddenly, she felt Matt's body being dragged out of the tent by the wolf. She grabbed for Matt's legs, but he was gone. "In my head, I thought that wolf had him and that was it," said Elisa.
Outside, however, Matt was still fighting. When the wolf released its grip on his hand, he turned around to see Russ Fee, a neighbor camper, standing nearby with a lantern and yelling, "Get back!" The two began hurling large rocks at the wolf, and it retreated.
Matt yelled for Elisa to get the kids into the car, but the tent was completely flattened and the keys were nowhere to be found, so she and the boys ran to the next campsite and jumped into Fee's minivan.
Fee drove the family to a hotel 15 minutes away as Matt wrapped his bleeding arms in a towel. There, the family waited for police officers, EMTs, and park officials.
According to a park press release, DNA testing showed that the wolf involved in the incident was the same animal killed by Parks Canada shortly after the attack: "Veterinary tests have confirmed that the wolf was in poor condition and likely nearing the end of its natural life span. The wolf's condition was likely a contributing factor for its unusual behavior, and this remains a very rare incident."
Parks Canada also confirmed that no food or other attractants were found in or near the Rispolis' campsite.
Matt sustained bites on his right hand, right arm, left arm, and the back of his right triceps and biceps. Because it was an older wolf, its teeth were rounded, and the EMTs later told him that was probably why his injuries weren't as bad as they might have been. "I'm not going to complain that it was an old wolf," Matt said. "If I have to be attacked by a wolf, I'd rather him gum me, if possible."
Now home in New Jersey, the Rispolis are trying to settle back into normal life. "My injuries, in the grand scheme, weren't anything crazy," said Matt. "It was really the emotional side that was hard."
In a recent Facebook post, Matt reported, "The wolf didn't have rabies, just a taste for fine meats."
Lead Photo: David Moskowitz/Tandem