Corsica
Getting tipsy every night and gaining weight every day: This is how you backpack in Corsica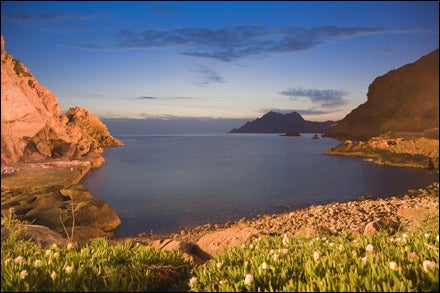 Heading out the door? Read this article on the new Outside+ app available now on iOS devices for members! Download the app.
CORSICA IS A RARITY, an oddity, its language as endangered as its Corsican red deer. It's been invaded and owned by nearly everyone, including Greeks, Arabs, Romans, Brits, Pisans, Genoese, and the French. It was independent for only 14 years, before being reclaimed by France in 1769, right before Napoleon was born there, which perhaps explains why the little tyrant was so pissed off. If you buy a house here now, the Corsicans may blow it up, as certain separatist groups have done in the past, just to show you how pleased they are about foreigners coming in. Their towns are in the mountains because they kept losing the ones by the sea.
But if you come only to hike, you've found the best-kept secret (from Americans anyway) in the Mediterranean, its most mountainous island, crisscrossed by trails that offer medieval stone villages set against pinnacles and chestnut groves. This is the Mediterranean I dream of, a summer island too fantastical to be real. How can that perfect white stone village exist right there, perched on that mountain?
People have been hiking here since the last ice age, almost 10,000 years ago. Today, the GR20 is the most famous trail, running the length of the island north to south for more than 100 miles. I opted for the 60-mile Mare a Mare Sud, a five- or six-day hike across the southern part of the island, and my thoughts were primarily on food.
My wife, Nancy, and I started in Porto-Vecchio, a medieval walled town on the southeast coast. It was the middle of June, perfect sunny skies. We'd bought new ultralight packs and felt very flashy, except, like a total rube, I'd weighed mine down with a laptop. On day one, this brought me almost to fisticuffs with a café owner because I focused more on my computer than on his food. We quickly made up and soon he poured us glasses of his own myrt, a local liqueur made from purple myrtle flowers gathered high on the mountain. It was the most intense histamine shock I've ever had, like breathing in all the pollen in the world, but I loved it. Nancy loved it, too, so the owner gave us a bottle for our hike, more glasses were poured, and it was a rollicking night. They may blow up your house, but Corsicans will also smother you in love.
We set off the next morning late and straight up a 3,000-foot mountain, carrying our bottle of myrt. So much for ultralight. Views of the sea going light blue into white sand, an open trail with white rock and evergreen forest. That odd Mediterranean feeling of remote physical beauty and the center of culture at the same time.
We stayed that night in our first gîte d'étape, a kind of bed-and-breakfast set up for backpackers (recommendations at cor­sica.forhikers.com/mare-mare-sud; from $50), in the mountain village of Cartala­vonu. We ordered Aubergines de Madame Monti, an eggplant recipe that's been in the owner's family for at least 130 years. We had brought our tent and bags, but this was an error. It's not legal to camp anywhere along the trail, and campsites for tents are few and far between. Who would want to miss the gîtes and the meals anyway? The Europeans we met already knew these secrets. We had the largest packs on the trail.
The next day was a long, tough hike to Carbini, a tiny town on a hilltop with spectacular views, but that was only the first leg. Our afternoon leg was to Levie, which would've been an easy traverse along the hillside if you followed the road. But our trail dove straight down into a ravine, then straight back up. I consoled myself with thoughts of the Giovannali brotherhood back in Carbini, who had it worse. Building a lovely white stone church and bell tower and calling themselves "the Johns," they flipped the bird at the Pope, so he persecuted them. An early chapter in Corsican rebellion, the most recent being the design of these trails. You can almost hear the laughter from the towns.
The trail offered several more days of truly amazing calf burners, but we found consolation on day four at Le Ranch, in Sorbollano, a small bed-and-breakfast run by a French hottie who likes horses. Here we had our best meal of the vacation, prepared by her mother—duck, in the lightest gravy, with stuffed courgettes (zucchini) and a fancy local dessert of cheese and strong liqueur fixed like whipped cream, with several fruit sauces and a small chestnut torte. At the end, salad with a special ritual for the small radishes, dipping each in a bit of salt, then devouring it with buttered bread. Wine throughout, of course. My first backpacking trip in which I was getting tipsy every night and gaining weight every day. My first backpacking trip, also, in which every day I saw a new medieval village, finding Zonza on day five as we traversed above cliffs or St. Lucie later that afternoon, clustered in tight rings on a hilltop below. When we arrived again at the shore, we continued traveling north along the west coast to Porto, with its red-rock cliffs and castle perched at the harbor entrance. We swam in the ancient sea and wondered how any of this was possible.
Turkey
Chill on an Undiscovered Beach.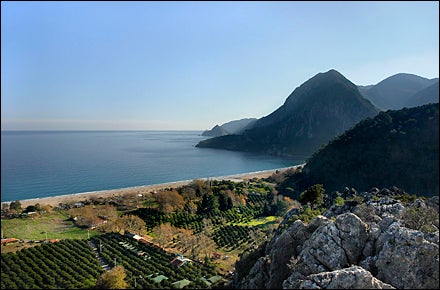 EVERY SO OFTEN, you stumble upon a place so beautiful you want to scream about it from rooftops and keep it a closely guarded secret. The Olympos Lodge, in the small village of Cirali, Turkey, which sits on one of the most gorgeous, uncrowded stretches of the Mediterranean, is such a place. Hop a flight south from Istanbul to Antalya, then take an hour-plus cab ride to Cirali and the Olympos Lodge (from $175; olymposlodge.com.tr) and its 13 simple guest bungalows. You won't be spending much time in your room—the lodge's lush garden, complete with resident ducks and peacocks, spills onto an expansive beach. Grab a sea-view garden chaise and spend your days swimming in the teal water and watching Turkish gulets sail by.
Want active culture? Stroll five minutes down the beach to the Olympus ruins, where the backpacking set crashes in nearby treehouses. Or hike the slopes of 8,343-foot Mount Olympus, where you can access the Lycian Way trail (lycianway.com), which hugs much of Turkey's coastline; on the hillside you'll find the Chimaera, a natural-gas flame that's guided sailors for thousands of years. But mostly just chill and savor outdoor meals of feta-stuffed peppers, manti (a ravioli-like dish packed with yogurt, lamb, mint, and lemon), and honey-drenched baklava. If you're lucky, your bungalow neighbors will be from Belgrade and share their homemade grappa.
Croatia
Road-Trip the Coastal Highway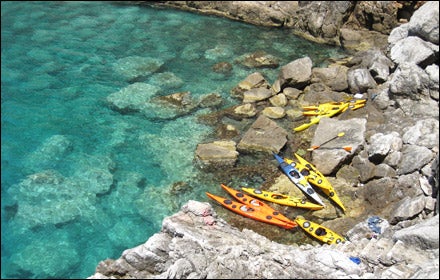 WITH ITS 1,185 ISLANDS along the Balkans' western edge, Croatia calls itself "the Mediterranean as it once was." Neither modernity nor tourism has drastically changed the place yet, so if you wish you'd seen Italy 50 years ago, rent some wheels in Zadar (from $40 per day; sixt.com) and motor down Dalmatia's Adriatic Coastal Road. The 200-mile, two-lane, cliff-hugging E65 to Dubrovnik is an embarrassment of gastro and adventure pit stops. You're immediately surrounded by five national parks, including Paklenica, where a scramble in canyons in the Velebit range is rewarded with smooth-pebble beachside campsites ($5; paklenica.hr). Further south on Peljesac Peninsula—wine country—visit the Milos Vineyard, in Ponikve village, where Frano, the owner, is as poetic as his wines are bold. You'll get a true taste of Croatia with salt-water-dripping-fresh oysters at Vila Koruna restaurant (Tito's fave), on a sheltered bay in Mali Ston. Cut the ignition at Dubrovnik's five-star Grand Villa Argentina (from $270; gva.hr) and get out on the water for a sunset kayak tour; Dalmatian wine, cheese, and olives on nearby Lokrum Island included ($47; adriatickayaktours.com).
Crete
Multisport in Mountainous Valleys.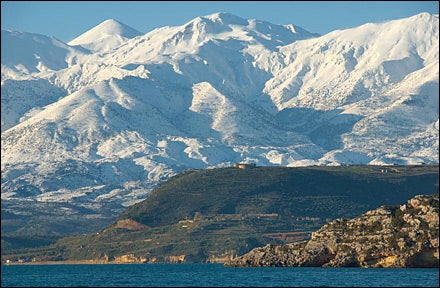 THE LARGEST of the Greek islands (at 3,200 square miles), Crete is in many ways the least "Greek isle" of all. Get yourself to the right parts and it's a vast and mountainous place echoing with history and demanding hardier travelers than those who hit the clubs on the coast. While the steep, deep, 11-mile-long Samaria Gorge—the Zion Narrows of the Med—remains the island's marquee adventure draw, it's the more serene, mountain-ringed Amári Valley, in the island's center, that hides a secret hiking gem.
In the Amári, stuccoed villages gleam in the spring sunshine. Crowds simply don't exist here, unless you count the sheep. Pilgrims and hikers share the thrill of scaling 8,058-foot Mount Psiloritis (a.k.a. Ida, the mythical home of Zeus), a nontechnical peak best descended, snowpack permitting, by glissade. Explore the Amári on your own, or check out KE Adventure Travel's eight-day Crete itinerary: a week-plus of sea kayaking, trekking, and plunging into the winding Samaria Gorge (from $1,165; keadventure.com).
Sicily
Bike Italy's Spiciest Island.
Sicily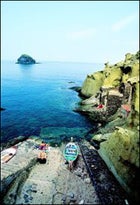 Sicily
IT'S ONLY DAY THREE of our 220-mile cycling trip through Sicily, but I already get Don Corleone's attachment to this island punted into the sea by mainland Italy.
No wonder the mythical Mafia boss was so protective of his turf: While honor killings and extortion are more than just legend in some parts of Sicily, today I'm living la dolce vita. The largest island in the Mediterranean sprouts wild oregano, smells of citrus, and harbors some of the world's most important Greek and Roman ruins.
The 75-degree autumn sun beats down on our 17-person Ciclismo Classico peloton—a crew of 35-to-65-year-old American cycling fanatics—as we head from the Baroque southeastern seaside city of Siracusa and eventually out to the Aeolian Islands (the La Bella Sicilia trip starts at $4,695; ciclismoclassico.com). Our two Italian guides, Enrico Pizzorni and Paolo Nicolosi, have titanium lungs, a vast knowledge of Italian history and culture (e.g., never drink cappuccino after 10 A.M.), and a serious sense of humor.
"It's very hard to get in a fight with a Sicilian," rants Pizzorni, who is from Piedmont, as he and Nicolosi, a native Sicilian, get into a wildly gesticulating standoff over trip logistics and bicker like brothers. "They're always trying to get around things."
At the moment, Nicolosi, who's known throughout the island as "the King of Sicily," is hammering up a steady climb in his sleek Acqua & Sapone riding kit, with no hands, while belting out Italian arias a cappella. We Americans, on the other hand, sport Arrogant Bastard Ale jerseys and bonk—at least I did—on the 60-mile ride to the hilltop city of Ragusa, the centuries-old hideout where crusaders rested on their way to conquering Jerusalem.
After we settle into the Locanda Don Serafino boutique hotel, the hippest (and only) rehabbed 19th-century mansion I've ever slept in, we step into the street, which is crowded with jugglers, fire eaters, clowns, and street musicians who've turned this World Heritage site into a five-night bacchanalia—the annual Ibla Busker, a raucous street fair where performance artists from all over Europe test their best conceptual work and everyone drinks too many Negronis.
At dinner, after we've sampled a few bottles of local Cerasuolo Avide-Barroco frappato, Pizzorni tells us how to catch an octopus. "My grandfather taught me," he says. "The trick is to turn his head inside out and bite it on the brain."
I'm skeptical but slightly preoccupied by the edible sculpture of eggplant ricotta that's just been placed in front of me.
We eventually eat and cycle our way to the seaside city of Taormina, where Richard Burton and Elizabeth Taylor used to hide from the paparazzi, and hike to the sulfuric crater of active Mount Etna. Then we hydrofoil north to Lipari, the hub of the Aeolian Islands and the backdrop for the film Il Postino. We've cycled more than 200 miles, drunk too much Sicilian pinot, chardonnay, and Nero d'Avola, and eaten pizza with crust as thick as my skull. I haven't bitten an octopus on the brain. I'm saving that old fishing trick to make my living after I move to Lipari.
France
Trek the Alpes-Maritimes.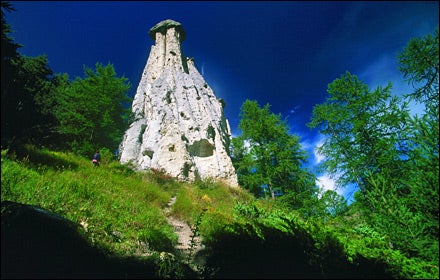 THE TOP REASON TO TREK the southeastern slice of France wedged between Provence and Italy? After a week or two of seven-hour hikes through cobblestone villages in the Alpes-Maritimes and across the Alps, you'll actually earn that Campari on ice when you reach the Côte d'Azur.
Set off in summer to ensure lodges are open and for the region's guaranteed sunshine. From Larche, the 120-mile route passes into Mercantour National Park and over the 8,763-foot Pas de la Cavale. By this time you'll have noticed the second reason to hike here: the abundance of chamois, marmots, and ibex prancing in the towering sandstone cliffs, and a dearth of fellow backpackers. No need for a tent or substantial food, because a gîte d'étape (about $40 per person; gites-de-france-alpes-maritimes.com) will be your home along the way. Ask back-slapping locals at dinners of mutton, handmade pasta, homegrown greens, fresh-fruit-filled pastries, and wine where all the tourists are and they'll tell you that most people only go to the Riviera.
Schedule a day for the Vallée des Merveilles, where 35,000 Bronze Age petroglyphs are strewn along the path and across red-rock monoliths guarded by glacial lakes. Two days later, when the Mediterranean finally comes into view, there's still the matter of a 3,400-foot descent separating you from Menton and the coast. Your tootsies will be moaning, but that's easily remedied by the bath-warm sea.
Sardinia
Climb Oceanside Crags.
ALONG WITH JAPAN'S Okinawans, the people of Sardinia boast one of the highest rates of centenarians in the world. The reason could be the scenery alone: The island's vivid sea is ringed with soft-sand beaches and pinnacles of pink and gray granite. Sport climbers flock to Cala Gonone, on the east coast, near the Gulf of Orosei, where some 800 ocean-view routes await (find more beta at climb-europe.com). Deeper in the interior, the Barbagia area ("Land of Barbarians") offers 1,000-foot-deep gorges and soaring limestone walls. Outside the town of Dorgali, monster routes like Hotel Supramonte—a 1,300-foot, 11-pitch 5.14a—draw some of the world's best big-wall experts. Bunk at the villa-like Su Gologone hotel (doubles from $250; sugologone.it), ideally located for exploring Barbagia's prehistoric ruins. But this is Italy, so save some time for eating. The restaurant at Su Gologone is beloved for its porceddu—tender roast suckling pig—washed down with a glass of local red. With fare this good, life seems too short indeed.