Yes, Hiking Trails Are More Crowded than Ever
Public lands have become more trodden and restrictive, but the pandemic-era craziness might not last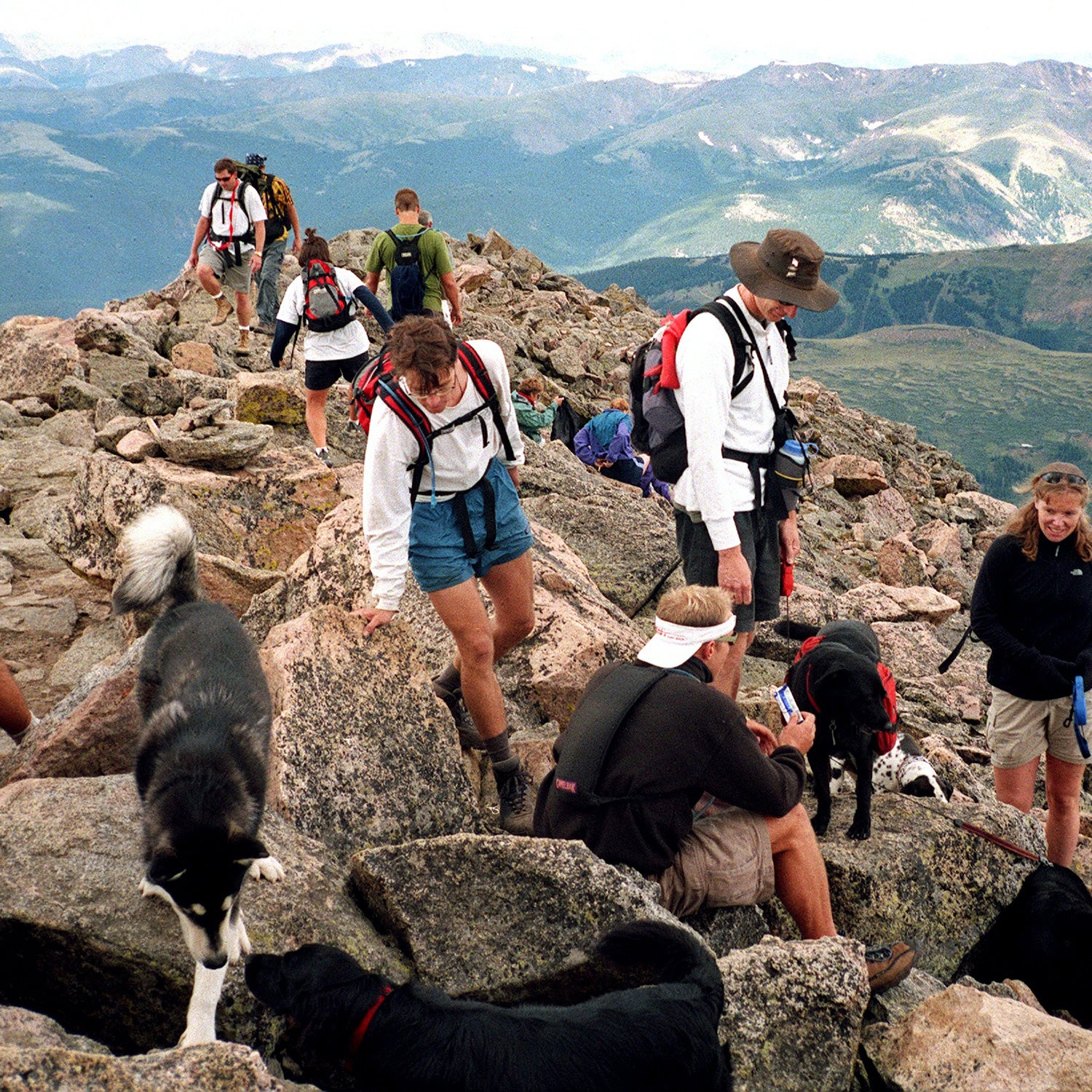 Heading out the door? Read this article on the new Outside+ app available now on iOS devices for members! Download the app.
In 2013, I hiked to one of the most beautiful places in the world: a glowing turquoise lake cradled by alpine tundra and framed by 13,000-foot peaks. It was a clear fall day, and I didn't see another person on the entire 3.5-mile Ice Lakes Trail, in southwest Colorado.
I was so enchanted that I returned the following year, and the year after, and every year after that. Each time I saw more and more people as I huffed up the steep switchbacks to Ice Lake, one of two high-altitude lakes accessed by the trail. By 2019, 125 to 250 hikers a day were tackling the trek on busy weekends. A year later, even that figure seemed low. As hiking emerged as one of the few safe activities during the COVID-19 pandemic, 400 to 600 people a day came to the Ice Lakes Trailhead—every day of the week, all season long.
"The sheer amount of use… was astonishing," Jed Botsford, a Forest Service recreation manager, told the Denver Post.
Trails around the country have experienced similar trajectories. Some national parks saw visitation nearly double from 2019 to 2020. According to a study commissioned by the Outdoor Industry Association (OIA), 8.1 million new hikers hit the trails in the United States in the same time period. And data from the navigation app AllTrails shows that not only are there more hikers than ever before, but existing hikers began hiking more often and logging more miles in 2020.
While such spikes were clearly fueled by the pandemic, COVID-19 accelerated trends that were already underway—hiking and camping began growing in popularity long before the pandemic hit. And recreation managers like Botsford don't expect numbers to return to pre-pandemic levels. In fact, the OIA study found that only a quarter of new outdoor enthusiasts plan to retire their boots and backpacks as other forms of travel reopen.
As a lifelong hiker, I have mixed feelings about this. On one hand, I'm all for more people enjoying the mental and physical health benefits of nature. The fact that more individuals are getting outside—including more women, people of color, and people from urban areas, according to the OIA study—may mean that those from communities historically excluded from the outdoors feel more welcome. That's wonderful news.
Yet increased use often equates with increased impacts. At Ice Lake last summer, people left unburied feces around the lake, lit fires in the fragile alpine environment with wood scavenged from historic mining structures, and trampled vegetation that may take hundreds of years to recover. In early fall, a wildfire (likely sparked by a tossed cigarette) broke out near the Ice Lakes Trail, forcing the Forest Service to rescue 28 hikers by helicopter. The trail is currently closed, and when it reopens, the Forest Service plans to implement a permit system to cap the number of people allowed to hike there on a given day. Although the Forest Service will have to undertake a public-comment process to iron out the details, it may look similar to the system enacted in 2018 at Conundrum Hot Springs, another popular Colorado spot, where overnight hikers now have to reserve one of a limited number of permits online.
Is this the future of hiking in America? Battling for parking spots at trailheads, hiking elbow to elbow with strangers, frantically refreshing your browser in January to snag a backpacking permit for June?
In some places, the answer is yes. Public lands will almost certainly be more crowded and more restrictive than in decades past. But as land managers and environmental groups develop a clearer understanding of how trails are being used, they'll hopefully be able to better manage that use by allocating money to popular spots, expanding parking lots, implementing permit or reservation systems, or boosting environmental education.
To speed up this process, a Montana-based nonprofit research group called Headwaters Economics has developed a framework that puts to work fitness-tracking apps and internet search frequencies, in addition to trailhead surveys, to get a better handle on how much use specific trails are getting.
"Without accurate and timely estimates of recreation, agencies aren't able to budget and plan appropriately," says Megan Lawson, an economist with Headwaters. She's using the new method to collect trail data in the Bridger Mountains, near Bozeman, where she says National Forest managers "are keen to get a very detailed snapshot of recreational pressure" so they know where and how to prioritize their work.
Extreme crowding and trashed trails, in other words, might simply be growing pains that will someday smooth out. Because recreation managers now have the chance to be proactive rather than reactive, and can begin to implement solutions, more American trails may start to resemble New Zealand's Great Walks, popular multi-day treks that require advance reservations and sell out quickly. Today, while you have to plan a Great Walks trip months ahead of time, you're rewarded with a guaranteed place to sleep, little crowding, and clean trails. Compared to waking up at 3 A.M. just to snag a trailhead parking spot or plunking down your backpack in a pile of human poo, it's not a terrible trade-off.
Plus, there are still places in the United States where you can find solitude and freedom—places where you can walk for miles across the desert without encountering another human, find yourself feeling utterly alone and afraid in a big mountain range, or simply sit quietly by a wooded creek and listen to birdsong. America has 640 million acres of federal public lands and even more state, tribal, and local lands. So if you're like me and have found one of your favorite hikes too crowded to enjoy recently, don't begrudge the newcomers. Maybe try finding a new favorite trail instead.
The Denver Post/Getty
Lead Photo: Karl Gehring/