Backcountry Adaptive Skiing Is Snow's Last Frontier
And much of the sport's innovation is thanks to Jeff Scott, a snowboarder turned pioneer of sit skiing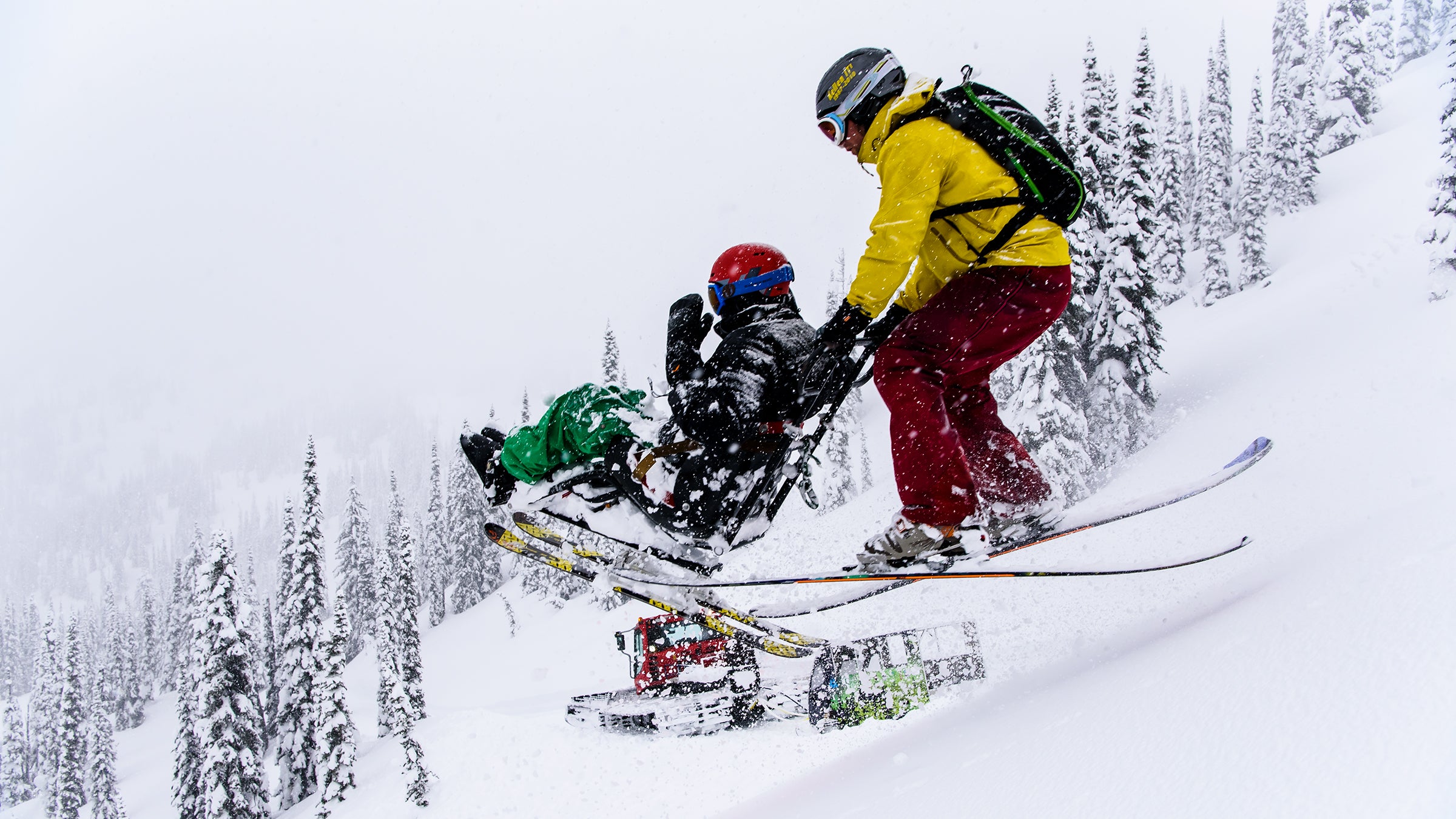 Heading out the door? Read this article on the new Outside+ app available now on iOS devices for members! Download the app.
Jeff Scott's life as he knew it ended on a bluebird spring afternoon at Revelstoke Mountain Resort in southeastern British Columbia. On the last day of the ski season in 2010, the then 25-year-old hit a roller gap he'd been eyeing all morning. He came up short, landed flat, and was knocked out cartwheeling. The crash left him a C5–6 quadriplegic, with no feeling below his collarbones or in his triceps, and limited hand movement.
Scott would no longer lead his wildland firefighter team in the summers or spend his winters exploring the backcountry on his sled and snowboard. He'd snowboarded since he was a kid in Burns Lake, in northern B.C., and started pushing limits on drops and speed in the relatively undiscovered big-mountain landscape around Revelstoke in its early days as a resort town. "The mountains are a part of who I am," Scott says. "I grew up with them being my playground. That freedom and exploration that the backcountry represents…" He pauses for a long moment. "You can't ever have that returned. But maybe you can at least experience the feeling of bottomless powder."
That's why, eight years after his accident, 33-year-old Scott has become a pioneer on one of the last frontiers of snow: backcountry adaptive skiing.
Anyone trying to get into sit skiing will encounter scant resources and abundant obstacles—and that's before heading off-piste. Adaptive skiers can't just walk into the ski shop and choose a sit ski, because there are few companies making such equipment, and it often needs to be customized to the level and type of injury. James Eger, head of Revelstoke Adaptive Sports, likens it to ski boots, which should be well fit and without play to best control the ski. "Same with a sit ski: it should fit snug on the body to the level of the athlete's ability," he says. "If the injury level is low on the spine and you have [the use of] abs, chest, and back muscles, then the sit ski probably doesn't have much of a back, and the skier can muscle that around. If the injury level is high, you need a lot more of it attached to you."
This need for specific performance based on body shape and balance points, unique to mobility levels, is also why there's no market for sit-ski rentals. Adaptive ski programs have become common at most major resorts in the last two decades, and some of the biggest such programs, like those in Crested Butte, Colorado, and Park City, Utah, sometimes have enough equipment in their kit to outfit an adaptive athlete with a sit ski—if it matches the specifics of the user's needs. That's a big if.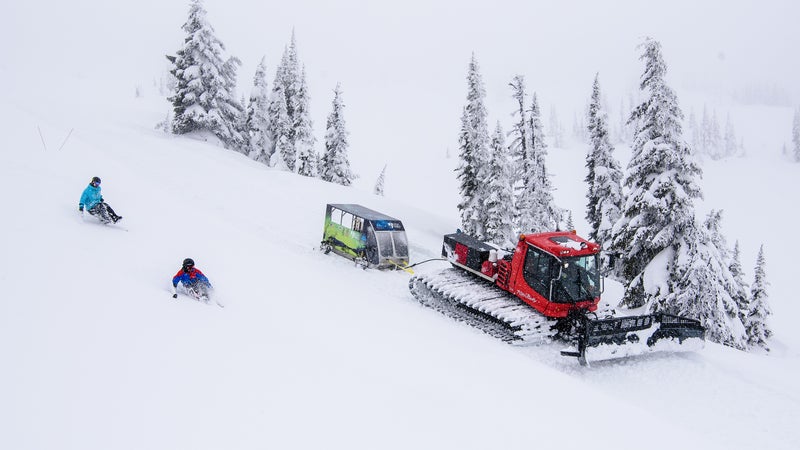 Sit skis can range from $3,000 to $12,000 for advanced customization. Some organizations subsidize this cost for people looking to overcome this massive barrier to entry—like the Live It Love It Foundation, which promotes the progression of adaptive adventure (Scott became its executive director a few years after his accident). 
Scott made his way back onto the snow a year and a half after his injury, working through a steep learning curve. "To be put in a body that doesn't move the same way and learn a new sport was straight-up challenging," he says. "Just the physics of it is complicated: In not having triceps, I can't recover from any fall on my own. I have to be very calculated in my movements. And in not having sensation, I have to anticipate movements, because I can't always react in time."
Scott's injury is high on his spine, and because of the limited feeling in his hands, he can't hold outriggers for balance and direction the way many sit skiers can. He drives the ski's motion with his upper body, using his arms as rudders; another person skis behind him, holding a pair of handlebars on Scott's customized sit ski, taking cues from his movements. That person is often Eger, one of Scott's partners in expanding the landscape of adaptive skiing, who rides a pair of antiquated tele skis that hang off his boots at improbable angles for landing the jumps that he and Scott favor.
The pair met in 2013 when Eger relocated to Revelstoke from Crested Butte, where he'd volunteered with the Adaptive Sports Center. Eger began running lessons for Revelstoke Adaptive around the same time that Scott took the helm as executive director of the Live It Love It Foundation. With their shared taste for extreme adventure, they partnered Revelstoke Adaptive and the Foundation to build a big-mountain sit-ski camp at Revelstoke Mountain Resort (RMR). Whereas most adaptive ski programs are teaching more beginner to intermediate levels on a regular basis, the RMR camp teaches athletes to expand their comfort zones in the mountain's steeps, cliffs, and famously deep powder. 
But Scott still yearned for the backcountry. Existing models for getting a sit skier into the backcountry generally involve snowcats, helicopters, or occasionally sleds if the level of injury permits. "I've done these scenarios over the years, and it's always a major production," says Eger. "You get someone from their wheelchair into the cat, load the sit ski, load everyone else, get the ski off, unload the person, fit them up in their sit ski, make sure they're sorted, and redo it all for the next run." Devoted friends have carried skiers into the backcountry on their shoulders or lined them up snowfields on ropes. Some programs, like DREAM Adaptive Recreation's Powder Camp, use plywood ramps and several volunteers to muscle a sit skier into a cat while still in the ski, to at least eliminate the step of transferring an athlete in and out of the sit ski.
"That freedom and exploration that the backcountry represents… You can't ever have that returned. But maybe you can at least experience the feeling of bottomless powder."
But the bottom line in every case is that those methods are exhausting and time-consuming, and the adaptive skier has to rely heavily on others to move them around. The biggest problem, in Scott's view: there's usually only one sit skier in a group of able-bodied skiers, and with so much energy and attention focused on them, it robs the adventure of any feeling of normalcy.
Scott came face to face with these problems on his first day in the backcountry after the injury; one friend had a mini cat, and several others joined in to take Scott on a few runs in the mountains above Revelstoke. "I was blown away at the lengths my friends were willing to go to," he says. "Knowing that not everyone had friends with those kinds of resources or experience was disheartening." 
He wanted to figure out how to get a sit skier easily into the backcountry and—better yet—do it with a group of sit skiers to normalize the adventure.
The solution he envisioned was a one-of-a-kind trailer that sat with its belly on the snow. It would have a flat ramp so sit skiers could simply slide into it at ground level on their own with minimal assistance, and it would close into a tailgate to secure skiers inside while in motion. It would be towed behind a snowcat and hold up to four sit skiers. Over the course of three years, Scott raised funds through Live It Love It for the design and build. It finally emerged in early 2017, looking like a teardrop trailer on steroids, with sled skis instead of wheels, aluminum siding with open-air windows, a windshield to protect against any snow kicked up by the cat, and a ground-level ramp that closed into a tailgate. He christened it the Lunchbox.
Its maiden mission was slated for that April at Mustang Powder Cat Skiing in the heart of B.C.'s Monashee Mountains. Scott had pitched the idea to the operation the year before, choosing Mustang for its location, noteworthy variety of terrain, and generosity in donating time, guides, and lodge space. Scott assembled a team of athletes to help him test the Lunchbox: Samson Danniels, the 2012 Winter X Games mono-ski cross gold medalist who has figured out how to surf, speed-fly, and snowmobile since breaking his back in 2005; Josh Dueck, the famed Paralympian who was the first to pull off a backflip in a sit ski; and Amanda Timm, the first woman to sit-ski the expert-only Delirium Dive terrain at Banff's Sunshine Village ski resort.
Despite last-minute rigging with plywood and wrenches and the threat of high mid-April freezing levels that threatened to abort the entire mission, the trailer performed without a hitch. The sit skiers shredded several lines through bottomless powder with an efficiency that represented a new independence of movement.
The test was deemed such a smashing success that Scott took the Lunchbox public this year for a three-day cat-ski trip at Mustang. Live It Love It raised funds, and Mustang kept costs low so the trip would be free for participants (a regular three-day cat-skiing trip at Mustang costs $3,500). Live It Love It ran a lottery to give seats away, and sit skiers could also win one through 2018's Live It Love It Send It adaptive competition at RMR—the first-ever big-mountain adaptive competition in the world, to Scott's knowledge. The grand prize was a three-day trip to Mustang with a seat in the Lunchbox the following week.  
"Democratizing backcountry access for adaptive athletes is a huge factor in the operation of the Lunchbox," says Scott. "Anyone can take the big-mountain camp at RMR, enter the competition, and win a seat. Or they can enter a lottery to win a free seat. In my mind, that's the epitome of openness."
There's one other, more subtle, factor that differentiates Scott's project from existing models like snowcats, helicopters, and sleds. "The real glue that we didn't even think about coming into it is the time we get in the lodge after skiing," says Dueck. "Anyone who's had a good day in the mountains knows that the stoke level is like a runner's high, with a clarity of mind that allows for profound realizations. Sharing that is what mountain culture is all about: what nature provides as a teacher that makes us better people for it."
That feeling is even more profound as an adaptive skier, Dueck explains. "The backcountry is about experiencing something they never thought possible. There's still a component of fear, but you find a way to get down the mountain and realize your capacity for overcoming challenges. You come out with an elevated perspective, so that now some of those everyday challenges in life seem a little more manageable."
Scott is already moving on to his vision of creating the first-ever adaptive-backcountry competition, where sit skiers find a zone, pick their lines from the bottom, and ski them, all rider judged.
"Backcountry adventure is about progression," he says. "That's what the Lunchbox can offer. It opens it up for sit skiers to go as far as they can go. We're blazing trail, and the ideas are endless from here."
Lead Photo: Bruno Long