Can Snowboarding Be Saved?
Shortsighted marketers are riding snowboarding into the ground, but there may still be hope to keep the sport alive.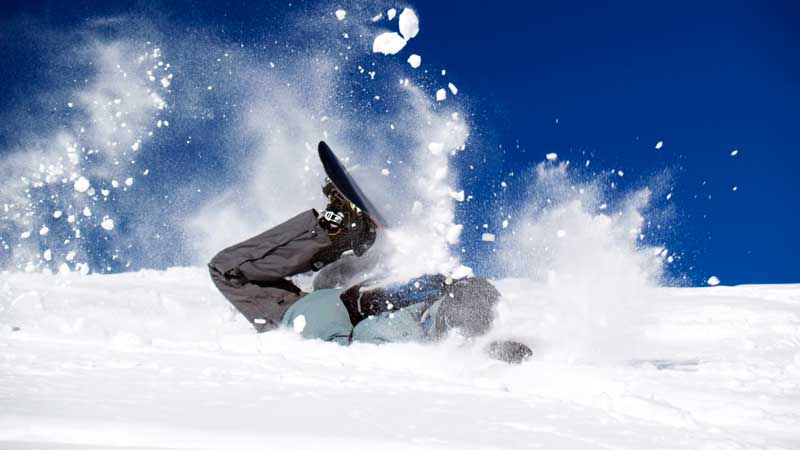 Getty Images(Photo)
Heading out the door? Read this article on the new Outside+ app available now on iOS devices for members! Download the app.
I was a state college kid the first and only time I rode a snowboard. This was in the 1980s and snowboarding was still illegal at New Hampshire's ski resorts. A classmate from New York City named after Dylan Thomas (and who called everybody he didn't like a chucklehead) brought a board to campus after the winter break. It was a Burton Woody. Skegs on the base. No edges. You just strapped your Sorels in and went.
Actually it wasn't that easy. First we had to boot pack up a local gravel pit, lock into the board, and take turns pushing each other bobsled-style off the ridge. Before exhaustion took hold, I remember laying the board over for one glorious powder turn. Effortless flotation. The way the G-forces seemed to sink into your gut. Snowboarding was a hoot; it was way cooler than standing up on a toboggan.
But it didn't hook me. It's not that I didn't think snowboarding was relevant, I did and I still do. But I was already a passionate skier and never once considered giving it up. Still, I supported my friends in the fight to open resorts to the fledgling sport, hired snowboarders to run nascent board departments in 50-year-old ski shops, helped Olympic snowboard racers figure out their stance angles and tuning, ran photos and profiles of snowboarders in a magazine about skiing, chased powder with snowboarders, climbed and descended Mount Rainier with snowboarders, and cracked many an après beer with snowboarders.
Industrialized snowboarding hates diversity. Those Olympic snowboarders we used to welcome in our shop? They were once part of a small but vibrant recreational snowboard carving community.
It sounds like borderline bigotry to say it, but I have "snowboarding friends." In fact, from adulthood on, most of my skiing memories are tied up with snowboarding. Frankly, skiing would be a lot less fun without it. From twin tips and fat skis to better clothing and a more laissez-faire attitude at ski resorts, the advent of snowboarding dramatically altered my once-stale sport. So please trust that I'm not just a hater when I say this: Snowboarding is screwed.
Many a destination resort will admit privately that snowboarding now accounts for less than 15 percent of total revenue. Others have seen snowboard visits cut in half. Sales of snowboarding gear are down dramatically, too, a whopping 29 percent over the past six years. Where did all the snowboarders go? Many are skiing. Others simply quit.
It didn't really have to be like this. The problem isn't so much snowboarding, but the snowboarding industry. The sport was invented by humble folk in the Midwest (by a friend's father) and Vermont (by some older classmates of my wife), but it was adopted by Southern California. Actually it was more of an alien rendition than an adoption. Most snowboarders in places like Maine, Montana, and Colorado have little affiliation with the carefully cultivated image of "action sports." Then there's the ageism. Over 30 years old but still get out and shred? The industry lives in absolute dread of you.
I'm not making this up. Each February I experience the unrestrained joy of attending the ski and snowboard trade show in Denver. Here's what I see when I walk the snowboard section: Underage snowboarders puking in the corridors after one too many keg stands—at 10 a.m. And overseeing all this fabricated youthfulness? Fifty-year-old white dudes in flat-brim caps, tight jeans, and designer flannel. Chuckleheads. Leveraging snowboarding's rebel cred, they modeled its image on skateboarding and aimed it almost entirely at teenagers.
That worked great for a while. Then snowboarding went mainstream—the X Games, Mountain Dew ads, Shaun White—and, inevitably, it lost a bit of its mojo. The first generation of riders got real jobs and started having kids, and snowboarding's image never matured to accommodate them.
As snowboarding went narrow, skiing went big. Today's skiers can choose to carve turns, launch off the slopestyle jumps, hammer bumps, navigate steeps, tour the backcountry, rip bottomless pow, race in a beer league, or just go skiing like a vacationer from Chicago or Boca Friggin' Raton. It's cool; there's a place for you and a group of likeminded folks who would love to have you. Cooler still if you're a lifelong enthusiast? Dabble in all the above. Skiing isn't golf; there's always some new adventure waiting for you.
But industrialized snowboarding hates diversity. Those Olympic snowboarders we used to welcome in our shop? They were once part of a small but vibrant recreational snowboard carving community. Think stiff and long boards with deep sidecuts that you could lay down so deep your tongue was dragging on the corduroy. It gave certain snowboarders something to do when there wasn't fresh snow or when the idea of beating the piss out yourself in the terrain park didn't sound all that inviting. And then the major brands stopped making carving boards. The image didn't fly with the baggy jeans/tight jeans set. Thou shalt emulate the flying tomato and only the flying tomato. Check it out: White cut his hair and wears a suit now, while snowboarding. Time to buy a new wardrobe kids!
The same tunnel vision nearly ruined skateboarding. Snowboarding is even more anti-business. An example: In the magazine I used to edit about skiing, we frequently included Burton apparel because in the real world it's much adored by people like, say, the National Brotherhood of Skiers—grown up black people with gobs of cash who both ski and snowboard. But get this: After a few years Burton refused to send product or even images for inclusion because they didn't want to be affiliated with an older demo, or, egad!, skiers. Lately, Burton has expanded its world-view—while contracting its business. But even last year Jake Burton publicly stated he'd never allow simple scuff guards to be sewn onto Burton pants—because skiers need scuff guards.
A similar experience befell big mountain snowboarding pioneer Jeremy Jones. Not only is Jones (whose brothers famously founded Teton Gravity Research) the greatest sender of 50-degree-plus, powder-choked faces in the history of snowboarding, he's also a genuine, friendly, sentient human being who cares about the environment and the future of the sport he loves. In addition to founding the global-warming action group Protect Our Winters!—POW!—a few years back, Jones was keen on getting 30-plus-year-old snowboarders to embrace lower-impact backcountry riding, much as has happened with skiing.
Jones had some great ideas for product and a new line of split boards, which bisect for ski touring uphill and click together into a snowboard for the descent. He went so far as to pitch the big snowboard companies on the idea. He's too nice to say it, but those companies pretty much flipped him the bird. Their reasoning? Backcountry snowboarding is for old dudes. So Jones started his own company, Jones Snowboards, which lines up well with his successful trilogy of films that celebrate human powered snowboarding. Jones Snowboards is doing well; they're growing in a declining market, as are a few other brands, like Venture, a small Colorado producer that primarily builds deeply rockered boards (a design invented by skiers) purpose-built for powder turns and the sustainable snowboarding life.
Even with the Jeremy Joneses of the sport, though, in my circle of friends there are just fewer snowboarders. Most have made the switch to skiing. When asked, the few holdouts I know mumble something like: "I don't know why I keep going. I just love snowboarding."
It would be easy to say that skiing somehow beat snowboarding, but that ski/board dichotomy, that animus, only exists in the fading minds of skiers in mothballed Norwegian sweaters and bleary-eyed action-sports marketers.
I used to live with one such polarized guy in a ski condo in Summit County, Colorado. His last name was Stern and we called him "Sternoman," as if he was an undiscovered hominid. He was a horrid skier from (my apologies for picking on you) Southern California. By that I mean he was dangerous. On the hill we would hide behind trees so as not to be bludgeoned by his plummeting goonery. Sitting on our dumpster couch one night eating the last of our food cache, Sternoman, who was late on his rent, pronounced that he was switching over to snowboarding. He said the new sport would kill skiing in ten years because you could catch more air, go faster, and ride powder more efficiently on a snowboard. Instead of, in due turn, bludgeoning him, we took his rent money and gave him the bum's rush.
What's there to fight about? Skiing has proven to be bigger, faster, more efficient, and ultimately more welcoming than snowboarding. And that last point is the salient one. My Irish grandparents were the orphaned children of immigrants killed off in the Spanish Flu. After World War II they became skiers, and now my kids continue that legacy, as undoubtedly their grandchildren will as well. Skiing lives on because it's far more than a trendy action sport. Skiing is a way of life. There's a sinew to it that holds families and friends together.
But juvenile marketers can't take all the credit for killing snowboarding. The sport has some fundamental challenges. For one, it's more dangerous than skiing: As a snowboarder, you're more likely to break a wrist or an arm, and, according to a recent study published in the American Journal of Sports Medicine, you're also way more likely to get a concussion. This could help explain why more and more parents are putting their kids on skis instead of snowboards. (The number of first-time snowboarders under the age of 14 is at a 13-year low.) Of course, part of that decline probably has to do with those same marketers shunning snowboarding parents. Who, by the way, do exist. Despite the declines, up to 45 percent of snowboarders are now over the age of 25.
And why are they hanging with a sport that doesn't care about them anymore? Because snowboarding is fun. And, ultimately, that's all that matters. If, like skiing, the industry does a better job of making everybody feel comfortable, it might even thrive. If not, skiing will continue to absorb snowboarders, much as Homo sapiens absorbed Neanderthals. Take what you will from that analogy. And allow me to preempt your letter to the editor: I'm a hater.
Also read: Snowboarding is dead? Hardly. Reports of the sport's demise have been greatly exaggerated.
Lead Photo: Getty Images
Trending on Outside Online