The World's Best Skier Isn't Named Lindsey Vonn
Onetime U.S. Ski Team racer Lisa Ballard, 56, never abandoned her skis—or the idea of winning a world championship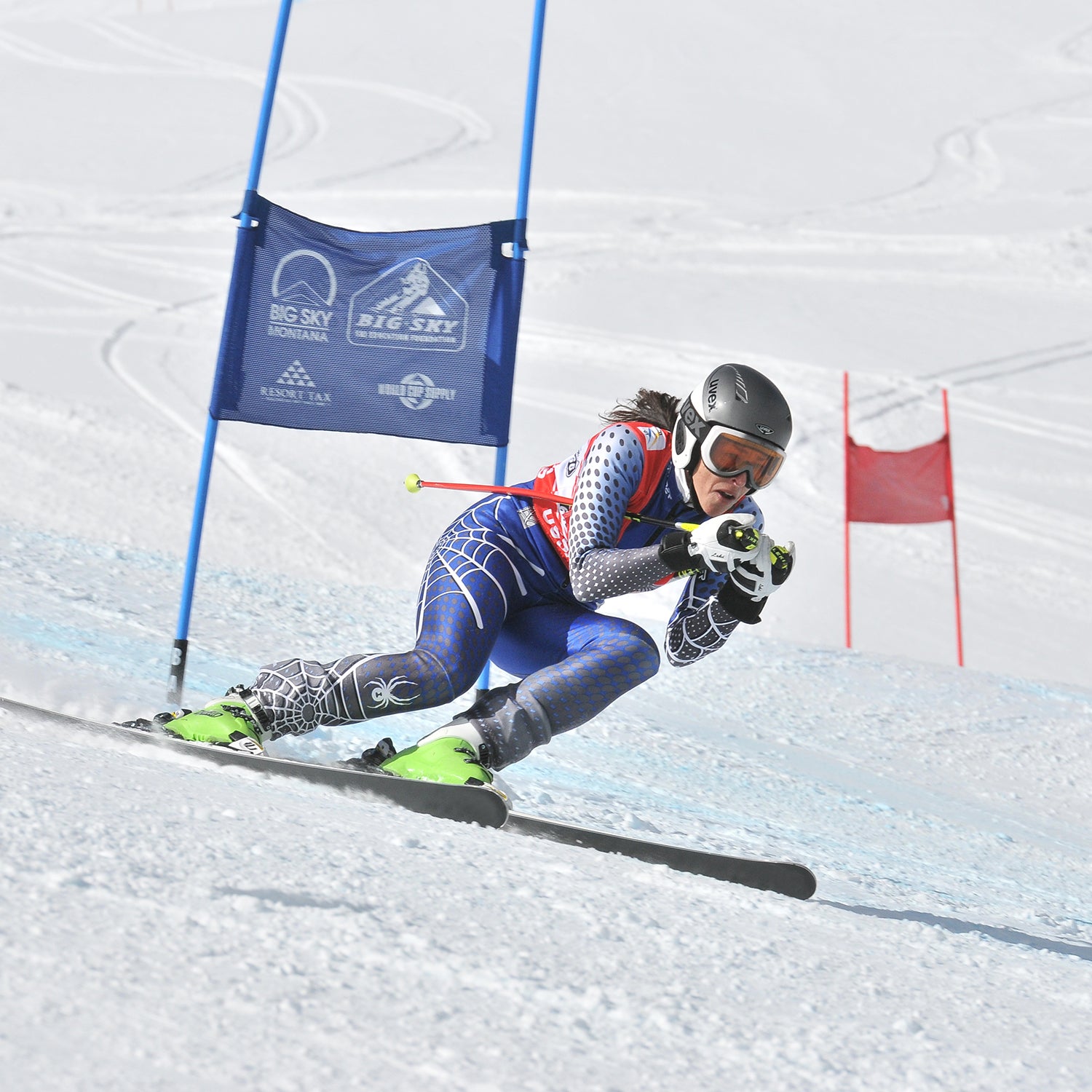 Heading out the door? Read this article on the new Outside+ app available now on iOS devices for members! Download the app.
After watching the parade of Olympic skiers come heartbreakingly close to medaling in Pyeongchang, South Korea, one would be forgiven for thinking that ski racing is a young person's sport. After all, Lindsey Vonn just became the oldest woman to medal in an alpine Olympic event—at the ripe old age of 33.
But that would disregard the feats of 56-year-old Lisa Ballard. Last year, Ballard won the aging athlete's version of the Olympics and World Cup—the FIS Masters Cup—in super-G. She's the only American to win the category, earning her an oversized glass globe trophy that looks a lot like those won by current world-beaters such as Vonn and Mikaela Shiffrin.
"Winning a globe had always been percolating in me," says Ballard, who now lives in Red Lodge, Montana. "I didn't want there to always be that woulda, coulda, shoulda."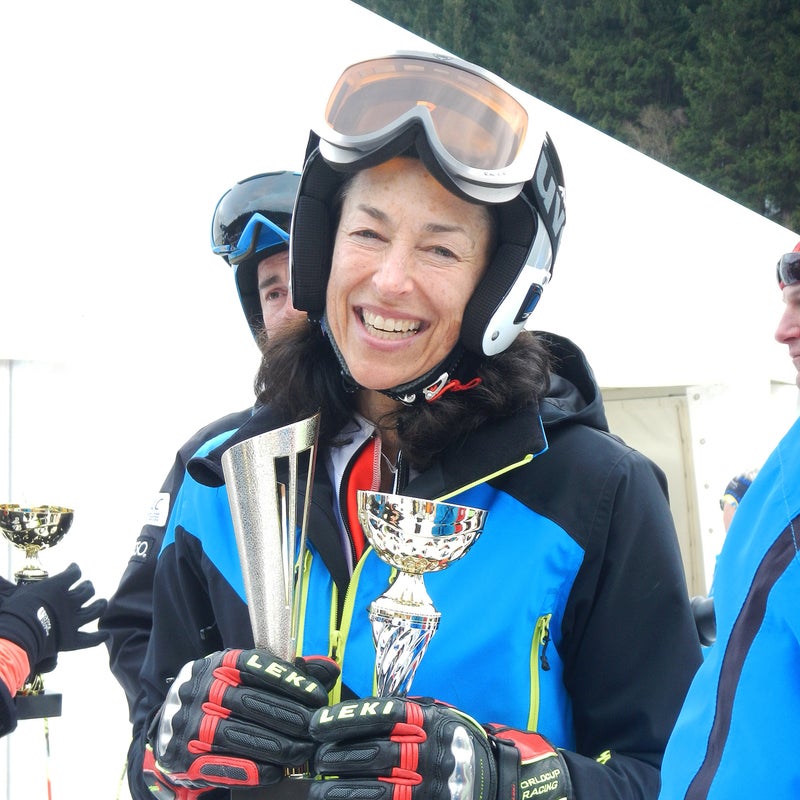 Ballard has really never wavered from a life on skis. In the quarter-century ahead of winning the Masters Cup, she trounced many of the 2,000 other American masters ski racers, winning a ridiculous 96 U.S. Alpine Masters national championships. She also spent several years on the World Pro Ski Tour, which came after a tour of duty on the U.S. Ski Team.
Ballard grew up in the Adirondacks, where she initially debated between a career on skis or ice skates. Her dad ski raced; her mother figure skated. For a while, Ballard did both. However, her parents grew tired of the two-sport schlep, and she had to choose a path. Ballard picked skiing, a sport whose hard truths she admired. "Figure skating is a judged sport," she says. "But if I'm the fastest person on the hill, nobody can refute that."
Ballard attended Vermont's ski-centric Stratton Mountain School ahead of spending several years as an aspiring downhiller on the U.S. Ski Team. A hairline fracture in her leg one month before opening ceremonies ended all visions of Ballard racing at the 1980 Lake Placid Olympic Games. "Heartbreaker," says Ballard, who went on to ski for—and graduate from—Dartmouth College.
Her Olympic dreams never materialized—but her national and world championship dreams did. Eleven years after the Lake Placid Games, Ballard entered her first U.S. Alpine Masters and soon became the athlete to beat. She owns multiple national titles in every discipline: slalom, giant slalom, super-G, and downhill. "As long as I can remember, Lisa's been the 'fast lady,'" says Deb Lewis, another fixture of the U.S. Alpine Masters scene. "If you're close to her, you feel good about your day."
All those years, all those steeps, and all of those variable conditions. Someone's always coming back from ruptured ligaments or skiing impressively on a replaced hip.
Yet Ballard longed for a chance to race the international FIS Masters events. At many of the 40 annual Masters Cup competitions, Ballard estimates that the fields are more than 300 strong, and the caliber of competition is superior to the U.S. comps. "A lot of those Austrians who show up at Masters Cup competitions? They never played basketball or anything else," says Bill Skinner, national masters manager for U.S. Ski and Snowboard. "Skiing is their life."
For Ballard, winning a 2017 FIS Masters globe started with strategizing. The competitions are Eurocentric in terms of both the athletes and the venues. She mapped out 15 races. (The best nine finishes count toward qualification, starting with September competitions in 12,000-foot Andean ski resorts that sit above Santiago, Chile.) The early events, held far away from western Europe, tended to have smaller fields. "I wanted four quick wins," Ballard says.
On the day of her first race, Ballard caught an edge while warming up and cartwheeled down the better part of a 500-foot headwall. Yet Ballard kept what would become a crippling hematoma at bay for a couple days in Chile, winning three races that week on ibuprofen and grit. She won another four golds—two super-Gs, a giant slalom, and a slalom—when the Masters Cup made its annual trek to North America (Park City, Utah, in February 2017).
Between racing and ski coaching, Ballard spends 100 days annually on skis. But she confesses to "hating the gym" and instead prepares for ski runs, which can last more than a minute and average upwards of 70 miles per hour, by cycling, paddling, hiking, slacklining, and playing tennis. Ballard also has a lifelong dedication to flexibility and core work. She'll exercise accordingly almost daily, if only for ten minutes at a stretch.
"I love to go fast," Ballard says. "In the starting gate, I usually have a big smile on my face."
"In ski racing, you're so often performing in extended and odd positions," Ballard says. "So many masters athletes don't pay attention to flexibility and agility. They only think 'aerobic.' Let me tell you, in my years of masters racing, I've seen some really ugly tucks."
Yet ski racing is still what Ballard calls her "personal time." When she's not on the mountain, she hustles as a professional photographer, freelance writer, and ski coach. Whereas some masters skiers have been known to spend $20,000 in pursuit of a globe, Ballard cobbled together her run at a world championship title. For months, she shopped flights—the round-trip to South America and two more to Europe—with her frequent-flyer miles. She stayed with friends in Park City.
Coming into last April's finals in Abetone, Italy, Ballard was tied with three Europeans for the 55-to-59 age group title. She finished 0.2 seconds out of first in the giant slalom and 0.5 seconds off the lead in the slalom. But over the entire season, nobody had accumulated more super-G victories. Ballard became the first American woman ever to win an FIS Masters oversized globe for the discipline.
She still wants that age-group title. Ballard will compete when the kaleidoscope of FIS racers soon comes to Big Sky, Montana, on March 20. "I know that hill well," says Ballard, who lives only three hours away. "I've won national championships on it."
But this year, she'll only race for more Big Sky bragging rights. Pursuit of another globe will have to wait for Ballard to accumulate more savings—and frequent-flyer miles. Fortunately, time seems to be on her side. "I hope to try again in another year or two," she says. "I have a job that remains unfinished."
Shortly after Andrew Tilin, our Masters Athlete columnist and longtime contributor, wrote this story, he was killed in a traffic-related accident in Austin, Texas. He was 52.
Lead Photo: Artem Pechischev/Courtesy Lisa B