It's Time to Embrace Ski Guiding
Long stigmatized in the United States, wider adoption of guided backcountry skiing will boost knowledge, reduce gatekeeping, and promote human-powered skiing on public lands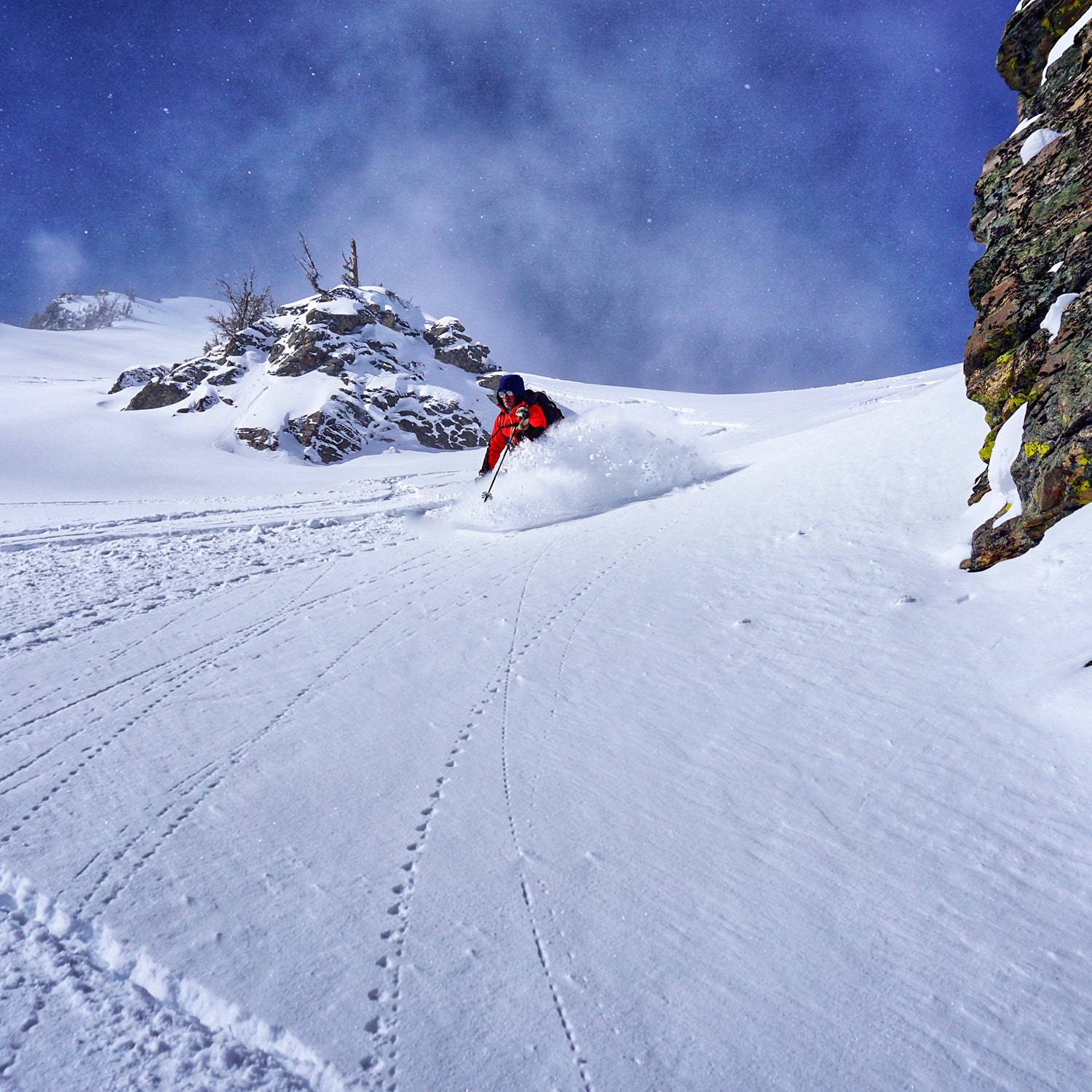 Courtesy Exum Guides(Photo)
Heading out the door? Read this article on the new Outside+ app available now on iOS devices for members! Download the app.
When Martin Volken, owner of North Bend's Pro Guiding Service, earned his IFMGA guiding pin back in 1996 in his native Switzerland, much of the town turned out for the ceremony—including the mayor. "You are a high-altitude representative of the Swiss tourism industry," the mayor told Volken. "I expect you to act like a professional."
Such is the importance that Europe places on its guides.
In the United States, guiding has avoided such esteem. Nowhere is that more true than with ski guiding, which is too often viewed as anathema to American backcountry skiing's DIY ethos, despite the fact that it can keep inexperienced skiers safer, show many backcountry skiers a far better time than they'd experience on their own, and add to even a seasoned skier's mountain sense.
That mindset might finally be changing, thanks in part to a rare upside of the pandemic. With so many travel-dependent adventures taken from the masses, the COVID-19-fueled backcountry boom, which is seeing guided skiing days sell out throughout the West, could help end the stigma. That's a good thing. U.S. skiers should not forgo the do-it-yourself spirit, but American-style guided skiing should be woven into our backcountry tapestry.
---
Europe was a century or more ahead of us in embracing guiding. There are myriad reasons for this, not the least of which has to do with the imposing nature of the Alps. If you've ever seen that dramatic terrain firsthand, then you know this. For those who have not, when you stand beneath massifs like Mont Blanc or even resorts like Zermatt, you're instantly humbled. Such vertical relief, cloud-veiled summits, exposure, bergschrunds, and glaciers don't lend themselves to onsiting. Moving in the Alps is not like a jaunt up a fourteener.
When urban aristocrats from London and Paris first arrived in the Alps en masse in the late 1800s, they felt a magnetic draw to climb them. But although these visitors were rich, they weren't idiots, so they hired local farmers who knew the terrain as guides. This tourism was life changing for the farmers. Zermatt, which is now perhaps the most posh resort on earth, was once poorer than 1930s Appalachia. Working two guided trips a summer could earn early guides enough to buy a few more cows and raise the quality of life of an entire extended family. Naturally, they took to the profession. Because Alpine off-piste skiing can be even more dangerous than Alpine climbing—many North American tourists have died simply skiing off the groomed runs there—when commercial skiing rose, so too did ski guiding.
That's Europe. But with few exceptions (the Tetons), ski guiding in the United States followed a different path. Despite the risk of avalanches and the tedium of long approaches, our mountains are more welcoming: the route-finding is more straightforward, the vertical attainable, and crevasses largely absent. If you aren't rappelling into 50-degree chutes or navigating knife-edge ridges, most of the terrain forgives poor mountaineering skills. Our DIY mindset makes more sense here.
Skiing with better skiers makes you a better skier. And the same is true of skiing with better route finders, snow scientists, rescuers, steep skiers, and alpinists.
Because we don't need guides quite as much, a stigma developed around hiring them—it's only for noobs, the thinking goes. This too makes some sense when you understand our touring history. We inherited our backcountry traditions from counterculture skier/climbers who rebelled against industrialized skiing back in the 1960s, '70s, and '80s. I've written and edited stories about pioneering ski tourers, like the late George Sormer, Bill Briggs, the Skoog brothers, and steep skier Andrew McLean. They found their own way. And I hope that self-sufficient spirit never dies. But because we've long idolized such pioneering rogues, it's easy to at least feign disdain for anybody who would hire a guide.
Which brings us back to that big, beautiful backcountry tapestry and why guiding should be supported by everyone—even if you don't choose to hire one. A healthy commercial ski guiding culture will only improve our collective skills and knowledge. This is true for immediate communities. Ski guides are incredibly diligent about sharing snowpack observations with their avalanche centers, and guides lead many SAR expeditions. It's also true for individuals. Throughout my career as an outdoor journalist, I've been lucky to ski with some of the most knowledgeable avalanche forecasters in the country, simply because many of those forecasters and educators double as ski guides. Rod Newcomb, founder of the American Avalanche Institute, once gave me an oral history of avalanche control on Teton Pass as we booted up to ski powder together. A few years earlier, I toured outside of Valdez, Alaska, with Paul Turecki, a guide and Doug Coomb's avalanche forecaster. A week before, Newcomb and Turecki had skied together, with a focus of their time spent discussing spatial variability. Sinking up to my armpits in a pocket of facets midway up a couloir only moments after digging a pit took spatial variability beyond the conceptual.
---
Skiing with better skiers makes you a better skier. And the same is true of skiing with better route finders, snow scientists, rescuers, steep skiers, and alpinists. TGR film crews don't just show up on location and rip the gnar—they trust guides, and, to be fair, private snow safety experts, of whom there are scores. But guides are also available to the skiing masses. Many of Volken's students backfill between classes with guided days as they progress from intro to ski touring to avalanche training to rescue clinics to steep-skiing instruction. "The trend we're seeing now is with urban skiers who want to progress their knowledge as quickly as possible," Volken says. "That started before COVID, but it's certainly accelerating now. Backcountry skiing used to be composed of a small number of participants with a high degree of sophistication. Now it's composed of a high number of participants with less sophistication. But with all the resources available to them nowadays, that will improve. Guiding is one component."
In the Tetons, Sarah Carpenter—who bought the American Avalanche Institute from Newcomb—is seeing that same trend play out. "I would say the thought process goes like, 'OK, the avalanche class I just took is one learning tool. Now I want to hire you as a guide as another tool.' Before, it was mostly the DIY crowd taking an Avalanche 1 class and never coming back for more training. There are other benefits. I don't know how many people are hiring guides to get a lay of the land and find good snow, but, man, is that a good thing to do."
North American touring and ski mountaineering guides both welcome and actively encourage questioning. Route-finding and decision-making are collaborative. The goal, Exum guide Brenton Reagan once told me as I shadowed a steep-skiing camp in Grand Teton National Park, is to train clients so that they can pursue ever more difficult—and fun—terrain. In the short term, that's self-serving. The guides hope the clients book those adventures with them. But in the long term, it's about clients growing as ski alpinists instead of plateauing like so many recreationists do. A few former Exum clients have gone on to become guides themselves.
As admirable a goal as it is, DIY backcountry isn't for everyone. But our public lands are.
So, guiding: a chance to ski with elite mountain folk and float more untracked powder, all while accelerating your learning. That concept probably would have caught on sooner stateside had it not been so hard to find skilled ski guides. Until recently, guided skiing in the United States was a crapshoot. Because just anybody could do it, just anybody did—and clients didn't think to ask about experience. Sometimes you lucked into connecting with a pro who, even though they'd never gone through any accreditation process, guided at an elite level. Other times, you were placing your life in questionable hands.
That began to change in 1997, when the International Federation of Mountain Guides Associations recognized the American Mountain Guides Association's accreditation. But earning an AMGA pin—or the harder to acquire IFMGA pin—takes years; at least five is best for the AMGA. Which means that it's only now, decades later, that a skier looking for an accredited guide can somewhat readily find one.
But there's room for improvement on that front. Currently, AMGA ski guides are scarce. Despite doubling the company's count of AMGA guides in the past three years (from five to ten), Zach Crist, a pro skier turned owner/operator of Sun Valley Guides and an AMGA guide himself, can't hire enough of them, especially this year. "To me, it's pretty obvious that the certified AMGA guides deliver such a polished product that clients latch on," he says. "It becomes an automatic return for the company. The average backcountry skier that might not know the area or is unsure of their avalanche skills is going to have a better experience with a qualified guide every single time. It's more than just keeping people safer."
And that bit about safety is another important point. While the entire backcountry skiing community benefits from the knowledge, education, and occasional rescues that guides can provide, perhaps nobody benefits more than the new users that the COVID-19 boom is introducing to the backcountry. As admirable a goal as it is, DIY backcountry isn't for everyone. But our public lands are. If you're a strong off-trail skier but don't have the time or inclination to learn how to stay alive in avalanche country, hiring a guide lets you experience the joys of human-powered skiing in nature while reducing the risks.
The numbers back this up. And again, a compare/contrast with Europe is telling. Last winter, all of Europe saw 63 avalanche deaths to our 23 (a low year in the United States). But Mike Hattrup, an AMGA ski guide and the U.S. alpine product manager for Fischer Skis, estimates that Europe sees at least ten times the backcountry skiers we do. Backcountry skiers in Europe also tour more days than Americans. Put simply, they see far more backcountry days in far more dangerous terrain but have fewer deaths.
Guiding is not fail-safe—nothing in the mountains is—but guiding keeps more people alive. If it's still not for you, that's fine. Nobody is going to make you sign on. But it's time the backcountry skiing community embraced it.
Sick of feeling like a mediocre skier who struggles with bumps, steeps, and speed? Check out our How to Break Through online course on Outside Learn, where Outside+ members get full access to our library of more than 50 courses on adventure, sports, health, and nutrition.
Lead Photo: Courtesy Exum Guides
Trending on Outside Online