Picabo's Crash Course
Having blown both knees, the Olympic champ is back with her twice-proven prescription for total recovery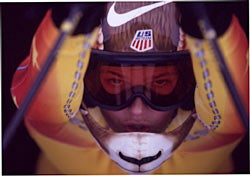 Heading out the door? Read this article on the new Outside+ app available now on iOS devices for members! Download the app.
IT'S A CLOUDLESS July afternoon in the Uinta Mountains near Salt Lake City, where the U.S. Ski Team is engaged in some unorthodox cross-training, toproping at a local rock crag. Picabo Street, Olympic gold medalist and 11-time World Cup champion, has finished climbing and is flippering around on the ground next to me, theatrically reproducing her horrific crash in March 1998 during a downhill race in Crans Montana, Switzerland. "I rolled to this side, no wait, I rolled to this side and—noooo, I started on this side," she says, sprawled on her back and contorting her hulkish legs to approximate what happened when she launched daringly left over the course's second jump. She landed too far back on her tails, washed out, and shot into the protective fencing at 60 mph. In a flash her left leg folded underneath her, snapping the femur, while her right leg twisted violently, popping her anterior cruciate ligament and shredding the lateral meniscus. A triple whammy. "First thing I thought is, 'Am I paralyzed?'" she says, sitting up and glancing at the two four-inch welts of pink scar tissue that bracket her kneecaps. "So I rolled from my front, and my legs just kind of flopped over."

The wreck was only the latest in a string of skiing accidents that have seriously battered Street's knees. Picabo, now 29, is arguably the finest example—inspiring proof, really—of what a top-notch knee-rehabilitation program can do for an athlete. She's far down the road to recovery and, if all goes well over the next year and a half, to an unprecedented third comeback on her home turf at the 2002 Winter Olympics in Salt Lake City. Since the crash in Switzerland, Street has battled through five surgeries, endured two and a half years of physical therapy, and overcome a bout of depression. This after already having twice accomplished the improbable: She recovered from an ACL tear in her left knee in 1989 to win Olympic silver in 1994, and suffered the same injury again in 1996, recovering in only 14 months to win her gold in Nagano in 1998. Now she has a handy blueprint she believes can bring her, or any other athlete, back to peak performance.
Every year, 50,000 recreational and professional athletes in America are sidelined either by tearing an ACL, the ligament that stabilizes the knee, or by rupturing a meniscus, the cartilage that acts as the knee's shock absorber; knees are the joints treated most often by U.S. orthopedic surgeons. Such injuries can be significant bumps in the road (or trail, or ski run), but advances in arthroscopic surgery and refined physical therapy protocols mean that given the proper approach, you can mend. Here, then, is how Picabo Street is doing it. If you're among the many thousands who, like her, stand on wounded knees, there's plenty of fresh hope on the horizon.
Scalpel, Please
Since the 1998 crash, Street's biggest challenge has been staying out of the operating room. Doctors inserted a steel plate and nine screws to stabilize her femur right after the accident, and a month later they arthroscopically sewed up her torn lateral meniscus. Because meniscus-surgery patients aren't supposed to bend their knees more than 90 degrees, and ACL therapy requires a fuller range of motion, Street postponed the ACL reconstruction to simplify recovery. Then in October of that year, with strengthened quadriceps but flimsy ligaments, she reinjured the lateral meniscus while stepping out of her car.
"Two days later I was back with Dr. [Richard] Steadman," Street explains, referring to the Vail-based orthopedic surgeon—one of the best in the country—who has performed all of her knee operations. "I just said, 'Fix it. The whole damn thing. I'm not coming in here again.'" Rebuilding the ACL and lateral meniscus simultaneously meant much more complicated rehab, and worse, a second year away from competitive skiing. For Street, it was a dismal prescription. "That broke me—having to go to camp again on crutches in front of all my teammates," she says. "The thought of missing two seasons was just too much. It was too close to the retirement zone."
She plunged into depression. Some mornings she lay in bed for hours, replaying the crash in her head, unmotivated to get up and uninterested in seeing herself on crutches. When she did venture out of bed to work on her right knee, she had to shift her weight onto her partially healed left leg, where scar tissue from the steel plate limited her range of motion and made any exercise extremely painful. In March of 1999, Street took a second calculated risk and had the steel plate removed. "They told me, 'If we take this out, there is no guarantee that the nine holes going through your femur are going to close.' But I went for it. I just knew that my femur would be solid and never an issue again in my entire life." It paid off; X rays show a completely healed bone.
Hobbling Toward the Podium
Removing the plate loosened up internal scar tissue, easing Street's knee pain, broadening range of motion, and sparking her competitive drive: "I swear to God, that night I felt better. By six that evening I had my range of motion back and I said, 'Ohhh, yesss!'" She launched into a seven-day-a-week rehab process. Following her strategy in 1997, Street infused her monotonous daily regimen of upper-body weight training and plyometrics in the pool with short-term goals, like getting rid of the crutches by week six and moving workouts from pool to grass after a few months. The idea, she says, is to map your recovery in increments that lead to the ultimate objective, which in her case is carrying the American flag at the opening ceremonies of the Salt Lake Games.
"If all an athlete thinks about is winning again, or getting back into their sport, they get really frustrated early on," says Steadman. "What I do is give people short-term goals. That way they can go from one goal to the next, and at the end, the Olympic gold medal becomes realistic again."
Rather than dwelling on the tediousness of, say, running in the pool with a flotation belt for non-impact workouts, she visualized these sessions as steps toward the bigger picture—stabilizing her knee and getting back on skis. "It's like a scientific equation," Street says. "By building a recovery from start to finish, and bringing all the little things together first, I have a day-to-day recipe for success that I can't screw up, and that leads me to where I want to be." She treated even small rehab victories with the same zeal she demonstrated during World Cup wins. "She called me one time after throwing up from a sprinting workout on the stadium steps," says Matt James, the trainer who helped orchestrate her 1998 comeback. "She was excited because she was able to push her body to the point of getting sick instead of her knee preventing her from continuing because of pain. I mean, she was fired up about getting sick!"
By September 1999, 18 months after her Crans Montana crash, Street had linked these lesser victories to her first giant step—medical approval from Steadman to click into her skis and hit the snow.
Exorcising the Speed Demons
Her knees cleared for takeoff, the final challenge for Street became recapturing the aggressiveness that had made her a champion. "That aspect of me didn't go anywhere," she says. "A few femur fragments didn't run away with my bag of confidence." As if to prove her point, on her very first run last December at her home base, Park City Mountain Resort, she didn't just ski down, she tucked down Payday—the same run where, at age 12, she won her first downhill race.
In May, a month after a final arthroscopic procedure to remove scar tissue from the knee, Street rejoined the U.S. Ski Team for an on-snow camp in Mammoth, California. Her coaches started with a slow progression of speed workouts, increasing the risk-taking at subsequent camps on Mount Hood in June and in Chile in September. The approach focused on "lots of GS turns, a little bit of Super G, and some methodically controlled downhill runs to get the wind in her face," says women's downhill coach Jim Tracy. "Every step gives her a new benchmark for confidence."
While Street is getting stronger every day, she's still far from gold-medal form. She's tentatively scheduled to compete in her first race on November 16 in Park City ("I'll be skipping the race in Crans Montana, thank you very much," she laughs). And while she'll race a full schedule this season, it won't be to win races as much as to polish her rusty technique and build toward the big show in 2002. "I'm going back out there to have a good time," says Street. "If I don't win anything, so be it, but I'll have control over my body again."
Outside Online Archives
The final equation: reinforce that joint with a few good exercises
Sean McEnroe, a veteran physical therapist who works with celebrity athletes from Vail's Steadman Hawkins Clinic, recommends the following short-term goals for post-ACL surgery patients (below). He's also provided a regimen of eight ski-specific exercises to get you back on the slopes (right). Though designed for skiers, this workout will strengthen the muscles that protect your knees no matter which sport you're getting back into—and they're ideal for preventing knee trauma if you've never been injured. McEnroe suggests doing this program three days a week, but stresses that it's critical to obtain clearance from your physical therapist before attempting any of these exercises.
 
Weeks 1–2: Decrease swelling with ice; increase range of motion with simple stretching exercises.
Weeks 2–6: Begin nonimpact cardiovascular exercises such as spinning on a bike with no resistance; look to get clearance to ditch the crutches.
Weeks 6–12: Work on endurance strength (high repetition, light resistance) by riding a stationary bike, running in a pool, or walking on a treadmill.
Weeks 12–16: Begin agility drills like balance squats to rebuild proprioceptor nerve endings, which help control balance and are severed during surgery. Also work on exercises that mimic sports (e.g. side-to-sides).
Week 16: Begin workouts on grass and routines using free weights and on exercise machines.
Week 20: Develop explosive muscles using miniplyometrics, i.e. drills incorporating small jumps like the skier's hop.
Week 24: Begin full-on participation in your sport.
BALANCE SQUATS
With one foot back and resting on a chair and the opposite foot forward, lower your torso straight down toward the floor and then rise up—your knee should never be ahead of your front foot. Do continuous, slow repetitions for 30 seconds and build to three minutes. Advanced: Add a miniplyometric by bursting on the way up, clearing three to six inches off the ground, and then landing softly. Goal: One three-minute set.
BALANCE STRETCH
Hold your right ankle behind you with your right hand, as if stretching the quad muscle. Slowly lean forward with your arm outstretched, hold the position for ten seconds, and then return to the start and switch legs. Goal: Ten stretches with each leg.
SKIER'S HOP
Start with your left leg on the ground and your right leg planted on an 8- to 12-inch-high platform. In one motion, use your right leg to leap laterally over the platform and land in the opposite of the starting position. Repeat, leaping from side to side in a quick, controlled motion. Goal: Three three-minute sets.
SIDE-TO-SIDE
Anchor a sport cord—rubber tubing with handles (find one at http://www.toppersportsmedicine.com)—to a stationary object. Don a waist belt, attach it to the sport cord, and lean far enough away to put tension on the cord. Hop on one foot laterally away from the anchor point, hold for two seconds, and then hop back to the starting position. Keep your legs slightly bent throughout. Goal: Two sets, 40-50 reps each.
ONE-LEG DIP
Like balance squats, but accentuates the quads more than the hips. Stand on your injured leg with the other leg balanced in the air behind you. Place one hand on a wall or chair for added stability. Slowly lower yourself until your thigh is 70 degrees to the ground and then stand back up. Add a sport cord for resistance. Goal: One three-minute set.
Also do: hamstring curls, leg presses, and calf raises. Three sets, 20 to 30 reps each, three times a week.  —C.K.
ACL Surgery Demystified
into the Cut

Biking, skiing, snowboarding, and trail running can all end disastrously with a hyperextended or twisted knee. Stretch your delicate anterior cruciate ligament beyond its tensile strength and a distinct champagne-bottle pop will likely follow. Not good; it's the auditory calling card of a torn ACL. "With a small tear, if there is no looseness in the joint, you could just do rehabilitation," says Richard Steadman, Picabo Street's orthopedic surgeon, who may have just saved you $20,000 in surgical costs. "But a full tear that weakens the joint will require a full reconstruction."
If you're in for the latter, there are two ways to go. World-class athletes almost universally prefer Steadman's method of using strands from the patellar tendon (see knee diagram, above), rather than the more common approach of grafting the hamstring tendons, to build a new ACL. "We did a study that found the [hamstring] is used throughout the ski turn," Steadman says. "You may lose something at the highest competitive level if you use that tendon."
The downside is that rehabilitation for a patellar graft can keep you off your feet longer and in a lot more pain than a hamstring graft, and it has the potential to cause tendinitis down the road. For the recreational athlete, stealing from your hamstring is the ticket, according to John Garrett, former chief resident of orthopedics at Harvard and founder of Atlanta-based Resurgens, which treats NFL players. "If you're aggressive, you can be off crutches in four to five days, on a bicycle by the end of a week, and back in your office," he says. "A patellar graft can keep you on crutches for up to six weeks." The success rates for both procedures hover in the 90-percent range. Either way, pick an orthopedic surgeon who subspecializes in knee operations and has a high-volume practice. And keep in mind that surgery is just the first step to becoming the badass you once were. "You have to go into it with the idea that more than half the job is yours," says Steadman. "The surgery is two hours, but the recovery is six months."