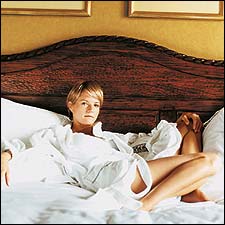 Heading out the door? Read this article on the new Outside+ app available now on iOS devices for members! Download the app.
The Four Seasons Jackson Hole, which opened last year and is the chain's first hotel in snow country, does everything for its guests except ski: Attendants bring complimentary heated robes and towels, hot chocolate, and s'mores to the outdoor, geothermal-style Jacuzzis and heated swimming pools. The ski concierge provides custom boot fittings, outfits guests with the latest Atomic or Salomon gear, arranges lift tickets and guiding services, and tunes and stores your equipment. Meanwhile, you're going to want to permanently relocate to one of the 550-square-foot rooms, which come with a fireplace, broadband, and twice-daily maid service. One minor glitch: The morning hike to Jackson's fastest lift, the Bridger Gondola, requires about 20 steps. What are we—mountain goats? Doubles, $350 to $450; 800-295-5281, www.fourseasons.com/jacksonhole
The Home Stretch
To learn how to limber up your limbs before you hit the slopes
CLICK HERE
.
four seasons Jackson hole

Fresh Tracks Can Wait: the presidential suite at the Four Seasons

R&R
Feeling Kneady
When you're sore, there's nothing like TEN THOUSAND WAVES JAPANESE HEALTH SPA's Thai Massage: This 85-minute mix of tough-love stretching and chiropractic tweaking will twist, fold, and manipulate every last mogul from your weary legs. Ten Thousand Waves' 12-room, 21-acre complex is also the closest lodging to Ski Santa Fe, just northeast of Santa Fe, New Mexico. Thai massage, $139; doubles, $190–$260; 505-982-9304, www.tenthousandwaves.com —John Bradley

Real Estate
Mount Mine
"Idaho's time has come," says Jean-Pierre Boespflug, the developer behind TAMARACK RESORT, the first U.S. ski destination under construction in more than 20 years. Investors are lining up: 104 of the resort's 2,043 properties went for a total of $46 million last January, and 64 more sold out in June, netting $33 million in one day. Ninety miles north of Boise, the $1.5 billion, 3,600-acre "mountain, meadow, and lake" resort—slated for completion by 2019—will officially open in December and will eventually offer 2,800 vertical feet of alpine skiing. Up next, a January sale of 93 lots, homes, condominiums, and chalets. "How often do you have a chance to buy a ski-in/ski-out lot in the West?" asks Tamarack property owner Joe Gregory. "Never." —Andrea Vogt
Snow Report 2005
Atomic Neox EBM 412

Atomic Neox EBM 412
Völkl Sanouk, Fischer Big Stix 10.6, Atomic Big Daddy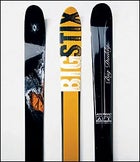 Wide Sizing Available: from left, Völkl Sanouk ($1,000; 800-264-4579,
www.volkl.com
), Fischer Big Stix 10.6 ($795; 800-844-7810,
www.fischerskis.com
), Atomic Big Daddy ($799; 800-258-5020,
www.atomicsnow.com
)
Tecnica's Diablo Magnesium Hot Form

Tecnica's Diablo Magnesium Hot Form
Technology
These Bindings Byte
Is the world ready for a digital ski binding? ATOMIC aims to find out. Sensors inside its new NEOX EBM 412 monitor whether or not you're correctly locked in, then—if all is well—beam an LCD "OK" to the cold-impervious display screen. $1,099; 800-258-5020, www.atomicsnow.com

Powder Skis
Big Is Beautiful
This is the year to get ultra-fat. Underfoot, that is. Scope the slopes this winter and see for yourself: A half-dozen companies are offering boards that are more than four inches across at their narrowest point, with shovel-wide tips. These planks float powder like hovercraft and crash through crud with aplomb. And, unlike the glorified two-by-fours of the fat-ski past, these sticks have real sidecuts for carving on the groomed stuff. True, tankers aren't for everyone, nor every day: Even a strong skier will struggle to whip 'em through short-radius turns, and on icy New England runs you may find yourself skidding more than skiing. But if you've been known to stomp big mountains in Haines, Alaska, or swing GS arcs through the fresh on Jackson Hole's Hobacks, you'll want to throw your arms around these three full-figured phenoms.
—Christopher Solomon

Boots
Buckle Up
TECNICA's DIABLO MAGNESIUM HOT FORM alpine ski boot is built specifically for today's shaped sticks. Designers precisely tweaked the location of your foot inside the liner to more efficiently transfer lateral pressure to the inside and outside edges of your planks. $860; 603-298-8032, www.tecnicausa.com

Snow Report 2005
Soldiers Spy Optic

Soldiers Spy Optic
Burton's Dominant

Burton's Dominant
Subaru Outback 2.5 XT Wagon

Subaru Outback 2.5 XT Wagon
Goggles
Eye Spy
The SOLDIERS, a stylish set of lenses from SPY OPTIC, offer 100 percent UV protection and generous underside vents. For you, that means that the only thing getting inside is fresh, defogging air. $90–$120; 800-779-3937, www.spyoptic.com

Leather Goods
Hide Ride
Answering snowboarding's never-ending call to bring the unexpected to the slopes is BURTON'S DOMINANT, a board upholstered in—get this—a thin layer of brown pebbled leather over the wood-and-fiberglass deck. The result, with tip and tail painted gold, is one pimpin' ride, in a flexy pipe-and-park board that will gladly get you airborne for a McTwist, or any other freestyle magic you have up your sleeve. $380; 800-881-3138, www.burton.com

Wheels
High-Speed Quad
It was while snaking my way up to the local ski hill in the new turbocharged SUBARU OUTBACK 2.5 XT WAGON that I felt a thrill I'd never experienced in a car built to haul people, dogs, and gear: headrest-smackin' speed. That same giddy rush from ripping down the steep faces of black-diamond groomers was now flooding my brain as I worked the sports-car-tight handling of this rocket through the 25 hairpin turns leading up to the 10,000-foot base. Unlike non-turbocharged engines at altitude, this ride kept on wailing in the rarefied air two miles above sea level. Then there was Subaru's all-wheel drive, which makes short work of slick and icy roads by switching power to whichever fat, 17-inch-wide tires are gripping when the others are slipping. I topped out in record time, a blinding 15 minutes ahead of what I usually clock in my ten-year-old SUV, which is about how long it takes me to notch a top-to-bottom round-trip run. On a powder day, getting on the first lift matters. A lot. SPECS: 250-horsepower four-cylinder, all-wheel drive, 61.7-cubic-foot capacity, seats five, 19/25 mpg (city/highway); $32,695, as tested; www.subaru.com—Grant Davis
Style
ski apparel

ski apparel

Boarding School Is in Session
From top, BOLLE's 5-0 sunglasses ($100; 800-222-6553, www.bolle.com) blend retro cool with today's optical superiority; the waterproof nylon on the OAKLEY ANORAK ($160; 800-414-5215, www.oakley.com) keeps you dry through powder, slush, and sleet; with sticky rubber on the palms and fingers, DAKINE's GORE-TEX BRONCO GT gloves ($60; 541-386-3166, www.dakine.com) let you grab both rails and railings with ease; side vents on THE NORTH FACE's waterproof-breathable SURVEILLANCE PANT ($189; 800-447-2333, www.thenorthface.com) will help you keep your cool; the leather on RIDE's IO boots ($195; 800-757-5806, www.ridesnowboards.com) makes them fit like a glove; SALOMON's SPX7 bindings ($280; 800-225-6850, www.salomonski.com) join forces with the DAVID BENEDEK ERA PRO snowboard ($550; www.benedek-era.com) for a setup that can whip-snap you through turns yet hold steady on steep descents.

Best in Class
From top, see the light (and terrain variations) with a pair of SR5 goggles from VERSION OPTIC ($75; 866-734-5748, www.versionoptic.com); the four-way stretch fabric on HELLY HANSEN's SANTO JACKET ($350; 800-435-5901, hellyhansen.com) is the right stuff for aerial moves; the CONVERT AMPED GLOVE ($60; 800-547-8066, convertboardwear.com) has a topside pocket to hold a heat pack; wear cords while you're on the corduroy with SALOMON's TENEIGHTY pants ($149; 800-225-6850, www.salomonski.com), then hold your lines with help from Salomon's CUSTON-FIT PRO MODEL SC SPACEFRAME ski boots ($675); park-and-pipe hounds, all you need to succeed is a set of K2 PUBLIC ENEMY FREESTYLE SKIS ($475; 800-972-4063, www.k2skis.com) and poles ($75), MARKER COMPY FREE 14.0 bindings ($340; 800-453-3862, www.markerusa.com), and, of course, brass cojones.
Snow Report 2005
Apple G5

Apple G5
teton gravity research

The Producers: from left, TGR's main men, Steve Jones, Corey Gavitt, Todd Jones, and Dirk Collins
Filmmaking
DIY Ski Porn
Ever wanted to produce your own ski porn? Yeah, we thought so. But before you book the talent, hire the heli, and print up those premiere-party invites, you need to acquire the right equipment. Outside asked Reno, Nevada–based Itai Nemovicher, a 27-year-old ski-film director and producer with Omen Productions, to recommend shooting and editing gear that will help you turn your hucks into DVD bucks.
» VIDEO CAMERA Sony DSR-PD170 Pro DVCAM: "It puts out a high-quality image but won't break the bank. A lot of professionals are using this level of camera. And since it can store JPEGs as well, you can insert the stills in the video." $3,940; 800-686-7669, www.sony.com
» HELMET CAM Custom Video Cameras SportCam Xtreme: "The lens transmits a clean image to the video camera, plus it's pretty much indestructible." $699; 406-387-5732, www.customvideocameras.com
» HARDWARE Apple Power Mac G5 with 20-inch Cinema HD Display: "I like working on Apples, because they're a little more intuitive and process information better. Also, they're memory-sensitive and don't overly waste hard-drive space." $3,798 as shown; 800-692-7753, www.apple.com
» SOFTWARE Apple Final Cut Express 2: "iMovie is fine for the home user, but with hundreds of transitions and filters, Final Cut Express 2 has many of the tools that aspiring professional filmmakers need." $299; 800-692-7753, www.apple.com
» TRIPOD Manfrotto MDeVe 754: "What tripod you use depends on the weight of the camera. But if you go top-of-the-line, you won't have to replace it tomorrow. And a cheaper tripod means jerky pans. You want a smooth head, like you get on the Manfrotto, for smooth pans." $616; 201-818-9500, www.bogenimaging.us
TOTAL COST: $9,352 —R. S.

Home Entertainment
Chill Footage
YEARBOOK ($28, Matchstick Productions; 50 minutes): BASE jumping off Switzerland's Eiger—with skis. Punk pros amp up the antics, hucking the world's best vert, from Norway to British Columbia. X ($28, Poor Boyz Productions; 42 minutes): Highlights? Big-mountain masters rip through the Russian backcountry, and X Gamers bow to Swede Jon Olsson's 22-foot launch out of the pipe. SOUL PURPOSE ($28, Teton Gravity Research; 55 minutes): Get ready to replay Sage Cattabriga-Alosa's corked 720's over the 160-foot Chad's Gap, in Utah's Little Cottonwood Canyon. You'll never be that good. Or that crazy.

And for the most mountain garb you've ever seen in New York City, head over to TGR's November 19 release party at Avalon NYC, in Chelsea, where more than 1,100 urbanites will mingle with some of the ski-and-snowboard world's hottest pros.
—T. Z.
Paycheck to Powder
skiing jobs

Relax, I'm a trained professional: tram driver Jon Bishop at Jackson Hole
SKI PATROLLER: What's better than getting fresh tracks on a big powder day? Tossing dynamite over cornices first! And you thought working patrol just meant wearing a cool red jacket, scanning lift tickets, and giving sled rides to beginners with mangled knees.
TRAM DRIVER: Somebody has to get the patrollers up the mountain, and there's no bigger powder snob than a tram driver. After all, the only thing better than tossing dynamite over cornices is getting free and clear tracks after the bombing and before the crowds. And the view from the tram's not bad, either.
GO-GO GIRL: Tommy Africa's, at Whistler Blackcomb, British Columbia, spearheaded the retro go-go trend ten years ago. Now clubs near ski resorts everywhere are getting in on the act. It's not a get-rich-quick job, but you'll look hot, get paid to dance, and keep your hips and back in shape—for on- and off-slope action.
CONCIERGE: When it comes to hotel service, Aspen's Little Nell (970-920-4600, www.thelittlenell.com) has a righteous setup. Though its five concierges are paid a measly $7 an hour and have to attend to every last need of their superstar guests—whether it's fetching takeout for Ivana Trump or warming ski boots for Jordan's Queen Noor—the fringe benefits are outrageous: free skis, stock tips from guests in the know ("Which worked for me," says head ski concierge Ray McNutt), rides in $40 million private jets, and $5,000 tips from rock stars. —Peter Oliver and Tasha Zemke
Flick Chick
Name: Ingrid Backstrom Home: Squaw Valley, California
Gig: Freeskier
Height: 5'4″
Weight: 125
Age: 26
Ingrid Backstrom

Ingrid Backstrom
Forget 15 minutes of fame. Ingrid Backstrom needed only 30 seconds to immortalize herself in the world of ski films. In Backstrom's first-ever action shot for Yearbook, a new release from Matchstick Productions, a helicopter dropped her onto a peak near Bella Coola, British Columbia. She sliced down 1,500 vertical feet in three turns, besting pro Shane McConkey's six turns on the same face last year. "It was the most amazing run of my life," she says. "I was 100 percent stoked."
PODIUM GIRL: The Seattle native and three-time collegiate All-American skier entered her first freeski competition in April 2001. A year later, she was ranked second in the world, a position she's maintained. Last season she won the Canadian Freeskiing Championships and took third at the U.S. Freeskiing Nationals.
SECRET TO SUCCESS: "I pick a line that scares me enough to perform my best," Backstrom says.
LEVELING THE PLAYING FIELD: When rainy weather in March forced Backstrom and nine guys to hole up in the Brockton Place motel, outside Bella Coola, the Playboy Channel was a constant in the common room. "I told them that for every 30 minutes of Playboy, we had to watch half an hour of Friends," she says.
MOMENT OF RECKONING: After college, Backstrom lived in Hanover, Germany, then moved back to Squaw Valley five months later. "I'd rather be in the mountains," she says.
SECOND OPINION: "Ingrid put out the best female segment of any ski movie," says Matchstick producer Steve Winter. "She hauls."—T. Z.
Pitcher Perfect
best skiing pubs

MANGY MOOSE
(Jackson, WY)
True: A stuffed moose hangs from the ceiling. False: Ski patrollers jump off the balcony in attempts to ride the sleigh-pulling beast during their annual Christmas party. This used to happen, but no more. These days the focus is on swilling the custom-brewed Moose Drool beer. 307-733-4913

AVALANCHE
(Crested Butte, CO)
A weathered A-frame at the base of this Colorado ski area, the Avalanche is a Crested Butte-ician's first choice for a hangover breakfast—and a fine place to acquire said hangover. Try the Avalanche Warning, a fruity drink with four types of alcohol. 970-349-7195

SITZMARK CLUB
(Alta, UT)
A pine-paneled refuge in Utah's Alta Lodge, the Sitzmark Club is as old-school as this no-snowboards ski area. Order the house specialty, a bloody mary. 801-742-3500

BIERSTUBE
(Big Mountain, MT)
With 20 beers on tap, a pool table, and a Wednesday tradition of bestowing a stuffed monkey (with one leg in a cast) on the resort's clod of the week, the 'Stube never lacks for action. Ask for the signature cocktail: Jack & Coke. 406-862-1993

WOBBLY BARN
(Killington, VT)
The three-story Wobbly Barn, in central Vermont, shimmies at après-ski time, thanks to its free nacho bar and the Turbo: a pint glass full of Stoli Ohranj, 7Up, and orange juice that's meant to be sucked down—fast. 802-422-6171

WEST END TAVERN
(Telluride, CO)
Located dead center between the town's two lifts, the new West End draws patrollers and tipplers hankering for Telluride's best margaritas. 970-728-1808—R. S.

Chow
Rise and Dine
DRAGONFLY CAFÉ & BAKERY, TAOS, NEW MEXICO
Today's Special: red beans and rice with poached eggs, drizzled with basil aioli. 505-737-5859

DUTCH PANCAKE CAFÉ, STOWE, VERMONT
Today's Special: a potato pancake with Vermont cheddar, topped with molasses-like Dutch stroop syrup. 802-253-5530

THE KNEADERY, KETCHUM, IDAHO
Today's Special: Rocky Mountain Benedict with smoked Idaho trout and a cup of joe from Java's Coffeehouse, down the road. 208-726-9462

WINONA'S, STEAMBOAT SPRINGS, COLORADO
Today's Special: the green-chile-smothered breakfast burrito, followed by a softball-size cinnamon roll. 970-879-2483
—Cameron Walker

Diversions
On Your Day Off…
VAIL, COLORADO: Vail is to partying what Bode Miller is to racing—plenty fast, a little wild, always entertaining. The international race contingent (which boogied here during the 1989 and 1999 Alpine World Championships and various World Cup events) likes pounding schnapps at Pepi's, gorging at chichi restaurants like Sweet Basil and La Tour, and going hard and late at 8150 and other clubs. 877-204-7881, www.vail.com

MONT-TREMBLANT, QUEBEC: This pedestrian-friendly, Paris-flavored village pulls in hip Montrealers, who come to sample the best restaurants of any resort in eastern North America. Save room for Le Scandinave (819-425-5524, www.scandinave.com), an indoor-outdoor spa with multiple pools, baths, and a sauna, which sits on a stone terrace alongside the Du Diable River. 866-836-3030, www.tremblant.com

SQUAW VALLERY, CALIFORNIA: Sinful slot machines are only a snowball toss away, in Stateline, Nevada. Plus, Squaw Valley's 8,200-foot High Camp, in a bowl halfway up the mountain, is a high-altitude circus, with an ice-skating rink, sundecks for stripping down, and, come March, an outdoor swimming pool. 800-403-0206, www.squaw.com—P.O.