The Boy Who Lived on Edges
When extreme skier Adam Roberts was killed by an avalanche in the mountains of Washington State, some people wondered if he'd died on purpose. Christopher Solomon reconstructs a life in which athletic talent, fearlessness, and mental illness combined to create an unbearable reality.
Heading out the door? Read this article on the new Outside+ app available now on iOS devices for members! Download the app.
Early one morning in 2016, a few days after Christmas, the phone rang in the office of the Northwest Avalanche Center in Seattle. Scott Schell answered. Schell is the center's executive director, and he was anticipating a busy day. The night before, at a dinner party, he was informed that Washington's first avalanche death of the winter had happened. A man who'd gone out of bounds at the White Pass Ski Area, southeast of Mount Rainier, was buried in a slide.
Schell wasn't surprised that he recognized the victim's name. About two dozen ski areas dot the mountains of Washington and Oregon, and hundreds of thousands of skiers visit them annually. But the universe of intensely passionate Pacific Northwest skiers and snowboarders is a curiously small one. On discussion boards with names like Ski Sickness and Famous Internet Skiers, men and women gossip, argue, and swap snapshots of their latest descents. If they don't know each other, they usually know about each other.
Schell had often heard of the dead man. At 31, Adam Roberts was one of the most aggressive freeskiers in the Northwest. A ski model and an aspiring professional who'd attracted the interest of gear companies, Adam seemed to be everywhere in the mountains, the graceful sine wave of his turns interrupted only by long drops from tall cliffs. He was of modest height, with a weight-room torso and a voice so gentle it could sound feminine. Mutton chops thick enough for gray jays to nest in bracketed a wide smile. He frequently wore nail polish, sometimes dyed his brown hair, and rarely pursued money. People who met him often came away using the word "charismatic." Some thought him reckless.
The caller that morning told Schell he was a friend of Adam's who'd heard about his death. "I know you can't tell me detailed information," the man said. "But I'd just like to ask one question."
"What's your question?"
"I want to know if Adam was skiing alone, or if he had a partner with him."
"It's my understanding that he was with a partner," Schell said.
The caller sighed, then said something that struck Schell as odd. "I feel a lot better hearing that." He was worried Adam had gone into the mountains alone, in the hope that he would be swept away.
---
More than a decade before Adam was born, Steve and Judy Roberts bought 35 acres of a steep mountain clear-cut above the logging town of Randle, south of Mount Rainier. It was the mid-1970s. The couple saw themselves as back-to-the-landers, eager to live closer to nature. "They called us the hippies on the hill," Judy remembers of their initial reception by locals.
The place was heaven. Hiking trails were everywhere. So was easy access to deep powder, 35 miles up the highway at the family-friendly White Pass Ski Area. In time a small wooden sign would appear above an out-of-bounds powder shot to mark Steve's passion: ROBERTS' RUN. The couple adopted their first son in early 1983. Two years later they adopted Adam.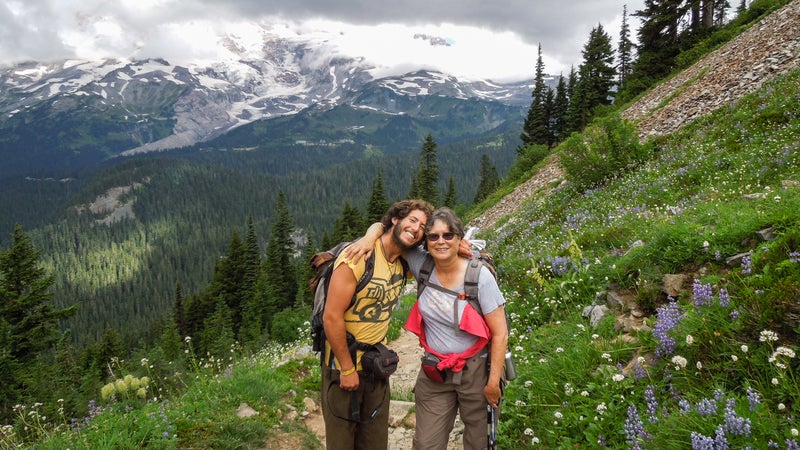 The parents wasted no time introducing their boys to the natural world. They took Adam on his first overnighter when he was five months old, a burro carrying the diapers. Soon there were weeklong pack trips into north-central Washington's Pasayten Wilderness. At 13, Adam climbed Mount Adams, a 12,276-foot stratovolcano, with his father and brother.
Adam thrived in Randle. He got good grades, ran cross-country, was elected student body vice president. He was a Tom Sawyer type who, when excited about pursuing a goal or a hobby, was relentless in cajoling others to help him. When he was about eight, in need of more room for his expansive Lego collection, Adam convinced his brother to sell him the "air rights" to his room. Then he convinced his dad, a contractor, to build him a loft. "He could talk me into building constantly for him," Steve says.
When Adam was seven, his parents enrolled him in the school district's learn-to-ski program, which involved night skiing at White Pass. Decades later, Adam could still recall his first night on skis—the sugar-spill of stars, the crunch of snow underfoot, the intimidating rope tow. He practiced and practiced. For a ninth-grade science project on acceleration, he decided to ski off a rock while a friend filmed him. The snow was thick and the landing poor. "Knocked out his two front teeth," Judy says.
---
In the fall of 2003, Adam headed 200 miles up Interstate 5, to Western Washington University in Bellingham. The city sits on a bay of north Puget Sound, so close to Canada that French-speaking voices from Vancouver occasionally invade the car radio. It's a mossy Brigadoon of 87,000 college kids, graying hippies, and people who have fled ­Seattle. The town's unofficial motto, "City of Subdued Excitement," fades from a mural on Prospect Street. Adding to its appeal is the Mount Baker Ski Area, 55 miles east, which holds world bragging rights for the deepest snowfall ever recorded in a ski season—1,140 inches in the winter of 1998–99.
The university suited a creative kid who loved to ski. Adam took environmental classes at the school's Fairhaven College of Interdisciplinary Studies, where students design their own major and receive "narrative evaluations" instead of grades. Even in an unconventional setting, Adam stood apart. He was the boy with the atomic smile who rode around on a dual-axis swing bike that invited double takes.
"One of the coolest things about Adam was that you didn't need to know his phone number. He was everywhere," says Rylan Schoen, a friend and fellow skier. By night, Adam went dumpster diving behind the local Trader Joe's for discarded flowers to hand out on campus. Women who could look past his aversion to showering, which was considerable, often found his smile irresistible. He made friends at every turn. One day at the library, Adam struck up a conversation with a cyclist who was crossing the country. He invited the man home to stay the night.
"Adam had a timelessness to him," says another acquaintance from those days. "He could've been the oldest soul, or the youngest guy, at once."
People agreed that you really didn't know Adam until you'd spent a day with him in the mountains. A few years ago, a local skier named Chris Farias was at a high camp with some of her friends above Mount Rainier's Flett Glacier, toasting the summer solstice with a round of drinks. Adam skied past with a friend, and then stopped to join them. Farias was struck by the guy with a Pigpen appearance who laughed and joked and complimented people lavishly. "He was sparkling," says Farias, an attorney who now lives in the mountain town of Leavenworth.
In the videos Adam's friends sent, he punches through a hedge of trees and accelerates toward a row of cliffs. Then he's airborne. With his legs tucked neatly beneath him, his upper body quiet, he's a missile flying true.
Farias and others couldn't help but notice that Adam had his share of oddities. "The concept of boundaries just wasn't part of his operating system," says Russell Cunningham, who met Adam when Roberts was a sophomore at Fairhaven. His few possessions spilled away from him in an ever widening circle. "The Adam Bomb," someone dubbed him. If he encountered a locked door, he might use a window. Once, unable to reach Schoen to ask if he was skiing the next day, he called Schoen's girlfriend 14 times. "He just didn't get that that was weird," says Amy Schoen, who is now Rylan's wife.
Not long after Adam and Cunningham met, they started going to the mountains together and became best friends. Both had spent a lot of time in alpine terrain but were novices in terms of doing big backcountry efforts on skis or boards.
Together they would scare themselves at Table Mountain and other peaks near Baker. On a few occasions, Adam would walk in the front door of Cunningham's house, climb the stairs, and crawl into his bed. "I'm just kind of bumming," he'd say. "Hey, you want to go skiing?"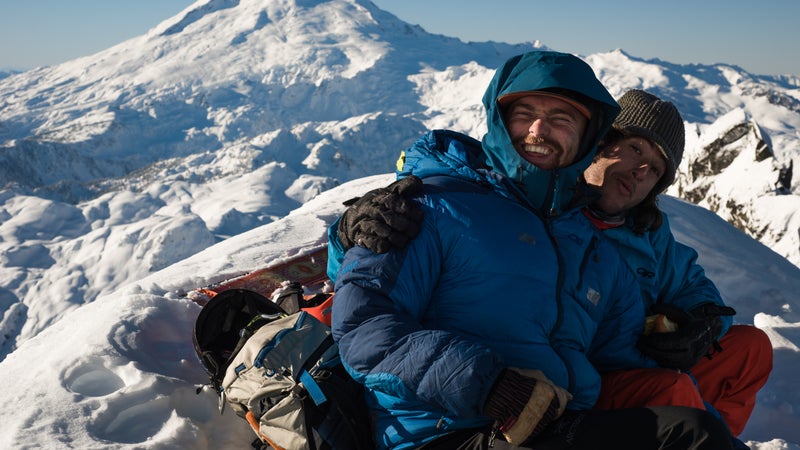 They went even if it was raining, making turns in manky snow for five hours. They got high together and ran through Bellingham in the middle of the night, chasing the trains that rattled through town. They promised to be each other's best man someday. "Most guys, at least in the Western world, suffer from this disease that I like to call tough-guy syndrome," Cunningham says. "Adam just didn't have that. He and I had a relationship that, I think, is very, very rare between male peers. I'd never loved a girlfriend as much as I loved Adam Roberts."
---
Mount Adams is the second-highest peak in Washington after Mount Rainier. In summer a fit person can walk to the volcano's summit on the south side without a climbing rope. The north side is a different place—steep, glaciated, lonesome. Extreme skiers Doug Coombs and Glen Plake first descended the north face of the northwest ridge in the 1990s, and at the time Adam did it, it had rarely been repeated. This is the route Adam had in mind when, on a summer day in 2010, he called Cunningham and asked if he wanted to do something scary.
At first the face is no more difficult than a challenging pitch at a ski resort. But as a skier descends, the mountain becomes convex, as if you're dropping over the side of a bowling ball. Ahead, all that's visible is the Adams Glacier, about 3,000 feet below. The mountain steepens dramatically, to more than 50 degrees; the face widens and grows enormous. Landmarks that the mind and body use to navigate space disappear. The world starts to spin, but falling is not an option.
"At any point in that route, if you fall you almost certainly die, because there's zigzagging 500-foot cliffs and seracs and crevasses," Cunningham says. "It might be the best line in the lower 48."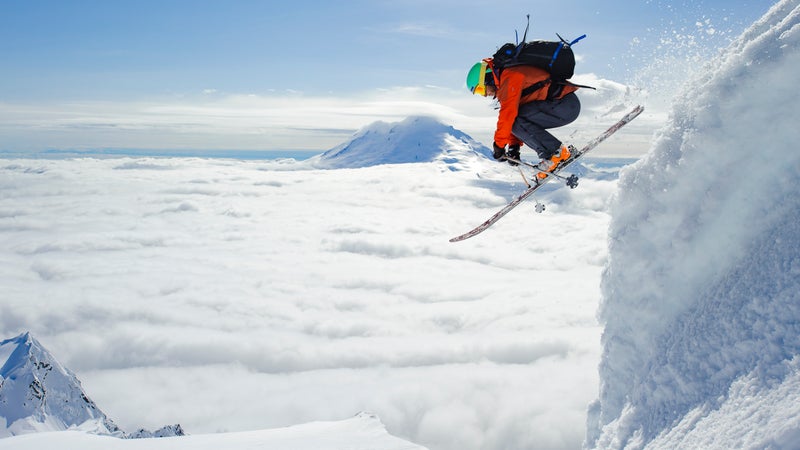 After completing his descent of the run with Cunningham, Adam's confidence ­skyrocketed. The next year, with alpinist and snowboarder Liz Daley—who died in an ­avalanche in Argentina in 2014—Adam skied the Coleman Headwall on Mount Baker, which Cunningham declined to attempt. "It was bulletproof ice and 50, 60 degrees for 2,000 feet," he told me.
That year, Adam also made a first descent of Mount Adams's Klickitat Headwall. Then he turned to Mount Shuksan, the 9,131-foot peak that stands guard above Mount Baker Ski Area. Broad-shouldered, regal, robed with glaciers, Shuksan is often said to be the most photographed peak in the nation. A tongue of ice pours down the western flank of the mountain until it's forced over a 500-foot cliff by a steep face: the headwall of Hanging Glacier. At some points the headwall tilts at nearly 55 degrees. A mistake would toss a skier toward the void. Adam skied that, too.
He also started to get somewhere with his dream of becoming a professional athlete: A full-page photo in Freeskier in 2010 of him skiing Hollywood Spine on Mount Baker. A full page in Skiing. The cover of Red Bulletin, Red Bull's adventure magazine. He appeared in a Patagonia catalog and on the side of city buses in Seattle. He got free gear from smaller companies that made ski packs, goggles, and bamboo poles.
"Adam perfected the photo turn more than any other skier I know," says Schoen, referring to a shot in which the skier's body is frozen in action, the powder a bow wave breaking against their goggles. "He didn't have any tricks in his back pocket. But he went big." Sixty, seventy, eighty feet of air.
In videos that Adam's friends sent me, he's unmistakable. His electric green pants and tangerine helmet stand out against winter's monochrome. He punches through a hedge of trees and accelerates toward a row of cliffs. Then he's airborne. With his legs tucked neatly beneath him, his upper body quiet, he's a missile flying true.
After the camera shutter clicks, the missile veers. He doesn't crash, exactly. Instead he hip-checks the earth, an intentional move designed to save his knees. This often resulted in Adam embedding deep in a crater of his own making—hot-tubbing, as skiers put it.
People who saw Adam ski were amazed and sometimes worried. On Mount Shuksan, Adam caught an edge on both the northwest couloir and the line above Hanging Glacier, his body tomahawking through space. In each instance he managed to self-arrest in forgiving snow before hurtling over cliffs.
"If it had been corn snow, firm, he'd have been dead," says Cunningham. Another time, Cunningham descended the north face of the northwest ridge of Mount Adams one day after Adam had been there and was horrified to see the sweeping turns his friend had laid down, the signature of a skier moving at more than 30 miles an hour. "To free­ride that face," Cunningham says, "is to tickle the dragon's testicles."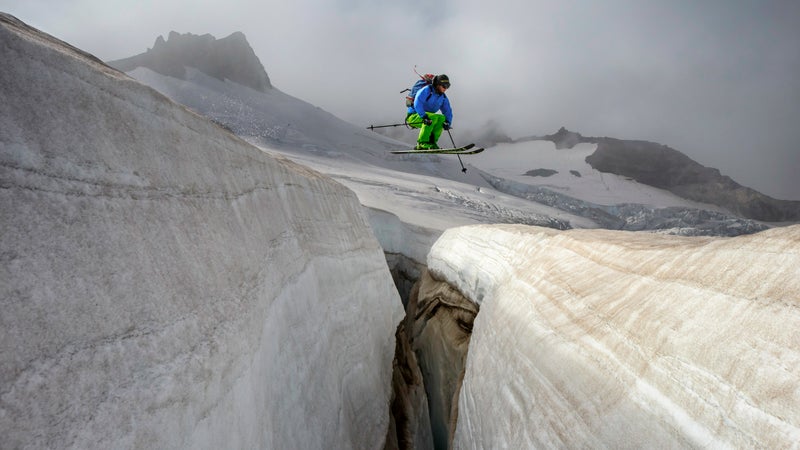 Not infrequently in the videos I saw of Adam—skiing out of bounds at White Pass, on Pelton Peak in the North Cascades, and on the island of Hokkaido, Japan—he's pursued by "the big guy in the white suit," as avalanche professionals call the rush of tumbling snow. "He told friends he loved to set off avalanches and outrun them," says his friend Jeff Rich. "He said it was fun."
In pictures, Adam leaps seracs and skis at the lip of dark crevasses. He hangs by his fingertips from a bridge in the Olympic Mountains, his grin broad and serene, even with 40 feet of air beneath his feet. "He stood on edges," Judy says. "He skied edges. He climbed edges."
Some people wondered if Adam had a death wish. What they didn't understand was that the mountains were helping to keep him alive.
---
During the winter quarter of Adam's sophomore year, 2004–05, something changed. He began to obsess over exercise and food. He would eat with the vigor of a young, powerful athlete and then, despairing, run for two hours and then go to the weight room for two more. Tortured, self-flagellating ideas looped in his head. He became convinced he was a bad person—the reasons why were always changing, but to him the evidence was everywhere. He tried to purge his thoughts by writing them down in dozens of journals. Resolution eluded him. The sentences, scrawled in his crabbed, indecipherable script, bend back on themselves, going nowhere.
His parents struggled to find answers. A therapist who helped Adam end his exercise bulimia around 2006 told them, "There's something more here than just an eating disorder." Over the years they would get other diagnoses: depressive disorder with anxious distress, schizo-affective disorder, obsessive-compulsive disorder. Nothing fully explained him. They began a years-long march through medications: Lexapro, Abilify, Risperdal, Quetiapine. "None of them really ever did much," Judy says.
Steve and Judy realized that Adam's exercise obsession had earlier precedents—events they thought he'd put behind him. When Adam was a boy, a dentist told him to brush his teeth thoroughly. He brushed them so thoroughly that he scrubbed off portions of his gums and had to have a transplant. One day, when Adam was around ten, he told his mother, "I want to be dead." Eventually, with counseling, such comments subsided.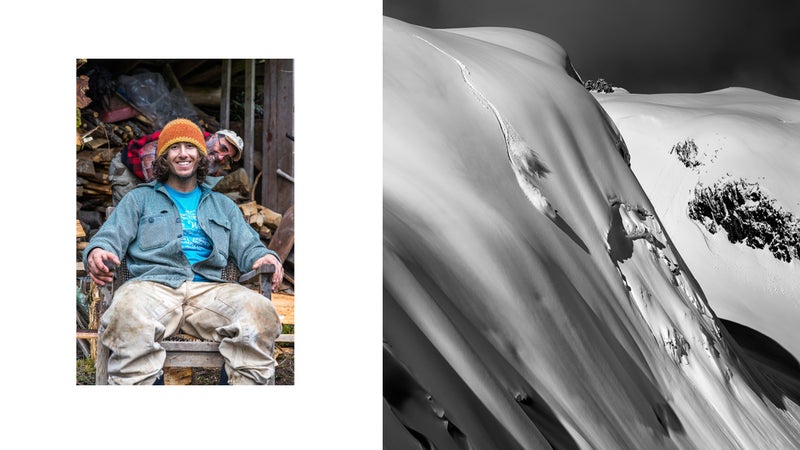 They wondered: Were Adam's adult troubles caused by the same demons, reemerged? The boy with the welcoming smile now struggled to live normally. Within a few years, to remain in Bellingham, he paid $50 a month to pitch a tent in a friend's backyard during a Pacific Northwest winter. Slugs moved in with him. Mold grew on his pillow. At one point he slept in his mother's car.
In his early twenties, he began to move around almost constantly—from Bellingham to the mountains to Randle and back again. Somewhere else was always better, more fun. One day he called Judy from Seattle. "I'm on the freeway. I'm pulled over. I can't do anything," Adam said, distraught. "I can't decide if I want to go to Bellingham or come home."
"You have to get off the freeway," she said. Eventually he was able to calm down and pick a direction.
During this time, Adam began to ski obsessively. He headed into the mountains 200 days a year, going alone if necessary, thumbing in the rain by six in the morning. He had discovered something that he not only liked but needed.
"Most guys suffer from this disease I call tough-guy syndrome," says Russell Cunningham. "He and I had a relationship that, I think, is very, very rare between male peers. I'd never loved a girlfriend as much as I loved Adam Roberts."
"Adam, in normal life, felt like he couldn't feel," Cunningham says. "He'd see two people walking down the street holding hands and kissing, and be like, 'God, I wonder what that feels like, to actually be in love?' " Adam had intense feelings—a Tuesday morning bowl of cereal could be the best bowl of ­cereal he had ever tasted, friends said. "But for him," Cunningham says, "when he got into some really serious shit that he knows is dangerous, that he damn well knows could kill him, and eventually will kill him, he's—for the first time in hours, days, weeks, months—feeling alive again. For him, skiing a 60-degree section of icy gnar way up on Mount Shuksan, above a 3,500-foot fall where most people are freaking out, Adam is laser-sharp focused and calm. Perfect. He clicks into his element. That's what he's designed to do."
To survive in such places, Adam no longer had the luxury of a noisy mind. All else had to fall away. For a few minutes the freight trains that banged through his head grew quiet. The silence was a form of freedom.
"He wasn't a poor homeless guy anymore; now he's wealthy," Cunningham says. "The beautiful thing about mountains is they're the great equalizer."
---
In the summer of 2012, Adam met a striking graduate student named Eliza Andrews at a bluegrass concert. They danced and shared a few kisses. That night, Adam wrote his number on her hand. She didn't call. A few days later, Adam showed up at her apartment building. Andrews was surprised and also hesitant. He was so handsome, though, and so flattering and persistent, despite his quirks. "Then I sort of felt like, Oh my God, he's just misunderstood," she told me. "Now it's my mission to help people understand."
They dated for nearly three years. They hiked and skied and kayaked. He started taking his medication again and went back to seeing a therapist, which he'd never stuck with. Andrews accompanied him. Their relationship steadied him somewhat.
Adam was a challenging boyfriend—complimentary and generous but also deeply self-absorbed. "He took, took, took and never gave back, I would say mostly emotionally," Andrews says. Adam would call her or Cunningham and talk for long stretches about his tangle of worries, then show no interest in theirs. "Just fix me. Just fix me," he told the therapist. Andrews broke off the relationship several times, but Adam wouldn't give up. "He kept finding ways to get back in," she says.
One spring evening in 2015, when Andrews had returned from a ski race to the house they'd begun to share with others, Adam confessed that he'd cheated on her. Andrews asked him for distance. "My ego needed to heal from the fact that he left me, after I've given this guy so much," she says. "It hurt even more, to try and push somebody away who was hurting so bad." Adam wrote her dozens of e-mails and texts over the next few weeks, pleading for another chance. "Whatever is wrong with me destroyed us," he said in one. "It destroys me every day."
In July of 2015, Andrews came home one night and found Adam asleep in her bed. She screamed and he left the bedroom. The housemates found him on the back porch and told him to leave. Adam exploded, shoving one woman and striking a guy who intervened. The police were called. Andrews went to court and got a temporary protection order.
Adam began to slide downhill. He moved around Bellingham in a slow shuffle—the city walk, friends called it. He was never a great self-promoter, and his ski career stalled. He would sell the goggles and skis that companies gave him in order to keep going in the mountains. He stuck with jobs long enough to put gas in his gypsy wagon, a one-room, green-roofed hobbit house he cajoled Steve to build for him on the bed of a pickup truck. Inside was a mailbox-size woodstove. Adam lived for days on end in the parking lot of Mount Baker.
Meanwhile, he obsessed over his ex-girlfriend. In Adam's mind, everything would be better if he could only get her back. By the end of June 2016, he'd violated the protection order at least five times—turning up at a bar and a farm where she worked, and near her home. Prosecutors filed felony stalking charges against him.
In July, Andrews went to Whatcom County District Court, where she had asked for a renewal of the protection order. Adam appeared as she waited. Violating the no-contact order in the courtroom, he knelt beside her, sighing, trying to speak to her. "Adam, what are you doing?" Andrews said.
"I don't care," he replied. When a five-year renewal was granted, Adam cried out. He was removed from the courtroom in handcuffs.
The week before Mother's Day that year, Adam and Judy went to an appointment with a psychiatric health professional near his parents' home. "You've got to control your behaviors," the therapist told Adam.
"I am trying," he insisted.
"No, you're not trying enough," she said, then left the room to make his next appointment. Adam grabbed a snow globe and threw it through a framed picture. He swept a computer off a desk. Three policemen arrived. Adam resisted. An officer pressed a Taser to his rib cage and fired, then fired again. Adam fell at his mother's feet. He was booked into the Lewis County Jail.
---
Another blow had come a few months earlier. In February of 2016, Adam was helping prepare Mount Baker Ski Area for the Legendary Banked Slalom, the mountain's marquee event and the longest-running snowboarding race in the world.
The North Cascades typically show off on race weekend by dumping snow, and that year the weather didn't disappoint—more than a foot of powder fell, landing on a slick, precarious surface. Adam dodged his duties and was cruising around the resort with Corey Warren, a friend and photographer. Adam was feeling antsy.
"We gotta get out to the Arm, it's looking pretty good," he said, referring to the Shuksan Arm, a long ridgeline that connects the west flank of Mount Shuksan to the uppermost reaches of the ski area. The Arm is a dramatic sight, striped with steep lines that show up regularly in ski magazines.
Warren got swept up in Adam's excitement. They made their way to a gate that leads to the backcountry and outpaced two dozen other skiers to get fresh tracks near a ski line that locals call the Beast, which has a steep entry. Adam made a quick turn for the camera and stopped. Behind him, a small slide raced downhill. He smiled.
As Warren skied down to set up the second shot, another avalanche cut loose. It grabbed Warren and carried him at least 50 yards downhill, burying him waist-deep and leaving him rattled. He composed himself and the two continued on. They set up for a final shot.
"This is gonna rip," Adam said. "I'm gonna arc to the right, make two turns, then I'm gonna arc out."
The Shuksan Arm is such a prominent feature above Mount Baker that a crowd of racers, spectators, and staff saw what happened next. Adam pushed off. The snow cracked open above him. "He could not outrun it," Warren says. "He didn't even get his one turn. It was like ball bearings. It just funneled him."
When the snow settled, Adam wasn't visible. The slide had carried him over a rockfall. Warren hurried to the edge. Adam—stripped of poles and goggles—was walking uphill, a nervous smile on his face.
"Dude, are you OK?"
"That wasn't what I expected. I rallied my back on that cliff."
Warren skied away to find help. At a spot where backcountry skiers reenter the ski area, a patroller was waiting for him.
"Hey, is that Adam Roberts up there?" the patroller asked.
"Yeah, it is," Warren said. "We just skied off a slide. He's fine, but he hurt his back and lost his skis. Can you send up a sled?"
"We're not calling anyone for Adam," the patroller replied, according to Warren. "He's on his own."
If Adam had been severely injured, ski patrol would've likely sent aid, even though he was out-of-bounds, but there wasn't much interest in giving him a lift after this near miss. Adam had annoyed patrollers by ducking ropes and launching off big cliffs without regard to the consequences for people below him. He'd gotten warnings and had his pass pulled for the day. This slide was just the latest personal foul.
When Adam reached the lodge, he was met by a Whatcom County sheriff's deputy and by Duncan Howat, Mount Baker's general manager. The deputy issued a no-trespass order that forbade Adam from coming back for the rest of the season. Adam adored Mount Baker, and he deeply respected the Howat family, who had run the place for half a century. The ban devastated him.
"The most challenging and heartbreaking part of working with Adam was that there was never anything malicious, or intent to do any harm," says Gwyn Howat, Mount Baker's executive vice president and operations manager. Yet his pursuit of whatever he needed "straight-up jeopardized people's lives. The paradox of that was very difficult to navigate."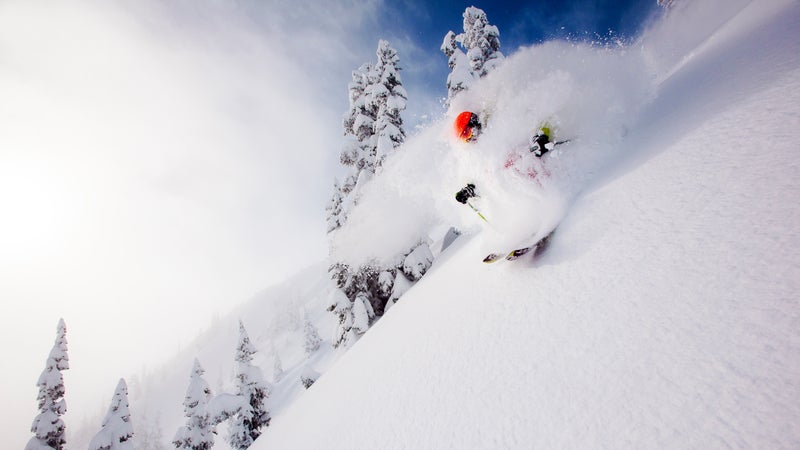 Friends noticed that Adam's decision-making was getting worse—and as more experienced skiers second-guessed skiing with him, there were fewer people around to check his riskier impulses. Rylan Schoen had gotten engaged to Amy recently, and they both decided he shouldn't ski with Adam anymore. Jeff Rich begged off when Adam called to ski; privately, he told friends he didn't want to be there when the inevitable happened.
After the incident at Mount Baker, Cunningham cornered his friend. "Are you doing this on purpose?"
"Kind of," Adam told him. "I'm kind of out of control of myself. I keep making bad decisions. I know they're bad decisions. But I just don't care about my life anymore, because I'm so fucking depressed every single day."
He filled Cunningham's voice mail. "I don't want to die," he said in one, "but I don't have a future."
The writer David Foster Wallace, who took his own life in 2008, wrote a passage in Infinite Jest that captures the agony experienced by someone who's in enough despair to consider suicide. Wallace said that no one leaps to his death from a burning building by choice. The person jumps because the flames are worse, "a terror way beyond falling."
---
The house that Steve and Judy Roberts built, and where they raised their sons, is snug, made of timber, south-facing to welcome the afternoon sun. The living-room window frames the white bulk of Mount Adams as it noses above a rumple of green peaks. Behind the living room sits a bedroom. On the bed there's a box made from local maple and yellow cedar, its lid inlaid with an image of the mountain. Steve made it. Now 68, he has a ragged woodsman's beard and the vise handshake of a lifelong carpenter. The handshake comes later, though, because when you show up to talk about Adam, Steve will meet you at the car door with wet eyes and a bear hug, even if you're a stranger. Inside the box are the ashes of his son.
Judy, 69, places a plate of homemade cookies on the kitchen table, not far from a book, Healing After Loss. She's observant, kind, yet direct. "The most incredibly sad thing to me is that he had it all," she says. "He had the perfect girlfriend. He had a ski career that was developing nicely. But he torpedoed it. He torpedoed it all."
For five hours one spring day we talk about Adam. Judy says her son was one of the strongest people she's ever met. A therapist once told her that if she took as much medicine as Adam was taking, she wouldn't be able to get up in the morning.
Talking to Judy and Steve, you realize how large the blast zone of mental illness can be. Years ago, Judy says, when Adam was wracked by his eating disorder, "almost every day he'd call and say, 'I want to kill myself.' " Do you have any idea, she says, what it's like for a mother to write the memorial service for her son—not once, or twice, but many times? Later, Adam routinely sent her as many as 400 texts per day. One time he sent 753. The messages were often brutal, self-hating. "You can't read stuff like that all day long and have it not affect you horribly," Judy says. "Mostly I would just delete everything as fast as I could, and he knew that. Still it came in."
Near the end, Judy wondered if she should fear her own son. One night in Randle, she and Adam stood at a window together at home. "Oh, it's such a beautiful sunset," she said. Adam punched the wall next to the glass and fell to the ground, holding his hand. "I can't feel anything," he moaned. "I can't feel anything."
Judy is strong, but when she speaks of these things she dabs her eyes. She doesn't share them because she wants your pity. She wants you to understand, all of it.
They tried everything. When Judy retired and Adam fell off her insurance, they paid out of pocket for mental-health treatment. They got Adam on federal disability and also secured state help. "It was really hard to explain to someone why this person is on disability when he goes out and skis these things, but we were out of resources," she says. "We put out so much money for this kid."
Five months after Adam's death, his parents found themselves still sorting through many emotions. There was grief, of course, and regret at not finding a way to help him. Judy is frustrated that the last few years had darkened the memory of Adam, her favorite hiking partner. She pauses, considering how to word something else that she and Steve have also felt: relief. When I visited, they had just returned from a vacation. For the first time in years, a ringing phone didn't scare them. "The last ten years, we haven't been able to do anything without having continual fear and worry about Adam," Judy says.
Adam became convinced he was a bad person—the reasons why were always changing, but to him the evidence was everywhere. He tried to purge his thoughts by writing them down in dozens of journals. Resolution eluded him.
By the autumn of 2016, Adam seemed exhausted. Ahead lay possible criminal trials for stalking and for trashing the therapist's office, which could result in prison time. Adam's actions had stripped him even of the solace of skiing: during the summer of 2016, he was required to wear a GPS ankle bracelet, so he couldn't wear a ski boot. Some friends, like Cunningham, exasperated, pulled back in hopes that Adam would finally help himself. It didn't work. Friends tried to keep him cheered up, but the spark was gone.
That fall, people told Judy about another therapy they might try for borderline personality disorder. Her son waved her off.
A friend asked Adam if he could help.
"Everyone has helped me," Adam said.
---
In the Pacific Northwest, winter arrives with the subtlety of an overdue freight train. Storms gather in the North Pacific and spin south until they smash into the first solid thing they encounter, which is often the South Cascades. By Christmas of 2016, more than ten feet of snow had fallen at White Pass.
Thanks to the mountains' low elevation and proximity to the sea, it's not uncommon for storms to arrive accompanied by warm temperature spikes. On December 20, the day before the winter solstice, it rained in the mountains, then grew cold and sunny for days. Ice formed. Such rain crusts create a slick bed upon which newer layers of snow can easily slide.
On the day after Christmas, photographer Jason Hummel and Adam skied together at White Pass, a snowy, uncrowded, and fun mountain for the expert who knows where to look. For some locals, this means heading out of bounds for a "road run." Just beyond one of the resort's boundaries, off a snowcat route called the Plank, lie ungroomed and unpatrolled tree-flecked trails. This is classic Northwest skiing, rarely tracked out by others. The runs end at Highway 12; from there it's a short hitchhike back to the ski resort.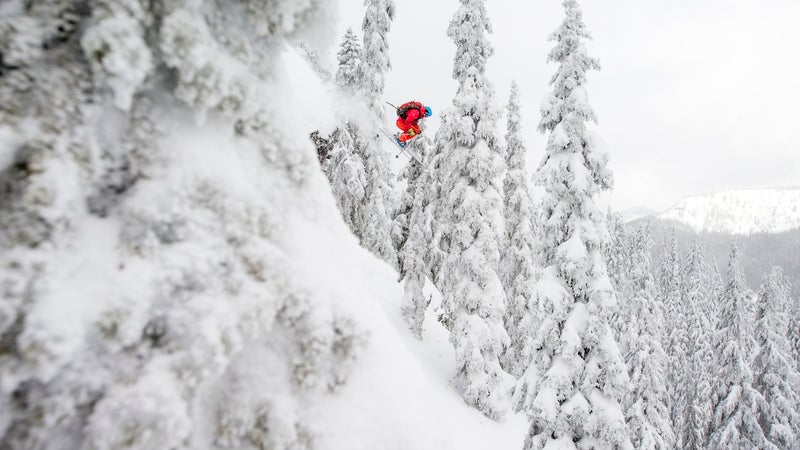 That day the skiing was terrible. "While we were sidestepping ice, we talked about how bad the avalanche conditions were going to be when it snowed a foot," Hummel told me.
That night snow began to fall. By morning nearly a foot of new powder covered the ground at White Pass, but the wind ­collected it much deeper in sheltered places. In its daily bulletin, the Northwest Avalanche Center warned: "The safest plan is to avoid avalanche terrain of consequence." Adam said goodbye to his mother and headed to the ski hill. On his bed he left three books. One was a popular manual for telemarkers. The second was Staying Alive in Avalanche Terrain. The third was a self-help title called Love Is Letting Go of Fear.
At the mountain, Adam flagged down Wesley Martin, an assistant supervisor at the ski school, and invited him along. Martin was excited. Adam was a celebrity at White Pass. His picture had been on the trail map.
Martin, 26, was working that day, and the two set up a plan: when Martin could shake free, they would meet behind the ticket booth to spin a lap. Several times that day they met for a road run.
"The day was midthigh deep, just blower pow," Martin recalls. He couldn't stop smiling, but Adam was struggling to enjoy himself. "Every time we got done, he'd say, 'I wish the run was longer. I'll bet it's better at Baker.' " Even so, Adam ghosted through the trees so quickly that Martin, though a very good skier, had trouble keeping up. Martin tried to lift his spirits. He quoted song lyrics by the John Butler Trio: All you want is / What you can't have / And if you just look around man / You see you got magic.
---
At two o'clock, Martin got another window from work. He and Adam headed out for another road run, working a popular backcountry zone that locals call the Grand Couloir. Grand is a misnomer. While the walls of the steep, narrowing gully quickly rise to more than 100 feet on either side and the couloir is large enough to be rippled with a few ski lines, a snowball tossed from the top can nearly reach the bottom of the gully and the creek that drains it in winter. It's a classic terrain trap—anything caught in a slide will be funneled into the creek and likely buried.
On the descent, a large slough of snow caught Adam and ripped off one of his skis. It took 15 minutes to find it. Even so, the men decided to take one more run.
Throughout the day, Adam had been sending Judy texts, the same litany of self-recrimination and regret that had become numbingly familiar.
11:56 A.M.

"I was driven..ski at baker and then school..why

Why did it kill me..I killed me"

12:57 P.M.

"White pass nothing"

2:45 P.M.

"But I coolant [sic] work..never been able to live on,own..never been able to work and live and make life..it's so so sick..its so sad"
At 4:15 P.M., after riding the chairlift, Adam sent her a last round of texts. One read:
"I feel so so dead..skiing feels so sick..i, know nothing.. Why why am i here..why"
The skiers walked the Plank and headed out of bounds. It was still snowing; the oyster light of a December afternoon was failing. Somewhere, under the deep snow, lay the old sign: ROBERTS' RUN. They stood at the Grand Couloir again, but this time Adam had led them higher, to an entry of the gully that was steeper than anything they'd skied together that day, perhaps 45 or 50 degrees.
"This looks sketchy," Adam said.
"I don't like this one," Martin replied. His legs wobbled with exhaustion from chasing Adam all day.
The Grand Couloir is not a single open funnel; it's punctuated by small islands of trees that break up the terrain. Martin told Adam he would ski the adjacent line that the two had skied last time. He took a few steps uphill and looked back. Adam had already dropped in and was gone.
Martin hiked about 40 yards and skied his short alley. At the bottom, Adam wasn't waiting. Martin yelled. No response. Ascending the gully Adam had skied, above he saw a fracture line on the slope that signaled the crown of an avalanche. It was a large slide, more than 100 yards wide, reaching down to the rain crust. Martin was not as experienced as Adam in the backcountry and he carried no avalanche beacon or rescue gear. Though Adam routinely carried such equipment, that day he had carried only a beacon. He had not switched it on.
Martin skied to the road and hitchhiked to the ski area for help. Ski patrollers located Adam at 5:53 P.M., a little more than halfway down the gully. He was in perfect position—upright, hand gripping a ski pole, the other pole inches from his outstretched hand. He looked as if he was about to make a slashing right-hand turn and pull off one last escape. His orange helmet, still on his head, was beneath four feet of snow.
It's hard not to wonder what Adam wanted when he stepped onto the slope for his last run. Did he hope to die? Perhaps he was trying to find a way to live, in the only way he knew. Or perhaps, in his exhaustion, he had ceased to choose. He would let the mountains decide for him.
"It would be inaccurate to say that Adam took his own life," Cunningham says. "It would also be inaccurate to say that he didn't."
Many of us head to the high peaks in search of something we hope to find there. "Nature's peace will flow into you as sunshine flows into trees," John Muir wrote, urging others into the hills. Perhaps Adam's story differs from yours and mine mainly by degree. All of us seek a quiet mind, a glimpse of sunshine through the trees. The difference is how far some of us will go in pursuit of it.
---
About two weeks later, a couple hundred people braved a snowy Saturday to come to Randle. In a church that Steve had designed, they laughed and cried and sang and told stories about Adam. They burned some of his journals, sending the words skyward. That night several of his friends stayed together, drinking and remembering. The next day they all went skiing.
More than a year later, Cunningham still misses his friend terribly, but he sees the world differently these days. Heading into challenging backcountry is no longer like crossing into hostile terrain. It's a homecoming. Adam taught him this. "Home is everywhere," he says. "Home is in the mountains."
Adam's many friends have rallied behind Judy and Steve. Judy posts videos and pictures on Adam's Facebook page, including pictures of her own hikes. Everyone comments. The couple has dozens of children now.
On a warm cloudless weekend last August, Judy and Steve removed some of the last of their son's ashes from the wooden box. They headed to Mount Adams, accompanied by a few of his friends, just as former girlfriend Andrews, Hummel, and others had accompanied them to other peaks earlier in the summer. They hiked to a spot where the family had camped when Adam was a boy. There in the mountains, the parents put their son to rest where he had always felt most at ease.
Christopher Solomon (@chrisasolomon) is an Outside contributing editor. He wrote about mountain biking in Utah in June 2017.