Cay Party
What do the world's most rejuvenating island escapes have in common? Empty sand, lonely surf, and new adventures of the strangest kind.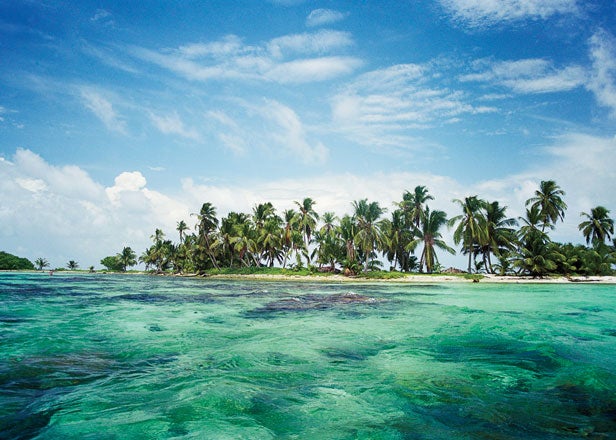 Heading out the door? Read this article on the new Outside+ app available now on iOS devices for members! Download the app.
Easy Does It
What a tough guy can learn from an island off Belize
EXACTLY 12 HOURS after walking out the front door of our Brooklyn apartment into a snowstorm, my wife and I stood on the dock at St. George's Caye Resort, in Belize. I was holding my fly rod while she sipped a fruity cocktail and teased me about my bombastic claim that commercial flights do not count as real travel. Any self-respecting adventure traveler, I often say, needs to follow his flight with a couple of days on a train or the top of a bus in order to feel as though he's actually gotten somewhere.
My perspective on the issue was not well supported by St. George's Caye. It's only a 20-minute boat ride from Belize City, yet it feels like a place that should take a couple of days to reach by outrigger canoe. The two-mile-long island is sandwiched between the Belize Barrier Reef and hundreds of square miles of mangrove swamps and bonefish flats that support raucous colonies of seafaring birds and a few local manatees. You could count the permanent human population on your fingers and toes. But my wife didn't need to mention any of this or cite the relevant statistics. Instead, she simply pointed to the school of tarpon lolling in the shallows 30 feet away.
For the rest of the trip I continued to eat my words—along with immense amounts of spectacular food, such as spiny lobster delivered directly to the kitchen by local fishermen. Between meals—served communal style, on the beach, by a smiling crew in flip-flops—we joined a few planned expeditions. There was snorkeling and diving on the reef; a night cruise in search of crocodiles; and fishing for bonefish and permit with a private guide. But, mostly, we took off on our own makeshift adventures. The resort provides plenty of kayaks and sailboats without the fees, rules, and boundaries that too often turn island getaways into chaperoned walks on the beach. We discovered secluded sand, secret swimming holes, hungry schools of fish, and a curious manatee. At night, we kicked back in one of a dozen thatch-roofed cabanas. We could hear the Caribbean roll in just beyond our front porch. Beyond that, nothing. This self-respecting adventure traveler slept well.
GET THERE: St. George's Caye Resort (gooddiving.com) provides guest transport from Philip S.W. Goldson International Airport. Cabanas for two from $218, including meals and local rum punch. One-tank dives, $60; half-day fishing trips, $325.
Fire on the Mountain
Playing in the shadow of a volcano in Papua New Guinea.
Papua New Guinea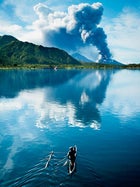 New Britain's Tavurvur volcano gets feisty
IN 1994, a 2,257-foot volcano erupted on the island of New Britain, Papua New Guinea, burying the city of Rabaul under seven feet of ash and prompting 30,000 people to evacuate. Only 3,000 returned, leaving the town essentially like Kauai pre–Captain Cook, only with more pyrotechnics: The island is populated mostly by members of some 50 indigenous tribes, and the resident volcanoes, Tavurvur and Vulcan, are still very much active. Go now and you can lounge on a black-sand beach and watch Tavurvur burp up lava and small columns of ash as many as four times an hour.
I arrived two years ago to find an ashy town—the swimming pools were gray—set on an active caldera with countless adventure options just beyond the city limits. One can scuba-dive at a reef wall that served as a berth for Japanese submarines in World War II; sample grilled crocodile at a sustainable farm in New Britain's jungle; or take a helicopter flight over inland waterfalls so remote, nobody has bothered to name them. But the highlight of New Britain is the paddling. On my third day in Rabaul, I drove five minutes south to Matupit Island and rented a dugout canoe with a guide from the Tolai tribe. We paddled across Simpson Harbor while a hot ash cloud boiled overhead. Afterwards, my guide brought me back to the Tolai village and served me bananas poached in coconut milk, which he said was a traditional feast commemorating the arrival of Fijian missionaries—whom the Tolai ate.
GET THERE: Air Niugini flies here at least twice daily from Port Moresby, on the south side of PNG's mainland (from $300; airniugini.com.pg). Lodging in Rabaul is limited to the Hamamas Hotel (doubles from $59; www.rabaulhotel.com.pg). Ask the staff about tours of the OISCA farm ($18 with crocodile lunch; oisca.org) and rides to Matupit. The Tolai guides will find you; a day trip is $9.
Vieques Rising
Puerto Rico's Vieques has come a long way from when the Navy played war games on its beaches.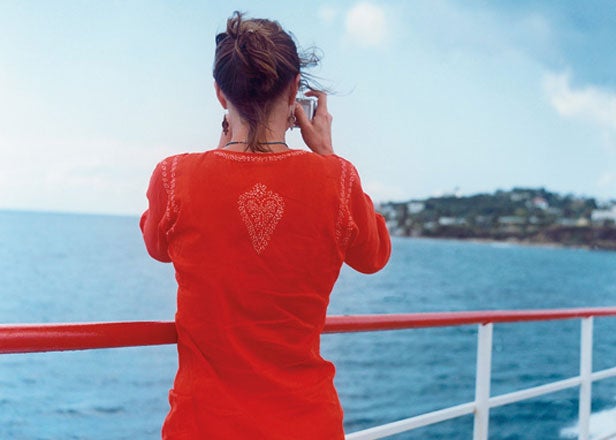 Back in 2001, the Navy was still using Puerto Rico's Vieques for war games on the beaches. There was just a handful of restaurants and hotels on the 21-mile-long, four-mile-wide Caribbean island, and it was the kind of place where guests didn't wear shoes. Today, the Navy is gone and the old bombing ranges have been designated a national wildlife refuge. Now, Vieques is exploding in a different way: New roads are being built; old ones are getting paved. One of the military's old bunkers is now a sports bar by day and a disco by night. Swanky hotels, like the W, which opened in March (doubles from $379; wvieques.com), and restaurants, like El Quenepo (787-741-1215), are popping up.
But don't worry. While it's now possible to have the resort experience, Vieques is still funkier and more laid-back than most Caribbean islands. Book a cabañita—one-room cottage—at La Finca (doubles from $125; lafinca.com), a clean but rustic joint with outdoor showers and mismatched towels. Then head for the sand. There are more than 50 beaches—perfect for everything from kayaking (Green Beach) to snorkeling (the islet of Blue Beach) to paddling at night in one of the biggest bioluminescent bays in the world (Puerto Mosquito, a.k.a. "Bio Bay"). The best way to see the latter is in a clear canoe from the Vieques Adventure Company (two-hour rentals, $45; viequesadventures.com), which, should you start getting antsy for more action, can also set you up with decent mountain bikes to explore all the old military roads ($25 per day) or take you kayak fly-fishing for tarpon ($150).
Twilight Zone
Happily lost on a Croatian island haunted by vampires.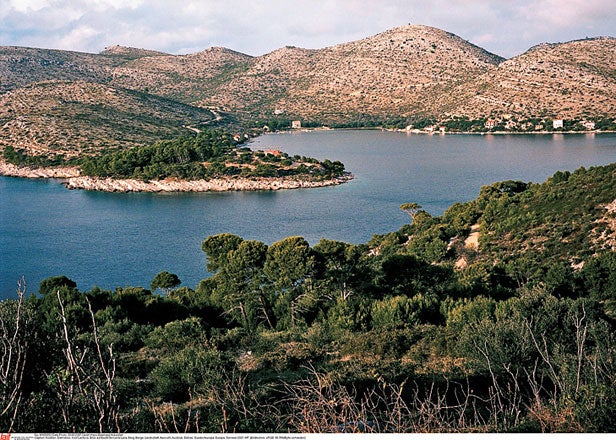 Lustava

Northern Lustava
Dalmatian dinner, Croatia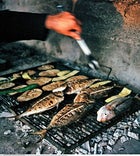 Dalmatian dinner.
BY THE TIME we reached Lastovo, we were made of salt water and octopus. For a week, my family—14 of us, from age 78 down to 16—had sailed along Croatia's Dalmatian coast in a 100-foot Turkish gulet, gorging on grilled fish and pickling ourselves with local wine. We'd come far from the cruise ships of Dubrovnik and left the nightlife of Korcula behind. Lastovo (pop. 800) was the last and most remote island, one big national park with, from the look of the charts, great sheltered kayaking. But even our guide, adventure writer Maria Coffey, had never been.
We'd heard there were vampires on Lastovo—in the 1700s, the island had a little problem with vukodlaci, undead corpses that rose, as our guidebook said, "to visit the beds of bored wives and pleasure them in the night." This sounded fine to some of our clan, but the island still emitted a creepy vibe. Even today, one of Lastovo's biggest celebrations involves the ritual humiliation of a straw puppet led through town on a donkey.
Sure enough, the crags showed little sign of life—just crying gulls and the colorful towels of naked Germans, the predominant pink-skinned species here, found sprawled along Dalmatia's rocky coast. But the little harbor of Skrivena Luka was a miracle, a still blue bay ringed with stone cottages. At the lone restaurant, Porto Russo, the proprietor brought out homemade verbena-infused Croatian grappa, then white wine (from his own grapes), home-cured olives, and local squid cooked for hours pod pekom—under a metal bell in a wood-fired outdoor oven. Later, in Lastovo Town, a 15th-century wonderland of vineyards and minaret-topped churches teetering on the island's summit, the local street sweeper—who still uses a broom—dragged us into his courtyard for thick, sweet coffee.
Did we come here by plane? Was the World Cup still going on? What was my name again? The Dalmatian islands aren't exactly off the beaten path, but in Lastovo you can feel like you sailed in and discovered them yourself.
GET THERE: Hidden Places owners Maria Coffey and Dag Goering guide ten-day kayaking-and-sailing trips along the Dalmatian coast for $4,550 per person (hiddenplaces.net).
Sweet Bondage
There's no vacation quite like a Colombian-prison-island vacation.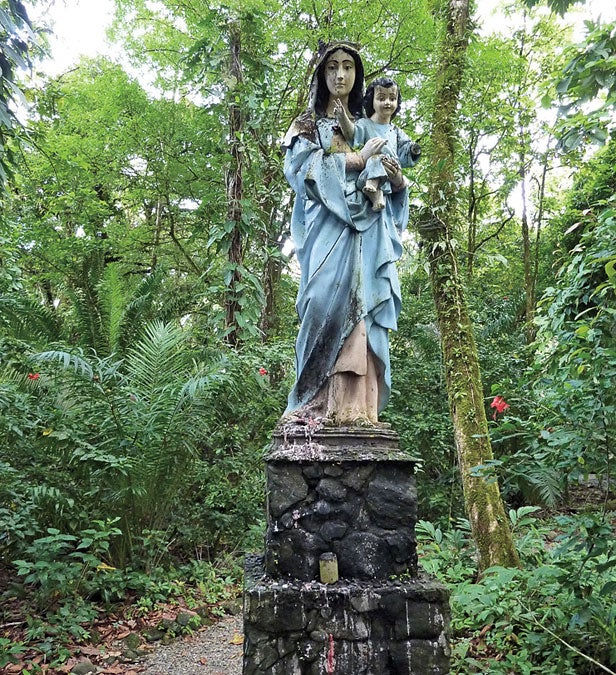 BETWEEN 1960 AND 1984, visitors to Colombia's Isla Gorgona arrived shackled and blindfolded and slept behind barbed-wire fences, on wooden bunks without mattresses. The 2,500 inmates of Gorgona Prison were warned that, if they escaped, the venomous snakes on the tropical island would kill them and, if they braved the ocean, the sharks would get them instead.
Today, the lush, 6.5-square-mile island, 30 miles off Colombia's Pacific coast, is a national park; the lodging here has been managed since 2006 by the winner of the Colombian version of the TV show The Apprentice. Which is to say, this is one strange escape. I arrived last September via speedboat from the coastal town of Guapí. Upon touchdown, military police searched my bags for alcohol (it interferes with the requisite antivenin) and weapons. The other guests—the island hosts 130 at a time—were mostly schoolchildren and besotted couples, enjoying king-size beds in the updated guard quarters by the beach.
I spent my days exploring: first, the grisly ruins of the mammoth stone penitentiary, said to be modeled after a Nazi concentration camp and now overrun with capuchin monkeys and foot-long basilisk lizards, then the dense tropical jungle that covers 85 percent of Gorgona, for which the island provides obligatory boots. There really are pit vipers and coral snakes here, as well as easier-to-spot (and mostly harmless) boa constrictors.
The trekking's good and the kayaking better—I spent a few afternoons dipping into the equatorial water as blue-footed boobies and frigates flew overhead—but the main activity on Gorgona is diving. The island has a fully equipped dive center, and I'd regularly see 20 to 30 moray eels at any site, many as thick as my thighs. Gorgona's nature preserve extends to a six-mile radius around the island, so fish and turtles are plentiful, intrepid, and big. But size is relative. From July to September, humpbacks come to Gorgona's banks to mate and calve, and to see them breach and slap the surface with their gargantuan tails is to forget that once this was a place no one ever, ever wanted to go.
GET THERE: Three-night packages, including three meals daily, island transfers, and flights from Cali to the coastal town of Guapí, in the Cauca department, from $463 (concesionesparquesnaturales.com). Two-dive day trips from Gorgona's dive center, $90. Kayak rentals, $5 per hour.
King Kauai
Lush greenery, volcanoes and an endless supply of hidden beaches.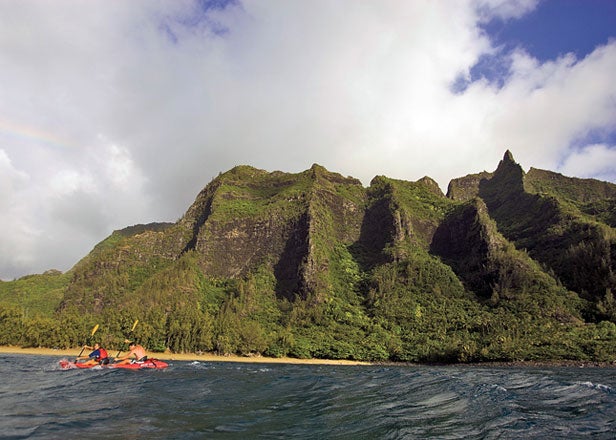 The Big Island has size on its side, not to mention fun volcanoes. Oahu has the storied North Shore. And Maui—well, let's just say that the honeymooners storming its beaches year after year don't come for nothing.
But little Kauai has it all: lush greenery, volcanoes, small towns not yet overrun, and a seemingly endless supply of hidden beaches for surfing, snorkeling, and sunbathing.
This year, all those options are more accessible than ever. On the island's north shore, the St. Regis Princeville opened its doors last October (doubles from $385; stregisprinceville.com); after taking over the historic Princeville Resort, St. Regis revamped the whole place with a classy retro look. (Think coconut palm floors and a new spa and restaurant by über-chef Jean-Georges Vongerichten.)
But you don't go to Kauai to lounge. Join the locals for stand-up paddleboarding in Hanalei Bay—there's a great SUP surf break by the Hanalei Pier—or along the flat calm of the Hanalei River. Kayak Kauai offers lessons and boards (rentals from $42 per day; kayakkauai.com). In the nearby Hanalei National Wildlife Refuge, a coastal wetlands teeming with endemic bird species, you'll find the Okolehao trail—a windy, two-mile path offering views of Hanalei Bay and the mind-blowing Na Pali coastline. If it's surf you're after, head 45 minutes south to Poipu, rent a board at Nukumoi Surf Co. ($6 per hour; nukumoi.com), and try the Poipu Beach surf break, one of the island's best. Afterwards, crash just 50 yards away at the year-old Koa Kea, the first and only boutique property here (doubles from $299; koakea.com).
Trippin' on Indo
Short-term memory loss in the South Pacific.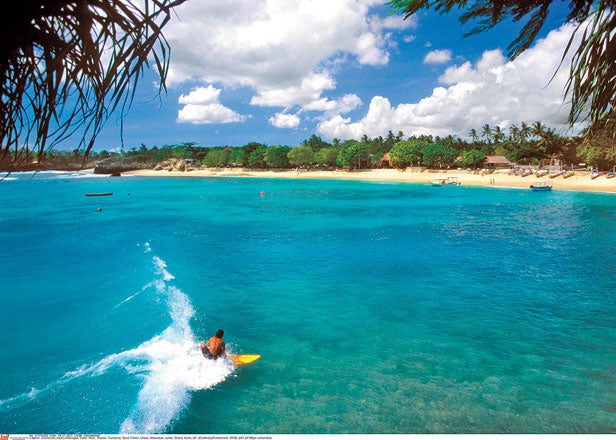 Indonesia

Shrines decorated for the Hindu Odalan festival.
Indonesia

Lembongan traffic
LEMBONGAN ISN'T EXACTLY out of the way—just seven miles southeast of tourist-clogged Bali—but it stays perfectly out of your way. Nothing about the place gets between you and your vacation. A three-square-mile speck of coral reefs, empty beaches, and hillside bungalows, the Indonesian island is what Henry Miller meant when he said of Big Sur, California, "There being nothing to improve on in the surroundings, the tendency is to set about improving oneself."
The easy access from Bali—plus the presence of several consistent surf breaks and dive spots—has given Lembongan a small but steady tourism economy to supplement the traditional kelp farms. My wife and I thought it might be a nice change of pace during our 16-day honeymoon on Bali. It ended up being the highlight of our trip.
It's hard for either of us to say exactly why. I know we surfed and took a beginner scuba excursion. But mostly what we have are hazy recollections of long naps, afternoon strolls, and laughing over dinner about how we'd managed to fill another day doing … er, well, we were never quite sure. And still aren't. We barely even have any photos from our stay. That's Lembongan's gift: letting you let go.
I imagine this empty-mindedness is the sort of self-improvement people seek from meditation retreats. But this retreat has cold beer and a really hollow reef break—from what I can remember.
GET THERE: Island Explorer Cruises offers day trips to Lembongan for $85 per person, including food and activities, and beachside bungalows for two from $90 per night (bali-activities.org).
Have Lots, Want Not
The curious challenge of living it up on a private island in Fiji.
Fiji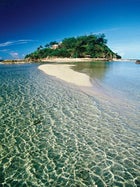 Three acres of paradise: Wadigi
Indonesia

Wadigi's open air suites
I HAD TWO WHITE-SAND beaches and an infinity pool that overlooked an endless sea. I had a boatman ready at a moment's notice to take me snorkeling, water-skiing, windsurfing, fishing, or paddling in a glass-bottom kayak. I had two chefs waiting to prepare any whim; an open-air villa; an on-call masseuse; and a statuesque hostess who greeted me with a fruity cocktail in a fresh-cut coconut. In other words, I had Wadigi, a tiny islet in Fiji's Mamanucas, at my command.
I'd been sent there by a dive magazine to experience the singular indulgence of a private island. And, as a chronically underpaid writer, I planned to soak up every last perk. But after a couple of days of diving among spiky lionfish at half a dozen world-class sites, dinners with too many courses to count, and enough gin-and-tonics to get me kicked out of any self-respecting American bar, a funny thing happened: I found myself doing absolutely nothing.
As it turns out, when you have everything you might want, your wants start to subside. OK, so I never did get bored with that glass-bottom kayak, but I spent most of my free hours simply lolling around and contemplating the preposterous views. On my last evening, instead of ordering extravagant cocktails and back-to-back massages, I ate all the home-baked cookies in the jar and then simply sat in the pool watching the sun dip below the horizon and the clouds sweep across the mirror-still sea.
GET THERE: From $2,327 per day for two, including meals, most activities, and lodging; two-tank dives, $100; wadigi.com
New Outposts
Seven island getaways to fit every fantasy.
Anguilla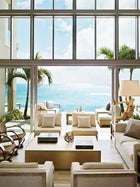 The Viceroy, Anguilla
FISH
Islas Secas, Panama
A group of 16 private islands, Islas Secas sits 25 miles off the Pacific coast, close to the wahoo, marlin, and grouper crowding Hannibal Bank. On land, the place is Gilligan's wildest dream, its seven solar oceanfront yurts holding only 14 guests. Go for the surfing or diving, but mainly go fish: Last winter, fishing director Carter Andrews helped a guest set seven world records here. In a week. Six nights, $6,600 per person; islassecas.com
SAIL
Scrub Island, British Virgin Islands
This 230-acre private island, which opened in February, is the first new resort in the BVIs in 15 years. At the heart is a 53-slip marina, the perfect base to launch a sailing excursion of the BVIs. Or stick around in one of the island's 52 rooms to enjoy day sailing, diving, hiking, and three restaurants. Doubles from $359; scrubisland.com
DIVE
Shearwater Resort, Saba
Set some 2,000 feet atop Saba, a five-square-mile volcanic island in the Neth­erlands Antilles, Shearwater offers panoramic ocean views but is only a ten-minute drive from the docks. There, dive boats will take you out to some of the Caribbean's best snorkeling and scuba. (Ask Shearwater about custom packages.) The newly renovated rooms offer flatscreens, iPod docks, and wi-fi. Doubles from $175; shearwater-resort.com
WATERSPORT
Viceroy Hotel and Resort, Anguilla
With three restaurants and three pools, you might be inclined never to leave the grounds of this year-old, 35-acre resort on the shores of both Barnes and Meads bays. But do: The 3,200 feet of coastline on the two bays offers spectacular sailing, snorkeling, and swimming. Doubles from $595; viceroyhotelsandresorts.com
SURF
The Atlantis Hotel, Barbados
Following a complete refurbishment in 2009, this swank, eight-room lodge on Barbados's east coast offers fast access to Sand Bank, a beginner-friendly beach break, and Soup Bowl, a tenacious reef break that Kelly Slater has called one of the best in the world. Doubles from $255; atlantis­hotelbarbados.com
MULTISPORT
The Landings, St. Lucia
A 19-acre waterfront resort on the northern tip of lush St. Lucia, the Landings offers complimentary 78-foot sailboats, snorkel gear, and sea kayaks . Pick up one of the latter and paddle 400 yards to little Pigeon Island for a hike to an 18th-century British fort. And don't forget to look inland: St. Lucia's Piton mountains offer some of the Caribbean's best hiking and vistas (you can see neighboring St. Vincent). Six nights, $1,755 per person, double occupancy; rockresorts.com
INDULGE
Terre di Corleone and Portella della Ginestra, Sicily
Until recently, these properties were owned by mafia bosses Bernardo Brusca and Salvatore Riina. Thanks to a 1996 Italian law that uses government-seized mafia assets for social purposes, they've been converted into inns and cooperative farms producing fresh pasta, honey, legumes, and, of course, plentiful red and white wines. Doubles from $45; ilgiustodiviaggiare.it
Fresh Trips
Seven island getaways with the perfect balance of adventure and indulgence.
Belize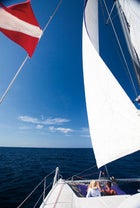 Off Ambergris Caye, Belize
PADDLE
Palau
Boundless Journeys' Oceania Odyssey starts with infinity-pool luxury at the Palau Pacific Resort, on Koror, before going rustic: For the next week, no more than ten guests camp on two smaller islands; snorkel over sunken World War II planes; sea-kayak the saltwater Black Tip Lake, accessed by marine tunnel; and dine on fresh-caught parrotfish. January–October; from $4,695 per person; boundlessjourneys.com
SAIL
Isle of Skye, Scotland
On the new seven-day Sailing & Walking Around Skye trip from Wilderness Scotland, local skipper Angus MacDonald Smith will ferry eight guests around Skye on his 67-foot yacht, Elinca, seeking out the old pirate anchorages, hailing passing fishermen to buy prawns, and cruising up inlets to launch guided hikes in the steep Cuillin Hills. Go in May or June for 20-hour days and peak seabird nesting. $1,400 per person; wildernessscotland.com
MULTISPORT
Madagascar
Gap Adventures' Madagascar Experience focuses on inland beauty. From the capital of Antananarivo, your crew will head south by minibus, stopping to hike in lush rainforests, bike around (and swim in) Lake Andraikiba, and explore the eroded sandstone Isalo Mountains. March–December; $1,449 per person; gapadventures.com
FISH
Seychelles
On Frontiers Travel's new six-day Desroches Island Flyfishing Adventure, guests cast for hard-fighting bluefin trevally at offshore atolls by day and crash in private villas by night. Casting arm need a break? Explore the 3.5-mile-long island with kayaks, bikes, or snorkels and fins. $7,600 per person, double occupancy; frontiers­travel.com
MULTISPORT
San Juan Islands
REI Adventures' San Juan Islands trip is a six-day mash-up through Washington's Puget Sound, including a 50-mile road-biking spin around Orcas Island, sea kayaking with killer whales near Sentinel Island, and one night at a remote campsite. (The other four are spent at the Lakedale Resort's tent-cabins, which have real beds.) From $1,899 per person; rei.com/adventures
DIVE
Half Moon Caye, Belize
On the seven-day Lighthouse Reef trip from Island Expeditions, you'll kick back in safari-style tents and napping hammocks strung in coconut groves on 44-acre Half Moon Caye, some 50 miles off the mainland. Of course, you'll probably spend most of your time in or on the water, diving the Blue Hole—a famous, 400-foot-deep well—snorkeling in shallows, and exploring the reef by kayak. From $1,789 per person; islandexpeditions.com
RIDE
Crete
Backroads' new six-day Crete cycling trip starts from Iráklion, on the northern coast, and ends, after 268 miles of pedaling, at Akrotiri Cape, in the west. In between, you'll spin past lush vineyards and olive groves and Venetian harbor towns, where fresh seafood and plush inns await. $3,598 per person, double occupancy; backroads.com