The Daily Rally
Alex Kim Wants Montana to Know He's Here
When the photographer moved from his tight-knit Korean-American community to rural Montana to spend more time outdoors, he decided to create a new community for outdoorsy people of color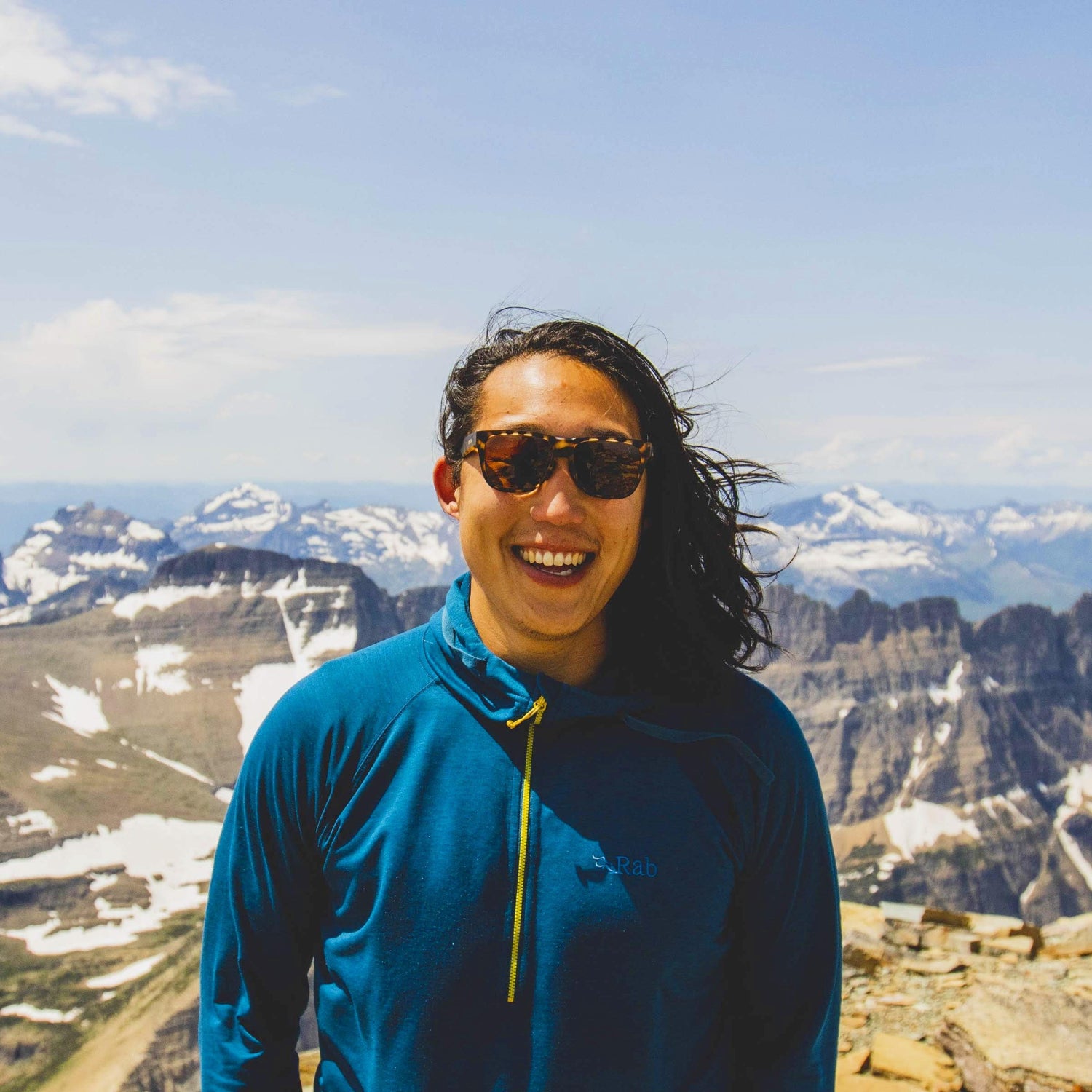 Courtesy Alex Kim
Heading out the door? Read this article on the new Outside+ app available now on iOS devices for members! Download the app.
Alex Kim told his story to producer Lucy Little for an episode of The Daily Rally podcast. It has been edited for length and clarity.
Essentially someone was telling me that their privilege has led them to where they are today. It's hard to hear that from someone when you're like, "Hey, I just wanted to know, what did you do to get to where you are?" And someone's response is like, "It took 15 years, took a master's degree. It took me being at summer camp and doing all these things." And I was like, "You know, it's crazy because when you were at summer camp, I had to stay at home and translate papers for my parents because they didn't speak English." We had different ways of growing up, and this person just couldn't see that.
My pronouns are he/him. Some of my passions include being outside and just not doing any activities, just sitting on some grass or on some rocks and just looking around.
I focus a lot of my time on photography and representation of people, all types of people, and if I'm not outside, just hanging out, I'm normally in the kitchen cooking food. One of my favorite foods to make is kimchi jjigae.
I'm located in Missoula, Montana. I am the founder and director of Here Montana, an outdoor program focused on joy, community, education, and engagement for the BIPOC community in the state of Montana.
We work with youth and adults year round. We do everything from backpacking, climbing, to snowboarding, skiing, bike packing, and rafting. We make sure that there's representation in every level.
We just want to make sure that people feel not only that they're seen, but that they have someone that they can relate to. We want people to experience the outdoors in a way where they feel empowered and like they have the tools necessary to get out there on their own, and to celebrate their identities and communities, however they would like to do that.
I grew up in Maryland. I would say my outdoor experience as a child was very minimal. When I was really young, I think I played outside as much as I could, but it really looked like city parks and running around this sand pit that they used for salting the roads. They would have these huge sand dunes, and we would go back there and run around and try to jump our bikes and just be outside.
My parents are from Korea. Being immigrants, they really wanted me to focus on creating a life for myself, and in that lens of my parents, that was really focusing on education. Off the bat, I was a terrible student, just had a really hard time focusing.
But where I thrived was being outside. I was calm, I felt very connected. I felt like all the million things that were going through my head really settled down. Some days, I just was like, "I'm not gonna go today because it's not working for me, but you know what is working for me is wandering around in the trees somewhere."
One of the bigger hardships that I faced was my own acceptance of myself and my own duality and identity of like, What am I doing? Am I going to go back to like what my culture and social norms of my family are encouraging me to do? Or am I gonna completely flip over and do something else? And I was already flipped over, I was already doing something else.
I wanted to ground myself again, just like I did as a kid. And where I felt the most comfortable was being outside. And so after working for a couple years, I left on this road trip. I headed down South to Florida, and then cut over West. I didn't know it was gonna take nine months.
I arrived in Montana in December. It was the winter, I had never seen snow like that before in my life. I remember seeing kids line up at the school bus line and there was two feet of snow. So all I saw was just like these beanies. I remember growing up in Maryland when it's like two inches of snow and school is closed, and I was like, These people are hardcore out here.
And when I got out there, the adversity was just immediate, just with the weather itself. So I was like, What does it take to thrive living in a place like Montana?
I think one of the things that really stuck with me when I arrived in Missoula was visually not seeing a lot of people that look like myself, or that look like people that I could really connect with. Especially through the lens of being an Asian American and growing up somewhere where it was super diverse, and I was very connected to the Korean-American community, I felt very alone. I felt like I didn't have support systems. And not having that really made me recognize how lonely it can be living in certain parts of the country.
The outdoors is very centric to our identities as Montanans. But yet, when it comes to marketing and opportunities, I think we really see a lack of effort in inviting people of different backgrounds to join the conversation or to be a part of a sport.
Here Montana was something that I thought would be really fun to do, back in late 2018, 2019. In Montana, the conversation of diversity was not necessarily around. I think a big challenge that I faced was validating why it was important to have a space for people of color living in rural states.
The city government wanted to support us, but I think the infrastructure and the leadership just didn't have the lens to have that understanding. We still don't have a lot of diversity in our city government. And if we don't see that representation, then the laws and policies that are passed are not aligning with people that need those changes to be made, because there's no one in power that can relate. So why should they care?
The pushback was just all the way through. I had asked someone, "Hey, how do you get to become where you're at? Running these programs for the city, you're doing all this work. How did you do that?" And the response I got was, "You didn't get to do this when you were 14 years old like me, so you won't be able to do this, you're not gonna be here." My jaw dropped because, as a leader, that's not a great way to lead people.
That really impacted me in a deep way of A) wanting to prove them wrong, and B) it's not about the time, it's just more about if you can be the person that you need to be and get the training that you need to just do it. My interaction with that person really encouraged me to be better and to do better for my community.
One of the most impactful moments I've had working with Here Montana is on a rafting trip.We had three boats, there were people from all over our community, and I had this boat with a kid and his dad and his brother. And I remember telling this kid, "Hey, do you want to jump up and row the boat a little bit and see what it feels like?" And he jumped up there and rode the boat and was like, "This is really cool." And I remember him looking at his dad and saying, "I don't want to go to school if this is a job. I just want to do this for work."
And there was something in me that just connected with this kid from when I was that age. And I'd wish that I had had that opportunity and I feel even better that I was able to help facilitate something that's thought provoking for this kid, to recognize that the opportunities for him are endless.
What was even more amazing was, his dad looked over to me and was like, "This is your job, you're doing this?" And I was like, "Yeah, this is my job. This is what I do." And he just looked at his kid and he was like, "Yeah, you don't have to go to school. If you work hard, you can do something like this and just be outside all day." And his kid was stoked and was like, "Whoa, I could do this."
I felt like, Oh, wow, I remember feeling like I had nothing to look forward to in my life, and then just being outside one day and I was like, This looks like a place that I could thrive and be at. I felt so much joy from that family, but also just a lot of internal joy myself of just feeling like all this work and working through these different things, impacting someone like that and hopefully changing how they perceive the outdoors…it was magical for sure.
We choose to let joy be the gateway to people being outside. Having a place where people can experience joy, unconditional joy, it's just become such an important factor for this program. The reason why a lot of people come is because they don't have to worry about being in a situation they might feel uncomfortable in, they can do it together as a community. Or if they don't know something and they want to learn from someone that may have relatable experiences, they can find that there.
The name Here Montana came from just wanting people to understand that there have always been communities of color here and there always will be. Just taking our stake here, just saying that we're here, we live here, we're a part of this community,
We exist and it's important that we're here.
Alex Kim is an adventurer outdoor leader, photographer, and the founder and director of Here Montana. Check them out on social media @here_montana. You can see Alex's photography on Instagram @atkpics.
You can follow The Daily Rally on Spotify, Apple Podcasts, or wherever you like to listen. Subscribe to our newsletter and nominate someone to be featured on the show.
Lead Photo: Courtesy Alex Kim
Trending on Outside Online