The Daily Rally
Eeland Stribling Wants to Leave the World Better than He Found It
The stand-up comedian and wildlife biologist taught a kid to fish and netted his own lesson in return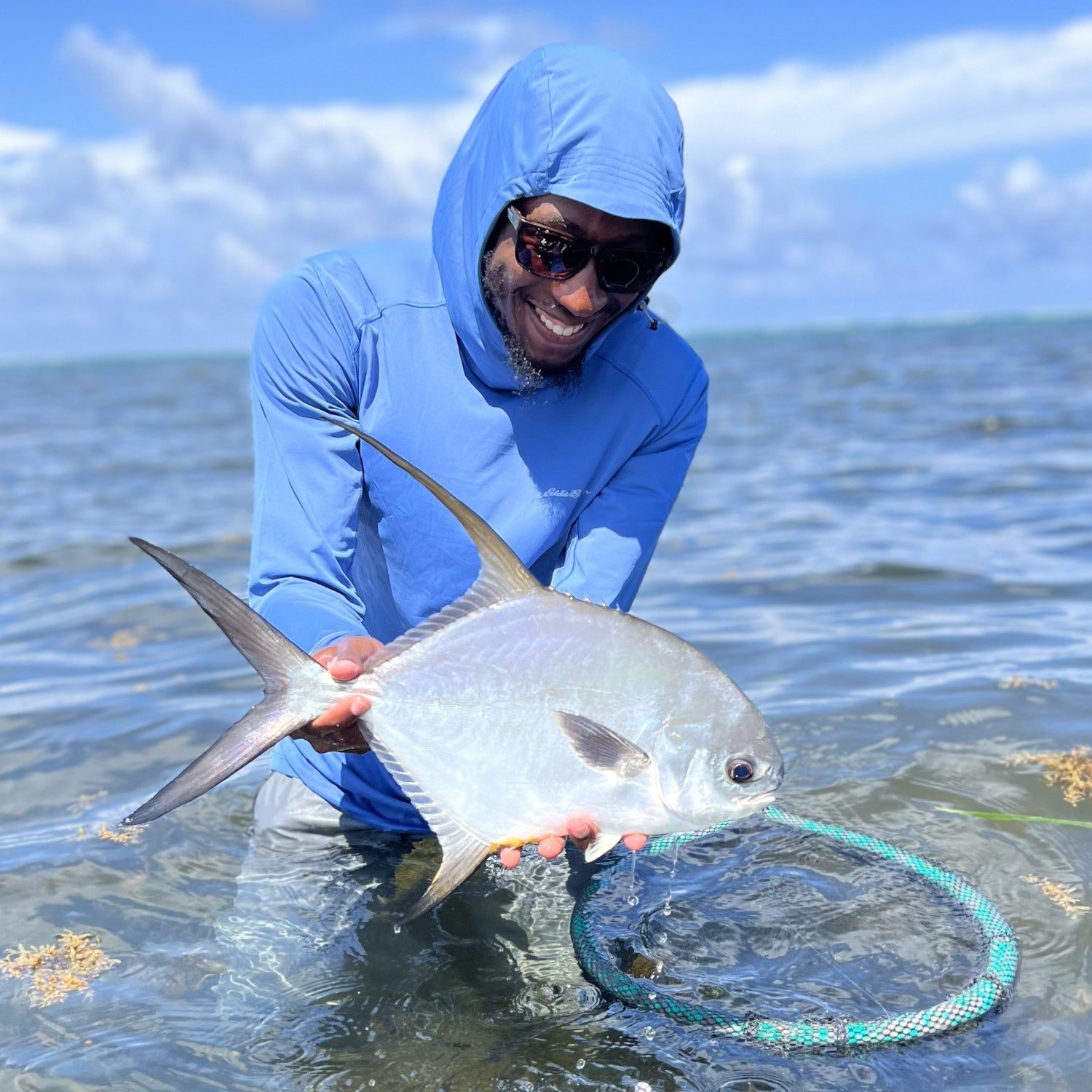 Courtesy Eeland Stribling
Heading out the door? Read this article on the new Outside+ app available now on iOS devices for members! Download the app.
Eeland Stribling told his story to producer Paddy O'Connell for an episode of The Daily Rally podcast. It has been edited for length and clarity.
I think the reason I was put on this planet is to make people laugh, to make people feel good. I don't even say I'm a standup comedian…I do standup comedy. I don't think that selfishly of like, Oh, I'm a great comedian, I'm a great whatever.
But, when I'm working with kids, I just get to be silly. I get to be myself.
Sometimes the kids I work with, they call me Mr. E or Mr. Strib. I am from Denver, Colorado, and I live in Denver, Colorado.
I don't know if I do anything professionally. I think I do everything semi-pro. I work with a nonprofit that works in a couple of different schools. I'm an outdoor instructor, environmental educator.
I like going fishing, but I love going fishing for the purpose of a nap. If it's kind of cool, and the sun's just hitting the side of the bank, and there's a warm spot, just the sound of the water. Or sometimes I'll sleep with my feet in the water. I love a good nap.
I am also a standup comedian. I like to laugh and I like to be around stuff that's just funny. I'm a bit facetious—everything, I think can be joked about. So I sort of move throughout the world, even talking to myself, saying stuff to myself that makes me laugh.
Every time I'm on stage I'm like, This is where I'm supposed to be.
I have a joke. I wrote it earlier this year, and it just goes, "I think we need more diversity in the NBA. I would love to see an all white NBA team. We could call them the January Sixers." And that's the whole joke. Sometimes it takes people a second to get it, but I've done it in conservative rooms and liberal rooms, and everyone, everyone loves it.
The same techniques that I use in a comedy club I use with students. Getting people engaged, making sure they're listening, making sure they understand what's going on. You get good at reading faces of people being confused, people being like, What the hell is he talking about? Whether that's a kid who you're trying to teach about boreal toads, or you're trying to do a joke, you can learn, Oh, I should explain this part a little more.
With comedy, I'm like, "Go feel something with these jokes." Hopefully it's positive, hopefully it's laughter. And then with my students, it's more like, "We learned about this or we did this. Now go do it on your own. Go explore it on your own."
Last summer I took these students who were in foster care, and we all went fly fishing. None of the kids had been fly fishing before. One of the students really, really took a liking to it and was really, really enjoying it more than other kids.
He won a fly rod at the end of the day, and we were like, "Hey, don't lose it. If you can use it, we'll see you next time. We'll love to have you bring out your rod." Then he came back the following spring this year, and he was so stoked to be there to fly fish.
We're fishing at a private lake that we have access to so the kids can actually catch fish. He brings his own rod, and he's super excited. He is like, "I went once in between last time I saw you guys and I'm really excited to be here."
This is his third time fishing. He set up his own rod. He needed help threading the line through the guides, but he set up his own rod. As we're doing the casting stuff for the other kids, he's casting, and he caught one or two small bluegill.
Then another kid was struggling to cast. It just doesn't look good, because these kids are in middle school, and it's not going well. This young man sits down his rod from catching fish, walks over and is helping this kid cast the same way that we taught the whole class how to cast.
Watching this kid say, "I love fly fishing," and then put it down and go help someone else who was at the same age, there was something about it that's fucking dope. I wish I had a better vocabulary, but something about it just made me feel good.
Watching the kid the rest of the day, I was in full admiration of what being outside can do, what community looks like, what fly fishing instructing looks like.
I was jealous of how cool that was. Of course I help people fish, but sometimes I'm like, Ah, they'll be okay, I'll just fish for 20 minutes by myself and try to catch a fish or whatever. But when I'm with my students, I try to offer up the best version of myself, the version that's honest, that's, humble, that tries to make sure everyone feels welcome. I like to think that that rubbed off on that young man and he was like, Oh, I can share a part of myself and I can share this thing that I learned. I was more in the amazement of, That guy is gonna be like a great person. That kid almost taught me how to fish with other people better. And if that's what the future of fly fishing looks like, that's pretty special.
I just want people to feel like they can have a community in fly fishing, no matter what they look like or feel like or come from. Just making sure people feel welcome.
I love this quote, "I'm not the first, but I'm the catalyst." So it's like, maybe no one will ever remember my name or know my name, but I gave them the best version of myself and they went and made it ten times better. They made themselves ten times better. They made other peoples' lives ten times better.
Offer up the best version of yourself. And it's not always gonna go well, sometimes people are gonna boo you, but that's just because they're all drunk on a Thursday night.
Not the kids. Just the comedy club. The kids are not drinking on Thursday night under my supervision.
Eeland Stribling is a wildlife educator, biologist, fly fisher, and very funny standup comedian. If you like to laugh, you should find a comedy club he's telling jokes at by following him on Instagram @blacksteveirwin.
You can follow The Daily Rally on Spotify, Apple Podcasts, or wherever you like to listen. Subscribe to our newsletter and nominate someone to be featured on the show.
Lead Photo: Courtesy Eeland Stribling
Trending on Outside Online