The Daily Rally
James Edward Mills Is the Hero of His Own Story
On an fishing adventure with other Black men, the journalist realized that sharing his experience could create opportunities for others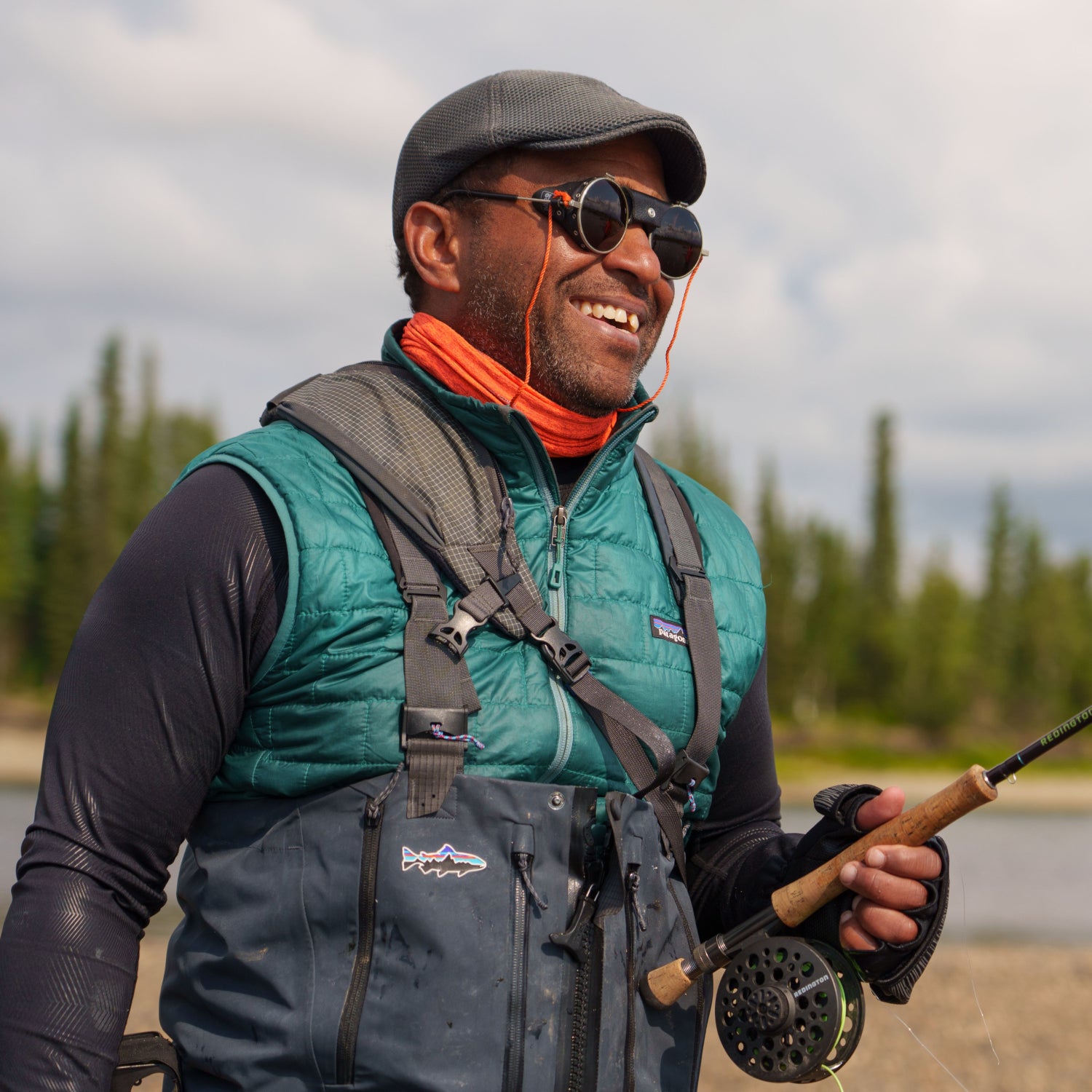 Dudley Edmonson
Heading out the door? Read this article on the new Outside+ app available now on iOS devices for members! Download the app.
James Edward Mills told his story to producer Paddy O'Connell for an episode of The Daily Rally podcast. It has been edited for length and clarity.
This is the first time that I'm doing this, with Black men on a trip led by Black men with the intention of telling the story of us as Black men. It was clear to me how unique an experience this was.
I live in Madison, Wisconsin, which is the ancestral homeland of the Ho-Chunk people near the University of Wisconsin–Madison campus. I grew up in Los Angeles, California, in the foothills of the San Bernardino Mountains between Venice Beach and what is commonly called South Central Los Angeles.
I am a professional storyteller. So, I'm a journalist, a writer, photographer, a reluctant filmmaker.
I come to the world with a profound sense of optimism because as a storyteller, one of the things that I really enjoy doing is changing the ending. Something that my father once said a long time ago that I will take to my grave is, "Things in life will work out as long as you insist that they do." So if I don't like the outcome, I try to create a different one.
Halfway through my career, one of the things that I realized was that there were people in our community who looked like me that didn't seem to have the same opportunities, and they also didn't seem to have my same sense of optimism. My biggest passion, I think, comes from my desire to provide that sense of optimism that they too could have many of the same experiences that I've had in the outdoors, and hopefully creating an environment where there are more people who would ultimately advocate for the outdoors.
I was attending a conference in Old Fort, North Carolina about two years ago, called Outdoors for All. And it just happened that this little town was on one of the many trout streams in North Carolina, and I brought my waders and fly gear fully intending to fish. But what I didn't realize was that there were five other Black dudes that were interested in fishing as well. And for the very first time in my personal and professional life, I'm on a trout stream with five other men of color, casting a fly rod.
I thought, God, wouldn't it be cool if the five of us could get together and we can take one of these trips together and we can talk about our experiences as fly fishermen, and as Black men.
So, after we had this amazing experience in North Carolina, the five of us put together this little film project that we ultimately called Blackwaters. We just happened to be able to put the five of us on the Kobuk River in Alaska, in Gates of the Arctic National Park, to fish for northern pike in Grayling.
It's Alaska in the summertime. So we are literally in the time of the midnight sun. The sun does not go down, so it never gets dark. It's warm, the sky is completely blue. There's an incredible amount of greenery in the background. We're seeing grizzly bear tracks impressed in the sand.
I'm not seeing any fish anywhere, but I'm certain that they're down there because people told me that they are there. I just have to figure out what I need to do in order to catch them. My good friend Nick Brooks, had never been fishing on this big of a river. He's the kind of guy that needs to have a successful experience on this trip.
We get to a spot along the river that is shallow, but it's moving really fast. All of a sudden, there's this big flash of movement, and a fish bit on something. I had no idea what it was, but I was sure that it wasn't an insect. And I'm thinking, Oh, there's probably something like a minnow or some type of smaller fish that they're biting on.
So I changed up the combination going from a fly to what's commonly known as a streamer, and within two casts, I landed this fish, and I'm not kidding you, it was the biggest fish I've ever caught in my entire life. It was as long as my arm.
I said, "Nick here, this is what I used. You should try it." He hadn't caught a single fish the entire time we were there. And in the same spot where I caught this fish with a little bit of information, I was able to give him the resources that he needed to be able to land a fish.
And the next thing you know, everybody in our group is landing these huge Northern Pikes.
This is the first time that I've had this experience exclusively with Black men. I really took that to heart. Once the color barrier is broken, so to speak, it should indeed be the rule that everyone can have these kinds of positive experiences in the outdoors. It should be that simple. I think at this moment, for the first time, I think I actually believed that it would be possible, because it was happening to us.
The rule should be that everyone has access to experiences like this. That you don't necessarily need to have some exceptional person to break the color barrier and go out there and have this amazing experience that will inspire a generation to do similar things.
For the purposes of this film project, one of the things that I really want us to do is to be able to demonstrate our experience, but also encourage people to have similar experiences of their own so that one day they will be so commonplace that we don't even bother talking about them anymore. That there is indeed an expectation that things like this happen all the time, because we insist that they do.
I think more than anything else I've learned that we can decide to be the heroes of our own stories or the victims of our circumstance. And personally, I would much rather be the hero of a story that I'm gonna write. I want to be the hero of a story that I'm going to share and encourage other people to have.
James Edward Mills is a freelance journalist who specializes in stories about outdoor recreation, environmental conservation, and sustainable living. You can follow his adventures and his work on Instagram @joytripproject. His film Blackwaters will premiere in August. Find screening dates at blackwatersfilm.com.
You can follow The Daily Rally on Spotify, Apple Podcasts, Stitcher, or wherever you like to listen. Subscribe to our newsletter and nominate someone to be featured on the show.
Lead Photo: Dudley Edmonson
Trending on Outside Online