Sundog's Almanac of Ethical Answers
Can I "Pirate" a River Without a Permit?
As permits on western rivers become harder and harder to get, one reader wants to take matters into his own hands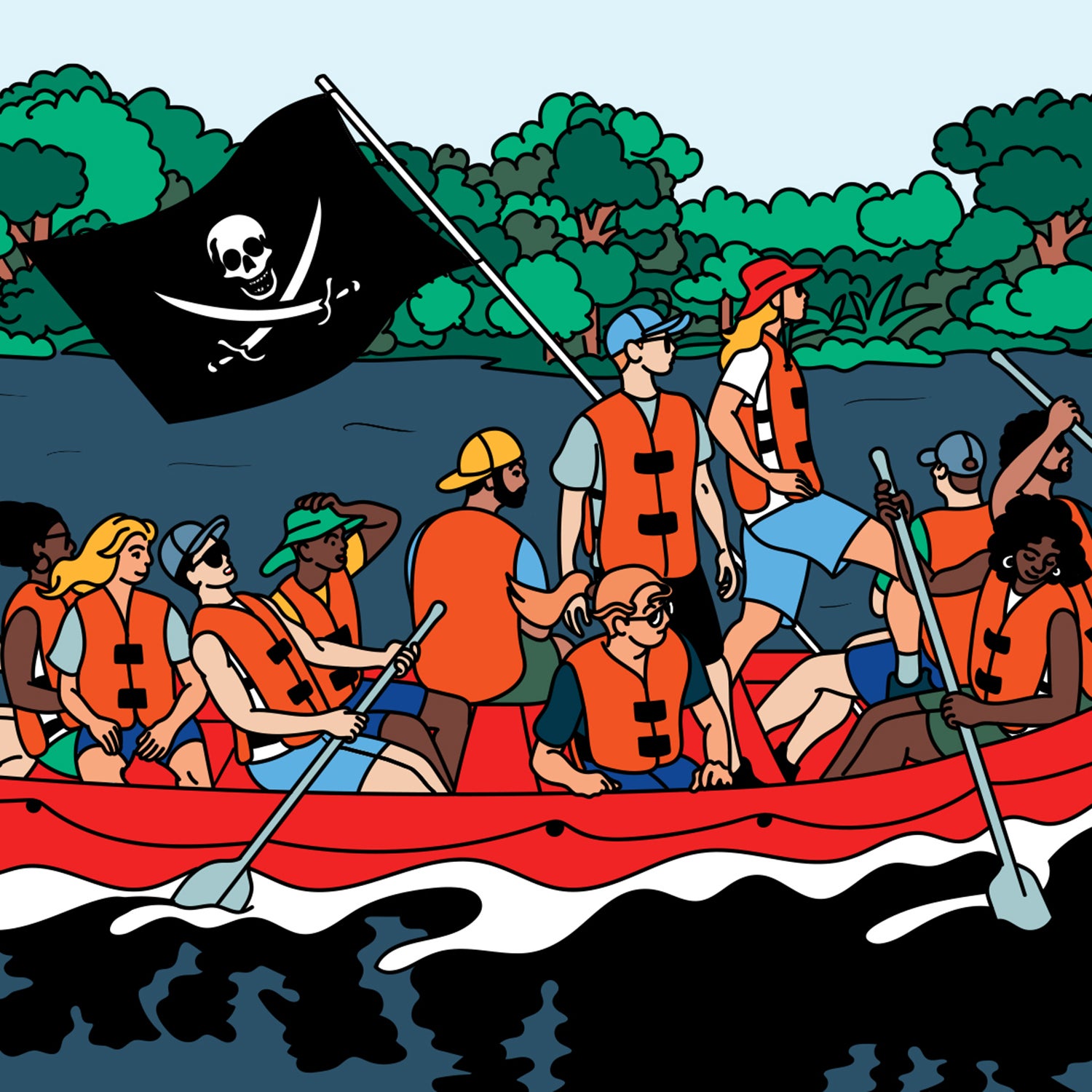 Liam Eisenberg
Heading out the door? Read this article on the new Outside+ app available now on iOS devices for members! Download the app.
Dear Sundog: I was recently invited to a reunion of fellow river guides at a national monument. Some 75 river rats will converge in the same town on the same acre of land after many years working together, where lifelong relationships were forged, greatness had, etc. However, even with many of us entering the lottery for a permit for a day trip on the river, we couldn't manage to win a single one. Would we be wrong to sneak on the river and launch without permission? Thanks, Jensen 
Dear Jensen: You're not alone in thinking that the lottery permit system for our western rivers has become absurd. Last year in Dinosaur National Monument, which straddles the Utah-Colorado border, 18,000 people applied for the 300 overnight permits on the Green and Yampa Rivers. In 2021, more than 22,000 boaters vied for the 500 available private permits to float the Middle Fork of the Salmon River in Idaho. Odds were grimmer still on the Selway River, which flows from Montana to Idaho, where just one of every 122 applicants won the lottery. Here are just a few things that are statistically more likely than drawing a Selway permit: death in a car accident, pregnancy on the pill, acceptance to Harvard, being named Emma.
The number of permit applicants has doubled or tripled for many rivers in the past decade, while the number of permits for those places has stayed the same. The causes are complicated: What used to be a slightly onerous chore involving paper checks, stamps, envelopes, and phone calls can now be performed online in minutes. The pandemic cancelled many 2020 permits but allowed holders to postpone till 2021, thus there were even fewer available launches.
As bad as it may seem, the lottery system marks an improvement from the previous waiting-list system, where applicants for a Grand Canyon permit waited as long as 20 years.
And so I feel your pain, Jensen, and having been denied any permits for three straight years, I feel the same urge to flaunt the rules and just sneak onto the river when I damn well feel like it.
There are two types of "pirate" trips. The first is stealthily pushing off from shore without being detected by rangers, an undertaking that generally involves the cover of night or some little known dirt-road access point. I don't think that such a move is deeply unethical: if you follow Leave No Trace principals, your pirate trip won't really affect the river or other people's experience.
That said, I have to advise against it, citing the tragedy of the commons, the idea that when people have access to a shared resource, but act in their own interest, they will quickly deplete the resource. Perhaps the prime resource these rivers offer is solitude. If one party makes a pirate trip, no big deal. If 100 groups break the rules, then you've got a circus. What's more, pirate trips are extremely illegal, and rivers are strictly monitored, so you may face fines and being banned from future permits.
The second type of pirate trip is one in which someone has a valid permit but the participants presumably don't know how to captain a boat and pay guides under the table to row them. This turns out to be even more illegal, as it violates laws about commercial licensing. It can result in boats being confiscated and, theoretically, could result in jail time.
All of this raises the question: Why don't agencies simply increase the number of permits? For example, in Dinosaur, there are only four launches per day on the Green River, split evenly between private and commercial clients, a number which increases to six for the two glorious months when the Yampa is running. Surely the river could accommodate more!
Well, maybe not. Part of what makes these river canyons precious is their spectacular and inhospitable topography: often you are literally floating between sheer rock cliffs. There are very few suitable camps, and on a typical summer night, every single camp is taken, with groups of up to 25 people. To allow more permits would require somehow clearing and excavating more camps along the narrow riverbanks.
Sundog would argue that of all the public-lands sites in the U.S., western rivers are the crown jewel. Spending a week or two floating the Colorado in the Grand Canyon or the Middle Fork of the Salmon is truly a once-in-a-lifetime experience. And as frustrating as it is to not get a permit to do such a trip every year, the current permit regulation seems to be superior to any other in terms of protecting the exquisite character of these places.
So what to do when you don't draw a permit? Look into the rivers that don't require a permit. Many provide a similar experience. And as a last resort, which may cause injury to both your pride and pocketbook, you might have to break down and pay a commercial outfitter to take you downriver.
UPDATE: Despite being locked out of permits via the lottery, Jensen reports that his group was able to snag several cancellation permits. This happens when those who win the lottery fail to claim their permits, so they are doled out on a first-come first-served basis. Jensen and his crew will be able to hit the river—legally—after all.
Got a question of your own? Send it to sundogsalmanac@hotmail.com.
Lead Illustration: Liam Eisenberg