The Spill Seekers
In the aftermath of the Big Leak, the author wrangles a skipper, a conservationist, and the real Forrest Gump to hoist canvas and sail into the mess that is the Gulf of Mexico. But here's the crazy part: While stewing in America's worst environmental disaster, he has a hulluva lot of fun.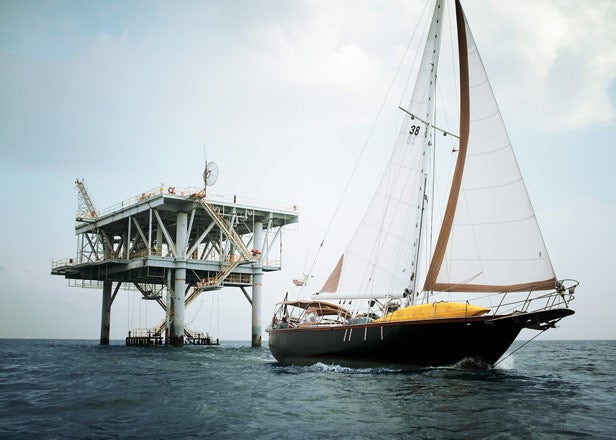 Heading out the door? Read this article on the new Outside+ app available now on iOS devices for members! Download the app.
She needed to get out. Wide of beam, 43 feet long, and 11,000 pounds of lead in her keel, she'd been built with oceans in mind. Her name was Dolphin's Waltz, and she was sick of putzing around the shallows of Alabama's Mobile Bay, where she docked. Now, stately breakers rolled across her bow, muddy waters giving way to the gray-green Gulf of Mexico. She was on the hunt.
Gulf of Mexico Oil Spill

Beached oil on the Gulf Coast
Gulf of Mexico Oil Spill

From left: Josh, the author, Jimbo, and Bill
Gulf of Mexico Oil Spill

Jimbo on the Petit Bois Island
We passed within kissing distance of shrieking rigs, hunkered down and drilling away like mosquitoes; dodged a swarm of shrimping boats that looked like giant waterborne grasshoppers, their spars deployed as they searched for oil slicks; and then made for Dauphin Island Pass and the wide open. A Coast Guard chopper slashed overhead, and a blimp hung in the southern sky like an alternate moon. We were the only pleasure boat around. A west wind snapped the jib taut as dolphins hot-dogged across our bow wave, exploding into the air. For being smack in the middle of America's biggest environmental disaster, it was pretty fucking nice.
You might say July 2010 was an odd time for a pleasure cruise in the Gulf of Mexico, and maybe a sailboat—slow, bulky, with the upwind quarter of the world off-limits—is an odd way to do any sort of journalism. I won't argue. I wasn't going to scoop The Wall Street Journal, but that was the point. Perhaps, as the press hordes stampeded past us in their helicopters and vans, chasing the latest oil sighting, they were missing the real story.
So we'd take it slow, on the gulf's schedule. I'd challenged our skipper, Josh Deupree, to a wind-powered tour of a particularly stunning corner. I'd heard rumors of cleanup operations gone awry—workers pelting each other with eggs from Louisiana rookeries—so we'd head west to investigate the situation on Petit Bois Island, known as the most pristine wilderness island in the gulf and vital habitat for more than 250 species of birds. From Petit Bois we'd cross Mississippi Sound to see the marshes and seagrass meadows of the coast, taking in as many marine ecosystems as we could in three days.
A sort of nagging consumer guilt, and the desire for seafaring in its purest form, was the motivation to try it without fossil fuels—once out in the gulf, at least. Sailboats are docked in slips like parking spaces. Exiting had involved cranking up, making several right-angle turns, negotiating a narrow harbor, passing under a bridge, then following a dredged shipping channel across Mobile Bay and out into the gulf.
As soon as we'd cleared the bridge and caught the shipping channel, we killed the engine and raised the sails. Close-hauled to the wind, Dolphin's Waltz heeled over and shot straight out of the channel toward Dauphin Island Pass. The smell of diesel faded, replaced by the slow oscillation of wind and wave. She was free.
Not that we were making any kind of statement. Just getting to the boat, our crew had of course burned gobs of petroleum products. I flew from Vermont to Newark, where I looked down upon a grid of refineries and tanks, then to Houston, same damn thing, and then to Mobile. Oil was everywhere and in everything, not just the gulf.
LIKE SOMETHING OUT OF MORDOR, a refinery's orange methane flare blazed atop a black pillar on the shore of the bay. Fed by six rivers, Mobile Bay covers 413 square miles and spits out some 62,000 cubic feet of water every second, making it North America's fourth-largest estuary by flow. Its mouth was crawling with boats as we sailed out. Vessels of Opportunity—boats hired by BP to patrol for oil—darted across the channel. The program was the biggest gold rush on the coast. Even the smallest boats made $1,600 per day.
About 3,000 VOOs, as everyone called them, were operating out of Alabama, Mississippi, and Louisiana. They came in every size and shape: sportfishing behemoths, Boston Whalers, pontoon boats. I tried not to think about how much gas they were burning in the effort to save us all from oil. All flew the triangular VOO flag and seemed to be zipping about with minimal coordination.
As we passed within 20 yards of one diesel-burning rig, a man on the catwalk waved his arms and shouted. I thought maybe we were too close, but Jimbo Meador, one of our crew, said, "He wishes he was on this boat and not that goddamn rig." Virtually everyone I'd spoken with on the Gulf Coast had said, "Oh, you have to meet Jimbo Meador. He's the real-life Forrest Gump." Well, Jimbo's buddy Winston Groom did dedicate the book to him. And, yes, like Gump, Jimbo once ran a huge shrimping business out of Alabama. And, yes, for the accent, Tom Hanks studied Jimbo's speech. ("But I don't know why he bothered," says Jimbo. "He sounded like an idiot.") But there the similarity ends.
Born and raised on the Alabama shore, Jimbo is one of the best fly-fishermen on the gulf and, because he does it all by kayak and stand-up paddleboard, one of the fittest 68-year-olds you'll ever see. The ocean is his life. "If I get too far from salt water, I start to get nervous," he told me. With his deep tan and wavy light-gray hair, he looks as if sand and sea foam crystallized into a man and strode out of the surf. If anyone cared about the health of this place, it was Jimbo.
Our other crew member, Bill Finch, was equally invested. A senior fellow with the Ocean Foundation, the 51-year-old had been instrumental in creating one of the country's best oyster-restoration projects. A mile and a half of new oyster reef had been "planted" on Coffee Island, off the Alabama coast, in April—the beginning of Bill's Hundred Miles of Reefs vision, part of the Restore Coastal Alabama 100–1000 project for Mississippi Sound and Mobile Bay. It had seemed a heartening success until BP's Deepwater Horizon blew, on April 20, and started spewing 205 million gallons of black goo.
I'd met Bill in early May, when I went to document the oyster reefs before the oil arrived, and he told me something new and surprising at every turn in our conversation: Alabama has the greatest biodiversity of any state east of the Mississippi; the greatest diversity of freshwater fish and mussels; the greatest concentration of turtle species in the world; etc. Sure, with such awful casinos, condos, and refineries, parts of the Gulf Coast do live up to the Redneck Riviera reputation. But few folks know about the other gulf, the natural miracle with arguably the finest beaches in the nation, the best diving, the best birding, the most productive wetlands, the thriving communities of shrimp and bluefin tuna and sperm whales. If we were to hold up the Gulf of Mexico in one hand and the Arctic National Wildlife Refuge in the other, then agree to protect one and exploit one, the decision would be a no-brainer. Bill had helped me see that.
He'd taken me to Grand Bay National Wildlife Refuge, a 10,000-acre crown jewel of biodiversity shared by Mississippi and Alabama, where we stood in the salt marshes, squinting into a tide pool at the turquoise streaks of male sailfin mollies displaying for females. "Look at that!" Bill had said. "Isn't it stunning?" With his gray beard, balding pate, and general demeanor, Bill struck me as the Lorax of the coast—an impression cemented when he suddenly bounded across the marsh through knee-deep muck to stop an airboat from plowing into the cordgrass.
Behind us, on the salt pan, willets piped their pennywhistle love songs. A rail had just hatched her chicks. At the edge of the marsh, acres of oysters spawned. It was, normally, the most hopeful time of year. And Grand Bay sure as hell looked normal. Miles of rush stretched to Mississippi, backed by a wall of some of the only tidal pine forest on earth. Waves rolled over vast seagrass beds. Beautiful.
But it had been hard to enjoy. Three miles offshore, a cannonade of tarballs was splattering Dauphin Island. Farther out, something dark and dead was gathering strength in the depths. When oil hits marshes, it chokes out the oxygen and nitrogen and the soil goes hypoxic. Then the marsh dies. Estuaries like Grand Bay are where at least 90 percent of the fish species in the gulf come to breed. If the estuaries die, the gulf is a goner.
WE HAD TO SLALOM RIGS as we sailed, there were so many. East Coasters may stand on a beach and expect to see nothing but blue horizon, but Gulf Coasters enjoy nothing so sublime. Stand on any given shore in Alabama, Mississippi, Louisiana, or Texas and you can count as many as 20 oil rigs rising out of the haze on spindly legs, like the Martian invaders from War of the Worlds.
Most people seem to believe it's a horrible coincidence that BP's leak happened so close to the lower 48's most bountiful fishing grounds, but the same factors that make the northern Gulf of Mexico so rich in oil also make it rich in life. For millions of years, the Mississippi River has been the gulf's great benefactor, pouring midwestern nutrients into its warm coastal waters and fueling extraordinary production of phytoplankton, the single-celled plants that are the foundation of the marine food web. That phytoplankton feeds some of the most fantastic stocks of oysters, shrimp, crabs, and fish on earth. What doesn't get eaten drifts to the bottom as it dies—"marine snow." As additional sediment buries it over eons, it gets pressure-cooked into that blackest of sauces, oil.
In the steamy Cretaceous, 100 million years ago, seas were much higher, and much of Texas and Louisiana lay beneath an expanded gulf. As global temperatures cooled and the gulf shrank, the easily obtained oil became accessible beneath the gulf states. That was the first oil boom. We burned through most of that in a few decades. That was the first oil bust, and by the 1980s it had turned East Texas and Louisiana into very ugly places. But in the 1990s, geologists discovered enormous oil reservoirs much deeper in the gulf than ever suspected. New technology provided the means to drill a mile underwater through three miles of bedrock, and oil prices went sky-high, making it all worthwhile.
More than 4,000 rigs pepper the gulf. You head their way to catch red snapper, which cluster beneath. The Deepwater Horizon blowout has focused attention on deep-water drilling, but there are still only a few dozen rigs capable of operating in water a mile deep. These massive platforms are the Parthenons of our time, soaring high-tech temples to the reigning god. But the majority of rigs are more like rinky-dink parish churches, mostly stuck to the seafloor close to shore. Many lie abandoned; others limp along sketchily, like the Mariner Energy rig that caught fire on September 2. The low-hanging fruit is gone.
Deep-water is the source of most gulf drilling jobs. A few decades after the last of those reservoirs are drilled, they'll be tapped out. The gulf's petroleum era will end and the region's entire identity will change. To what, no one knows. A graveyard on the edge of a cesspool? It's not hard to imagine.
OUR SKIPPER, JOSH DEUPREE, is one of the coast's top sailboat racers, yet he'd been trapped lately, hesitant to even take Dolphin's Waltz out of port for fear of mucking up her engine and hull with sticky oil. Lucky for us, though, the 36-year-old couldn't resist the lure of an exploratory mission.
A few miles off the coast of Petit Bois Island, we finally got the boat dirty. Our first slick looked like a trail of brick-colored diarrhea run­ning to the southern horizon. We punched through it and watched it disappear behind us. We hit a few more slicks as we approached the island. Sailing has been defined as hours of boredom interrupted by moments of terror. This was hours of beauty broken by moments of disgust.
A line of trees on the horizon: Petit Bois, a typical barrier island, a wandering carpet of dunes that gets piled just high enough on the inland side to support a few marshes and trees. These trees were mostly dead, casualties of Hurricane Katrina. Petit Bois is part of Gulf Islands National Seashore. In 1978 it was designated as wilderness, the Park Service's highest level of protection. Yet we could see blue shapes along the beach. Binoculars revealed them to be tents, each shading an assemblage of coolers, rakes, and plastic chairs.
The sun was oozing orangely into the sea as we anchored in the lee of the island. It appeared to be deserted, but the lagoons were fenced with bright-yellow boom, and anchored farther away was a clot of crew boats, barges, and tenders. The barges were stacked with double-decker, 40-foot steel boxes marked LIVING QUARTERS, shipping containers serving as windowless "flotels." So this was where Hazmat Nation was spending the evening. I wondered how many were squeezed into each tin.
Anchored near us was a gigantic, three-story sportfishing boat flying a VOO flag. A couple of guys in camo fatigues lolled on the upper deck. The boat never budged in the 16 hours we were anchored there. The VOO program is a boondoggle. The boats' ability to deal with any oil they find is very limited, as explained by a VOO captain who agreed to speak anonymously. "If we found anything," he said, "we'd call the shrimp boat assigned to us, they'd come, and we'd boom it off and suit up in Tyvek. You'd put a produce bag on the end of an aluminum pole and actually scoop oil up with those bags, then you'd put it in bigger plastic bags and drop it off. We got as much as we could, but it was almost pointless. You can't really clean that shit up."
The idea was to employ out-of-work fishermen, but my VOO mole—a sportfishing guide—explained that it hasn't worked that way. Despite the fact that his guide business had dried up after the Deepwater Horizon blew on April 20, it had taken him until July 1 to get activated. "There were people not in the fishing business who formed corporations early on," he said. "One group had nine boats. Their friends' kids operated them. And you'd call BP and ask, 'When am I gonna get activated?' 'Well, we've got too many people.' A friend of mine was out there for two months in a 12-foot johnboat. Two months! In a 12-foot boat! There was no supervision. You'd just check in: 'See ya in 12 hours.' People were going out and fishing all day."
BP also launched the $500 million Gulf of Mexico Research Initiative, which might be coined the Scientists of Opportunity. I learned of some being offered $250 an hour for their research—on topics approved by BP, of course—but prohibited from discussing or publishing their findings for three years.
WE SLEPT ON DECK to beat the heat, slapping mosquitoes through the night—except Jimbo, who ignored them. At dawn, he muttered "I got to marinate" and threw himself overboard. The water looked clear of oil, so I did, too, and immediately got stung by a jellyfish. These Jimbo tuned out as well. "I used to swim long distance," he said, pulling beautiful strokes around the boat. "I'd get stung constantly. Put yourself in a different mind-set. They don't actually hurt."
Jimbo—who's a part owner of Dragonfly boats, the most enlightened fly-fishing craft ever conceived—had been fishing in the Bahamas with his old pal Jimmy Buffett when the Deepwater Horizon exploded. Jimbo and Jimmy hatched a plan, with the musician funding the design and construction by Dragonfly of two skiffs custom-made for wildlife rescue. The Shallow Water Attention Terminal, or SWAT, boats have whisper-soft trolling motors, a draft of just ten inches, mid-deck worktables, misting systems, canopies, Wi-Fi, video cameras, and "sea-mist green" hulls (so they merge with the waterline and don't spook birds). After the boats were built, however, Jimbo was informed by Fish and Wildlife that only trained specialists with federal permits have clearance to handle oiled birds; if anyone else tried to rescue one, they could be in violation of federal law under the Migratory Bird Treaty Act. Jimbo suggested donating a boat to the local Audubon Center. Nope, no permits. He would eventually have to donate it to a conservation nonprofit who could then lend it to Fish and Wildlife for rescue and research efforts. "Most frustrating thing I've ever experienced," he said.
Still stinging from the jellyfish, I kayaked to Petit Bois with Bill Finch. We dragged the kayak ashore and made our way through the dunes toward the gulf side. Blooming morning glory vines crawled over the sand and scrub. Bill nibbled on wild plants: sea rocket, a briny, mustardy green that tasted like Grey Poupon, and glasswort, which was crunchy and salty, the potato chip of the beach.
Foraging is one of his passions. Not long before the Big Leak, he'd been out on the islands wandering over Native American middens—ancient heaps of oyster shells—grazing on glasswort and wolfberries, shucking oysters straight out of the water. "It's the way people must've eaten for 10,000 years," he said.
Birds flushed out of our path as we walked. The six barrier islands of Gulf Islands National Seashore are the first pit stop for many birds, as well as monarch butterflies, flying north from South America and the Yucatán in the spring. Emaciated fowl rain down on the islands, rest, refuel, and then scatter across America. In fall the islands are often the last staging area before the big flight over the gulf. The lonesome islands have a poignant feel. "Prepare yourself for enchantment!" the Exploring Gulf Islands National Seashore guidebook says of Petit Bois. "The feeling is primeval, as if you have been deposited on an oasis."
Things had changed. Stippling the high tide line were tens of thousands of tar patties, and suddenly we weren't having a nice nature walk anymore. They looked like underbaked molasses ginger cookies and smelled like hot asphalt. Some were as big as Frisbees. A ghost crab was mining one, carrying clawfuls back home. On the beach, blue tents but nobody in sight. ATV tracks cut through the sand.
Our crewmates caught up to us as we trudged. A helicopter inspected us, and a flock of brown pelicans sailed past. "Hope you make it, boys," Jimbo called out. The temperature headed toward 100 degrees. The oil seemed to have an affinity for trash. Any piece of plastic was shellacked with it, as if it had some sort of molecular attraction to its own kind. But despite the horror on the beach, the water looked clear. Jimbo needed to marinate again. We swam. Jimbo bronzed.
I'm always struck by the energy of coasts; the friction of two worlds colliding draws so much life, like us, to hug the edges. We stood in the surf and watched clouds of mullet dart by. "Shit," said Jimbo, "one throw of my cast net and we'd have supper for a week." But all waters were closed to fishing. (We'd been eating tinned sardines from Portugal.) The dolphins had no such restrictions. They caught the breaks, surfed into 18 inches of water, and scraped the sand as they scarfed up fish.
Farther down the beach, the water turned the color of iced tea. Crabs with aprons full of eggs skittered through it sideways. Suddenly a pack of Gators—heavy-duty, four-wheel-drive ATVs made by John Deere—came skidding around the end of the island. The cleanup crews were awake. The Gators sped past us toward the shade of the tents, and the mostly obese crews suited up in Tyvek and gloves and grabbed their tools and plastic trash bags. It looked punishingly hot in those suits. The long scoops used by the crews are slotted, so sand filters out as they dig up tarballs. It was like watching a bunch of little people clean the world's largest litter box, with older tarballs dry and easy to bag but recent arrivals messy and laborious. One of the ATVs veered toward us and slammed to a stop. "How'd y'all get here?" asked the driver in a thick Mississippi accent.
"Boat," said Josh.
"Hell, I know that," said the driver. "But how'd you get here?"
"Walked." We'd come about a mile.
The marvel of it all slowly sunk in. "You walked?" His passenger, a weary-looking man with a grizzled beard, narrowed his eyes: "Y'all better not be steppin' on any tarballs."
This was the crew boss (whose name I was never able to confirm). Things weren't going well for him. He had orders to keep all the Gators operating in a single track to avoid tearing up the dunes, but the rut was now so deep, they were starting to run aground and break down. "It's just killin' our Gators," he said. How were they supposed to get up and down the island without their Gators?
So far, his crews had raked up 60 tons of oil, dumped it into petroleum-based garbage bags, and hauled them out to the barges. But Tropical Storm Alex had recently deposited a whole new layer of oil and sand on the beach, so they were essentially right back where they'd started. Worse, the new sand from Alex had covered huge mats of old oil, which they now had to dig through several inches of beach to find. He was trying to requisition some gas-powered leaf blowers to blow the new sand off the old.
Nothing was happening fast. The worker-safety guidelines were strict about heat. On a yellow-flag day—pretty much the best you can hope for there in the summertime—employees work 40 minutes, then get a 20-minute rest. We were into the red-flag days (temperatures in excess of 92 degrees), meaning 20 minutes on and 40 minutes off. Should a really hot day rear its sweaty head, they'd bust out the cooling vests and A/C or work after dusk. The best that could reasonably be hoped for was about two hours of work per day out of any employee, and a fair amount of that seemed to be devoted to shuttling people to and from the potties stationed at one end of the six-mile island. "It's a logistical nightmare," sighed the boss. Recently, however, there'd been a breakthrough. "We got permission," he said, gesturing out to sea, "to take a pee in the ocean."
BILL LOOKED A LITTLE DAZED as we paddled back to the boat in silence, so I asked him about it later. "Petit Bois is so unconnected to the rest of the world," he said. "You can't hear anything but the tingle of the sand. To come over the dunes and see that regimental deployment—it kinda makes you stiffen up. And then the waves turning up tarballs instead of shells and pebbles. That long line of machines rolling toward you. It's been violated twice: first by the oil and then by the assault to save it. I don't know what the long-term impacts of the cleanup will be. The only thing I'm fairly certain of is that I'll be finding chunks of oil probably for as long as I'm able to keep going there. And I'll worry about it every time I see it. That just pisses me off."
Of course, the White House would tell Bill not to worry. In early August, not long after our visit, energy czar Carol Browner would go on the Today show and—in a gaffe redolent of Dubya's "mission accomplished" moment—say, "More than three-quarters of the oil is gone. It was captured, it was skimmed, it was burned, it was contained. Mother Nature did her part." First off, "the oil" here refers to the total leakage, but 17 percent of that was captured directly at the wellhead; it never even entered the water. An honest accounting requires considering only the crude that escaped. Displaying a sort of medieval understanding of biology, Browner also explained, "some of it will become very small microorganisms and disappear into the gulf."
OK, Browner's no scientist, but she got her numbers from the Department of the Interior and the National Oceanic and Atmospheric Administration, and NOAA should know better—especially when you consider that its administrator is respected marine ecologist Jane Lubchenco. Of the oil that actually entered the gulf, 9.6 percent had been either skimmed or burned, according to the feds; what Browner and the media siezed upon was NOAA's misleading categorization of the other 90.4 percent, which was qualified as dispersed, dissolved, or residual.
The notion that "out of sight" (dispersed or dissolved in this case) equals "gone" has underpinned centuries of environmental abuse. With well over a million gallons of chemical dispersant dumped on the slicks, NOAA, it would seem, hoped to dispel most of the oil to the mythical land of Away and declare victory. But an independent Georgia Sea Grant report authored by five prominent marine scientists has shown that, as of early August, with natural degradation and evaporation taken into account, 70 to 79 percent of the oil remained in the gulf, much of it slimily blanketing the seafloor or hovering in vast plumes, its toxins potentially wrecking our food chain from the bottom up. And that's not even accounting for the oil known to be soaking into coastal wetlands.
Get used to the artful dodges.
I'D BE LYING IF I SAID the Gulf Coast in the summer of 2010 was a miserable place. Most of it was stunning. But there was misery to be found, and over the course of several weeks, I found it. A few days after our sailing trip, I visited the Gulf Coast Research Lab, in Ocean Springs, Mississippi, and rode in one of Jimbo's SWAT boats to a stretch of marsh grass so coated with oil that my fingers stuck to it. Sprawled across the grass was a long piece of absorbent boom, now black with oil, that had broken loose. Next to it was a big chunk of high-tech flotation foam, probably wreckage from the Deepwater Horizon. It had been reported to BP a week earlier.
At Grand Isle, Louisiana, the beach was closed for miles, blocked off with plastic orange construction screen. Signs on the road advertised ONSITE DISASTER RELIEF CATERING. The sand had been scrubbed, spun, and surf-washed so thoroughly by contractors that it sparkled. But at the far end of the island, at Grand Isle State Park, I found a young ranger named Leanne Sarco quietly Q-tipping oil off hermit crabs one at a time. She wore white and was oil-smeared from her shoes to her blond hair. Sarco led me along a path to the last wild beach on the island, a magnet for birds and other wildlife. Crude rippled in the tidepools. The sand was the color of coffee grounds. When you squeezed a handful, globs of black jelly oozed out. The state park had asked BP not to bring in its machinery for fear that the cleanup effort would be more damaging to the ecosystem than the oil. But it was not a pretty sight. She told me that the oil had seeped several feet below the surface and would be bubbling up for years.
The irony nobody wants to talk about is that all the lands in the Mississippi River Delta now hosting cleanup crews are dying anyway. The levees that unnaturally hold back the Mississippi present a perilous Catch-22, ostensibly protecting the land from flooding and storm surges yet helping to ensure that it will all fall into the gulf: Square miles of Louisiana vanish every year. Even if we could somehow degrease the hundreds of miles of oily coastline without harming a single bird or blade of grass, the river delta would still most likely cease to exist sometime this century. It's sinking. New Orleans is on course to disappear beneath the waves, the American Atlantis.
That realization sucker-punched me the day I spent in Terrebonne Parish on boom patrol with Virgil Dardar, a 52-year-old man of Cajun and Native American descent. Virgil, who goes by the nickname Kadoo, lives on Isle de Jean Charles, a three-mile spit of dry ground in the marshes 30 miles northwest of Grand Isle. For 170 years, his ancestors have survived by fishing and hunting the marshes. They used to farm, too, until their soil became inundated with salt water. Hurricanes like Katrina, Rita, and Gustav have left the island a disaster zone of smashed homes, beached boats, and dead trees. Isle de Jean Charles is crumbling into the water in real time. Stand at the end, dangle your toes over the edge, and watch it go.
The paved road to Isle de Jean Charles cuts across two miles of open water that used to be marsh. Now, waves gnaw at it 24/7. It submerges completely every time a south wind accompanies the high tide, emerging a few hours later and a few millimeters smaller. Even at low tide, much of it is down to one jagged lane. A snaking line of orange cones leads cars along the safest path.
Kadoo has been an oysterman all his life. But the oil spill closed all the oyster grounds, possibly for years, so he'd hired on to patrol those same areas for oil or loose boom. He was surprisingly chipper about it. Good money, a fast skiff, and a hot breakfast and bag lunch every day. Best of all, he felt respected.
Indeed, as Kadoo drove me around with BP's Chatt Smith, I realized the company would be utterly lost without local watermen like Kadoo. The area is changing so fast that the maps are virtually useless. When we left the dock, we boated beneath power lines that had been on dry ground 30 years ago. They were sunk deep, their poles cocked at alarming angles, and the boat channel ducked right through them. Dead cypress and oak trees stuck out of the water, their skeletal trunks bleached by the sun. I asked Kadoo if he remembered them. "Oh, sure," he said, "them trees was alive 15 years ago."
Bill Finch had explained to me how freakish the presence of a seawater-killed cypress community was: "You'll never see a salt marsh next to bald cypress unless something's gone wrong. In Louisiana, it's gone wrong. The marsh is retreating so fast that it's being slammed into these cypress, and they're dying." Ever seen a healthy cypress swamp? Moss-draped trunks stand in a few feet of freshwater, the air thick with honeysuckle and the thrum of buzzing cicadas. Fish stir the waters, and alligator eyes poke out of it. In the ferns, tree frogs trill. It's the original Dagobah, and you wouldn't be surprised if Yoda came tottering out of his mud hut to hail you as you passed. To know a place so supple and dense with life and then witness its transition to nothing but dead trunks and salt water must be profoundly demoralizing.
But that's what has happened in Terrebonne Parish. Southern Louisiana, which sits on nothing but Mississippi River mud up to several miles deep, has always sunk, but the sediment from the flooding river, as well as storm surge from the gulf, have always replenished it, slowly building up the land. Since the last ice age, which ended 10,000 years ago, the Mississippi has extended the marshes as much as 50 miles into the gulf. The river's levee system choked that off, and 10,000 miles of canals—dug through the marshes by an oil industry in search of new reservoirs—delivered two crushing blows to the erosion-halting marsh grasses, disrupting natural water-flow patterns, which left the grass drowned or dried out for extended periods, and bringing lethal salt water in.
As we navigated our way out of a liquid labyrinth, it was not lost on me that my guide through this land of the dead was actually named Virgil. We came to a spot on the map called Lake Tambour, then to Lake Barre, then Lake Felicity, but it was all water. Chatt explained that the chart was an older one and that each "lake" had once been enclosed among bayous. Long gone.
I asked Kadoo if the population of the island was going down. "It ain't comin' up," he said. "We lose a few more every hurricane."
"You know you're going to have to leave someday," Chatt said gently.
"When I die," said Kadoo. I asked what he planned to do when the BP job ended. "Stick with this spill-response stuff," he said. "I got my training. Always be a spill somewhere."
FROM SPACE, SOUTHERN LOUISIANA looks like a bunch of tattered clothes hanging in the gulf, and the raggedy ends simply disintegrate in the rinse cycle of each hurricane. This lost land is a literal gap in national security: The natural buffering of storm surges once enjoyed by New Orleans has been severely reduced over the past century. It's the canals dredged by the oil industry that give big storms the keys to the city, making all the difference between Katrina being a nuisance and a catastrophe.
Many experts think that, at some point this century, almost everything on the Gulf Coast south of I-10 may very well have been sliced clean off the United States. (Driving from Biloxi to Houston? Enjoy those gorgeous ocean views!) That is, unless there's an energized national effort to restore the gulf. We must resist the country's tendency to write off the whole area. Make no mistake: This is no eulogy. While you were being told that the Gulf of Mexico had been fatally damaged, I was sailing through a paradise of pompano, shorebirds, and the most abundant dolphin populations I've ever seen. The gulf is not just worth saving; we must save it—especially from itself.
While I was in Louisiana, there was an event at the Cajundome, in Lafayette, called the Rally for Economic Survival: 11,000 packed the place to hear the governor, the lieutenant governor, and, of all people, the executive director of the Louisiana Seafood Marketing and Promotion Board rail against the Obama administration for stealing their jobs by imposing a six-month moratorium on deep-water drilling.
"Enough is enough!" raged the lieutenant governor, Scott Angelle, in his thick Cajun accent. "Louisiana has a long and strong, distinguished history of fueling America, and we proudly do what few other states are willing to do. … America is not yet ready to get all of its fuel from the birds and the bees and the flowers and the trees!"
True, but of the six billion to seven billion barrels of oil consumed by the U.S. each year, only about 10 percent comes from federal Gulf of Mexico waters; we get the same amount from both the Persian Gulf and Canada. Louisiana is no longer a significant source of crude, on- or offshore. What it does supply is cheap labor and a pliant local government. In this, it's eerily reminiscent of Third World places ruined by oil. The BPs of the world would have you believe oil brings prosperity to the countries where it's discovered, but it brings misery so dependably that economists have a name for the phenomenon: the resource curse.
Ecuador, Venezuela, Iraq: Bad things happen to countries "blessed" with oil. The Niger Delta is the Mississippi River Delta's separated-at-birth twin, offering the scariest cautionary tale of all. This tropical river delta held some of the greatest wetlands on earth, with abundant shellfish, crabs, and shrimp, the foundation of the economy and culture, but it also harbored vast oil reserves. In the past 50 years, Shell has grown preposterously wealthy off that oil, while Nigeria, with the tenth-largest oil reserves in the world, has become a post-apocalyptic wasteland. Almost three times as much oil has spilled into the Niger Delta as was spilled by the Deepwater Horizon: 546 million gallons and counting. The creeks are black, and the crabs and shrimp are dead. There are always leaking, corroded wellheads and pipelines. Gangs of rebels and oil thieves roam the jungle. Flaring rigs fill the air with mercury, arsenic, and carcinogens. Disease is rampant. The government is cardboard.
Southern Louisiana is no Nigeria, but it's also no longer quite recognizable as the United States. The trailer homes on pilings, the dearth of education, the chronic disease, the fat parish chiefs—I know the Third World when I see it. Cajuns haven't grown rich on crude; Houston has. And when the oil runs out, there's nothing left to fall back on.
I bet Angelle would simply argue that oil is worth billions more than seafood. But that's only because we aren't sophisticated enough to put a value on all the multifarious "ecosystem services" the gulf provides: benefits of the natural world, resources and processes we all too often take for granted. If we were to add these things to the ledger—all that gulf seafood and the health savings from it, the hurricane protection and wildlife habitat in all those marshes, to name only a few—and apply the calculus of their self-perpetuating sustainability, the astronomical value would blow your mind. It leaves petroleum in the pit. We can get oil from a hundred different places. What we can't get elsewhere are the Gulf of Mexico's oyster reefs and wetlands. Best on the planet. How much are all those acres of disappearing land worth? What price the mental anxiety of a culture watching its homeland disintegrate? How much added value do you assign oyster reefs because they've never, ever blown up and killed anyone? It's only ignorance—an inability to tally all the gains and losses—that makes oil look good.
AFTER PETIT BOIS, WE'D SAILED to the west end of Dauphin Island, anchoring near Katrina Cut, a rift in the island opened up by the hurricane. These barrier islands, which are a mere 3,000 years old—"not two generations of cypress," said Bill—get regularly knocked about by storms. Two rigs near our anchorage had beeped annoyingly through the night, and the next morning, when Jimbo and I looked to marinate, a strange black slick of congealed matter was drifting past the boat. We raised anchor and headed for Grand Bay.
If we were still hoping to find the old gulf, we met it sooner than expected. Looming beyond Grand Bay, a black bank of cloud sucked the color out of the western sky and rose imperiously into the troposphere, flicking snake tongues of lightning at the sea. The water turned a psychotic green. A mitt of wind came across the surface and swatted Dolphin's Waltz like a toy. "Better put the sugar to bed!" said Jimbo. We could see the Alabama shrimp fleet hauling ass for the shelter of Bayou la Batre, their hulls glowing white against the charcoal sky.
If Josh had said to me at that moment that the time had come to stop playing this 18th-century game, to crank up and play it safe, I would have bowed to his experience. But we instead came about and raised the biggest sail we had, a green spinnaker that billowed in front of us like a parachute, and caught the storm's 30-knot gusts, headed toward Mobile Bay.
Our speed and direction had been decided for us: We were going home. I stood in the bow, handrail held tight, and let the cool rain needle my skin as waves hissed against the hull and splashed me. Horsepower had easily beaten wind power, leaving this part of Mississippi Sound deserted save for us. Frothing waves obscured the horizon, and I could see nothing but sails and water and cloud.
We sailed for hours on that course. The difference between powerboating and sailing is profound, but it's a feeling that sneaks up only after you've been at it for a while. It's a cool, crisp serenity caused, paradoxically, by a lack of control over your fate. You can't choose your weather. You can't bend the world to your will.
Entering Mobile Bay, we jibed to pick up the shipping channel, and the full brunt of the wind came across our deck. Josh's eyes flicked from the wind to the spinnaker to our course. "Harden up on that sheet a bit!" he called. Bill winched in the sheet, the spinnaker snapped into place, and Dolphin's Waltz heeled over and locked into a groove. She surged forward, 35,000 pounds of wood and fiberglass and lead cleaving the water into two foamy curls.
"She got a bone in her mouth now!" Jimbo shouted from the wheel.
The channel from Mobile Bay into the Mobile Yacht Club harbor is six and a half feet deep, more or less, quickly dropping to five if you go astray. Dolphin's Waltz draws six feet of water. Of course, when she's heeled over, flying across a strong wind, she draws a little less. Keep her at full speed, hard into the wind, and she can sneak through five or so feet of water. But when a boat with that much mass runs aground at that speed, very bad things happen.
The bridge loomed. "Jimbo," Josh said, "you just keep her pointed exactly at that top span." I asked Josh when he wanted to drop the sails. He waggled his head: "It's all about the braggin' rights, dawg."
I stationed myself in the bowsprit in classic "king of the world" position, the bay sluicing beneath, the bridge towering above. We had 20 feet of clearance above our mast and about ten on either side of the channel. "We comin' in hot!" yelled Josh.
Suddenly, a powerboat came out of the harbor straight at us. "Boat!" I shouted, gripping the handrail even tighter.
"We got right of way!" Josh yelled back. "We got rights over everybody right now!"
Sure enough, the powerboat scrambled sideways like a pedestrian dodging a runaway truck, and we blew into the harbor, past the dock and a handful of frozen onlookers. One of them snapped out of it, pointed, and shouted, "Josh, that's the coolest thing you have ever done!" Josh grinned.
Then we doused the sails, fired up the diesel, and motored back into our parking spot.