Surf Prophet
On the afternoon of December 26, 2011, surf forecasting guru and media mogul Sean Collins died of a heart attack. What will the loss of the sport's oracle mean for the surfing industry and for the sport?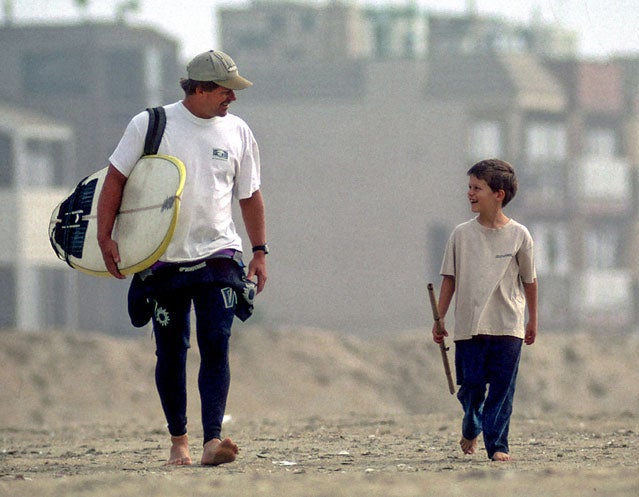 Heading out the door? Read this article on the new Outside+ app available now on iOS devices for members! Download the app.
In late 1994, I left the coast of South Carolina to take a job at Surfer magazine in Dana Point, California. I was a wide-eyed young journalist living in one of surfing's promised lands, a mile from the pointbreak paradise of Trestles. I had moved to be the first online editor at Surfermag.com. No other Surfer staffer even had Internet access.
Collins surfing Baja in 1978

Collins surfing Baja in 1978
Sean Collins's calendar

Free time? Sean Collins's calendar, January 1986
Sean Collins pointing to one of his early drawings of Cortes Bank

Sean Collins pointing to one of his early drawings of Cortes Bank
WaveFax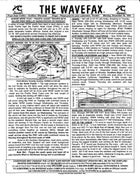 A WaveFax from December 26, 1994—in the lower right hand corner it contains news of Mark Foo's death at Maverick's
Life in the converted airplane hanger that served as Surfer's office revolved around the occasional arrival of surf stars, the hilarious bickering of photo editors Jeff Divine and Tom Servais, slide carousels depicting exotic surf expeditions, and a rudimentary fax taped to the office refrigerator and the wall above the restroom urinal. This biweekly WaveFax came from a Huntington Beach company called Surfline. It displayed a grainy map of the entire Pacific Ocean overlaid with swirling isobar lines and underlaid with multiple paragraphs describing what, exactly, storms and high-pressure systems were doing across the Pacific, and what that would mean for us in terms of both weather and surf. The signoff usually came from a meteorologist named Sean Collins.
Surfer long deemed itself the bible of the sport, yet our Book of Revelations was the WaveFax. If a staffer wanted to know what the next two weeks of life held, Collins was either prophet or God.
Pacific surfers were somewhat acclimated to the practical results of Collins's business by this time. But to an East Coaster who never realized it was possible to know what the surf would be like more than a day or two out, Surfline's 976-SURF telephone reports and WaveFax forecasts changed my life. They made me way more efficient. If Surfline called for surf tomorrow, dawn would find me out at Trestles. If flatness was forecast, I'd go to work early. If it was still clean at lunchtime, I cleared the desk for lunch and worked late. If the weekend promised a south swell, I packed my bags, planning a surf trip a week out. I didn't have to worry about blowing a few hundred dollars traveling to Baja—risking harassment by Federales and dysentery—only to find a flat Pacific. Of course, that took much of the mystery and romance out of the equation, but there would have been way less surfing. On a practical and environmental level, I also spent way less money and consumed fewer resources on gasoline-powered surf checks. I wasn't the only one who saw the benefits. By 1991, Surfline was receiving a million telephone calls annually.
Surfer's esteemed editor Steve Hawk made it clear early on that the tech-savvy Collins was a guy I should meet. Sometime in early 1995, I visited the spartan office directly across the street from the Huntington Beach Pier—a workplace with one of the best surf views in the Golden State. The place held a jumble of computers, a handful of full-time staffers, and a closet-sized mad-scientists room exploding with a Christmas tree's worth of wires—a telephone nerve center capable of handling upwards of 200 calls at a time. The single landline phone tied into it held a sticker that said, "Pray for Surf, Or Call Surfline."
Sean told me that he had spent his young life sailing the coastal outbacks from Point Conception to Cabo San Lucas. He lived on pennies for months on end, surfing Baja California and paying for his feral existence by selling photos to Surfing. He hadn't wanted to end up a protypical beach bum, so in 1983 he decided that he was going to crack the code. He wanted to figure out how to predict the surf. He posted up on the roof of his Seal Beach house and began a meticulous daily log of swells. How many were in a set? What direction did they come from? How big were they? How many seconds came between waves? From what angle did they approach the coast? He pored through dusty National Oceanic and Atmospheric Administration reports. With the help of a clunky shortwave Nagrafax machine that could print weather maps broadcast from New Zealand in the middle of the night, he figured out how to track the approach of swells that originated off Antarctica and rolled clear to California. He married those swell reports to the waves he saw two weeks later in California. "Today you'd have to live in a closet and ignore the Internet to even be able to think like Sean," says Dr. William O'Reilly, an oceanographer with the Scripps Institution and a world authority on the propagation of waves across the oceans. "He just had incredible analytical and observational skills. He did all this work before we even had numerical models and could just do wonderful things within this incredibly sparse data environment."
Everything changed in 1985, when Collins theorized that thousands of surfers might be willing to pay for his forecasts. He launched Surfline's telephone service, charging 95 cents per call. The WaveFax subscription service soon followed. He established a network of paid surf spotters to give dawn-patrol reports. To make sure they weren't lying in bed, he'd find a beach payphone and call the spotter for the report. "That was the only way I knew they were actually looking at the surf," he told me.
To many in surfing's old guard, the true beach bums who had given up everything in life to be able to surf at a moment's notice, Sean's work was blasphemy. Now hardcore surfers could have jobs. Relationships could bloom into marriages. A great demographic shift began. The surf population exploded as baby boomers continued to surf through what Collins called "the responsible years."
During the late 1980s, Collins tapped the mind of a computer programmer named John Chrostowski, who hacked the data streams hidden in broadcasts from NOAA weather buoys. He partnered with a surfing Ph.D. candidate from Scripps who was eager to meld his fascination with underwater bathymetry to Sean's wave knowledge. "The way he communicated about taking the numbers and putting them into something surfers could relate to—that was born out of thousands of hours on the water," says O'Reilly.
O'Reilly and Collins figured out how deep swells and offshore waters can spawn giants at spots like Todos Santos, Maverick's, and Cortes Bank. O'Reilly compared Collins to Walter Munk, a brilliant Scripps researcher who, a generation earlier, had traveled around the globe to understand ocean swells and deliver lifesaving surf forecasts to troops who would land in Africa, Normandy, and the South Pacific.
In 1996, not more than a year after he launched Surfline.com, Sean showed me a spellbinding, game-changing piece of technology that he was about to employ, a camera that could take a picture of the beach and post it on the Internet. He planned to put them damn near everywhere, and he correctly believed subscribers would pay to watch them. He and O'Reilly later created LOLA—an elaborate computer program that integrated Navy and NOAA computer models and real-time buoy data. He became the go-to forecaster for the U.S. Coast Guard, lifeguard agencies, big-wave contests, and icons like Laird Hamilton and Mike Parsons. He helped make Hamilton's treacherous exploits at Jaws and Teahupoo, and Parsons's world records at the Cortes Bank possible. "With the things he did with forecasting—explaining how waves and swells actually work or the importance of bathymetry—surfers now connect the way waves are breaking in front of them to storms off the sea of Japan," says Parsons. "I learned so much from him."
Eventually, I left Surfer to concentrate on writing. When it came time for me to pen a story about big waves, Sean became an indispensable resource for background, science, and scoops. In exchange, he asked for nothing more than fairness. Under his savvy guidance, Surfline became a monolithic multimedia web portal that combined cameras, forecasts, news, and deep features explaining the mechanics of surf spots from Long Beach, New York, to Maverick's in California.
To Parsons, who today is working as the fulltime coach to young pro Kolohe Andino, Surfline is now ably guided thanks to Sean's ability to recognize talent. The company has 25 staffers in Huntington Beach, 20 remote employees, 50 part-time surf reporters, and 100 surf cameras spread around the world. This garners surfline.com more than 1.5 million unique users a month, and far more during major swells in popular locations. But like Apple, the company must continue to evolve after its founding visionary is gone. Surfing is left with a strange void. "There are other surf forecasters and forecasting sites out there—good ones—but no one on earth had Sean's combined knowledge base: business, computers, forecasting," says Parsons. "I don't know if anyone will ever have an effect on the lives of more surfers."
Before he died, Collins was constantly researching ways to upgrade Surfline.com. He e-mailed Parsons about starting a coaches corner, e-mailed other surfers, including big wave chargers Greg Long and Mark Healey, about exploratory trips to stealth locations, and talked to his staff about embracing new technologies. He never stopped thinking, inspiring, and tweaking.
"The best part of working with Sean was when cold, heartless science met with the passion and beauty of what he did," O'Reilly said, adding that Collins was, in his mind, worthy of an honorary doctorate in oceanography. "The way the science world works, it's primarily based on literature—what you get published. Sean chose a different path, running a business rather than an academic career. But to me, he's the best surf forecaster who ever lived."
Chris Dixon is the founding editor of Surfermag.com and the author of Ghost Wave: The Discovery of Cortes Bank and the Biggest Wave on Earth.
To read more about the remarkable breadth of Collins' forecasting, editing, and multimedia skills, check out the following features: Extras: SurflineTV. How Cortes Bank Works and The Mechanics of Maverick's.