2023 Summer Gear Guide
The Best Enduro Bikes of 2023
Get up to get down with our seven favorite bikes in the category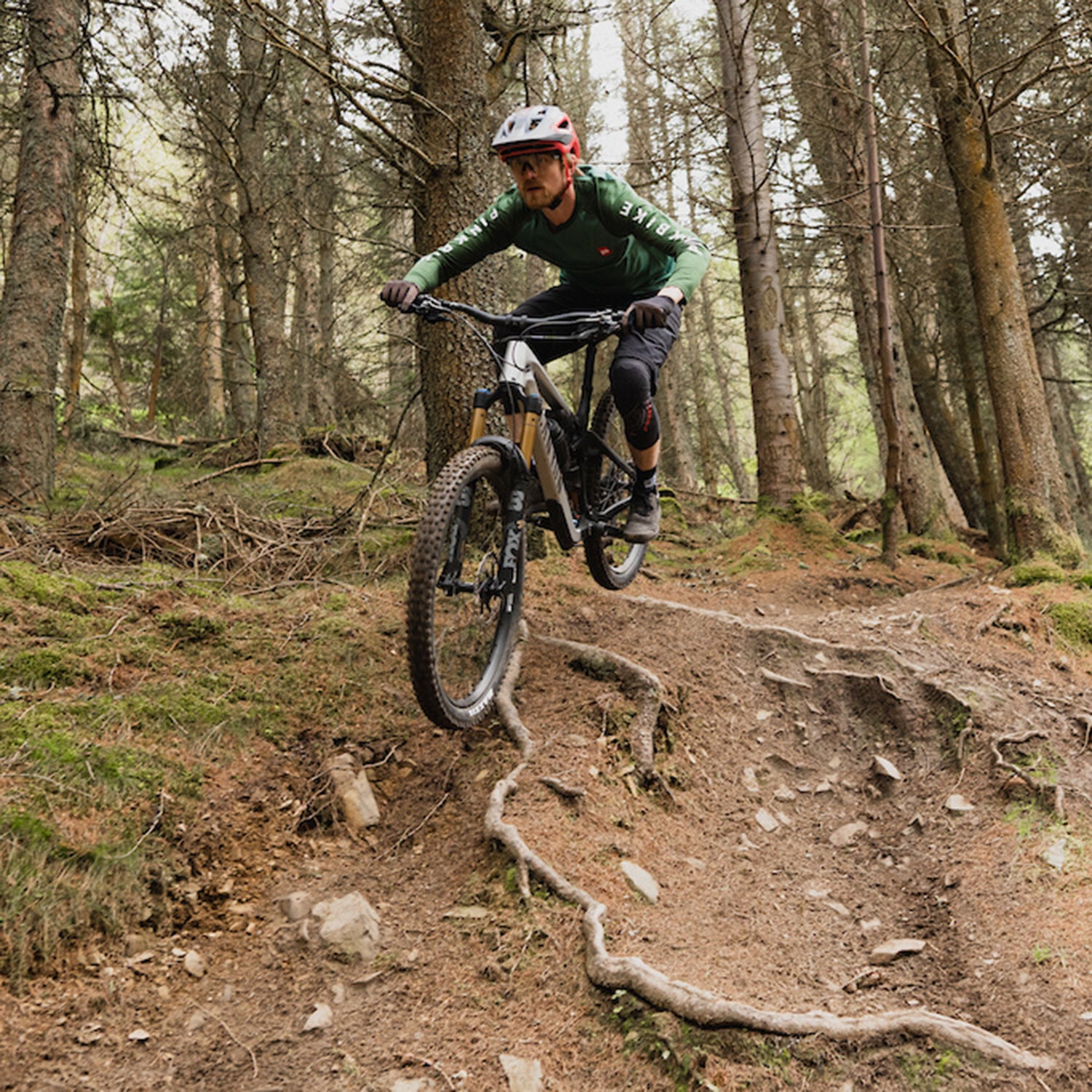 Heading out the door? Read this article on the new Outside+ app available now on iOS devices for members! Download the app.
The goal of an enduro bike might seem straightforward: to go downhill fast and with style without sacrificing all your pedaling efficiency. But slightly different geometry and new tech can really change how each bike achieves that goal. Our seven favorite bikes in the category this year are all insanely fun, but in their own unique ways.
The Winners at a Glance
Santa Cruz Nomad
Canyon Strive
Deviate Claymore
Yeti SB160
Transition Patrol Carbon
Orbea Rallon M-LTD
Commencal Meta SX
How We Test
Pinkbike's enduro bike Field Test went down this year in Bellingham, Washington. It was run by Mike Kazimer, Alicia Leggett, and Matt Beer, and they biked a lot of laps to get all the testing in. They faced some classic Pacific Northwest conditions: mud, rain, and every slippery forest feature you can imagine (think roots and rocks). Essentially, the goal was to test each bike in the same conditions to give them all an equal playing field. The criteria for inclusion in the test were simple—the bike just had to classify as an enduro bike. But there are many different ways an enduro back can get you downhill, and that's exactly what we wanted to find out for ourselves.
Pinkbike also long-term tested the new enduro bikes this year so reviewers could get a sense of the bikes in different conditions. Tests ranged across North America, from British Columbia to Washington.
Santa Cruz Nomad ($11,199 as tested)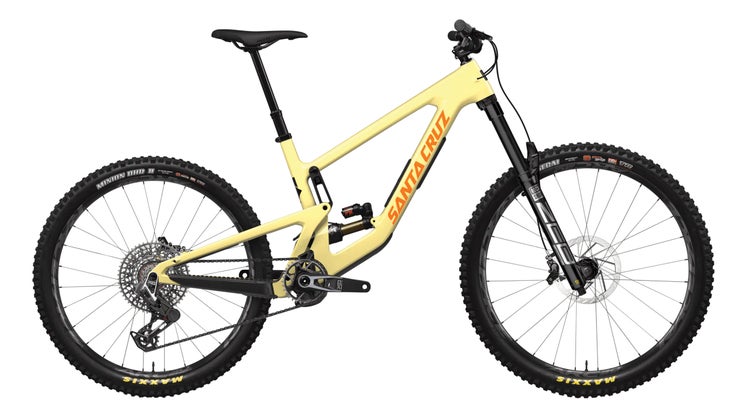 Pros: Very well-balanced handling; thoughtful frame features; outstanding performance in steep and technical terrain
Cons: Stock tires hold the bike back in some situations
Best For: High-speed, high-stakes riding and racing
The Nomad has been a perennial favorite with enduro racers and aggressive trail riders. Recently, Santa Cruz revamped this long-travel brawler with a mullet setup: a 29-inch front wheel (for roll-over benefits) paired with a 27.5-inch rear wheel (for agility).
It ticks all the boxes you'd expect to find on a modern enduro bike: it has 170 millimeters of front and rear suspension, internal downtube storage, room for longer travel dropper posts, plus generous chainstay and downtube protection from impacts.
But the sixth-generation Nomad is really a study in incremental improvements. Our testers all felt it has a blend of predictable handling and stability at speed that makes it an extremely enjoyable bike to ride. Its confident handling urged us to push our boundaries, becoming better riders in the process. This performance isn't cheap, but the Nomad offers a level of refinement that isn't present in many of its competitors. —Mike Kazimer
Canyon Strive CFR ($7,299 as tested)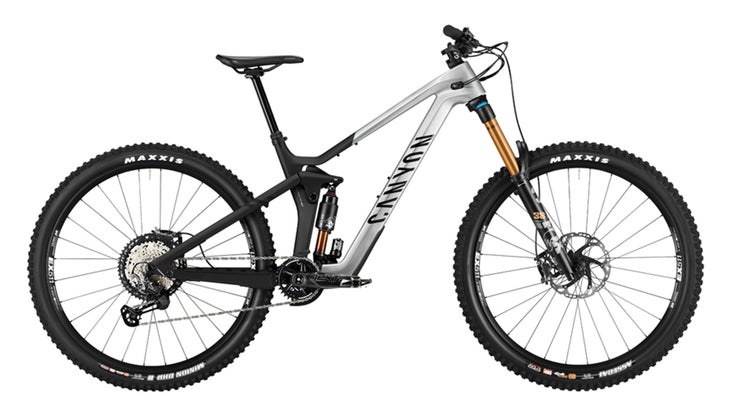 Weight: 35 pounds
Pros: Fast but not a barge; stable yet supple suspension; adjustable reach
Cons: The seat tube could be steeper, even in pedal mode
Best For: Steep, technical downhills
The last time Canyon updated the Strive was in 2019, and they've been working on a new version since then. The goal with the original was to make it work as a day-to-day trail bike and an enduro racer, with 150 millimeters of rear travel and a 66-degree head angle. For this iteration, they added 10 millimeters to the rear and steepened the head angle to 63 degrees. It only comes in Canyon's top-tier carbon, including the back end and rocker link. It has Canyon's Shapeshifter tech, which allows the rider to switch between a low, slack, and supple downhill mode to a higher, steeper, and firmer pedal mode—all from a lever on the handlebars so you don't have to take your hand off the grip.
Switching to the pedal mode on this bike is a game-changer on the climb. The 76.5-degree seat angle could be steeper, but because of the Strive's firmer suspension and higher antisquat, it still feels comfortable. Overall, the Strive performed best while descending on steeper, more technical terrain, though it still felt balanced and the suspension felt supportive on the flatter stuff, too. "It's when braking that the suspension impresses most," reviewer Seb Stott wrote. "It doesn't rise up and pitch forwards as much as many Horst link bikes, so the bike feels stable and settled even when during short, sharp braking periods. But at the same time, the suspension feels very supple even when on the brakes over rooty and rocky surfaces." —S.S.
Deviate Claymore ($3,696 as tested)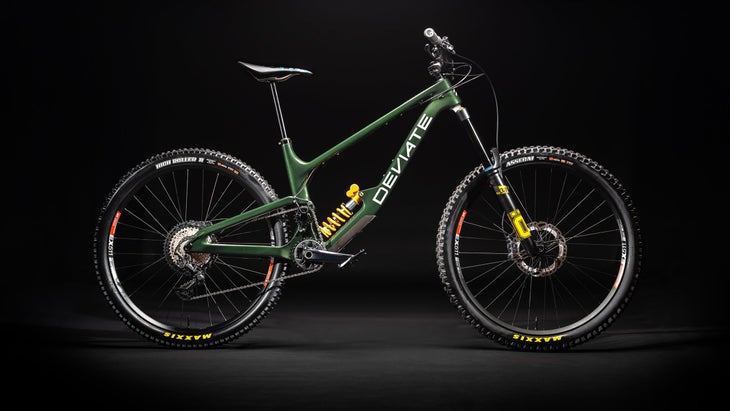 Weight: 34.7 pounds
Pros: High-performing suspension; fun on moderate terrain
Cons: No size small; same chainstay length on all sizes
Best For: Racing; riders looking for a long travel, do-it-all downhill machine
The Deviate Claymore surprised testers with its versatility, given its 165 millimeters of travel, high-pivot suspension design (the main pivot location is located nearly halfway up the seat tube), and 29-inch wheels. It also had the slackest head-tube angle (64.3 degrees), and the longest reach (490 millimeters for size large) out of the seven bikes we had at the field test in Bellingham. However, that head angle is balanced by a 78-degree seat angle, which helps the bike feel more manageable on climbs.
That seat angle definitely works wonders, as the Claymore felt more than capable on the uphill, which we were not at all expecting. It provided a comfortable, upright climbing position, and the chainstay length of 441 millimeters with the rearward axle path had us feeling centered. We'd normally expect a high-pivot bike like this to be a bit of a beast and mostly just excel with traction and eating up tricky sections. But the Claymore had a playfulness to it that helps the bike feel more well-rounded. We were thoroughly impressed by how well it did landing, and we had a really hard time getting it to bottom out on larger jumps. It wasn't the best in the category in terms of cornering, but the smooth ride still bumped the Claymore to the top of our lists. —M.K.
Yeti SB160 ($10,500 as tested)
Weight: 35.5 pounds
Pros: Calm, stable ride; was comfortable to take down mellower trails
Cons: Only a 29-inch wheel configuration and specific geometry makes it hard to customize
Best For: Enduro racing; ready for all sorts of downhill scenarios
The SB160 is all-new in Yeti's lineup this year, and it has a few key differences compared to the SB150. First of all, the SB160 has 160 millimeters of rear wheel travel and the head angle mellows out to 64 degrees, although it also has a 170-millimeter length in the fork. Yeti also refined the chain-slap protection and increased the downtube clearance. Perhaps the biggest news, however, is that Yeti added another size to the lineup, with chainstays and seat tube angles now tailored to each size. The small has 435 millimeters of reach, while the XXL goes all the way up to 525 millimeters.
Perhaps the largest note about how the Yeti rides is how smooth it is, which translates to an impressive uphill performance as well. "Because the suspension was easy to read and doesn't articulate rapidly through the first third of the travel, that allowed for predictable pedal placement through technical climbs without striking the cranks," said reviewer Matt Beer. The 77.5-degree seat tube angle and low slack also helped us push our weight toward the front of the bike. Though you might think this would mean that the bike would make some sacrifices on the downhill, the SB160 didn't lose any momentum descending. Maybe because it doesn't have any crazy geometry numbers, this Yeti was just a solid performer in most scenarios. This is critical in a race, where you can encounter many different situations. Although you do have to pay attention to the tune, the SB160 wanted to go fast, it really came alive when we started charging and was noticeably quiet on the trail. —M.B.
Transition Patrol Carbon ($6,699 as tested)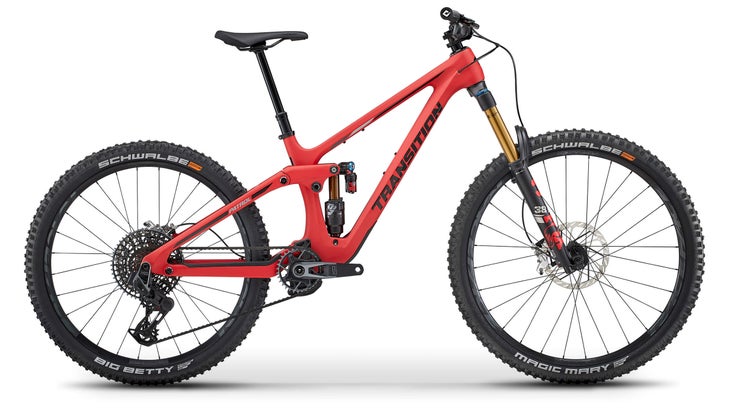 Weight: 33.6 pounds
Pros: Good at steep cornering; light on the uphill; great value
Cons: Geometry competes with the 160-millimeter fork
Best For: Softer, steep trails with lots of playful features
This year's Patrol is the first carbon version of the bike, losing about 2.8 pounds, although it has all the same geometry and travel as the aluminum version of the Patrol that dropped in 2021. It has a 27.5-inch wheel in the back and a 29-inch wheel in the front, but two different lengths of chainstays. The Patrol features 160 millimeters of travel in both the front and rear (putting it in between Transition's 170-millimeter Spire and 140-millimeter Sentinel). That said, 10 millimeters of travel can be added to both ends by changing out suspension stroke lengths.
On the descent, we preferred the Patrol for playing, not for racing, given its pretty standard suspension, geometry, and weight. Riding it that way felt natural, although its 63-degree head angle had us going a bit faster than what we'd prefer with the 160-millimeter fork. The Patrol Carbon really comes to life on soft but steep trails with a ton of berms and jumps (cough, Bellingham). We weren't in love with this bike on the uphill—it felt a little floppy due to the 63.5 head angle with the larger front tire and high stack. Still, the steep seat angle kept our center of gravity central enough on the climb to make the downhill worth it. —M.B.
Orbea Rallon M-LTD ($4,999-9,999)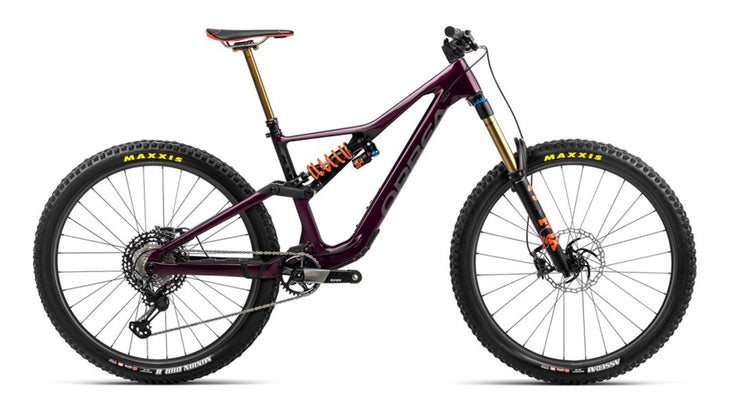 Weight: 31.9 pounds
Pros: Very good grip from rear suspension; mixed wheel compatible; versatile geometry
Cons: Head angle could be slacker to be more balanced with low weight; chain retention problems with stock equipment
Best For: Riders looking for a long travel machine that's extremely versatile and doesn't lean too heavily in any direction
The Rallon was updated in 2022, and though there weren't any major changes on paper, a few refinements are hiding in plain sight. Most noticeable is the room for storage in the carbon downtube, as well as some tweaks to the geometry (mainly the reach). The reach in the size large jumped from 455 millimeters to 485 millimeters in the steeper setting. Orbea also added a few millimeters to the chainstay and the head tube is now ever so slightly slacker at 64 degrees.
The Rallon is the kind of bike where you get on it and you feel comfortable right away. It doesn't focus on anything in particular, but that's exactly what you want for an enduro racer when you could encounter many different conditions. It's a very capable climber, as you'd expect from a race bike, and when we had to stand up in the saddle to power up a steep section, we felt like we had plenty of traction. We will say that the bottom bracket drop is low, which you have to keep in mind when pedaling up rocky ascents. Again, there was nothing groundbreaking about the downhill on the Rallon, but that's what we loved about it. Although it has 160 millimeters of travel in the back and 170 millimeters in the front, it still had tons of energy on switchbacks and tighter sections that needed the correct body positioning to gain speed. We always felt controlled and centered on this bike. —M.B.
Commencal Meta SX ($5,800 as tested)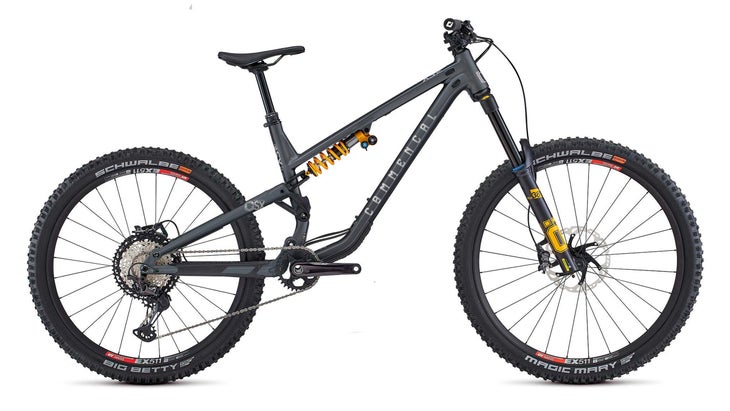 Weight: 35.9 pounds
Pros: Can cruise over anything; impressive traction and stability
Cons: Heavy; not very agile
Best For: Bike parks; riders who prefer steep, rough terrain
At first glance of the frame, the Meta SX is similar to Commencal's other enduro options: it's aluminum, with internally routed cables, and the frame is protected by rubber padding. But Commencal clearly took the time to refine the Meta SX and try something new. It's their first enduro racer with mixed wheels, and the updated Meta has one less centimeter on the reach than the previous version, though that centimeter is added to the chainstays on the rear end. Riders can switch the head angle from 64 to 63.6 degrees with a flip chip as well.
There's no getting around that the Meta SX is a heavy bike, which you can feel on the climbs. It's efficient, comfortable, and doesn't have much sagging, but it doesn't love cornering. Though it's not a poor climber by any means, we'd describe it best as slow and steady. On the other hand, the two words we'd use to describe the Meta SX downhill are long and stable. They day we tested this bike was rainy and slick, so it was important to have a rig with excellent traction. The Meta SX delivered, especially on off-camber sections. It just felt confident and carried momentum very well on straight lines. In general, quick, sharp turns are not the Meta's speciality, but on rough terrain and when pointed down, this bike shines. —M.B.
How to Buy
Yes, all enduro bikes are aiming at getting you downhill, fast. But it's important to consider climbing performance as well, assuming you won't be using your enduro bike solely at bike parks. Also keep in mind the type of terrain you'll be riding—is it going to be steeper? More technical? Do you need a bike that focuses on excellent traction? Will you have to deal with lots of flatsections and mellower trails as well? Are you planning on hitting jumps and being playful, or will you be racing? Would a mullet bike serve you? Answering these questions will help inform if you'd do better with a bike that has longer versus shorter travel, various head and seat angles, or a heavier versus lighter bike. It's also a good idea to look around at what locals are on in the area you'll be primarily riding.
Once you've nailed down these key factors, the field will have significantly narrowed down. See if you can get on a few test rides before you commit to anything, and ask your friends or your local bike shop gear nerds what they've been liking these days. Enduro bikes are so good now that chances are you won't go wrong, as long as you get your basics down.
Lead Photo: Pinkbike