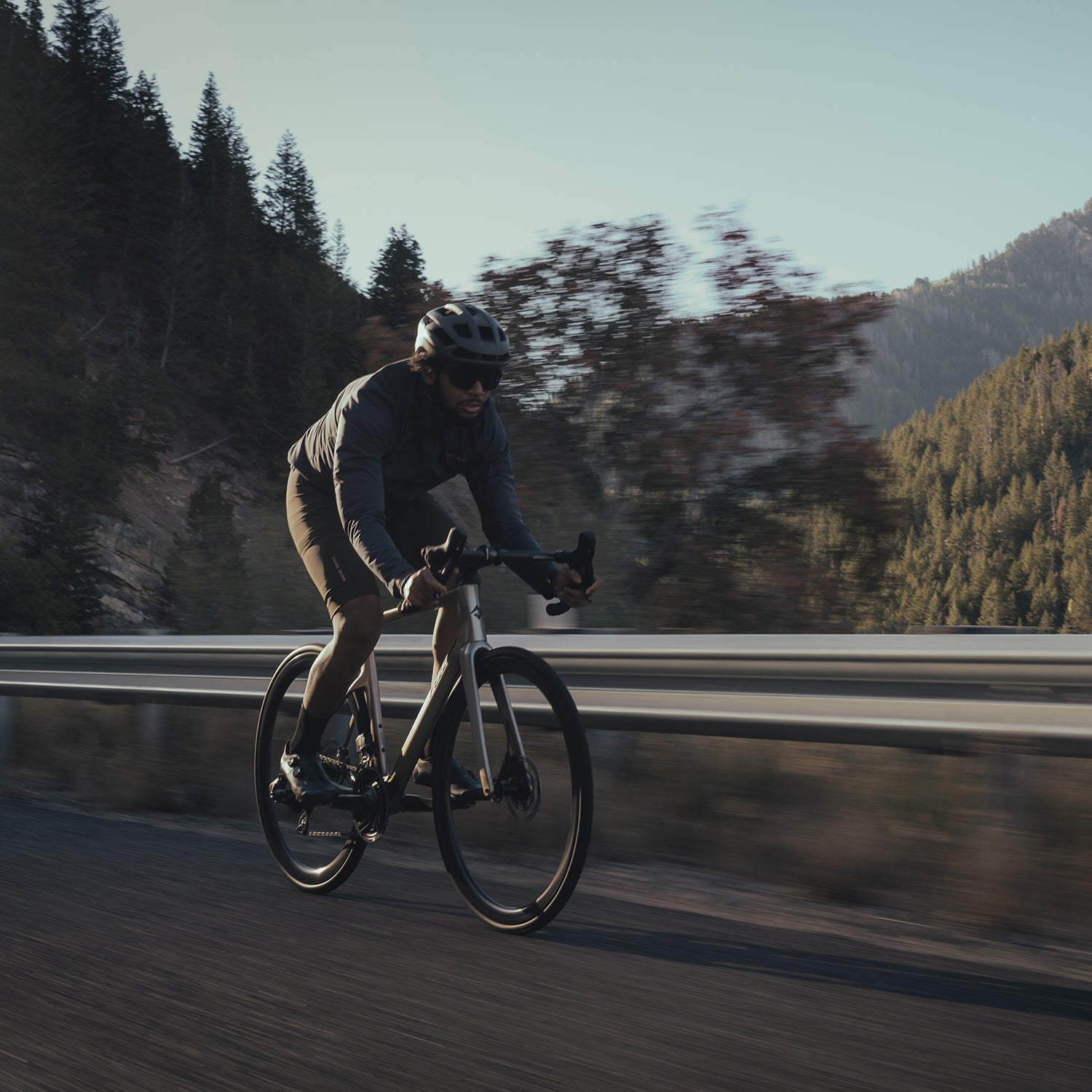 Heading out the door? Read this article on the new Outside+ app available now on iOS devices for members! Download the app.
Road bikes continue to blossom beyond the narrow confines of racing. Stiff, aerodynamic, featherlight frames are still the keys to speed; but the category is also expanding to include different experiences and styles of riding, to bring a new, more diverse generation of riders into the sport. The eight bikes we enjoyed riding the most this season are all very different, but well-executed, interpretations of this modern road machine. If we had the budget, we'd want all of them in our garage.
The Winners at a Glance
Giant Propel Advanced SL 0
Trek Domane SLR 9 eTap
Ridley Grifn
Argonaut RM3
Cervelo Soloist
Litespeed Cherohala
Trek Domane+ SLR 9
Orbea Gain
How We Test
Testers: 5
Bikes Tested: 14
Flats: Tubeless 5, Tubes 27
Wrecks: 5
Miles Covered: 3,500
Burritos Consumed: 121 (too many)
Most Expensive Bike Tested: $18,000
Post-Ride Beverages Consumed: 212
Bike reviews are some of the most complicated tests Outside performs. Choosing bike builds, having them shipped, building them up, and then riding them on the appropriate terrain takes many, many hours and lots of dedication. Luckily we work with some of the best in the business.
The majority of our reviews were performed at our Field Test in Steamboat Springs, Colorado, where we tested ten bikes with four riders over a week. We also do long-term reviews out of Boulder and Fort Collins, Colorado. Bikes are judged on their overall performance, ride quality, weight, speed, cost-to-value and many other factors.
Meet Our Lead Tester
Josh Patterson has been riding and wrenching on bikes for 20 years and, with a master's degree in journalism, has been writing about the sport for over half of that time. He's a cycling generalist who finds joy in riding road, gravel, and mountain bikes, which made him the ideal candidate to manage Outside's Gear Guide bike coverage for the past four years. He grew up in the Flint Hills of Kansas and was an early adopter of gravel racing and participated in the first Unbound 200. He's now based in Fort Collins, Colorado.
The Reviews: The Best Road Bikes of 2023
Outside Editor's Choice: Giant Propel Advanced SL 0 ($12,500 as tested)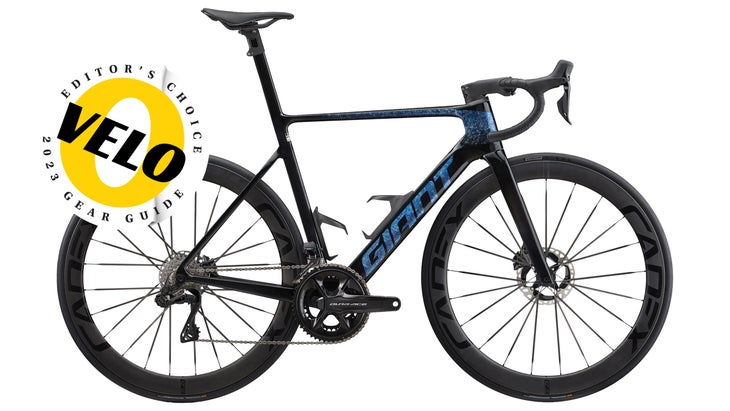 Giant set out to improve the aerodynamic efficiency of the 2023 Propel while also making it more of an all-around performer. The new bike is still intended to slice through the air, and makes use of truncated airfoil tube profiles everywhere it matters: namely, the down tube, seat testingtube, seatstays, head tube, and fork blades. However, the new Propel also now strikes a much more svelte-looking profile that further blurs the lines between the all-out aero machine it's supposed to be and semi-aero lightweights like Giant's own TCR Advanced SL.
Even without wind-tunnel testing, it was clear from our first pedal stroke that the Propel Advanced SL 0 is a proper rocket ship. It's easy to bring up to high speeds and requires less effort to hold them. During group rides, we inadvertently kept riding away from our buddies on non-aero road bikes.
Perhaps more important to everyday riders is how the Propel feels when going fast—it's a glorious bike to ride. It's tangibly light and stiff—not just for an aero bike, but for a good road bike, period. The Propel is a wonderful partner on long climbing days and when you feel inspired to attack steep pitches. Sharp stabs at the pedals are rewarded with quick bursts of speed with no hint of delay or hesitation. The handling is equally precise and responsive. It feels somewhat buzzy and electric, but without being harsh or unwelcoming like many other aero road bikes. It's a veritable eager puppy, always up for another go and brimming with more energy than you.
There's a smorgasbord of great choices in this category right now. If you're after the ultimate aero gains, you'll either have to head into a wind tunnel or do some instrumented on-road testing to find out which offers the most performance for your particular body. However, if you're the type of roadie that wants to go fast without giving up much in the way of other performance aspects—such as comfort and handling—the Propel is an incredible machine. 15.2 pounds
Read the full review
Best Balance of Comfort and Performance: Trek Domane SLR 9 eTap ($13,200 as tested)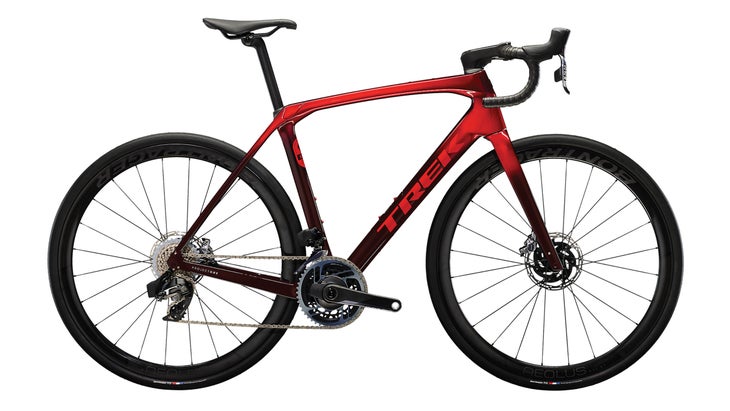 The fourth-generation Domane retains its signature vibration-damping IsoSpeed flex system built into the frame and receives a more aerodynamic carbon chassis. With these changes, this new Domane struck our testers as more balanced than before, easily absorbing road chatter and high-frequency vibrations. Credit goes to the high-volume, 32-millimeter tubeless tires and Bontrager's Pro IsoCore carbon handlebar. The Domane is very stiff and efficient when you step on the gas, with nary a hint of bottom bracket flex. It's a similar story up front with the huge head tube area confidently resisting undue twisting when you rise out of the saddle for a sprint or steep uphill pitch. This bike is one of only a few that confidently straddles the line between road and gravel: The handling is quick, like a traditional road machine, but with clearance for tires up to 40 millimeters wide, it's well suited to light gravel duties. 17.2 pounds
Read the full review
Best All-Arounder: Ridley Grifn ($5,200)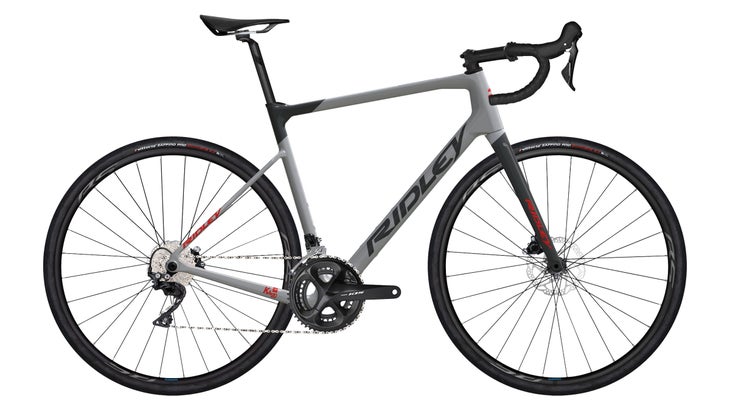 Ridley's Grifn is a jack-of-all-trades road bike for those who don't want to invest in a fleet of bikes to ride roads—whether paved or not. Its relaxed geometry and stable yet responsive handling is in line with endurance road bikes, but it has enough gravel DNA to regularly hit some dirt roads. Tire clearance maxes out at 40 millimeters with a 1x drivetrain, or 38 millimeters with a 2x set-up. It's suitable for many gravel jaunts, though the limited tire clearance means it's not the best tool for the most grueling gravel events. Cyclists often joke about N+1 being the perfect number of bikes, where N is the number of bikes you currently own. During testing, we thought of all the ways this genre-defying bike could replace multiple bikes hanging in our garages. If you want a do-it-all machine, the Grifn is worth a look. 19.5 pounds
Read the full review
Smoothest Ride: Argonaut RM3 ($14,600 as tested)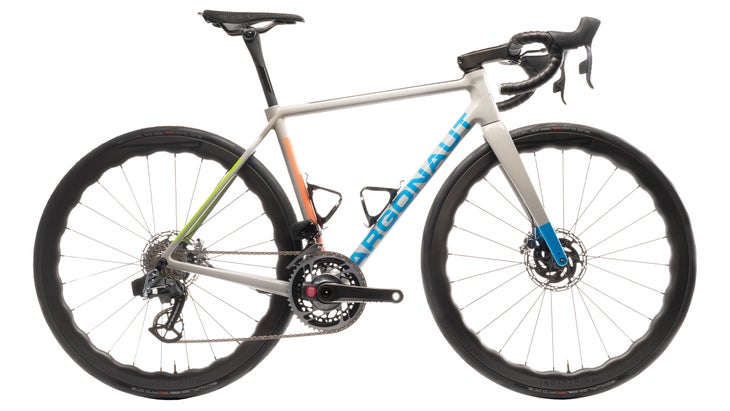 Argonaut's U.S.-made RM3 road bike proudly sticks up a middle finger to some of the high-end market trends. It isn't trying to be the lightest, stiffest, or most aero. Instead, Argonaut founder Ben Farver built the RM3 with ride quality in mind. On the road, the RM3 doesn't so much buzz with feedback as gently whisper in your ear about what's going on down at the tires. On even reasonably well-paved asphalt, the bike floats like you're gliding across the ground on a hovercraft. It's utterly sublime to the point of being ridiculous. And given the price tag, we'd expect nothing less. It's a splurge, but you can get an extraordinarily high level of customization that you won't find from the major brands. There's the potential for fully custom geometry and carbon lay-ups to suit your handling, stiffness, and weight preferences. All of that is wrapped up in a classic-looking package that will undoubtedly appeal to traditionalists. 15.7 pounds
Read the full review
Best Sequel: Cervelo Soloist ($6,800 as tested)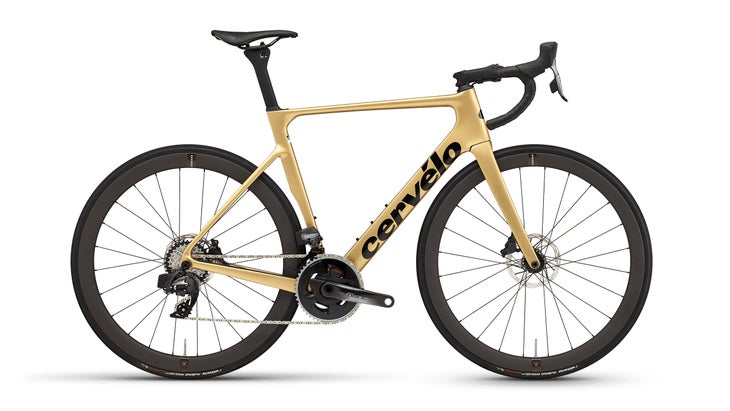 For 2023, Cervelo revived its game-changing Soloist franchise with an impressive list of updates and improvements that make for a compelling race bike at a fair price. The new Soloist is equipped with a completely redesigned frame, featuring a new carbon layup that has increased stiffness and reduced weight. The bike's aerodynamics are also far better, with the incorporation of Cervelo's latest Squoval Max tube shapes.
The cockpit includes Cervelo's "externally integrated" two-piece handlebar and stem system, which provides a clean and aerodynamic cockpit but still allows tinkering—the cables run underneath the stem and through the headset bearings. It's not perfect, but the system allowed for easy fit adjustments, and the ergonomic design of the bars provided a comfortable grip.
During testing, the Soloist proved to be incredibly responsive and fast. The bike's new frame design made for exceptional power transfer, and the tube shapes minimized drag. The bike's handling was also noteworthy, with precise cornering and stability at high speeds. One thing to note: while we expect a stiff ride from such a machine, it was notably harsh on less-than-perfect roads.
With its upgraded frame design and aerodynamics, the Soloist is a force, and one we'd happily toe a start line with. It might become the most popular Cervelo among self-funded racers for years to come. 16.5 pounds
Read the full review
Best Price-to-Ride Ratio: Litespeed Cherohala ($4,800 as tested)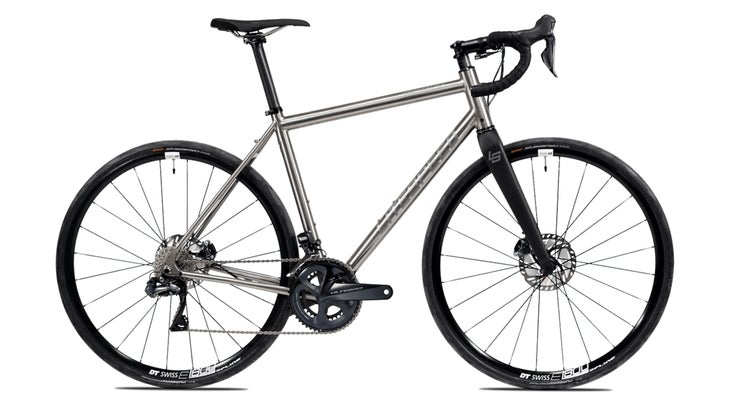 Not all titanium bikes capture the magical qualities of the much-lauded metal, but we're happy to report that the Litespeed Cherohala does. This all-road steed was really, really pleasurable to ride and lands at a price that isn't unattainable to mortals.
The Cherohala comes with a straight-bladed carbon fork (with fender mounts) which makes made for a lightweight and durable overall package. Our test bike came with an underrated mechanical Shimano GRX groupset, 105 hydraulic disc brakes, and room for a very ample 38 millimeters of rubber so you can wander off road if you desire. During testing, we found it was plenty stable and plush for packed dirt.
The long wheelbase made for comfortable cruising at speed, but testers noted some wheel flop while initiating turns. It wasn't a dealbreaker, and it can be adjusted to, but it is something to note.
If the roads you regularly ride are a combination of surfaces, from smooth asphalt to rough chipseal, the Cherohala would make quick work of them—and last a long time too. 19.78 pounds
Read the full review
Best E-Bike For Group Rides: Trek Domane+ SLR 9 ($13,000 as tested)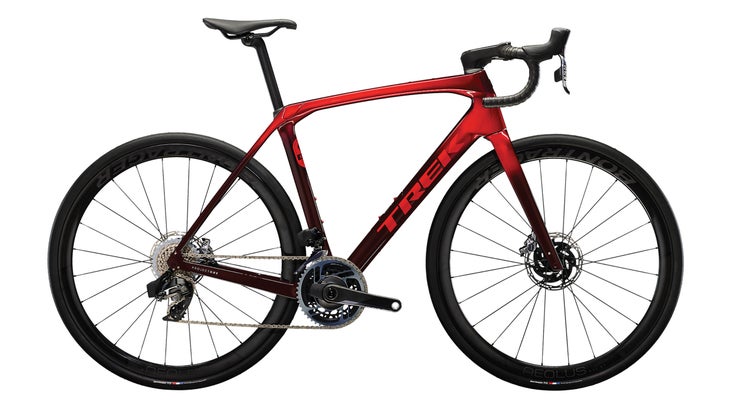 The Domane+ SLR stands out as the best performance e-road bike we tested this year for two reasons: its 28 mile-per-hour max speed meant we could actually keep pace with our fittest friends on group rides, and the TQ HPR-50 mid-drive motor is a cut above the competition.
The majority of e-road and e-gravel bikes in the United States are Class-1 machines that top out at 20 miles-per-hour. If you mostly ride solo, this may be plenty fast for your needs, but many of our testers noted that they wanted a bit more speed so they could keep up with the pack on group rides, which frequently average 25-30 miles-per-hour on flat stretches of road. "Maxing out at 20 feels like leaving a party right when it's getting started—except I'm the one getting left behind," said one tester. 
Trek took note of riders' needs, added more oomph to the latest electrified version of its all-road bike, and made it Class 3. (E-bike manufacturers have been conservative making bikes in this category, likely because each state's restrictions differ—most allow Class 3 bikes in bike lanes and on roads, but you might not be able to take them on bike paths in some areas.)
TQ's impressively compact motor that lives in the bottom bracket is nearly silent and generates up to 300-watts of assistance and 50 Newton-meters of torque. The 360-watt-hour battery housed in the downtube gives the Domane+ SLR  a range of up to 90 miles using standard energy-savings settings. 
Like the standard Domane, the Domane+ SLR has a sleek OCLV carbon frame with endurance-focused geometry for confident handling. Trek's vibration-damping IsoSpeed decoupler (a mechanical pivot that lets the seat tube flex independent of the top tube) kept us feeling fresh on longer rides. We were also inclined to venture off the pavement, thanks to the generous tire clearance that let it run 40 millimeter-wide gravel tires. 
Trek designed the Domane+ to mimic the ride feel of a regular road bike—and we think they nailed it. The TQ motor doles out power with subtle refinement, as if we were always riding with a tailwind. It gave us a glimpse of how professional cyclists must feel when attacking mountain climbs on a solo breakaway. 
Best E-Bike for a Boost: Orbea Gain ($9,999 as tested)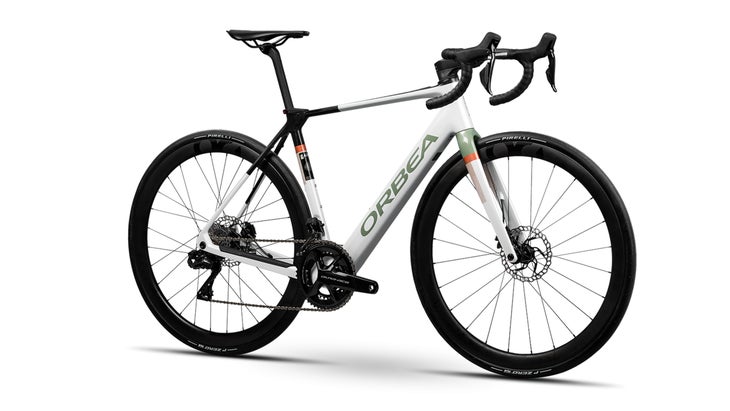 Orbea launched the first generation Gain e-road bike back in 2019—and we voted it our road bike (e-assist or not) of the year. Four years later, the Basque brand is launching its third generation of the platform. This time around, Orbea opted for the recently released Mahle X20 hub drive motor. The unit itself is one of the lightest on the market, but Orbea says reducing weight wasn't the main goal. Case in point: instead of picking the lightest possible set-up and the smallest capacity battery, the Gain is equipped with Mahle's larger 353 watt-hour battery to give riders more range and a maximum assist of 250 watts. The Gain has a maximum tire width of 35 millimeters, putting it squarely in the all-road category. 
We found that the bike's assistance felt far more natural than many of the other e-road bikes we tested this year. It's as if you've got good legs—not the super legs of a pro, but just the fittest version of yourself. And it's not just the smooth progression of assistance that made the ride seamless, it's also the smooth cut-off in power. The Gain's e-assist party shuts down at 20 miles per hour, leaving you to do all the work yourself. On some competitors' bikes, this cutoff is jarring and draggy, but the Gain's motor eases off gently. There were multiple times when we were riding along at 20 to 25 miles per hour in a group, and we didn't even notice that the motor wasn't working. That's the best compliment we can give any e-bike. 
Read the full review
How To Buy
Choosing the right road bike for you can feel overwhelming, even for veteran cyclists. There are more bikes filling more niches than ever before. But there are four main questions to ask yourself when shopping.
What Type of Road Riding Are You Planning to Do?
Be realistic about what you'll actually do on this bike. A racing road bike is far different than a commuter.
What's Your Budget?
High-end bikes can be astronomically expensive, but the trickle-down effect is real: there are a lot of great value-priced bikes on the market these days. Knowing what you can spend will let you know what you can realistically get for your hard-earned money.
Does it Fit?
You don't have to be uncomfortable on your bike anymore. There are a number of fitting services out there these days, but any good local shop should be able to get you close.
How Does it Feel?
Demo the bikes you're interested in. You'll be surprised at how different they can feel. You may immediately dislike one and be drawn to another from the first pedal stroke. Better to have that experience before you commit thousands of dollars.
Lead Photo: Courtesy Fezzari