Electric Assist Is Here to Make Cargo Bikes Cool
These utility bikes might just be a viable option for replacing our cars (at least some of the time)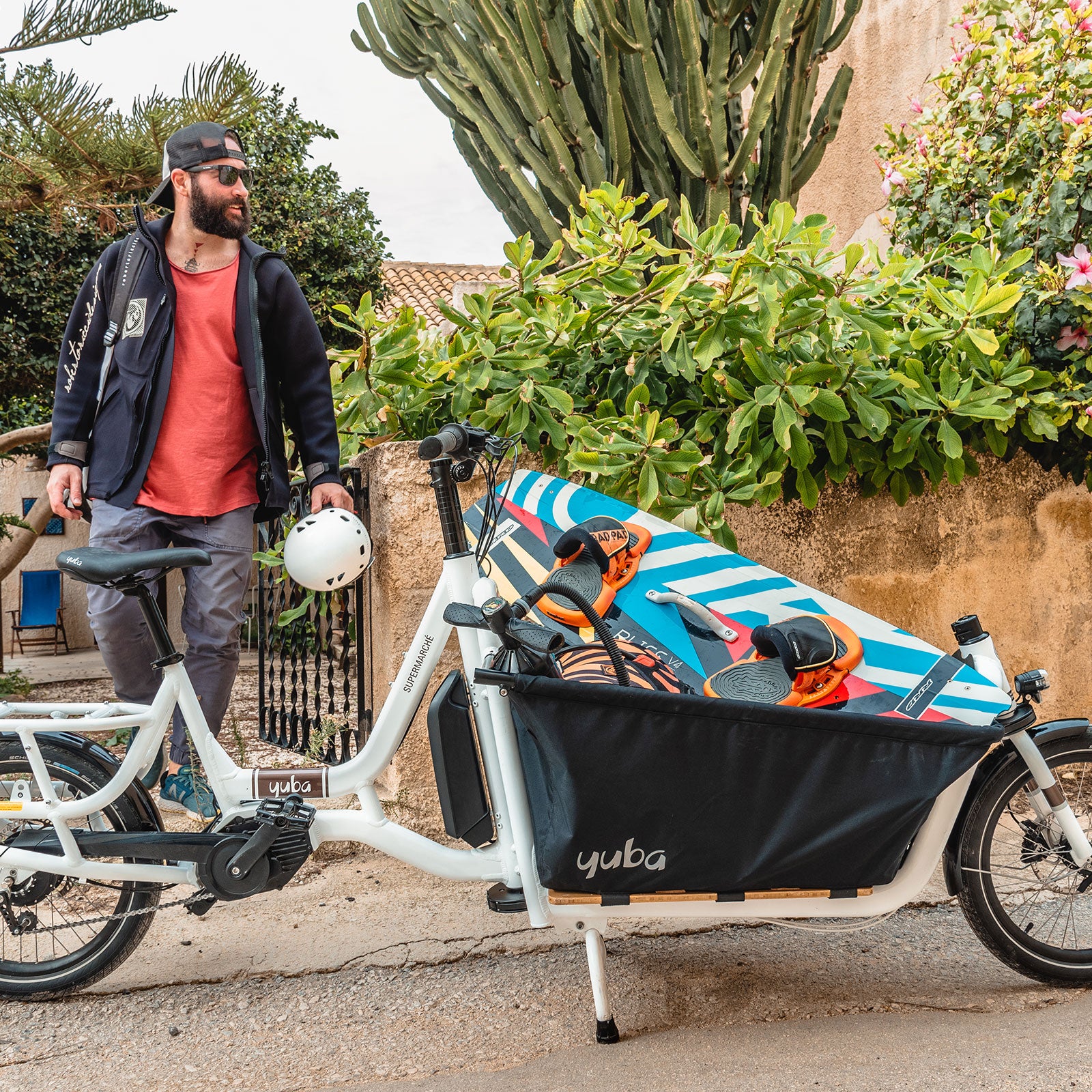 Courtesy Yuba(Photo)
Heading out the door? Read this article on the new Outside+ app available now on iOS devices for members! Download the app.
As far as I can tell, the bike rack at Costco doesn't get a whole lot of use; it's usually empty even when the massive parking lot is full. That's maybe not surprising, given the big box's reputation for selling, well, big boxes of stuff that might be a little hard to carry on a bike. Nonetheless, that's what I rode here on a shopping trip the other day.
I'm not here to pick up one or two small items you can easily carry in a backpack. I'm about to buy enough beer for a block party, and I'm not worried about getting it all home, for two reasons. First, I'm riding a cargo bike that has pretty ample storage for all the stuff I'm about to buy. Second, it has a powerful Bosch pedal-assist motor, which should help make the ride back just as fun, even with an extra 100-odd pounds of stuff.
Cargo bikes have been around a long time. The style I'm riding—a bakfiets, Dutch for "box bike," which puts the cargo in a large, low-slung box in front of the rider—is so popular with urban families in the Netherlands that its riders have a soccer mom–style nickname: the bakfietsmoeder, or box-bike mom. 
Frontloaders and their cousins, like longtail and midtail cargo bikes, have never been all that popular in the United States. There are several reasons: the United States is bigger and more sprawling than the Netherlands, and some of our cities are hillier than the major Dutch population centers in the country's east. We lack the bike lanes and other infrastructure that the Dutch painstakingly built in the latter half of the 20th century, and so we largely lack the broad, urban cycling culture that arose with it.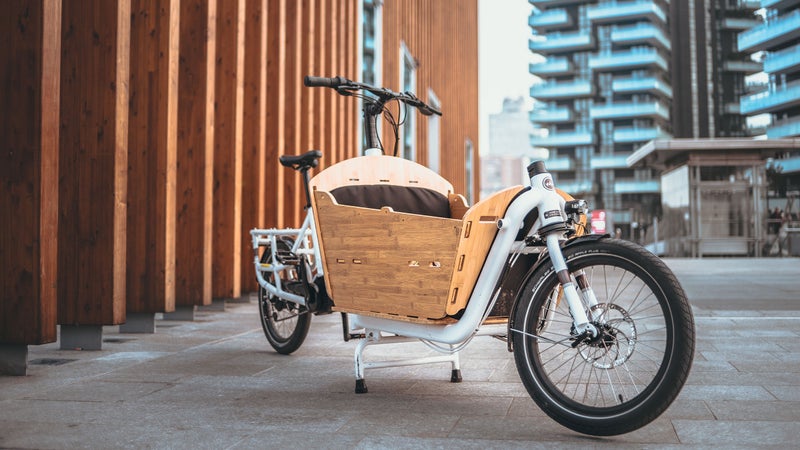 But that might be starting to change, thanks to a growing number of cities providing better bike lanes and a growing number of options from companies like Yuba Bicycles that are focused on utility and cargo bikes. Yuba makes only cargo bikes, in fact: midtails, longtails, frontloaders, you name it. Even the kid's balance bike has a rear rack. Yuba also has a growing number of electric options with pedal-assist motors, along with a variety of accessories, from racks to running boards. Recently, Yuba sent a sample of its Electric Supermarché frontloader to Boulder to let journalists try it out. I swung by Front Range Cargo Bikes (yes, a cargo bike–specific store—how very Boulder) to pick it up for my first trip. I rode home with the bike I had used to get to the shop tucked into the cargo box.
Geography and infrastructure aside, there's another reason cargo bikes haven't caught on widely in the United States: they can be heavy. Even the unmotorized version of Yuba's Supermarché weighs 60 pounds before you put on the cargo box or any stuff in it. With any cargo, even modest hills can be a fight. So the idea of replacing car trips with two wheels—taking the kids to preschool or running errands for bulky or heavy items—was, for a long time, the province of committed environmentalists or enthusiast cyclists capable of cranking out 250-plus watts for more than a few minutes at a time.  
Electric changes that. The typical e-bike, like the Yuba Supermarché, has a 250-watt motor that provides power support at up to 300 percent of the rider's own pedal power in turbo mode, and more than that for peak accelerations. That essentially turns even a casual cyclist into a pro-caliber rider, which makes errands quite a bit more pleasant (as long as you mind your battery status). Just for fun, on the ride home from Costco, I turned off the motor going up a hill, and my speed promptly dropped to a crawl despite pedaling at my threshold power.
My first real outing with the Supermarché was to Home Depot, an easy 2.5-mile jaunt mostly on off-street paths, which I used to suss out handling. Mid- and longtail cargo bikes ride pretty similarly to normal bikes, although they're built for more stable, predictable handling. Bakfiets are a bit different. On the Electric Supermarché, a cable linkage connects the handlebar and steering column to the fork, which means the bike is even slower to turn than a conventional cargo bike. (In fact, after exclusively riding the Supermarché for a couple days, I damn near wrecked myself one morning when I hopped on my road bike and had to instantly readjust to the quicker steering.)
While other folks were hunting for spots in the Home Depot parking lot, I wheeled right up the garden center entrance, rocked the bike gently onto its wide double kickstand, and traipsed off to buy a few bags of landscape mulch. The return trip home is where I really saw the genius of a cargo bike. The handling, which had felt sluggish and floppy on the ride down, seemed to settle with 60-plus pounds of mulch in the box, and even tighter, slow-speed corners felt manageable. On a few small rises, the motor kicked in to do the yeoman's work, letting me enjoy the ride rather than sweat for a (mostly) carbon-free commute.
But these rides have their own complications. A common truism of cargo bikes is that they can replace a car. At eight feet long and almost 80 pounds, the Electric Supermarché damn well better, because there's no room for both it and a car in a typical garage bay. (Mid- and longtails are a little easier to find space for, and if things are truly tight, look at the Tern GSD, a compact model that partially folds up.) Since e-cargo bikes weigh 55 pounds or more, stairs are difficult at best, which sidelines a lot of apartment dwellers. And when running multiple errands, you can cover your cargo, but you can't physically secure it.
Then there's the expense: the Electric Supermarché costs $6,000—before adding accessories like the cargo box. R&M's excellent Load 60 starts (starts!) at $7,400. That's not far off a used five-to-10-year-old Honda Fit. Mid- and longtail e-cargo bikes cost less, but even Yuba's midtail Electric Boda Boda is $3,600 without accessories. Good cargo bike shops like Front Range can help retrofit existing bikes with electric upgrades, and the Argo Cargo kit transforms normal bikes into bakfiets-style machines. But even those come at a significant price. Any way you slice it, you're looking at a mid-four-figure investment for a new bike, which helps explain why bakfietsmoeder has become a Dutch synonym for gentrification. At a time when New York City, for one, is cracking down on delivery cyclists riding e-bikes while the city-sanctioned Citibike bike-share system tries to expand its electric fleet, it's fair to note the element of class privilege at work here.
The style of bike I'm riding—a bakfiets, Dutch for "box bike," which puts the cargo in a large, low-slung box in front of the rider—is so popular with urban families in the Netherlands that its riders have a soccer mom–style nickname: the bakfietsmoeder, or box-bike mom.
Even if you can afford one, only a handful of shops in the United States carry e-cargo bikes, let alone have the specialized sales and mechanical understanding to really help. Arleigh Greenwald, owner of Bike Shop Girl Family Cyclery in Denver, says she's had customers come from as far away as Montana simply because she carries the options they want to look at and is knowledgeable about them.
The bottom line is that an e-cargo bike isn't accessible to everyone and won't automatically replace a car. Sure, I can buy mulch, but only a few bags per trip. (A bike trailer would have been better.) And at Costco, I eyeballed my cart to assess whether its contents would all fit in the box.
But while replacing a car is admirable, it doesn't have to be the only goal, says Greenwald, who finds that a lot of her customers want to use a cargo bike to replace the many close-to-home trips they previously took by car. Once you try it, an e-cargo bike opens up a completely different kind of urban riding experience. My Costco errand, for instance, took longer on a bike (it's a nine-mile ride one way, with a significant hill) than it would have in a car. But it was far more pleasant and took no more than 40 percent of the battery charge even in sport and turbo mode. I passed a herd of cows and stopped to watch a calf frolic in the field. I got fresh air and exercise while running an errand, and my total time was probably less than if I'd tried to squeeze in a separate bike ride and then drive to Costco afterward.
It felt…liberating. Grocery shopping on a cargo bike, I didn't have to wonder whether I have enough room in my pack for all the groceries. And with pedal-assist power, I didn't worry about feeling tired or that a load was too heavy, a hill too steep, or a headwind too strong.
I also felt like drivers were generally kinder to me riding a cargo bike in street clothes than they are when I'm riding my road bike in racer-cosplay kit. (Yes, people do notice a bakfiets; be prepared to be the center of attention.)
I wheeled my full Costco cart out of the store and over to the bike rack, where I loaded the beer, strawberries, and various other items into the bike box. An older gentleman walked by on his way out, pushing a similarly laden cart to his car. He slowed to look at me and shook his head slightly, as if to say, "That's crazy." The first thing that shot through my mind was, "No crazier than driving by yourself in a seven-passenger SUV to pick up a 24-pack of toilet paper." But I didn't say anything. Instead, I simply smiled, waved, and rolled out for an easy spin home in the clean, bright sunshine.
Lead Photo: Courtesy Yuba