Best Women's Mountain Bike Gear for Fall Riding
Keep the adventures going through the changing seasons with these smart staples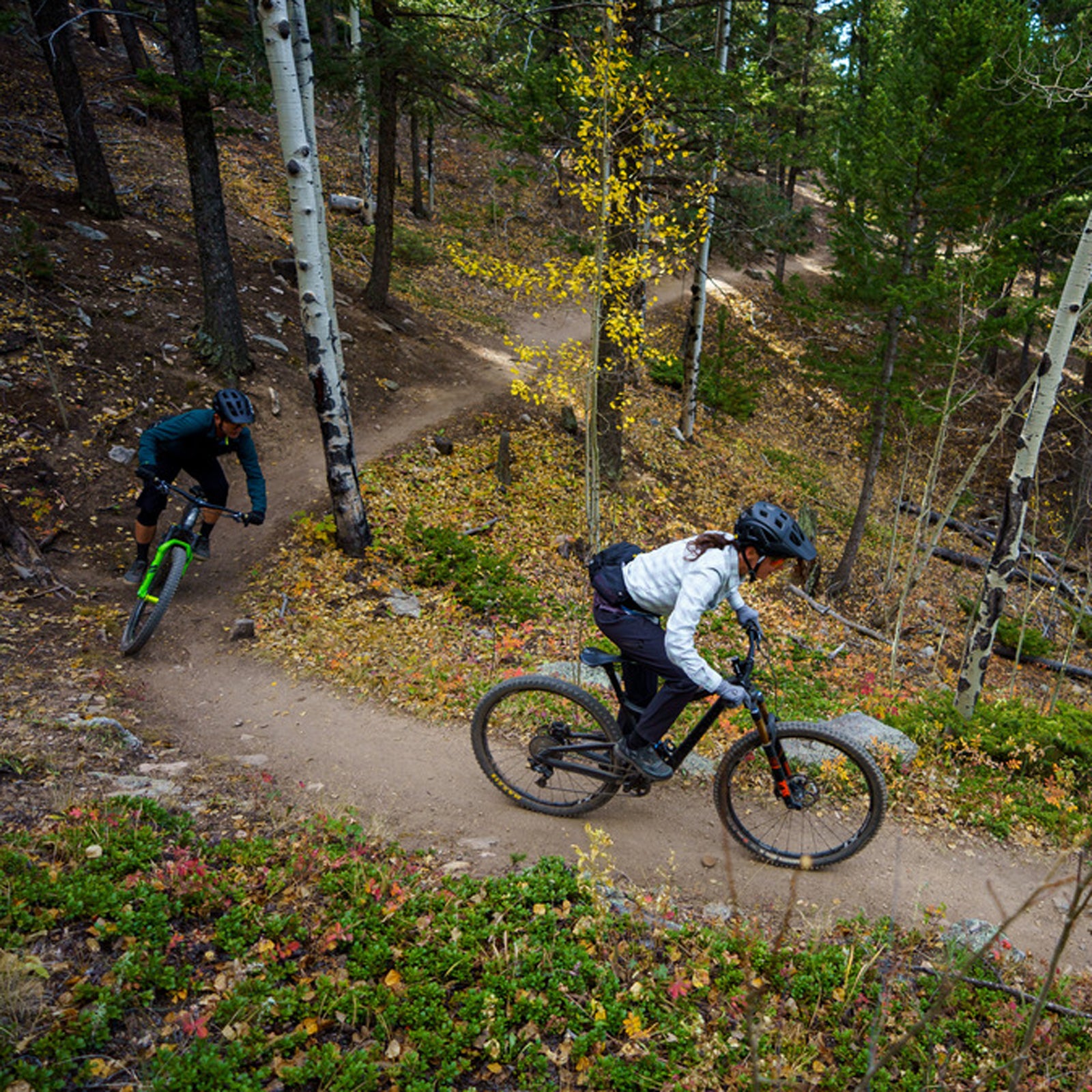 Courtesy Pearl Izumi(Photo)
Heading out the door? Read this article on the new Outside+ app available now on iOS devices for members! Download the app.
Getting dressed for a trail ride in the heat of summer is easy. But as the days grow shorter and temperatures drop, what you wear on the bike becomes all about versatility and performance. These are the technical pieces of gear that will keep you riding—and smiling—through the shoulder season and beyond.
Pearl Izumi Women's Rove Long Sleeve Shirt ($80)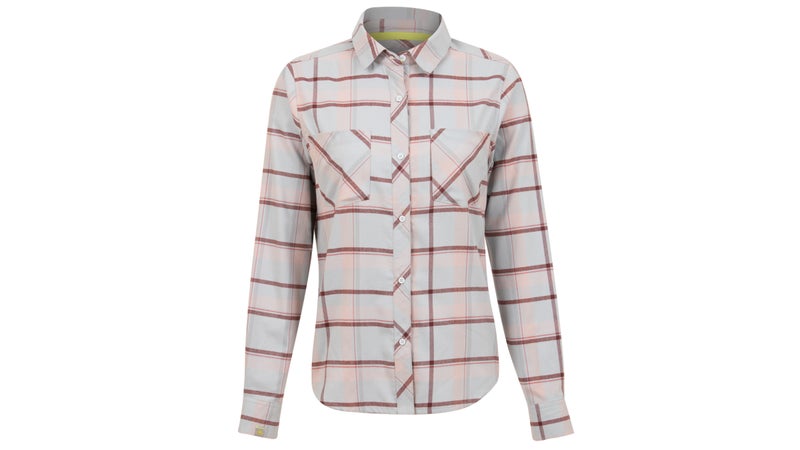 While some performance flannels incorporate technical features galore, ranging from stretchy look-alike fabrics to hidden zipper pockets, Pearl Izumi's Rove is a simpler rendition with just the necessary bike-friendly tweaks. The brushed polyester twill is exceptionally soft and cozy, making it warmer than the average riding flannel and a highly effective layer on chilly mornings, but it also wicks sweat well and dries quickly. A roomy fit and longer drop-tail cut offer full coverage in the riding position and when the shirt is cinched under a hip pack. The lack of bike-specific features help make this shirt more activity agnostic than other tech checks, too—I'm equally happy wearing it on the ride as I am at the campsite.
---
Gore C5 Gore-Tex Infinium Gloves ($60)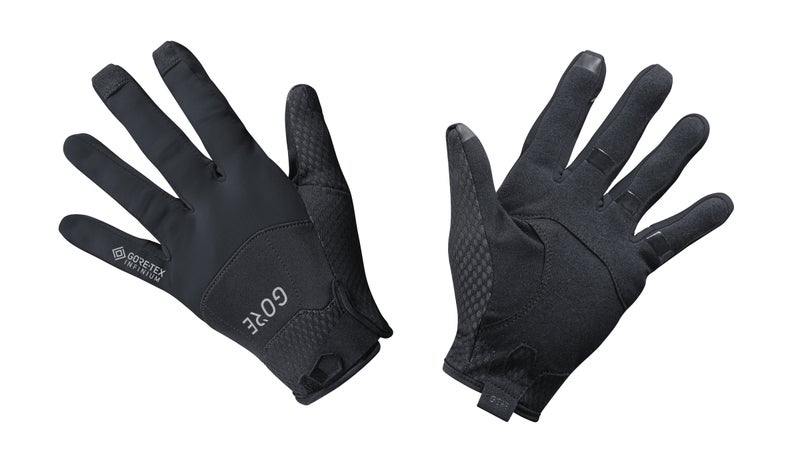 When riding temperatures get into the forties and fifties, I often find myself like Will Ferrell's Ricky Bobby in Talladega Nights—I'm not sure what to do with my hands. Should I wear my normal trail gloves, which protect my palms and improve my grip but offer little to no insulation? Or should I wear my winter gloves, which are warm but less dexterous and at times bunch and rub at the seams? Gore's C5 Gore-Tex Infinium gloves fill that big gap perfectly. They're constructed like mountain-bike gloves, with a snug fit, Velcro closures around the wrists, and a synthetic leather palm that gives me a direct interface with my grips. A windproof and water-resistant shell provides more warmth and weather protection than summer-weight gloves, and pre-shaped fingers reduce the material bunching between my hands and the handlebar, which eliminates rubbing. These work great with touchscreens, too, enabling me to operate my phone in chilly conditions without taking them off. 
---
Bontrager Avert Women's Mountain Bike Rain Jacket ($170)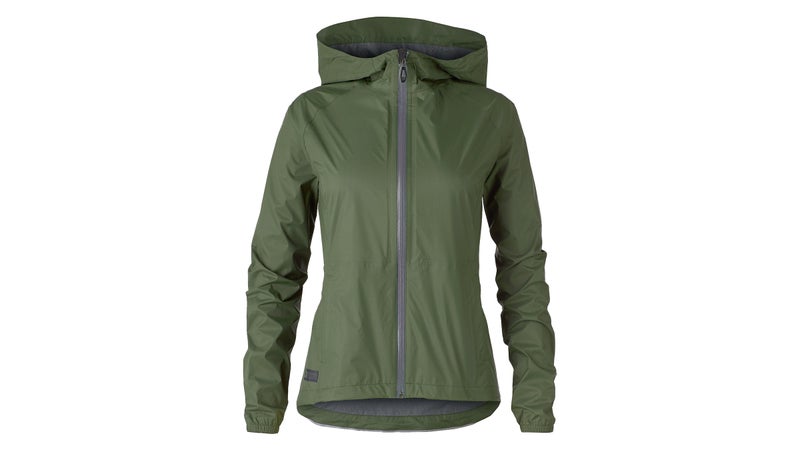 This 200-gram waterproof shell is small, light, and highly packable, stuffing down into its own pocket—something the most fervent space weenies will appreciate. Super-snug elastic wristbands help keep moisture out and warmth in. A longer, mountain-bike-specific cut fits over baggier layers and offers generous coverage while retaining a slim and flattering shape. My favorite feature, though, is a hood that actually accommodates a trail helmet to keep your head dry in a storm, with a Boa dial system that enables you to ratchet the hood down over your lid for a secure fit. For a waterproof jacket, the Avert is also respectably breathable, allowing for short periods of gentle climbing without overheating.
---
7mesh Women's Revo Short ($225)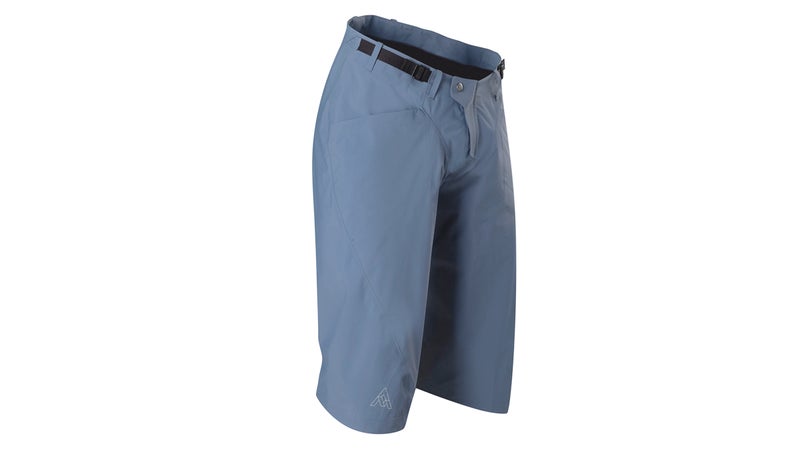 The brand 7mesh, based in Squamish, British Columbia, knows that a good pair of rain shorts can make the difference between staying in and getting out in crappy weather. This pair will make you feel invincible in a downpour. Constructed with waterproof Gore-Tex and fully taped seams, the Revo short keeps your butt and chamois dry, even while riding along waterlogged trails. The legs are roomy enough to fit over knee pads comfortably, while a slim, tailored cut and just-right inseam are flattering—hitting right below the knee, they provide extra coverage in the wet while avoiding that cankle look that longer Capri-style shorts produce. An adjustable waistband and sturdy zippered fly with a button closure are durable fixtures that have withstood two seasons of machine washes.
---
Velocio Women's Trail Mesh Bib Liner ($139)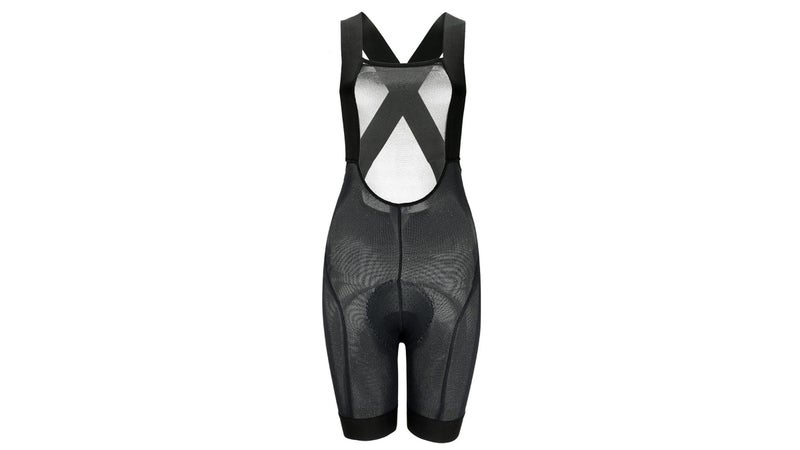 Technically, these mountain-bike bib liners aren't a fall-specific item; the highly breathable mesh material is actually intended to prevent overheating on hot summer rides. But I recently came to appreciate them for cold-weather adventures when my group rolled up on a trailhead bathroom during a chilly ride. The pee-break-friendly design meant that I could skip into the latrine, still cozy in my fully-zipped jacket and layers, and drop trou without having to expose myself to the cold. A lot of brands offer bathroom-break-friendly women's bib shorts, but Velocio's extra-stretchy, extra-wide, crisscrossed strap design makes it super simple: no buckles or clasps, just pull the waistband down like you would with shorts. 
Other features make these liners my go-to for long rides in general: the straps keep everything in place when I'm moving around on the bike, and the chamois stays robust and comfortable for several hours. The luxuriously soft mesh feels like pulling pantyhose over my body, and extra-wide leg grippers provide the ideal amount of compression and support without constricting or rubbing.
---
Thule Rail Hip Pack 4L ($100)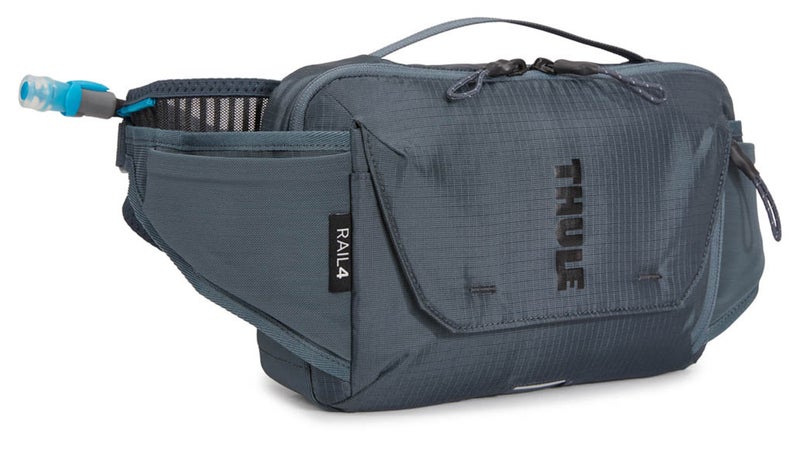 In the past, I haven't been a fan of hip packs with integrated bladders. Generally, the heavier a hip pack is, the more unstable and shifty it is around my waist in very bumpy terrain. Finicky hose-attachment systems can also result in a loose and dangling hose midride, and they make taking the pack off or putting it on feel like a two-step process. 
Thule's new four-liter Rail is the best hip pack I've tried to solve these problems. A flatter profile and wide, stretchy waistband (unusual for a hip pack) help it conform to my body and prevents the Rail from sliding around on hectic descents. Other packs use magnetic hose attachments, too, but instead of a single-point attachment, Thule's smart system features a roughly 8.5-inch-long magnetic strip that runs the length of one side of the waistband, providing generous real estate for securing the hose sleeve (also designed with a magnetic strip). The result: you can drink midride and replace the hose without fumbling around or even looking down. The Rail's flatter shape means that using the pack with a full bladder of water leaves just enough volume to stow a tube, tools, a phone, and a couple snacks. Strapping your tube to your bike could also allow you to pack a light layer.
---
Giro Manifest Spherical Helmet ($260)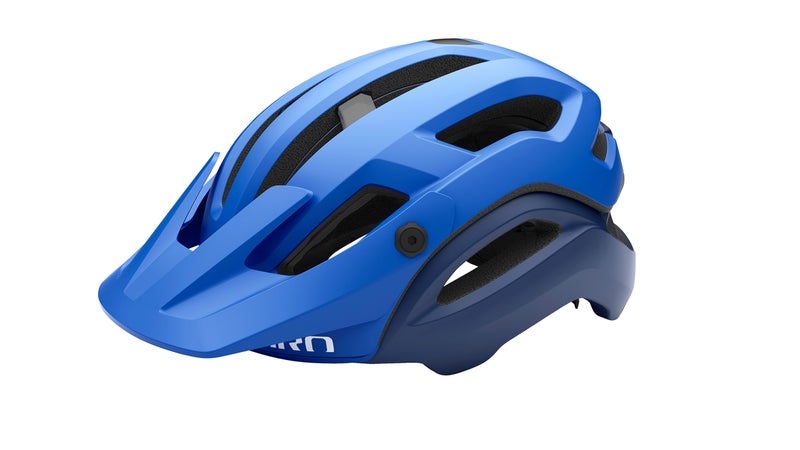 Launched this spring, the Manifest trail helmet incorporates Giro's Spherical MIPS technology. This tech is the brand's proprietary execution of MIPS, which helps protect against the rotational forces that are related to the majority of brain injuries by enabling the outermost layer of a helmet to "slide" subtly on the head in an impact, absorbing energy from oblique hits. This lid features a unique two-piece design: an outer EPS foam liner sits on top of an inner liner, allowing the two pieces to rotate around one another ever so slightly. Giro says there are two main benefits of Spherical over other MIPS executions: no rough-edged plastic MIPS liner against the hair or scalp, and that liner doesn't interfere with fit.
The Manifest is an exceedingly comfortable trail helmet. While Giro's previous-generation Montaro and Montara trail helmets felt a bit tight to me around my temples (likely due to the MIPS liner located directly between the head and the helmet's EPS foam), the Manifest fits perfectly on my average-shaped head. The antimicrobial liner is pleasantly cushy, and venting is generous for hot rides. A magnetic buckle system is a nice touch, enabling quick fastening and one-handed opening. Silicone grippers in the front vents allow you to stow your shades, though I did have a hard time getting some sunglasses to fit securely. If goggles are more your style, you'll appreciate the rubber goggle-strap gripper on the back of the helmet.
---
Roka x Machines for Freedom GP-1 Sunglasses in Palmera ($250)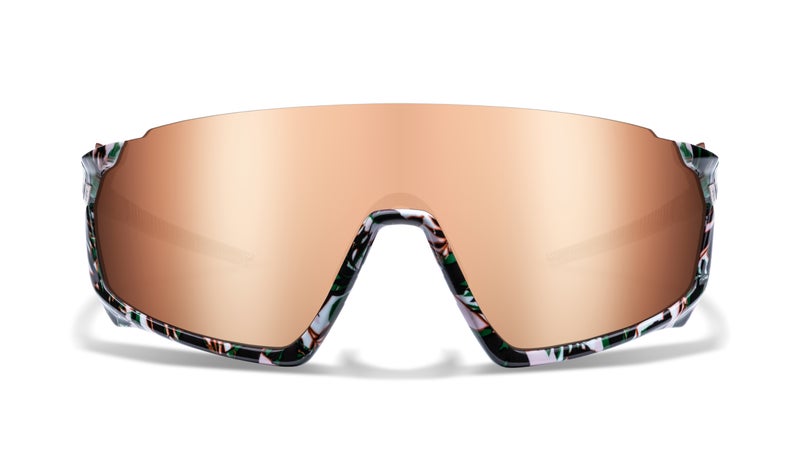 Women's cycling apparel maker Machines for Freedom is known for its boldly feminine, eye-catching floral prints. This limited-edition collaboration with performance eyewear maker Roka features Machines' gorgeous tropical-themed Palmera print on Roka's GP-1 cycling sunglasses. The rose-gold mirrored lens works well in all but the very lowest light conditions, and it was perfect on partially cloudy days, when the light is always changing. 
While intended for both road and mountain biking, the GP-1's are included in this roundup because they stayed securely on my face on the trail and offered good clarity and light transmission in bright-light conditions in the trees. Fogging was a nonissue, and the wraparound lens and frameless upper half provided an unobstructed field of vision. These shades also garnered a lot of compliments, and wearing them made me happy. (Note: For maximum joy, readers who also dabble in drop-bar riding—and can afford this combo—are advised to wear these shades with the matching Machines for Freedom Summerweight Long Sleeve jersey in Palmera.)
Lead Photo: Courtesy Pearl Izumi