Faster Food
Excerpts from Feed Zone Portables, Allen Lim and Biju Thomas' new cookbook for nutrition on the go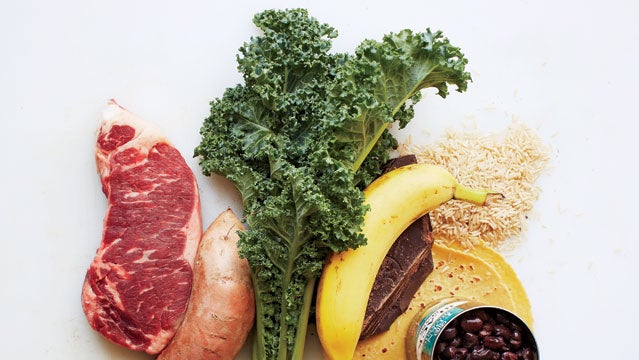 Heading out the door? Read this article on the new Outside+ app available now on iOS devices for members! Download the app.
Food for a Faster You
There's a trend in some cycling circles away from drink mixes and back toward real, whole foods. Osmo Nutrition puts it succinctly with their catchy tag line, "Hydration in the bottle, food in the pocket." That might sound ridiculously basic, but it's actually unorthodox thinking compared to the all-in-a-bottle strategies that many athletes have adopted.
It's also not as easy as it sounds. Finding foods that are nourishing, palatable while going hard, compact, and easy to carry and eat while riding can be surprisingly difficult. Sports physiologist Allen Lim, owner of Skratch Labs and a proponent of whole foods for athletes, recognizes this obstacle. His first book, The Feed Zone Cookbook: Fast and Flavorful Food for Athletes, co-authored with chef Biju Thomas, included 12 recipes for homemade energy bars. The book was chock full of things to eat before and after exercise, but Lim's variations on the rice cake were the true sensations.
Now Lim is back with a second edition that's devoted entirely to homemade foods for eating while exercising. Released in late May, Feed Zone Portables: A Cookbook Of On The Go Food For Athletes has 75 recipes, including lots of vegetarian gluten-free options. In addition to a new set of rice cake variants, Lim fills out the table with nutritious recipes for baked cakes, two-bite pies, waffle sandwiches, baked eggs and soufflés, rice balls, and cookies.
The recipes are simple, with generally eight ingredients or fewer, and take little time to prepare. There's great advice for wrapping and packing the little treats for easy consumption on the bike, and, having tried a number of the new portables, we can say that they are as delicious as the previous iterations.
Convenience is probably the number one reason athletes choose pre-packaged bars, gels, and liquid fuel, and while Lim acknowledges that his recipes require more time and energy than just cracking a PowerBar, he puts forward a strong argument for making the effort.
Here are a couple of our favorite portable recipes from Lim's new book. For a full menu of bars and cakes, purchase Feed Zone Portables here.
Faster Food: Spinach & Zucchini Frittata
A fresh and nutritious snack you can eat on the bike, from Feed Zone Portables, Allen Lim and Biju Thomas' new cookbook for nutrition on the go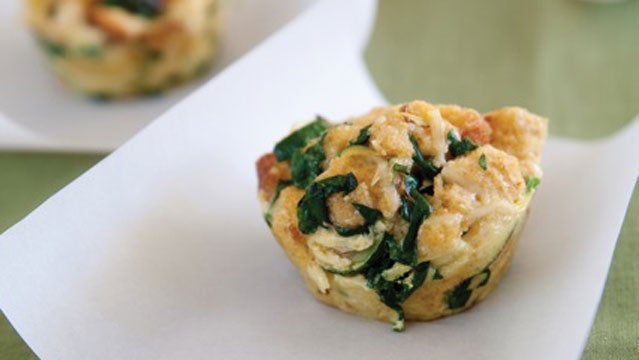 SERVINGS: 6
TIME: 20 minutes
PER SERVING: Energy 104 cal, Fat 6g, Sodium 137 g, Carbs 6g, Fiber 1g, Protein 6g, Water 67%
2 cups zucchini sliced into little "matchsticks"
1 cup packed fresh spinach leaves, chopped small
4 eggs, lightly beaten
2 cups cubed day-old bread, tightly packed
1 tablespoon grated parmesan
1 teaspoon garlic salt
dash of salt and pepper
1) Heat oven to 350 degrees.
2) In a nonstick sauté pan, heat enough olive oil to coat bottom evenly. Over medium heat, sauté the zucchini and spinach until the zucchini is tender. Remove from heat and drain any excess oil.
3) In a medium bowl, lightly beat the eggs. Add the bread and remaining ingredients. Fold in zucchini and spinach.
4) Lightly grease a muffin tin and fill six of the forms ¾ full. Bake 15 minutes or until centers are firm.
5) Let cool to the touch before wrapping. Store extras in the refrigerator.
Faster Food: Crispy Grits
Stay nourished on the go (even while exercising) with these savory squares, from Feed Zone Portables, Allen Lim and Biju Thomas' new cookbook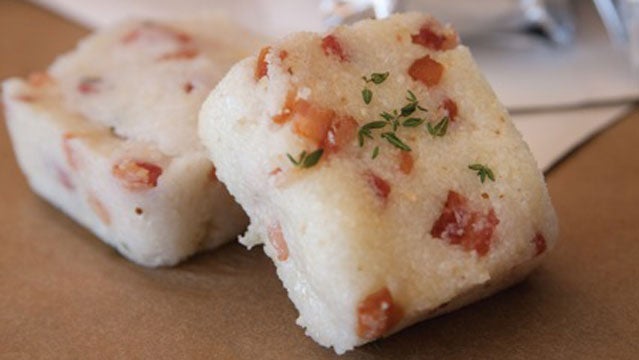 SERVINGS: 6
TIME: 25-30 minutes
PER SERVING: Energy 120 cal, Fat 2g, Sodium 188 mg, Carbs 21g, Fiber 0g, Protein 3g, Water 64%
4 cups water
2 cups uncooked grits
½ cup cooked crumbled bacon
2 tablespoons fresh thyme (or any fresh herbs you have on hand)
¼ cup grated parmesan
2 teaspoon raw sugar
1 teaspoon coarse salt
1½ teaspoon olive oil (to fry)
1) Lightly coat a muffin tin or an 8-inch square baking pan with nonstick cooking spray. 
2) Bring water with a dash of salt to a boil in a saucepan over high heat. Add grits and stir frequently for 3-4 minutes. The mixture will begin to thicken. Remove from heat and stir in cooked bacon and thyme.
3) Pour cooked grits into muffin tin or baking pan and sprinkle with parmesan and a pinch of sugar and salt. Let set for 10-15 minutes to firm up.
4) Cut into squares. Pan-fry the individual squares over medium-high heat until edges are golden.
NOTE: Finishing oils like truffle oil can add a wonderful intensity to simple dishes. Add just a small amount before serving.
Lead Photo: Marcus Nilsson