The Gear You Need to Prevent Your Bike from Ever Being Stolen
Tips and tricks for protecting your whips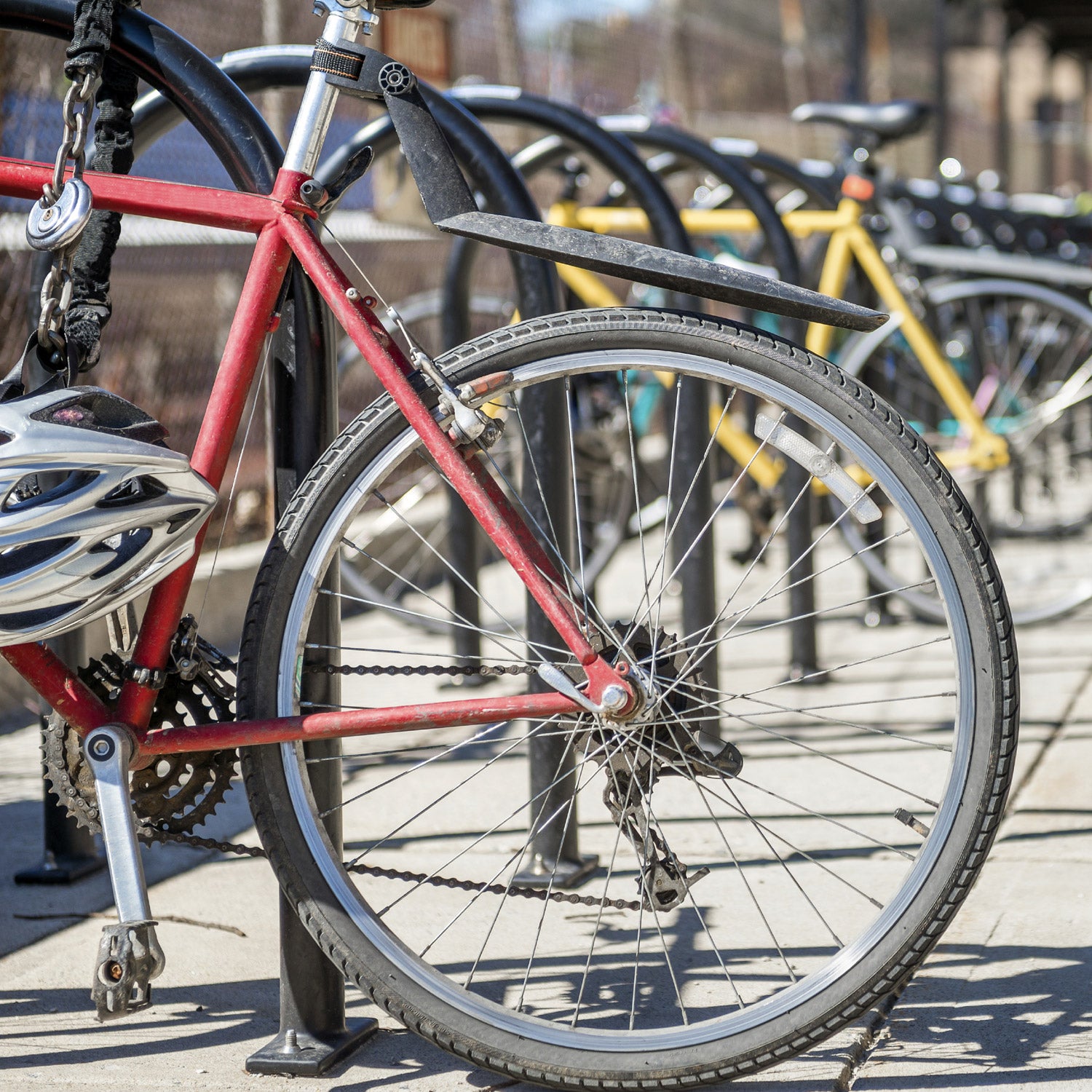 aengkiak/iStock(Photo)
Heading out the door? Read this article on the new Outside+ app available now on iOS devices for members! Download the app.
A recent spate of bike thefts in Santa Fe has us thinking about bicycle security.
The good news: Over the past decade, the number of bikes reported stolen in the United States has decreased every year except two (2011 and 2012), according to FBI statistics. Granted, those statistics understate the problem because many thefts go unreported, says Daryl Slater, PR manager with lock maker Kryptonite. But the numbers are still trending in the right direction.
The bad news: Over the same time period, the average value of bicycles reported stolen has increased by 56 percent. That jump likely reflects the ever-surging price tag on bikes: The average retail price of rigs sold in specialty bike shops increased from $410 in 2005 (or $499 to adjust for inflation) to $714 in 2014. And many high-performance bicycles sell for four and five figures these days.
Given there's so much money at stake, we reached out to several industry vets to learn what cyclists can do to protect their investments. "When a thief sees a piece of security that's locking a bike, they need to know that it will be too great an investment of time or energy to steal it," says Nick Watkin, general manager at Kryptonite. "If you slow them down or impede them enough, thieves will simply move on to an easier target."
Manufacturers seem to draw a distinction between two types of thieves: Opportunists who prowl in search of easy quarry, like unlocked or lightly protected bikes left outside shops while the owner runs inside for a minute, and professional thieves who come armed with an arsenal of tools that, if given enough time, can defeat any lock. "We suggest that people consider their situation and ensure the locking method is adequate," says Sam Moore, head of marketing at Knog.  
According to Joan Hanscom, marketing manager at ABUS Mobile, cyclists are sometimes tempted to skimp on a nice lock after spending so much on the bike. But making sure the expense of the lock matches the expense of the bike is one of the best ways to prevent theft. "No lock is impervious," she says, "but using the strongest, best lock available buys you more time against thieves—and that matters a lot."
How to Keep Your Bike From Getting Stolen
Be wary of cable locks, which are easily chopped with wire cutters. They might be enough to deter passing theft and opportunists, but they are ineffective against seasoned thieves. 
Always bring your bike inside at night. It may be a hassle to lug it up a flight of stairs, but many bikes are stolen at night because there are fewer eyes and ears around to deter thieves.
Two or three locks (even cables) are better than one. The more difficult you can make it look to steal your bike, the less a thief will want to hassle with it.
Never lock your bike to a tree. Not only can it damage the tree, but any tree that's small enough to fit a U-lock is small enough for thieves to cut through quickly. "We've seen it happen many times," says Hanscom.
Park your bike with other bikes when you lock it up. If you have a good-quality lock and other cyclists have poorer security, their bikes will be targeted first.
Don't forget to lock your wheels and your saddle. Quick releases and hex bolts make it easy for thieves to snatch these components. "Cable locks have their place as an accessory to a U-lock for locking wheels," says Hanscom.
Lock up your bikes even inside your garage, and be sure they are locked to some fixed point like a pipe or rafter. "People think that once it's in your garage it's safe," says Watkin. "But that's music to thieves ears, because gaining access to a garage can be easy, and then all the toys are there for the taking."
Keep a file on all of your bikes that includes receipts, serial numbers, and photos. And register each bike in a nationwide database like the National Bike Registry so it can be returned to you if it's ever stolen and recovered.
Consider investing in a GPS tracking device, such as the Helios handlebar, the Spot Trace, or the forthcoming BikeTrak.
On Strava and other social fitness platforms, mask your exact location to public users. Savvy thieves have been known to target homes by tracking athletes who upload frequently.
For additional tips and tricks, check out Kryptonite's excellent series of videos.
Your Lock Options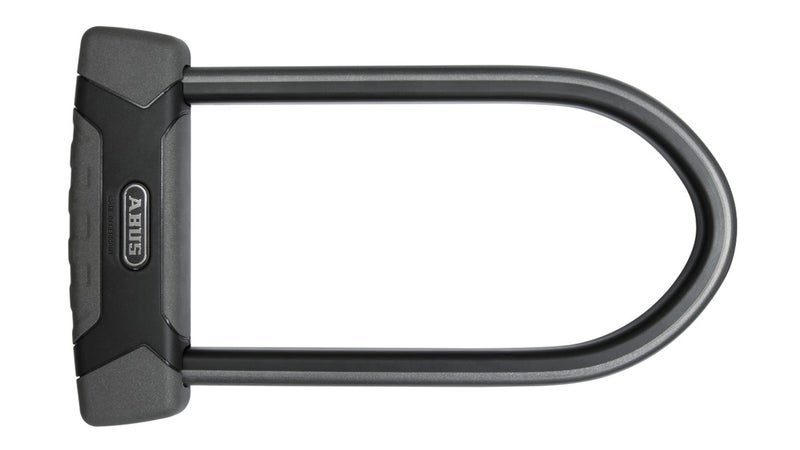 U-Locks
On the street, a U-lock is often your best option. U-locks tend to be smaller, lighter, and more compact than chains, which makes them easier to carry. The Abus U-Lock Granit X Plus 540 (pictured above) is the company's top-rated bike model, with a temper-hardened steel shackle and locking elements, a parabolic-shaped shackle that's said to counter prying and pulling, and double bolts on the shackle for enhanced security. Watkin says that in particularly dangerous areas or for very expensive bikes, some clients have been upgrading to the motorcycle-rated Granit X Plus Extreme 59, which weighs twice as much as the 540 but affords even greater security. 
Unless you plan to carry a secondary lock, you'll need a good way to secure your wheels, because a U-lock can often cover only the frame. Kryptonite's Security WheelNutz (pictured below) install on your bike and keep the wheels permanently safe.
Abus 540 X Plus Extreme WheelNutz
---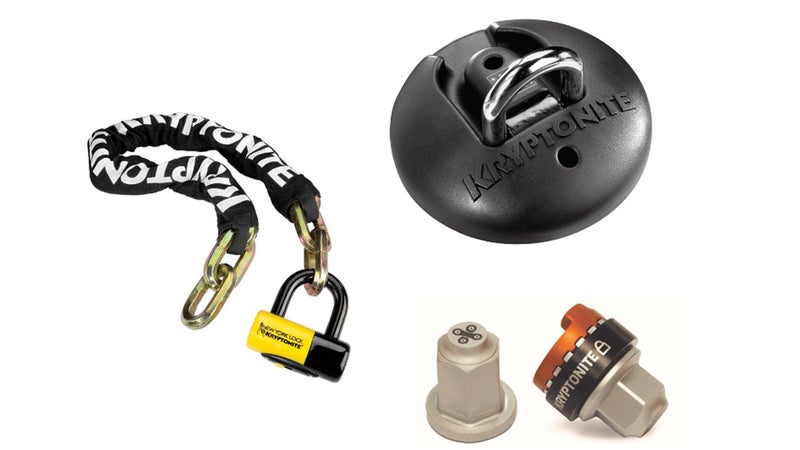 Chain Locks
At home in the garage, a chain lock such as the Kryptonite New York Fahgettaboudit Chain 1410 (pictured above) is probably the best option because the extra length provides more latitude on where and how you can lock up the bike. It's built of 14-millimeter six-sided chain links made of hardened manganese steel, includes a New York Disc Lock for closure, and comes in both 100 millimeter and 150 millimeter lengths. 
Bikes in the garage should be locked to a fixed point, otherwise thieves can carry off the locked bikes and deal with the lock later. Kryptonite also offers the Stronghold Anchor (pictured above), which bolts into concrete with 5/8-inch cement anchor bolts. The design also works in metal so it can be installed in the bed of a pickup truck for mobile security.
---
Rack Locks
Bikes do get stolen from racks on vehicles, despite built-in locks. Generally, these rack locks provide ample protection if you're driving to the trailhead, stopping on the highway for gas, running into a cafe for a quick coffee, or any other situation where you'll be away only for a short time. But you should never leave your bike on a car rack unattended for long periods of time or overnight—even if the rack is locked. 
"Locking a bike on a rack is a deterrent that adds more time and effort to a possible theft," says Chris Ritchie from Thule. According to Ritchie, roof-mount racks are typically safer than rear-mount options because they are both harder to access and more visible, which deters thieves. He also says that fork-mount carriers, like the Paceline or Sprint, are the safest of all because thieves risk damaging the bikes when they remove them.
"Adding locking cables would create another step for would-be thieves to go through when attempting to steal your bike, which would create more time and effort," Ritchie adds. For roof racks, we like the Knog Kransky because the fit is tight, making clipping it more difficult, and the protective rubber sheath won't scratch or dent your car's roof. On rear racks, supplement the built-in cable lock with something sturdier, such as the Knog Strongman or Bouncer. The Abus Folding Lock Bordo also works well to run around two bikes on a hitch-mount rack.
Lead Photo: aengkiak/iStock
Trending on Outside Online