How Much Should You Spend for a Good Road Bike?
We looked at four very differently priced rides—from $500 to nearly $11,000—and unpacked the differences to help you pick the right price range for your needs and type of riding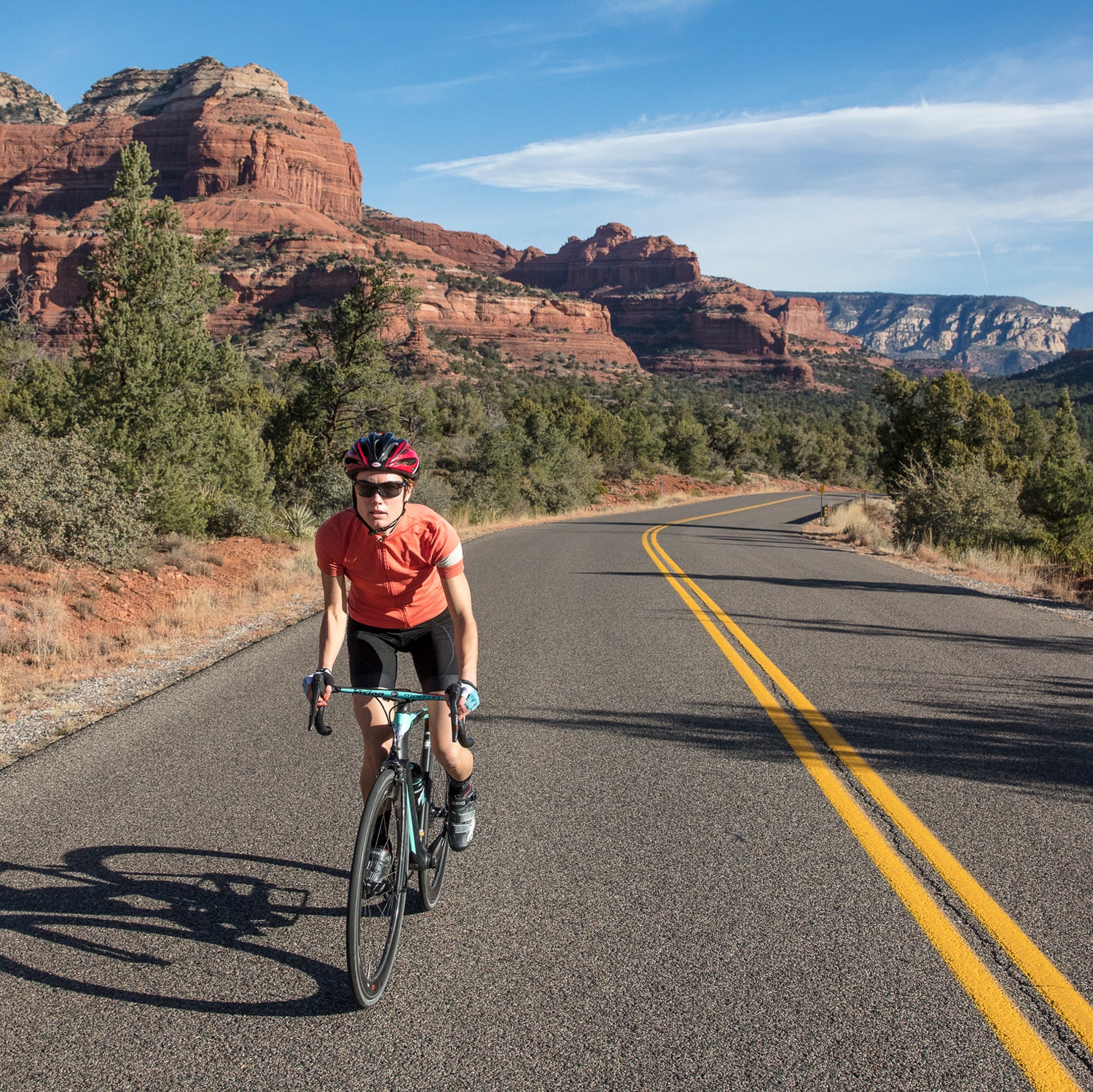 Heading out the door? Read this article on the new Outside+ app available now on iOS devices for members! Download the app.
The biggest complaint among bike consumers these days seems to be price. The moment an online review is published, dozens of disgruntled critics descend to grouch over the exorbitant costs and absurdity of high-performance bikes.
That discontent doesn't always account for the significant advances made in bike development or the fact that costs have risen at approximately the same rate as inflation. And while it's true (as some agitator on the forums never fails to point out) that you can get a motorbike or a car for the same cost as a high-end bicycle, that argument ignores economies of scale and the fact that bikes are being made in relatively small numbers compared to the mass market. Also, the costs of top models don't seem so stratospheric considering that those are the very bikes being ridden by pros at the Tour de France—no one complains that they can't afford an F1 race car or an America's Cup sailboat.
But the fact remains that bikes can be expensive. And all the grousing got me wondering: How much do you really need spend to buy a good-quality bike? And what do you get in return for pricing up?
In general terms, more-expensive bikes are lighter, stiffer, and have better components. Most companies reserve their highest-grade carbon fiber for top models and use less-expensive materials—from slightly heavier carbon down to aluminum and steel—for lower-tier models. Considering that, in many cases, the second- and third-tier frames come from exactly the same molds and weigh just a few hundred grams more, they can be an excellent value. And huge strides have been made in metal forming, so alloys are almost as light and comfortable as carbon fiber—for a fraction of the cost.
Likewise, top-level components are generally the lightest and most reliable, while less-expensive groupsets add weight and aren't always as quick, easy to use, or consistent over time. Again, however, the performance benefits of top-end components, such as Shimano XTR or Dura Ace Di2, over subordinate level goods, such as XT an SLX or Ultegra and 105, are minimal except for the weight. The other biggest difference between expensive bikes and less-expensive models is wheel quality, with carbon-fiber hoops adding two and three times the cost.
Rather than dwell on the generalities, I decided it would be useful to compare a range of models. I ordered and have been riding a couple budget models alongside some more-refined, higher-end bikes. This is not intended as a comprehensive exploration of price, and obviously there's a lot of middle ground between everything I tested. But comparing budget models with several of our favorite bikes from the 2017 Bike Test makes for an interesting glimpse into bike costs and values.
Pure Cycles Drop Bar Road Bike (From $459)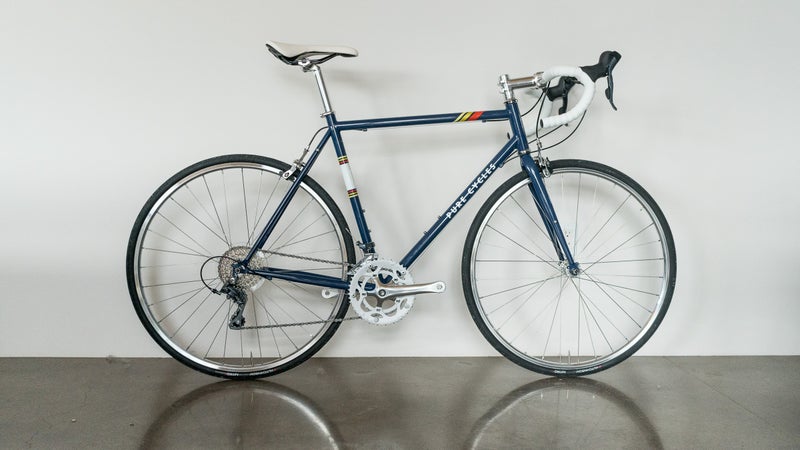 With an eight-speed cassette and 26.1-pound total weight (size 56), this bike is the antithesis of high performance. And yet the bike is spec'd with surprisingly solid parts, including Shimano Claris shifters and derailleurs, a Sunrace cassette, and smart compact gearing (50×34, with an 11-32 out back). You can tell that a cyclist chose the parts for this bike.
There are also some compromises. The crankset, seatpost, and bar and stem are unbranded and heavy. The brakes are muddy and take a ton of input to stop the bike. The shifting was finicky and required some serious tuning to get working, after which I was still constantly fiddling with the barrel adjuster to smooth it out. The rims are pinned and as weighty as boat anchors.
But let's be real: Considering that this bike costs $500 (or less than one wheel on some of the other bikes I tested), it's impressive. The road feel is smooth, if sluggish. Even with the cheap wheels, it has a less jarring ride than the Specialized (reviewed below), thanks to its chromoly steel frame and fork. The handlebar tape and saddle are surprisingly comfortable, and the Hutchinson Nitro II tires are a great value.
Moreover, I like the detailing, including the sharp, retro looks and the mounts for rack and fenders. The Drop Bar Road Bike is a solid-feeling ride that would get you where you need to go for years to come. I could even see touring long distances on this bike, though you'd want some mechanic skills, because there would certainly be required upkeep and tuning on the brakes and drivetrain.
---
Specialized Allez Elite ($1,350)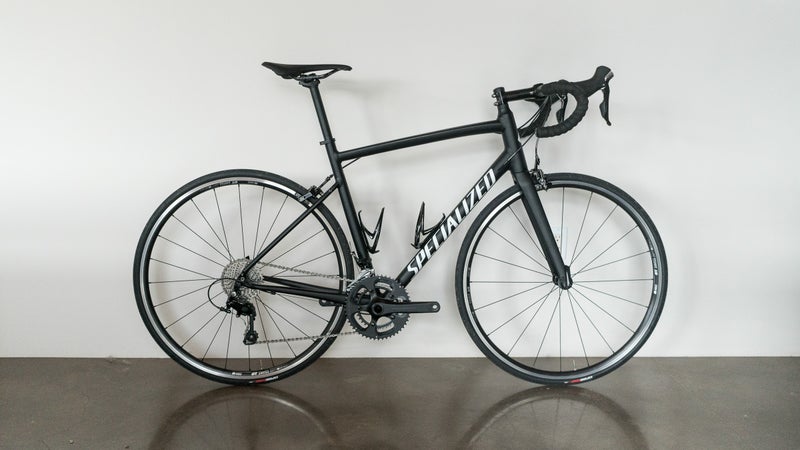 When my friends ask me how to get a high-performance bike on a budget, I tell them to go with an aluminum model instead of carbon, and upgrade the wheels if they want more performance. My go-to suggestion has always been the Cannondale CAAD family—my 2011 model with Shimano Dura Ace and super-high-end Mavic wheels cost $3,000 and weighs 16 pounds. The CAAD12 is still an excellent bet, but with the new Allez, Specialized may have taken over the title of best-value road bike.
Out of the box, this size 56 weighs only 19.4 pounds, and the snappy aluminum forming and dialed geometry make it feel quicker and more deft than that weight suggests. The Shimano 105 drivetrain and brakes are an incredible value, and the performance gains over the Claris bits on the Pure can't be overstated. Shifting is nearly as crisp as Dura Ace, and braking is smooth and easy. Though Specialized saved some money on the Praxis Alba 2D crankset, it's no scrimp. Again, compact gearing helps with the bike weight. And you get a range of Specialized's excellent in-house product: comfy shallow-drop bars, easy-on-the-soft-bits Toupé saddle, and grippy Espoir Sport tires. Even the DT Swiss R460 wheels, though weighty, are high quality.
This is a budget bike that should be able to keep up in pretty much any group. It feels balanced and fast climbing out of the saddle and solid cranking along at speed. The alloy frame is comfortable enough, though it is a slightly sharp ride. Having said that, I swapped out wheels, first with a pair of Easton EA90 SLX ($1,200), which brought the weight to just 17.2 pounds and tamed the bluntness, and then with a set of Enve SES 2.2 Tubulars ($3,300), which dropped the weight to 16.5 pounds and made it feel as plush as a full-carbon ride. It's a bit silly to use wheels that cost almost three times more than the bike, but the swap illustrates how good a bike this can be. Even with the stock build, it's difficult to imagine a better bike for the money.
---
Franco Kanan ($6,500)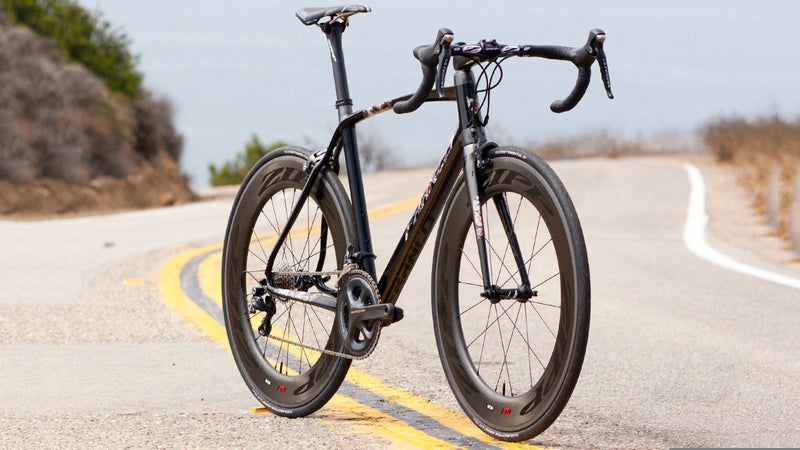 This race bike from a boutique California manufacturer was arguably the biggest surprise of the entire 2017 bike test. Prior to Sedona, we'd never even heard of the company, yet the Kanan ended up being the lightest bike in the entire test and a rider favorite for its composure and high-end parts.
The most immediately noticeable difference between this bike and the Allez is its weight. At 14.3 pounds, it's lighter than UCI regulations. People will forever debate whether it's worth spending extra money for such a feathery machine, but it is incontrovertible that such a light, snappy bike feels worlds apart from something five pounds heavier. As far as feel, if the Allez is a souped-up Honda Civic, the Franco is an Acura NSX.
But it's not only about the weight. Billed as an endurance racer, the carbon frame was stiff and responsive enough for the highest level of racing but still had compliance built in to blunt the road chatter. You also get high-end parts, such as a full SRAM Red groupset, with impeccably fast and clean shifts and surprisingly solid rim braking, silky HED Ardennes SL wheels, and a compliment of Zipp carbon parts in the cockpit. Taken together, the bike feels like a rocket ship: It carried momentum incredibly well on the flats, charged to the front of the pack when sprinting, and felt like cheating on the climbs. This is a bike that could easily compete at the world's highest level of competition.
It's worth noting that Franco offers the Kanan in multiple build levels, including two $4,000 options with still-excellent HED Ardennes LT wheels and either Shimano Ultegra or SRAM Force components. The weight would increase, but the ride quality would remain largely the same, which helps to illustrate the subtleties of what you get when you spend more.
---
Bianchi Oltre XR4 ($10,800)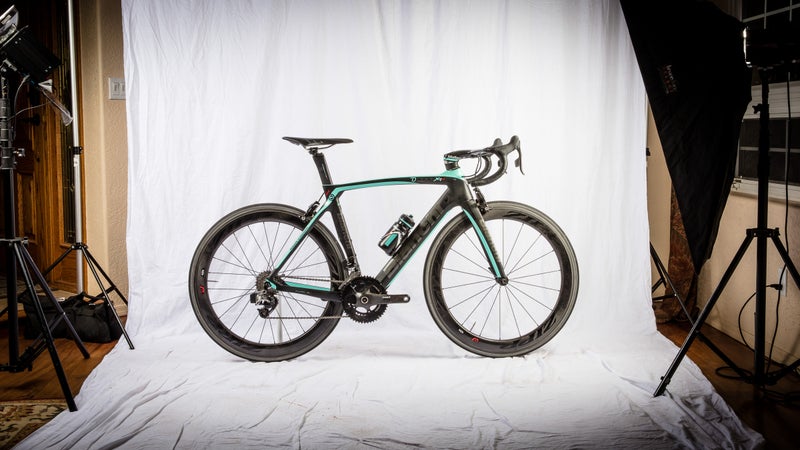 Any way you cut it, this is one of the finest road bikes money can buy. George Bennett, a Kiwi racing for the Pro Tour team LottoNL-Jumbo, rode this machine to victory at this year's Tour of California and looked poised for a top ten finish at the Tour de France until he fell ill and was forced to abandon the race. That pedigree should partly explain the cost.
The frame is impressive because it is both extremely aerodynamic and, at 15.2 pounds, light enough to contend as a climbing bike. Usually you only get one or the other. The Oltre also has what Bianchi calls Countervail technology, a viscoelastic fiber layer built into the carbon fiber that's said to cancel road vibration. That might sound like a lot of marketing mumbo jumbo, but when riding the Oltre back-to-back with the Kanan, already a fairly comfortable bike, the Oltre was noticeably smoother and more forgiving. Nuance in ride quality is one of the biggest differences you get when buying up. And though they can be difficult to quantify in direct comparison, you can really feel the differences.
The Oltre also comes with the new SRAM eTap components, a cutting-edge wireless electronic shifting system. Without belaboring the point, which I've made previously, the stuff works incredibly well, and the shifting pattern is the most intuitive on the market. There's also a wild integrated bar-stem combo, which cuts drag (though several testers disliked the frontward curvature of the handlebar tops). And everything else on the bike is optimized, too, including gossamer Fulcrum Racing Zero tubular wheels, gorgeous detailing right down to color-matched anodized bottle cage bolts, and a Fi'zi:k carbon saddle that alone costs almost as much as the complete Pure Cycles bike. The overall feel is incredibly refined—fast, smooth, light—and about as nice as a bicycle can get.
---
So, What Should You Buy?
Every one of these bikes will get you out on the road, pedaling, enjoying the ride, garnering the benefits of exercise and self-locomotion. What mostly sets each apart is the ride quality. The Franco was more fun than the Specialized and the Pure Cycles, while the Bianchi just felt a bit more refined. To a lesser degree, durability is also an issue—while the Franco and Bianchi didn't need any tuning or service during six months of testing, the Allez's components needed small tweaks, and the Pure took constant attention. Part of what money buys is lasting performance.
The question remains: Is it actually worth it to pay more? Of course, there is no one answer. Value is subjective and based on your needs, goals, riding style, and budget. For me, as a recreational road rider, I could be very happy aboard the Allez, especially if I upgraded to those Easton wheels, meaning a complete bike for $2,400. (As a mountain bike racer, I spend well more than that on my trail bike.) Some of my friends would say that's exorbitant; others would scoff and happily pay four times as much for a road bike.
The good news is that quality bikes are out there at pretty much any price.