Ride Juliana's Kickass 2019 Women's Bikes Next Week
Juliana's new mountain bikes are among the very best options for women—and so are the company's Ride Outs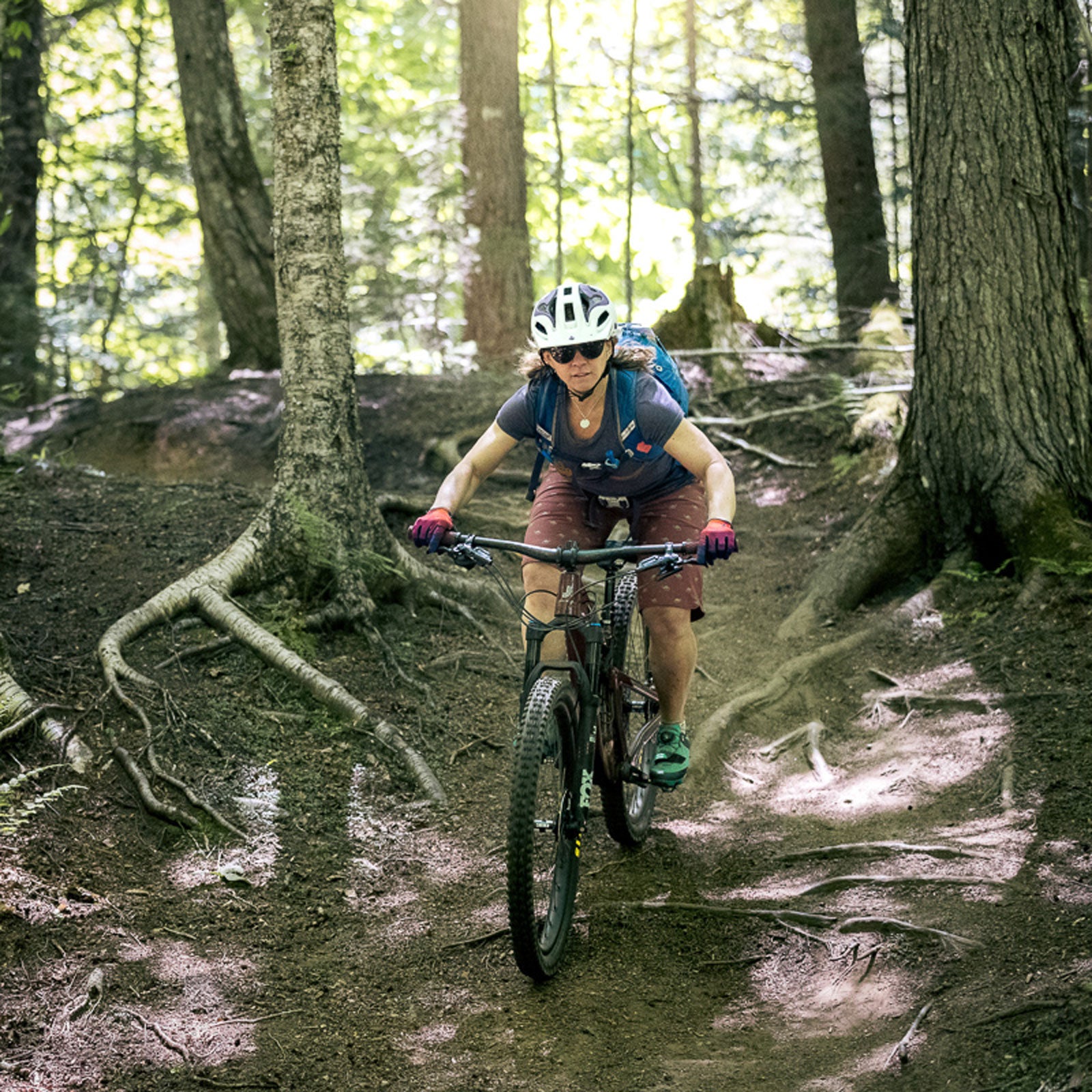 Heading out the door? Read this article on the new Outside+ app available now on iOS devices for members! Download the app.
Juliana doesn't just build rad bikes—the company also knows how to throw a party. Last year, it started offering women's Ride Outs at key retailers across the U.S. and Canada. Each event combines a group ride, bike demos, swag bags, and even a post-ride social with food and drink provided by Juliana. In fact, the bike brand picks up the entire tab: Ride Outs are free to all ladies who care to join.
More and more companies are trying to build communities of gear users. Fishing-apparel brand FisheWear hosts casting clinics and workshops on painting beads for lures. New York bike shop 718 Cyclery has a monthly women's bike-maintenance class. So with Ride Outs, Juliana isn't the only brand in this experiential marketing pack, but unlike many women-specific events, these are not instructional clinics for newbies (though those are cool, too). Beginners are welcome at most events, but Ride Outs target all levels because Juliana's main goal is to appeal to riders looking for other women to ride with—a welcome change in the way companies tend to market their women's gear.
"I hear from most participants that the reason they sign up for the Ride Out is they are tired of riding with their male counterparts and want to find other women who are of similar ability to ride with," says Kelli Emmett, a former Enduro racer and Juliana's sports-marketing coordinator. "The vibe is fun, low-key, and accommodates those who want to learn trail skills or head out for a 15-to-20-mile ride with Juliana pros."
At this season's finale—three Ride Outs scheduled from September 26 to 29 in Park City, Utah—area mountain bikers will ride with Enduro racer Ileana Anderson. The most enticing option is Saturday's Tour de Force on the Wasatch Crest, a bucket-list ride that starts at 9,700-foot Guardsman Pass and swoops downhill for 2,700 vertical feet. Participants are invited to test Juliana's 2019 bikes, which are well worth a look even if you're not joining a Ride Out. I tried both at a Ride Out in Vermont and found the Enduro-ready Roubion and the Furtado (a do-it-all trail model) have each gotten significant makeovers to become even more compelling.
Testing the Roubion and the Furtado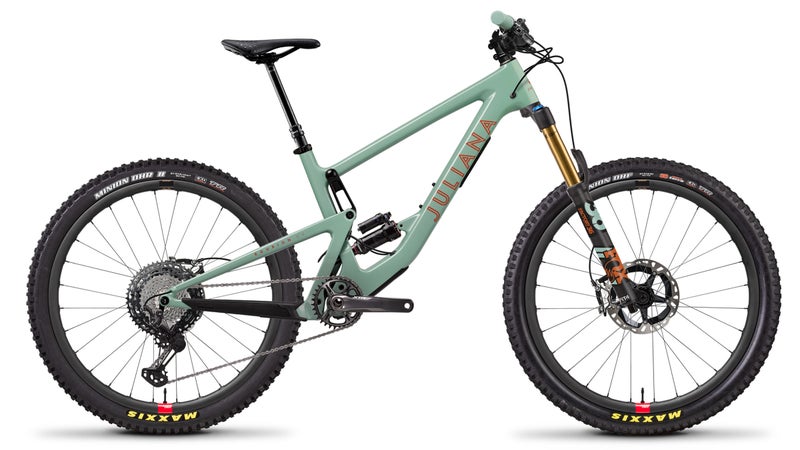 I rode the Roubion on some of northern Vermont's most delightfully rocky trails (including the Victory Hill network and Burke Mountain's Upper J-Bar). The Roubion (from $3,500) still offers 150 millimeters of rear travel, but a new, lower-link-mounted shock configuration borrows from the magic that Juliana introduced on the long-travel Strega and adapts it to the Roubion's more maneuverable frame. It also gains ten millimeters of travel in the fork (bringing it to 160), and the size range was expanded to include extra small—great news for shorter women. 
I loved how it held my intended line no matter what. Like the Strega, the Roubion prefers high-speed charges rather than tentative crawls—but anytime I stopped grabbing the brakes, the bike rewarded my confidence with a stable, bump-smoothing ride.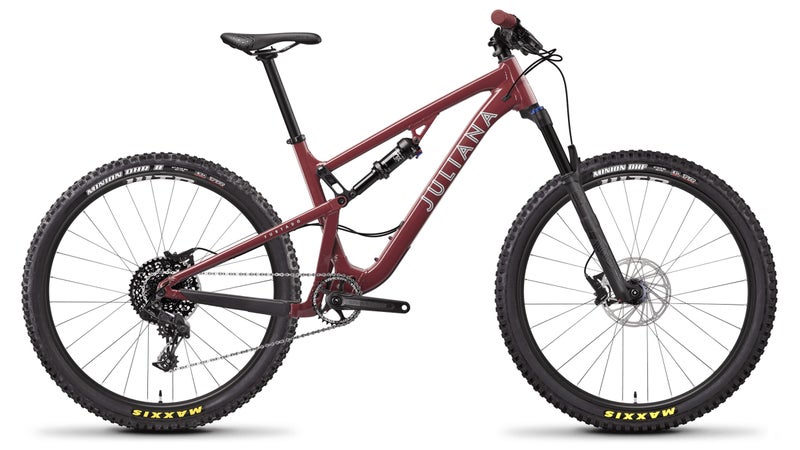 The new Furtado (from $2,700), though, is the real crowd pleaser. A lot of women tell me they like downhill performance (which can mean a heavier frame) but don't want to sacrifice agility to get it—they don't enjoy dragging a bike uphill or wrestling it around switchbacks. The 2019 Furtado answers their call by being super-climby and playful yet reassuring on descents.
That smooth downhill ride is what's different in the latest model. When I tested previous iterations of the Furtado, I liked its uphill capability, but the old geometry made descents feel harsh (and occasionally sketchy, since the bike tended to get bucked by rough surfaces). Riding the new Furtado at Vermont's Kingdom Trails network, I found it to be a totally trustworthy downhiller. Sure, KTA singletrack is generally smooth, which highlighted this bike's playful character. I could whip it around turns and pop it off bumps like nobody's business. But the Furtado also stuck its line through the occasional rooty, ledgy sections, and it rolled over braking bumps and other fast hits so I never felt as if I were wielding a jackhammer.
The Furtado's secret sauce has two major ingredients. One is geometry: Juliana slackened the headtube (for stability on descents) but steepened the seat angle (to bring the rider forward enough for strong climbing). Second, a new 130-millimeter piggyback shock provides a plusher ride that's tuned for lighter jockeys. That's the major difference between the women's Furtado and the Santa Cruz 5010, aimed at men.
Unchanged are the 130 millimeters of suspension up front and the low, 330-millimeter bottom-bracket height—which was the Furtado's selling point. "We knew we didn't want to mess with that," says Josh Kissner, product manager for Juliana and Santa Cruz. Riders can stick with the stock 2.6-inch tires or size up to 2.8 inches for a smidge more traction and cushion (which might appeal to riders whose daily diet is lumpy technical terrain). A flip chip lets the rear shock accept a wider tire, and the bottom-bracket height remains the same regardless of the tire setup.
It all adds up to a bike that's wildly fun to ride, wherever it may take you. The Furtado is the right bike for most cyclists, in most of the places we ride. And for people who love all-day epics in remote, far-flung locales, the Furtado could be the Holy Grail. The easy climbing and smooth ride spare you enough muscle to hit high-mileage goals, while keeping you from feeling battered by untamed singletrack.
Perhaps the best news of all is that the Furtado and Roubion are now offered in affordable aluminum frames, not just carbon, making Juliana's performance DNA accessible to a wider range of budgets. Test them for yourself at the Park City Ride Out next week or check them out in a bike shop near you.
Lead Photo: Robin O'Neill