The UCI's Tour de France Bike-Motor Tests Are a Joke
Cycling's international governing body is busy going through the motions of looking for cheating riders, but what if it just looked for the motors?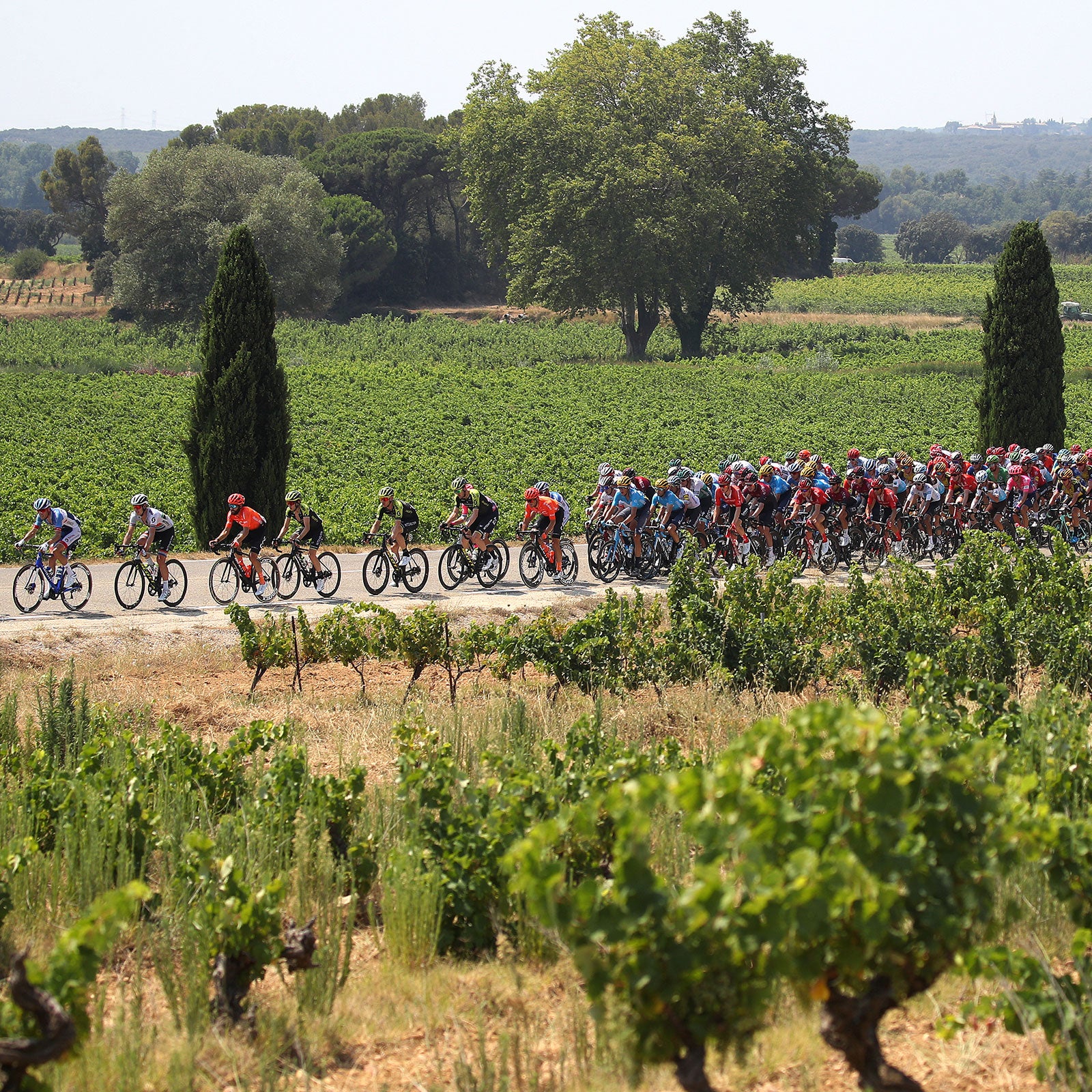 Chris Graythen/Getty(Photo)
Heading out the door? Read this article on the new Outside+ app available now on iOS devices for members! Download the app.
The 2019 Tour de France has been, so far, one of the most exciting Tours in years and also blessedly low on scandal. Few major crashes have ruined the chances of top competitors (aside from yesterday's disqualification of Luke Rowe and Tony Martin), no riders have been busted for doping, and no one has been caught with a hidden motor. 
Motors, you might remember, were a fashionable topic of discussion a couple of years ago, thanks to a 60 Minutes investigation that rather unsubtly suggested Lance Armstrong had used one in the Tour as far back as 1999. 
This year, cycling's governing body, the UCI, has seemed to take the threat seriously. It recently confirmed that at May's Giro d'Italia, it conducted over 1,300 checks for hidden motors, using a mobile X-ray machine and its tablet-scanner technology. And in June, the UCI promised both an updated version of that tablet scanner and a new, somewhat mysterious kind of on-bike tracker that can supposedly detect hidden motors being used at any point in a race. The UCI says the technology was tested at last year's Tour.
And yet, over several years of testing, the UCI has caught exactly one elite athlete with a motor, cyclocross racer Femke Van den Driessche, in January 2016. (Amateurs are sporadically caught, including a suspected case in Italy earlier in July.) Despite that, there's a persistent and vocal minority in the sport that believes motors have not only been used but continue to be. On forums and social media, this group dissects attacks that seem a little too sharp, a rider who seems to accelerate when coasting, a wheel that continues to spin at a suspiciously fast rate after a rider crashes.
Are professional racers using hidden, banned motors today? I am somewhat skeptical. A motor conspiracy would be more complex than simple pharmaceutical doping, and the penalty if caught—a six-month ban for the whole team—would likely lead to loss of title sponsorship, a death knell for the entire organization. In the "maybe" column, most point to Fabian Cancellara's win at the 2010 Tour of Flanders, where he broke away from Tom Boonen for the win. (Last year, Boonen himself said he has lingering doubts about whether Cancellara won fair and square.)
So I think it's smart for the UCI to continue to look for motors. But just like anti-doping and airport security, the UCI's approach has a performative, theatrical air to it. "Look how hard we're looking!" it seems to say. "Behold our investment into inscrutable-but-futuristic-seeming detection technologies!"
See, that's the thing: the technology may not work nearly as well as it's claimed to. A 2017 investigation by France's Stade 2 TV (note: you'll need a VPN to view this video) showed that the tablets are easily confused by other mechanical elements in a bike, leading to both false positives and negatives. The UCI has never said how the tablets work, and its officials' technique in the past has been so fast and sloppy that it has raised questions about whether they actually can find anything, even if the technology itself is reliable. Relatively few bikes are x-rayed and, in any case, flexible shielding material is widely available. The prototype tracker technology is completely unknown and unvetted. It's simply too early to say if it's effective.
And so I make this offer. I'll take over the UCI's testing program with a transparent, relatively cheap approach that will definitively prove whether or not a bike has a motor. It's simple: we will physically look for motors, with our eyes and stuff.
For this task, I will need a set of hex wrenches, a flashlight, about 4,000 hologram stickers, a calibrated scale, and a spreadsheet.
Where I'll Check for Motors
There are only three spots to place a motor on a bike: in the rear hub, the rear rim and frame, or the main frame tubes. (Front-wheel motors aren't impossible, but for pro racing, they raise a number of challenges around issues like handling.)
I haven't yet seen or even heard rumors of a motor system that can fit inside a standard-size rear bicycle hub, but we'll allow that they could be hidden in the full carbon-disc wheels used in time trials, or that maybe Hank Pym has come up with something.  
The fabled rim-based motors are only slightly less fantastical: science-fiction-like electromagnetic drives, of which exactly one working, 8.8-pound, roughly $2.8 million prototype exists. (Yes, I'm aware of the various videos of Istvan "Stefano" Varjas's supposed custom electromagnetic wheel system. But various videos only show conventional wheel motors with oversize hubs or inert rim cutaways that don't account for the extensive frame modifications you'd need.) Still, we'll humor the idea that electromagnetic wheel drives could possibly, potentially, maybe exist.
Crank-based motors, of course, are available even to amateur cyclists and would be relatively easy to incorporate into race bikes. That said, they're also the easiest to detect. 
How I'll Check for Motors
Testing for all three kinds of motors will be a quick three-step process. At the end of each stage, the top three finishers, overall leader, one rider from the day's main breakaway, and five other riders selected at random will be escorted by official tech chaperones straight from the finish line to bike control, much like how doping control works. 
Step 1: Check for crank-based systems
Any motor driving the crankarm/bottom-bracket assembly has to interface with a gear integrated into the bottom-bracket spindle. That means when you slide the crankarms out, you'll see a gear on the bottom-bracket spindle. If you want to get crazy, pull the seatpost, too, and visually inspect the seat tube and bottom-bracket shell/lower tube area with a flashlight. If there's a motor, you'll see it. This shouldn't take long; a competent mechanic can remove a crankset from a bike in a couple of minutes with basic tools.
Step 2: Check for wheel-based systems
Any motor incorporated into a rear wheel—either the hub or the rim—will add a nontrivial amount of weight. So in motor control, officials will remove the rear wheel, noting the make and model of the rim and hub (bonus points for serial numbers), the number of spokes, the measured depth and width of the rim, the make and model of the tire with listed and measured width, and the cassette range.
Then officials will weigh the entire rear-wheel assembly and compare that weight to the total weight of all the components, calculated from a spreadsheet with manufacturers' listed weights for each item, with a reasonable (say, 5 percent) tolerance to allow for variances in component weight. Any wheel that's outside that range will be confiscated for further testing, namely sawing the damn thing apart to see what's inside. Think of the destructive element as a penalty for manufacturers who routinely fudge listed weights for marketing purposes.
The entire process will take perhaps ten minutes per bike. Yes, team mechanics will have to reassemble them, but a competent one should be able to do this in less than five minutes. It's not an onerous task.
"Aha!" you say. "I've found a flaw in your elegant plan." In some past alleged instances of motor use in cycling, teams have supposedly relied on a kind of elaborate three-card monte that allows riders to use motorized bikes and then change them out so that unsuspecting officials only ever scan a "clean" bike. So…
Step 3 (technically, this would be Step 0): Make the whole system verifiable
As each rider goes to sign in at the start of each stage, officials will place a tamper-evident hologram sticker on the frame, the kind widely used in anti-counterfeiting. These stickers are designed to break apart when removed, so they couldn't be switched to a different bike midstage. Versions exist with unique QR or bar codes that would prevent falsification; there's even RFID capability that would allow each bike to be registered as it crosses the start and finish lines and key stage points like climb summits and intermediate sprints. Mechanics will remove the stickers each evening. Each morning, riders will get fresh stickers at check-in.
If a rider finishes on a different bike due to a crash or a mechanical problem, officials at the finish will see the stickerless frame (spotters can help identify bike changes during the race from TV footage, as well as with the RFID logs) and test both the original bike, on the team car, and the finish bike. The absence of the original bike at the finish would count as a missed test, the same protocol used in anti-doping. You get two strikes per team. A third strike counts as a positive test.
No pricey, cumbersome mobile X-ray machines. No feckless wand-waving with tablets that may or may not actually work. No fancy prototype technology that's even more obscure. Just a bunch of sharp-eyed folks, some wrenches, a scale and spreadsheet, and some shiny stickers, like you used to get in kindergarten. The result: low-tech, affordable, visually verifiable, yes/no answers on whether racers are using motors or not.
Come on, UCI, get serious about this. Put an end to the corrosive speculation, or catch some cheats and kill the problem. It's simple. If you do it, I'll even give you a shiny gold star.
Lead Photo: Chris Graythen/Getty