The Cycling World Loses Steve Tilford, All-Time Great
After we heard the news of Tilford's death Wednesday, we spoke with 10 of the people who knew him best—friends, teammates, competitors—to paint a picture of a man who built his wonderful life around the joy of racing bikes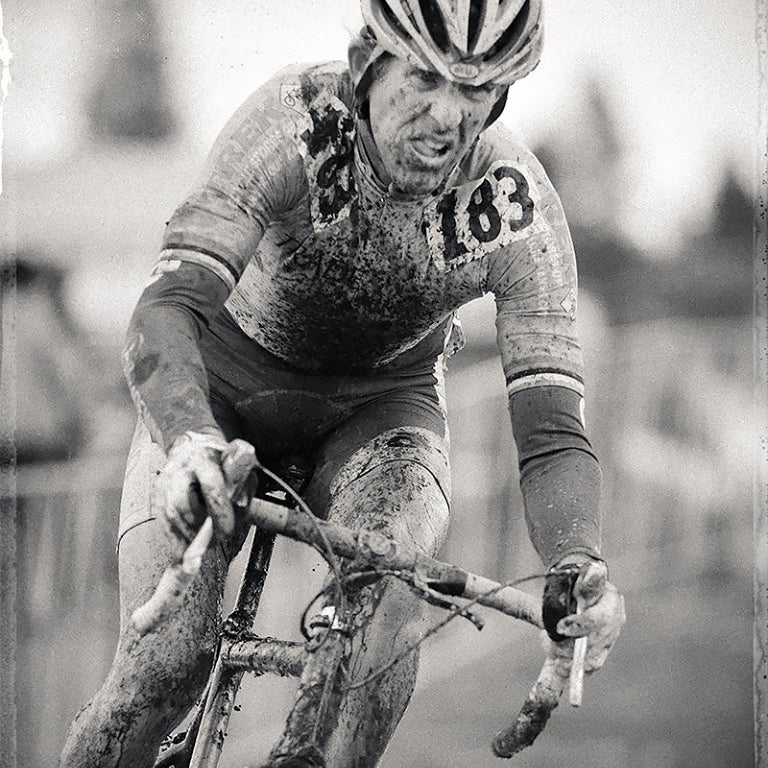 Heading out the door? Read this article on the new Outside+ app available now on iOS devices for members! Download the app.
I am one of thousands of people who can say with pride that they raced with Steve Tilford once. 
In my case, it was an inconsequential cyclocross race held after dark about a decade ago. Steve, being an immortal cycling god, crushed the field and lapped me. But through some merciful turn of fate, I got to share a podium step with Steve after being named "fastest slow person" of the night. I have ridden with Merckx and Indurain and LeMond but the memory of standing next to Tilford, both of us splattered in mud, him whispering in my ear that I had done awesome, is something that will forever make me smile. 
The cycling universe was a teary place yesterday after news emerged that Steve Tilford was dead. A man who long had embodied invincibility perished in a bizarre and tragic incident on Interstate 70 near the Utah-Colorado border. News reports indicated that shortly after a big rig overturned in the early morning hours, Tilford's van crashed into the trailer. At that point, no one was badly injured. But soon after, a second tractor trailer plowed into the wreckage, leaving Tilford and the driver of that truck dead. He was 57. Steve is survived by his wife, Trudi, who was in Europe working as a soigneur with BMC Racing.
In an instant, American cycling lost one of its all-time greats. A quick summation of his professional and elite highlights does not really capture what made him extraordinary, but it's valuable context. He won four U.S. National Cyclocross titles, represented the U.S. as a road cyclist in four World Championships, won the first-ever U.S. Mountain Bike National Championship, and came in second at the 1996 Olympic Trials and earned five Masters World Championships in that discipline. 
In an instant, American cycling lost one of its all-time greats.
It's fair to say that Steve ripped people's legs off for more than 40 years. He began racing at the age of 14, when he was a student at Topeka High School in Kansas' capital city, and never stopped. Multiple friends guess that he might have contested more than 2,500 bike races since his early days in Kansas. For decades after his professional career was over, Steve would show up at elite races—four-corner crits, road races, cross races, mountain-bike races, whatever—and often triumph over competitors who were half his age. 
During and after his professional career, Tilford was fierce opponent to doping in the sport. His career racing on the road in Europe intersected with the start of an era of unprecedented biochemical shenanigans, and Steve harbored unmitigated hostility to racers who doped. For years, he wrote a blog that explicitly expressed his view that people who cheated didn't just violate some cherished values of sport — they took life opportunities from other deserving athletes. While some observers saw nuance and shades of gray in the challenges and flaws of the sport, Tilford tended to see things in black and white—some people were cheaters, period, end of story. He never was afraid to call someone out; in fact, he seemed to relish it. I didn't always agree with his point of view but it was impossible to question his passion or his intentions to improve the sport.
After hearing the news of Steve's death, I spent part of the day talking to people who knew him well—friends, teammates, competitors. The picture that emerged from these conversations is of a man who built his life—a wonderful life—around his joy of racing bikes. A man who had childlike qualities and passion that most of us cannot sustain for a lifetime, someone who seemed to have no conception of retiring from sport. A man who said what he believed and lived how he believed.
I talked with retired pro Tim Johnson, a six-time cyclocross national champion, who has known Tilford for a couple decades and found inspiration in the way he lived on and off the bike. "He had this personality where he was all-in for every moment, every race," Johnson said. "Whether he was 28 or 48, if he showed up at a crit or a cross race, the guy looked at it as today's opportunity to do his best. I'm telling you, that guy was never afraid to jump in any race." 
"Steve lived and breathed bike racing," said Bill Elliston, a retired pro who also raced with and against Tilford in multiple disciplines for two decades. "I mean the guy had a huge engine and could win races on any terrain or surface, but what impressed me the most was how he was a lifer in the sport. Most people who race think at some point they need to stop and get on with the real world, but Steve showed me and other people that you can make a life out of it. I'm 48 and still racing against pros—he taught me that you can keep at it if you love it."
Mark Legg, a former pro and husband to 13-time U.S. cyclocross champion Katie Compton, admits that he didn't like Tilford until he got to know him well. "We came to become friends and I never got to express my mistake to him—I wish I did," admitted Legg, who also said he'll miss Steve's "slightly goofy" personality. "He was such a good guy inside and out. The way I want to remember him is with those groovy 70s flowing locks under his helmet, cruising around on his bike making it rain pain on the guys trying to hold onto his rear wheel."
Mountain bike legend Ned Overend, another guy who has rained pain for decades, recalled his former teammate's solicitous side. "The reason so many people will miss Tilford is because he genuinely cared about other people and went out of his way to help them," said Overend. "When he was racing on the Specialized mountain bike team, it was like he was a self-appointed member of the support staff—he was always positive; he wanted to see other people succeed. We used to share hotel rooms and the night before an important race he has other people's bikes in the room and he's wrenching on them, friends of his from wherever, that he was helping out. He was a sensitive guy but tough as nails."
I talked with a couple that was among Tilford's closest friends—reigning Olympic triathlon gold medalist Gwen Jorgensen and her husband, former pro Pat Lemieux. Steve attended their wedding and goaded them into biking 100 kilometers to pick up their marriage certificate. (He came along, of course.) Both Jorgensen and Lemieux talked with great admiration about Tilford's handy side—especially his elaborate skill laying tile—and how he had a plan to visit their new house in Portland, Oregon, next week to help with some remodeling projects. Then we got to talking about bike racing. "He was so in the moment and so aggressive at every race because every race was important to him," said Lemieux, who first remembers meeting Steve at a 2006 Speed Week event that Tilford won.""His mind was not floating around the way normal people would. He was fully in the moment of every minute of every race."
Jorgensen still stunned by the loss, talked about the annual vacations they took with Tilford, his exuberance of jumping in a cold lake at 10:30 p.m., the time she woke up at 1 a.m. and found him tinkering in the garage. "I learned a lot from Steve—about patience, the way he didn't make plans, the way little things could make him so excited," she said, choking up. "I'm sorry, it's been a tough day." 
Also mourning was bike-industry veteran Chris DiStefano, who first met Tilford in the mid 1990s when he was doing neutral support in races for Shimano. He remembers that unlike many pros, Steve was "friendly, polite, and respectful," and fully engaged in giving product feedback. "Steve raced every discipline but, man, did he shine in mountain bike criteriums," DiStefano recalled. "He would just hammer on those narrow, slick mountain bike tires and grind everyone off his wheel. I have this loop in my head —  it'd be a sweet GIF these days — of him at the Cactus Cup nighttime crit in Scottsdale just flying through this series of corners on a line no one else could handle."
DiStefano took a stab at describing his grief. "Losing Steve feels like a familiar place has been taken from me," he said. "I don't go to races year after year any longer and it might be several years before I find my way back to the Sea Otter Classic or CX Nationals. While I never thought directly about it, I guess I knew Steve would be there and, at some point walking around, I'd see him. He'd stop to say hello. He was always coming from somewhere and about to head off to somewhere with stories about both. I'll miss those conversations about the journey he was on and the mutual friends we had, about how one of us had seen someone the other knew. I'll miss seeing the continuation of the forward and upward trajectory he was on. Every cyclist on Facebook shared, commented, or saw the story about the 105-year-old Frenchman who set the new record for 100+ this year. I'd bet all of Steve's friends expected to see him in a straight up elite field at some race somewhere when he was 100."
Davis Phinney, an American road cycling star in the 1980s and early 90s, wrote me from Europe to share his memories of Tilford. "The thing that stands out for me with Steve was his undiminished enthusiasm for bike racing in any form," said Phinney, who first raced against Tilford in the late 1970s. "Back in the day, Steve was always the first rider to attack off the start line—he was just so fired up to get the race going. And in later years, the stories are legendary of him patching himself up after crashing and getting back in the game. Always in the game. I ran into him a few years back at a criterium where after a fall in the final turn he was torn up. Bleeding. But when he saw me he excitedly launches into a story from when we were racing together years ago and wouldn't let Trudi attend to his wounds till he'd finished the story. That was Steve—just irrepressible."
Former pro Adam Myerson said he "cried at his desk a lot" when he heard that Steve had died. When asked to describe Tilford's racing ability, Myerson had plenty to say. "Steve was just really, really good at bike racing, and really good at squeezing every ounce of energy out of himself," he said. "He wasn't a sprinter, but he could sprint. He wasn't a TT rider, but he could ride away at the perfect moment, solo. He wasn't a climber, but he wasn't going to get dropped, either. When it was the right time to attack, he attacked, regardless of how good he did or didn't feel. I'm going to miss him being the crotchety old man he's been for decades. Yelling at me for no reason, trying to get me to do something in a race that benefited him more than me."
Then Myerson tried to explain how or why Tilford remained a top racer for decades after he left the professional ranks. "Steve was, in many ways, cycling's equivalent of surf or ski bum," Myerson said. "But I don't want to use those terms in a negative way, because I relate to it so strongly, understand intimately why he stayed out there, and can't imagine denying him the happiness it gave him. Racing was a lifestyle for him, so work and relationships sort of formed around that, not the other way around. He never stopped caring."
Almost everyone I talked with at some point mentioned Tilford's blog, the way he used it to call out the problems he perceived in the sport—and the people he felt were in the wrong. "He was never afraid to call out bullshit, and he often knew the backstory to support his claims," said Myerson. 
One person who Steve frequently called out was Jonathan Vaughters, the former pro who now manages the Cannondale-Drapac professional team. Even though the two did not always see eye to eye, Vaughters said he had deep respect for Tilford. "I respected Steve even though he pounded on me because, end of the day, he was after the same end goal, regards doping, that I was," Vaughters said. "And he was uncompromising with his words pursuing that. So, while I was hurt by his words, I knew what he was saying was coming from a good place. And I respected that. Always."
When asked to assess how Tilford was able to race competitively for so long, Vaughters said "the dude was the quintessential road warrior his entire life" and then relayed a funny story. "As part of our ongoing debates, I invited Steve out to get tested by our sports science crew," Vaughters recalled. "So, I can tell you as a matter of fact: the reason he ripped people's legs off is that he had a very big motor. He was very physically talented. Very big. The sports science dudes were a bit shocked a guy that age still had so much under the hood."
Then Vaughters and I got to talking about the horrific scene out on I-70 early Wednesday morning. Out of the blue, Vaughters said "I keep wondering why he was still out on the highway. Bet you anything he was looking for his dog in the wreck."
I had no idea so I made some calls. Multiple people told me that had heard that Tilford had moved away from the wreckage, but, deeply concerned that his beloved dog, Tucker, was loose, had walked back toward his truck to find a leash. (Steve would be relieved to know that Tucker is fine.)
I wrote Vaughters back and told him what I'd heard. "Fuck," he replied. "Shows he was a good guy—all the way to the end."
All the way to the end. From the start to the finish—of thousands of bike races, in every discipline, over 40 years—Steve Tilford was in the moment, not floating around, just doing the thing he loved most, pushing others to do the same. Often he won, but the most impressive thing is how often he showed up, how often he laid it down. This seems true about how he raced bikes and also how he lived life. He drove it all the way to the end.
The day before he died, Steve wrote one last blog post. It's just a few paragraphs long, talking about hitting the road from California to Utah. (With two pictures of Tucker, of course.) It is impossible now, one day later, to read that post without staring at those photos or the sentence that opens the final paragraph. In it, Tilford wrote: "I'm short of time, so that is about it."
Lead Photo: Tim Gasperak