Strava's Plan to Revolutionize Commuting
With the launch of Strava Metro, the Bay Area-based online fitness company hopes to become an advocate for its users.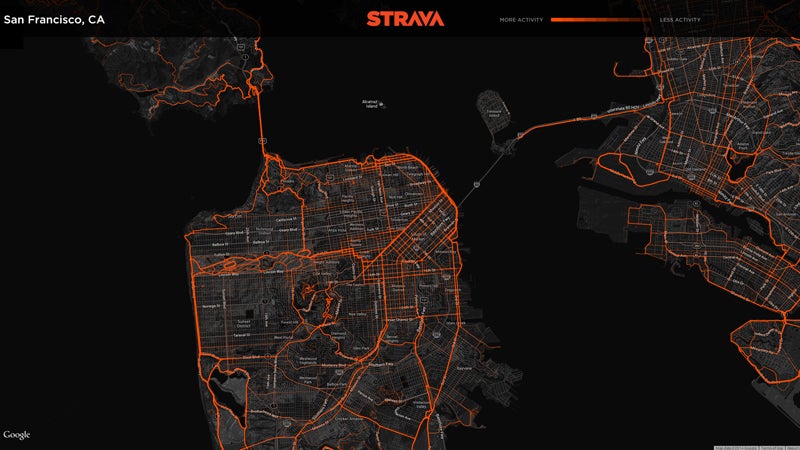 Heading out the door? Read this article on the new Outside+ app available now on iOS devices for members! Download the app.
Just in time for Bike to Work Day, Strava has unveiled a new service that it hopes will help cycling advocates and city planners improve the commuting experience for cyclists.
Strava Metro is a data service that allows planners to view routes taken by Strava members in a given urban area and use that data to improve flow and build infrastructure that serves cyclists and runners. It's a broad departure from Strava's primary service, which lets athletes track their activities and compete virtually against other users. "Our primary mission is motivating and entertaining athletes," says Michael Horvath, co-founder and president of Strava. "But when we began in 2009, we knew that once we collected enough data, there would be so much more that we could do with it."
The activities members log might have only personal significance as individual tracks or routes, but as an aggregate they show user trends and common routes. Strava doesn't release its membership numbers, but it says that its users upload more than 2.5 million GPS-tracked activities each week worldwide and claims to currently have a data set that exceeds 300 billion GPS points. The company estimates that in metro areas almost half of the GPS-tracked activities uploaded to its site are from commuters. 
"Metro is important because it shows just how much commuting is being done by bike and pedestrians. Even before the question of infrastructure, it's about advocacy and awareness."
Strava illustrates Metro with heatmaps, which depict users' tracks with emphasis and weight given to the most common routes. You can limit the user set to only bikes or runners and zoom in and out, down to a neighborhood or even to the single-street level.
But it's more than just psychedelic maps. Clients who subscribe to the service—currently a mix of cities, departments of transportation, and not-for-profits working for municipalities—will license the information for a given area from Strava and receive full GIS-ready data that they can parse and overlay with their existing statistics. "Most cities already have traffic data. But the way of collecting data about cyclists has always been very limited, both from a breadth standpoint and even from a collection standpoint," Horvath says. Strava Metro fills that gap.
Strava says cities can use the service to both appraise current patterns and also manage the future of its spaces. Urban planners can bore into the information for specifics, for instance where cyclists are traveling in a given area between 7 A.M. and 9 A.M. on Mondays or how many cyclists are moving from a given quadrant of an urban area to another.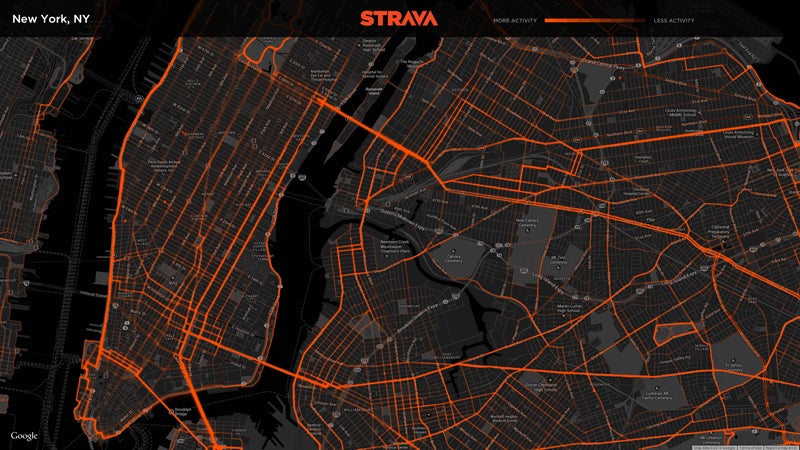 They can also use the service to appraise the effectiveness of new bike or running infrastructure, with before and after evaluations of the same routes that will show any changes in patterns. And, Horvath hopes, in the long run the tracked data will lead to new bike paths, bike lanes, and improved infrastructure. 
Prior to launching Metro, Strava was already working with six clients, including the Oregon Department of Transportation, Johns Hopkins University on behalf of the city of Baltimore, Maryland, Orlando, Florida, and England's capital city, London. Since unveiling the service last week, Horvath says that Strava has received hundreds of enquiries from municipalities worldwide. 
"If cyclists were cars, even in just the numbers that cyclists have now, and they were using the infrastructure that is generally provided to bikes, people would be up in arms about how bad the infrastructure is," Horvath says. "So we think Metro is important because it shows just how much commuting is being done by bike and pedestrians. Even before the question of infrastructure, it's about advocacy and awareness."
Trending on Outside Online